Hello my friends!
It's just a few days before Christmas and today I want to share with you some of the plans we have for the house and what else is going on home décor-wise in our new home. You may remember that 5 years ago when I moved in my previous fixer-upper house, I worked with a great company here in Atlanta called Payless Décor in adding bamboo Roman shades in my house.
When I think back on all the window treatments I've had in all my houses, it makes me chuckle a little.  We all remember the metal mini-blinds, right?  I had those in my first house in 1985 and I thought they were the coolest things ever!  That trend lasted for several years and then everyone started doing the white wooden blinds which are still popular today, although there are so many newer choices now.
I haven't changed much at all in my love of Roman bamboo shades and that's the choice once again for most of the windows in our new house.  I still love their warmth, their texture and their versatility in creating a relaxed casual look in a home, but also dressy enough for even more formal spaces.
Here are a few examples I found of some beautiful windows dressed in bamboo shades and you can see for yourself how textured and warm they look.  I think what I like about them the most is the fact that they can be used in so many settings.  From casual, to more formal settings, they add texture and an organic feel to the windows that you don't get with plain white blinds.
Don't they look great in this little bathroom with the board and batten walls and all that white tile?  With just a little bit of natural wood in that side table and shelf on the wall, the bamboo adds just the right touch of casual texture to the window.
Here's another great example of using these textural shades in a family room space.  These are flanked by drapes which are my personal choice too.  I love bamboo shades paired with beautiful drapery fabric.
 Here's another pretty room with lots of French doors with only bamboo shades dressing them.  Such a pretty touch!
Here's another elegant, yet casual room that has bamboo shades paired with neutral fabric on the windows.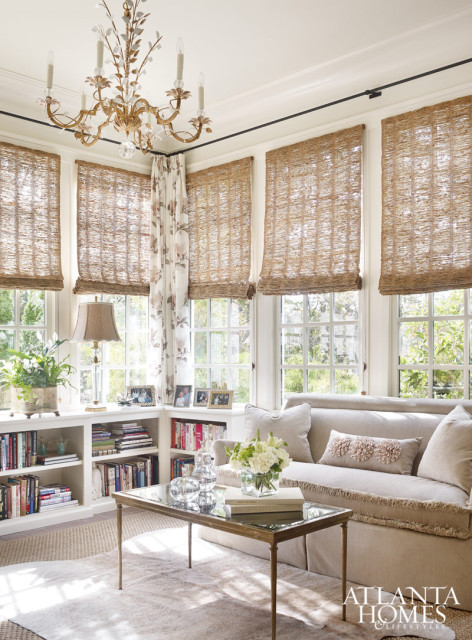 And this looks to be a sunroom with a whole bank of windows dressed in bamboo shades, very inviting and warm.
To me, bamboo shades are just right in so many room situations and that's why I'm choosing them again for this house.
I just adore this bathroom, don't you?  What a beautiful space with those marble vanities, natural wood floor and white planked walls with all black fixtures and yes, those pretty Roman bamboo shades.
I haven't lost my adoration for these shades in 5 years and I still think they are going strong, at least to me they are.  This house had all 2 1/2″ white wooden blinds throughout the whole house when we moved in, which are fine if you like those.  I just prefer something a little more interesting and textural now and bamboo does that for me.
We are doing bamboo shades on all our windows except the living room, dining room, and Mark's man cave.  In those rooms, we are going to be using Plantation shutters, which are also a big love for both of us.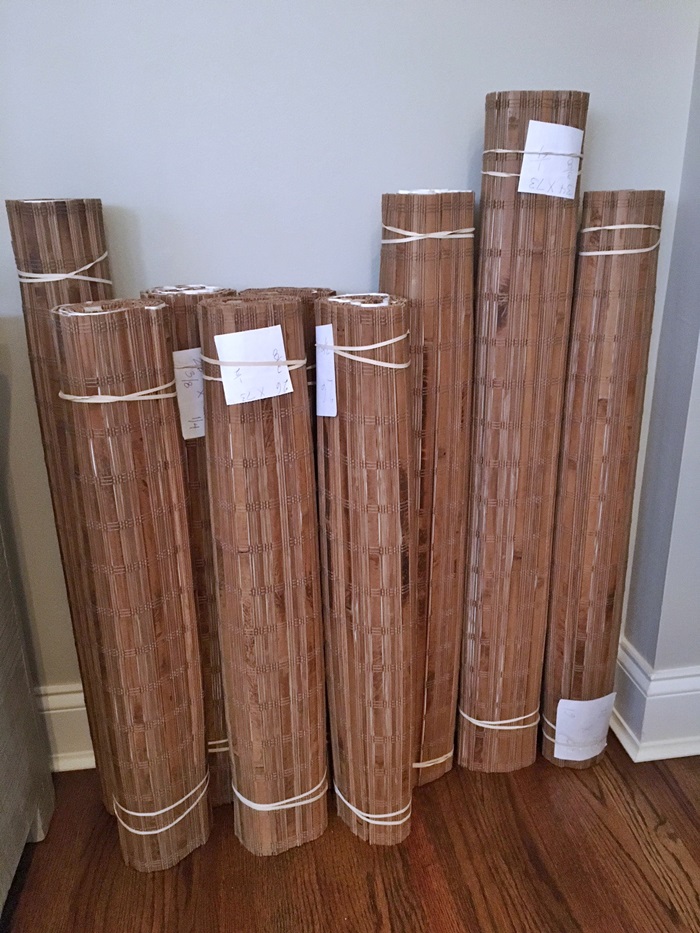 I'm very grateful to be partnering once again with
Payless Décor
on our new house and they have provided all the shades for our upstairs and downstairs windows.  I can't wait to get them all installed!  I've just started installing a few of them over the Christmas holidays and they are looking so good!
We chose a pretty brown shade for the downstairs which really coordinates well with our Provencial stained floors. These are called
Dali Natural
in the Premium shades from Payless Decor.  I simply measured my windows and sent in the dimensions to Payless Decor and they were made and shipped out to my house.  Their prices are very competitive to other window treatment companies and they are right here in Atlanta. They are online only, which keeps their prices down.  They also have many other type window treatments, including several types of shades and blinds, like cellular, roller and pleated, as well as drapes.
Upstairs, I chose
New Guinea
color in the same Premium shades as downstairs.  These coordinate well with our upstairs hardwood floors and so I chose 2 different colors.  All of our shades are lined with white privacy liners so that that no one can see in, plus it keeps the sunlight out too.
In our master sitting area, I've got the shades installed and will be working on our master suite in the months to come.  I can't wait to get all of this together. These spaces started almost from scratch and with our new bedroom furniture and master sitting area, it's been fun to plan things out in here.
These bamboo Roman shades will be a welcome addition to the windows and I plan to add fabric drapes in here and the master bedroom. I don't have all of this figured out yet, but the shades are a great start to beautiful windows in this room.  I'll be sharing more with you as we move through the house and get the rest of the bamboo shades installed in all the upstairs and downstairs as well.
I can't wait to share more as we move along and I get things figured out.  I have a new coverlet in the master bedroom as well as rug and I'll be sharing more of those spaces soon.  Nothing is even close to being finished, but these shades are a great start!
Note:  This post is sponsored by Payless Decor.  I can totally recommend them since I had them in my previous house and now this one.  I've never had any problem with them working correctly and their products are very good quality.  
SaveSave
Don't Miss a Post, join my list!