One of the best things we can do as homeowners with older houses is to update the windows.  The newer vinyl windows with double insulated window panes are so much more energy efficient than the older wooden single pane glass windows were.  I was very lucky when I moved in this house that the windows had already been updated to vinyl windows along the way and weren't too old.  They weren't all trimmed out properly and we had to finish that, but I'm so happy that I had good insulated windows in this house.  Adding extra windows is something that's been on my wish list.
After moving in and living here for 2 years, one of the things I've really wanted to do is add extra windows to my den room to bring in lots more light. It's only got one small double window in there now and can be very dark without any lights on.  Adding those extra windows will make such a difference in my house and the natural light that will be brought in now.
As you can see in this shot, that lower part of the house has no windows and that is the outside wall of my den.  I'm going to mimic as best I can the upper windows to the lower and this will definitely make a huge difference.
The new windows should flank my antique French buffet on that back wall.  I can't wait to see light coming in here!
And the larger double window with glass in the middle will go right over where this chair is sitting.  It is truly going to make a huge difference in this room.
I'm so happy to be working with Lowes on this renovation project.  I've been working with them for over 3 years now and it's been great to get so many things crossed off my list and these windows will be one of those major impact projects.
This is a project over and above my normal monthly projects with Lowes and I'm so happy they are partnering with me, along with Pella to get this job done.  I've ordered all the windows in the sizes I need and they will all be in soon.  Can't wait to get this done!  I'm also adding a double window to my laundry room and that will be a huge improvement too, getting light in that dark space.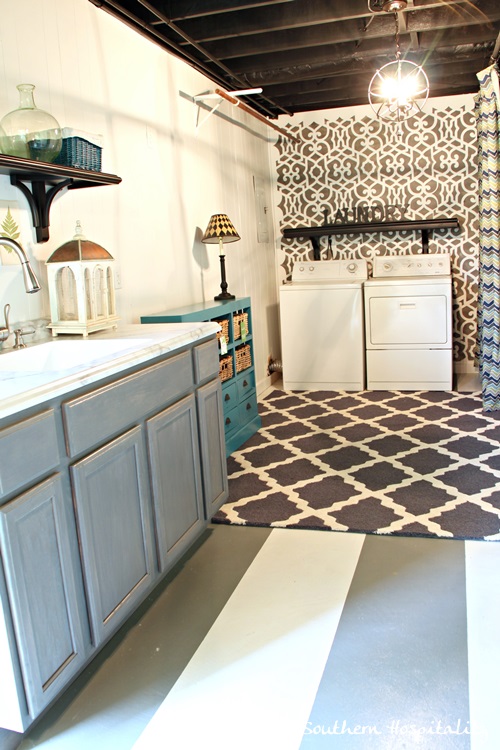 The new double window will be right over that turquoise storage piece.  I couldn't put it over the sink because of a big plumbing pipe that is in the wall up above.  So, I'll do what I can to bring light in here.
Another area that this project will touch is my old sliding glass door that goes from the dining room out to the screened porch.  It's the original 1979 glass door and it really needs an update.  The windows are smoky looking with spots that I can't get off and some of the trim pieces on the outside of the door are falling apart.  It's definitely time to update to something more energy efficient and this beautiful wood slider from Pella will be a welcome addition.  I'm getting white painted wood on the inside and the exterior will be black metal, which will look nice from the screened porch side.  I'm so excited about this new door too, it will make a difference, I'm sure in energy efficiency, not to mention just the aesthetics of it all.
Here's the old slider from the dining room side.  It doesn't look bad, but it's heavy and hard to slide and some of the weather stripping is falling apart on the exterior.  Someone mentioned French doors and yes, I dearly love those too.  But, I just don't have a lot of space inside the dining room or on the porch to swing a set of French doors.  I think they would just really get in the way of the pathway, so I opted to keep the slider.
And here's how it looks on the porch side.  It will be nice to get a fresh new door in here, for energy efficiency, not to mention it will be easier to slide too.
I'll be hiring the same father/son team who built my new front portico for this project and they will probably do it one at a time until it is all complete. They stay very busy and with the winter weather, will have to work when they can, not to mention we can't leave gaping holes in my house this time of year.  So, one at a time, it will all be finished!
New doors and windows are such a great home addition, so this is one project that I have been waiting to do since I moved in.  I'm so happy to be partnering with Lowes and Pella both on this. Pella is a really great brand and these windows and door will be beautiful.  Pella offers many styles, materials, and pricepoints for all projects.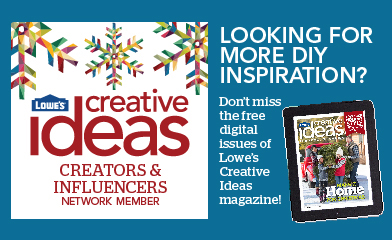 Check out Lowes Creative Ideas Magazine app, visit Lowes on Facebook, and Lowes on Pinterest.You can see Lowes on Instagram as well. Instagram is fun for every day real life happenings.
 Disclosure: As a Lowes Creative blogger, I am sent gift cards to spend on projects and to blog about them. This post is sponsored by Lowes and Pella, but all ideas and projects are my own.
Don't Miss a Post, join my list!