So you've taken down the tree and all the excess from Christmas. Now your house feels lighter and cleaner, but a little more drab and dull. I'm sharing ways to add coziness to your home during these in-between winter months before spring arrives. Every year, we face the same situation and it's nice to add some sparkle and calm around the house. A more simple approach is in order. Keep reading to see how I transition my home after Christmas to make it feel warm and inviting, yet cozy and calm.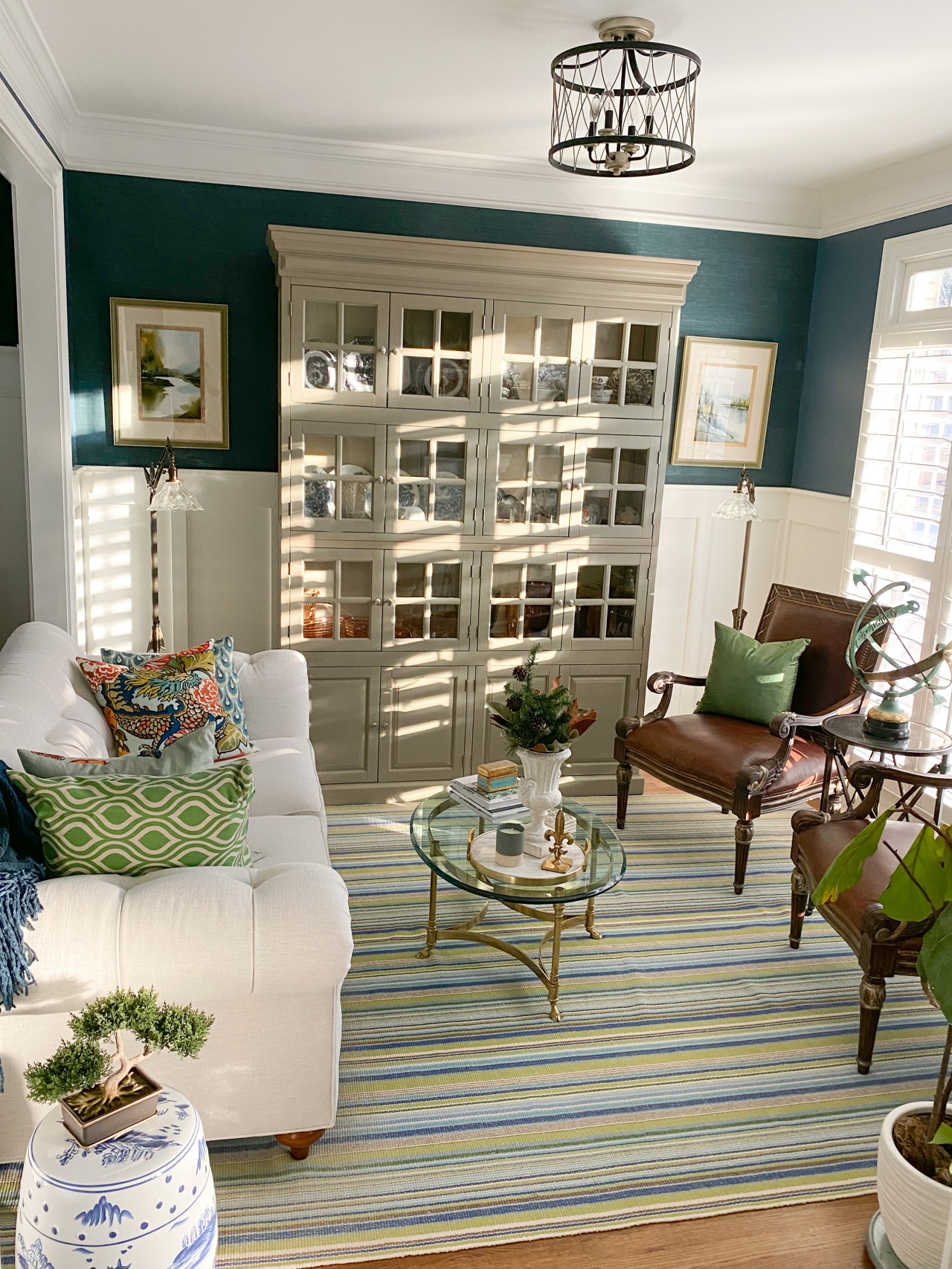 Don't we all crave sunshine this time of year? I know I do. I love to wake up and see sunlight streaming in the windows in the living room. It's a great way to start the day and it instantly feels warmer and cozier.
Affiliate links used below. 
I added a simple old iron urn I've had forever, filled with a faux pine spray and dried magnolia leaves, with a candle and brass bookends. Simple is best sometimes. A marble with gold trim tray makes anything pretty that's sitting on it. Check that link for a tray like mine.
On the foyer table, I took all the Christmas decor away except for my pretty mercury glass candles. Those look so pretty grouped together with faux battery powered candles inside. I also left the white deer and big candle below.
A simple faux pine tree nestled in a pretty white vase strikes a cozy chord.
I'm loving old brass again and having trays handy to corral things is always a good approach. Here's a pretty brass tray if you need another. I love using trays for so many things.
This set of mercury glass candle holders from Pottery Barn can be used year round. A good investment and they are on sale, so grab a set!
I found the little brass deer at a thriftstore and recently found this larger brass deer candle holder at our local antique store in Acworth. It was a great find! These mini candles with remotes are perfect for this time of year when you want to keep the glow going.
On the dining room table, I simplified it too with just a simple runner, wood textured tray. I layered the tray with a gold wood little tray inside with a brass bowl with preserved boxwood ball on top.
Antlers, a pretty gold acorn and another mercury glass candle holder completes the table. Those white and gold candlesticks are an estate sale find from a few years ago.
Simple, cozy and calming after all the festiveness of Christmas. I found a preserved boxwood orb online which is very similar to mine.
On the sideboard, these large mercury glass candle holders anchor a blue and white vase with faux red berries.
Keeping it simple again.
In the family room on the mantel, I added a simple faux pine garland with lots of candle light and simple faux cedar trees in gold planters.
I'm still loving these gold bamboo pagoda candle holders I found a few months ago. They are so versatile for so many spaces around the house. A collection of thriftstore candle holders look great all grouped together.
I hope this gave you some good ideas on giving your house a little winter makeover. Keep it simple, glowing, and cozy!
Don't Miss a Post, join my list!