Dining al fresco is alway one of my favorite things to do and it's almost like food tastes better in the great outdoors.  Having a porch with a table is one of those small pleasures in life for me and I have eaten many meals on my porch since I moved in this house.  It's a great place to relax and enjoy dinner!
Today, I'm joining a fun group of bloggers and we are sharing some tablescape ideas for outdoor dining.  My small round table on the porch seats 4 and is the perfect spot to decorate with pretty dishes.
I've got enough dishes to play with and one set that I haven't shared with you all in ages is my green Bordallo bunny dishes.  In fact, the very first post on my blog in 2007 highlighted these bunny dishes at a church women's social when I lived in Birmingham.  Looking back at that table, I really thought it was pretty, but now I think it's a bit overdone and sort of cheesey and I like to think that I've evolved in almost 10 years of blogging and decorating!  Click over and see those pics to see all those bunny dishes put together with centerpieces and more.  You can click the pics to enlarge!  Please don't laugh and then come on back here.
If you've been reading my blog for any length of time, you will know that I have had a thing for bunnies for a few years.  I still have several bunnies in my collection, but I've pared down over the years and only kept my favorite ones.  They have to have a certain look for me to want to collect them. I like them indoors and outdoors.
You can see I have loved green for a very long time.  My blog design even incorporates green.  Green just seems to go so well on an al fresco table, giving a nod to the grass and trees outside.
The green tablecloth is leftover fabric I had and I just stitched the edges on the sewing machine.
I used some of my dried hydrangeas from my yard in a big white Southern Living at Home vase.  I have 2 of these beauties and treasure them.  They make great centerpieces and hold a lot of flowers.  It's too bad that company is no longer around.
I have collected these bunny dishes for close to 20 years now and I found most of them at TJ Maxx, Marshalls, and Homegoods.  They are made in Portugal and I still love them, even if I don't get them out all the time.  I have dinner and several types of salad plates, along with some other pieces that came out too, like the little bunny on the leaf you see.  I haven't seen these in the stores in years, so I am not sure they are still making them.  I know you can still find some on Ebay, but they are way more expensive than what I paid for mine.
I also have some small bunnies and lots of seashells I've collected and those seemed to be a good mix to this cake plate and my centerpiece. It's girly and fun!
I added a couple of feathers to my dried hydrangeas for some extra texture.
Setting a pretty seashell on each plate is a nice way to display.
The white dishes are my everyday Mikasa Italian Countryside which I totally love and use all the time.  Glasses are from Mikasa too.
These pretty flatware pieces and green scalloped napkins came from a long ago yardsale and the placemats are from Goodwill.  I didn't set a formal table, but just a simple knife and fork at the place setting.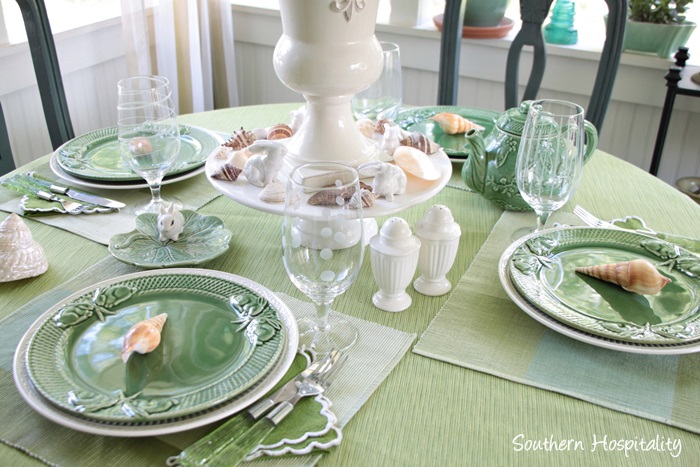 We ate dinner out here one night and it was such a nice ambience and felt extra special with the place settings and other pieces.
Shells make such a nice addition to a summer table.
Those salt and pepper shakers are also Mikasa Italian Countryside.
I love it when the curtains blow in the breeze out here on the porch and we certainly welcome them this time of year, in the heat of the summer.  I spend a lot of time out here as often as possible, but spring and  early Fall are probably my favorite.  It's so nice when there's a chill in the air making it a comfortable spot to be.
Thanks for stopping by my summer tablescape today!  I hope you enjoyed it, it sure was fun to get my dishes out again.
A fabulous group of bloggers is joining this Alfresco Tablescape blog hop this week, so you are sure to be inspired as you hop from blog to blog, soaking in all the inspiration! Most of these are new to me bloggers, so you might find some new ones to read!
MONDAY
Starfish Cottage | Knock it Off Kim | Life and Linda  | Everyday Living
TUESDAY
My Kentucky Living | DesignThusiasm | Simple Nature Decor | Rowhouse Blog
Living With Thanksgiving
WEDNESDAY
Red Cottage Chronicles | The Little Yellow Corner Store | Ramblings of a Southern Girl
CoziNest | Love of Home
THURSDAY
Panoply | B. Lovely Events | Flourish & Knot | The Painted Apron | Dining Delight |
Celebrate & Decorate
FRIDAY
Lolly Jane | A Toile Tale | Bluesky Kitchen | Rattlebridge Farm
Don't Miss a Post, join my list!