Have you ever driven past a house and it beckoned you to come closer and take a peek inside the windows?  There's a house on the way to my friend, Debbie's house near Wilsonville and it always draws my eye when we are driving by.  It's old.  I mean, mid-1800's old, so you know it has some stories.  I'd love to know what they are.  One sunny afternoon, I decided to take a closer peek at this aging beauty.

The Klein's are evidently the beginning family in this home. I'd love to know the history on all of that.

She's a very stately and large home and must have been quite the showplace in the mid-1800's.

With the wide and welcoming front porch, you can imagine the company that this house saw.

Looks like those are the original doors.  It's in such a state of disrepair now and I wonder if anyone will ever restore her.  I sure do hope so.  She has been sitting like this as long as we have lived in Birmingham, over 4 years.  I heard that once the home was an antique store and at one time a tea room.  That was before my time.

The chimney is still intact, but crumbling.  It would take some major vision to restore her to her former glory.

The front porch is a beauty.  There are many cotton fields on this stretch of Hwy. 25 going into Wilsonville, so I imagine that this home farmed and probably owned some of that land back in the 1800's.

The stairs look to be marble, stained and tarnished, but marble nonetheless.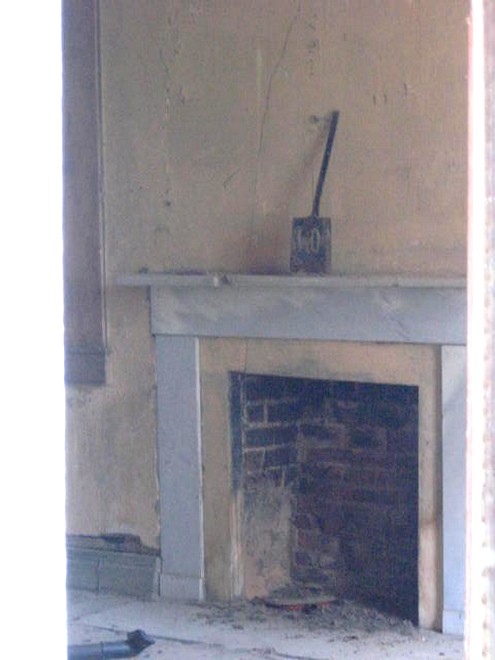 One window that I could get a peek into, showed a fireplace.

I bet the boards on the outside are all original too.  Don't you love these shutters?

There are many of the shutters still intact.  I can also dream that the aqua shutters that I picked up at an antique store probably came off of a home like this.  Ahhh, the beauty of old and weathered.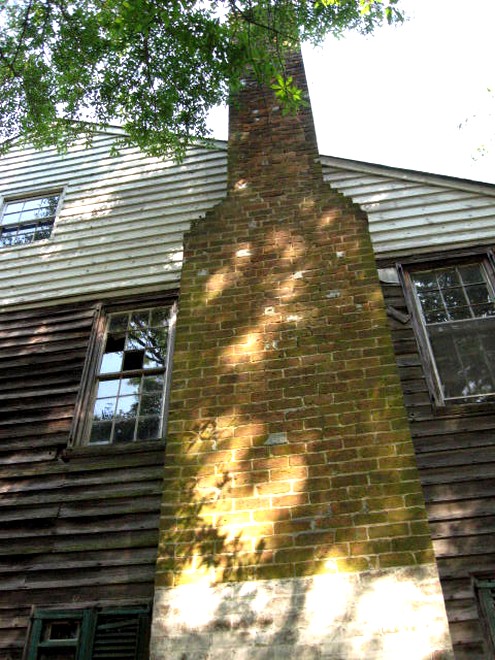 I think the glass is also original, but many of the panes are broken.  This large and stately chimney is on the left side of the house.
Who lived in this house and what did they do?  What sort of lives did they lead?  Were they wealthy land owners with a beautiful house and furnishings? Those are the questions that went through my mind, while walking around the weedy property which has seen much neglect.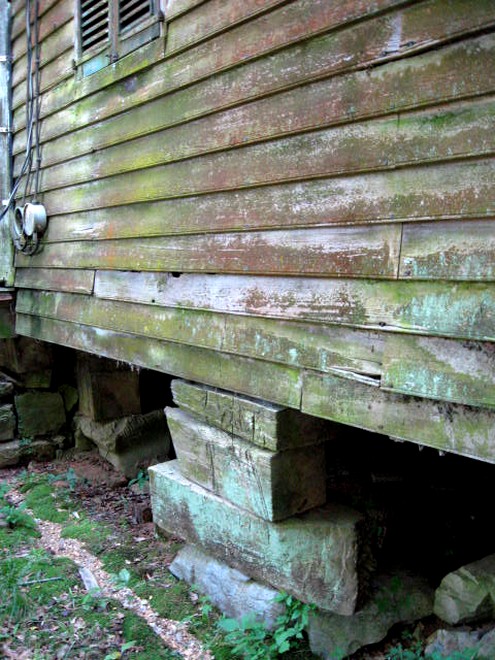 The foundation is set on large stones of some sort. They sure don't build them like this anymore.  Weathered and green boards have seen better days. It's been a long time since she has seen a bucket of paint.

The large back porch is plenty big too.

How many people have walked up and down these stairs?

It was sort of eerie walking around the place, but also made me think about just who lived there. She's an aging beauty, but it would only take the right person to come along and give her new life.
I sure wish someone would. Not me, but someone. I have no idea who owns the house. If any of you here in the area know anything about this beautiful old home, I'd love to hear about it.
UPDATE: I did get some current information about the Klein house from an ancestor, Nell Gottlieb, so check out her page for an update on how the house is being used now in 2020. 
Don't Miss a Post, join my list!