Sometimes a person comes along who just touches your heart in so many ways. Sean Dietrich is such a person for me. I first heard about him maybe 2 years ago on social media, when friends began to share his blog posts and pages on social media. I read a few of them and thought he was a really interesting guy, but I didn't fully jump into following along and reading his daily blog posts that he sends out. I remedied that several months ago when I subscribed to his Sean of the South daily emails and began reading his writings every day. I found out he was a huge fan of Lewis Grizzard, who I grew up reading in the Atlanta Journal & Constitution. Lewis was a well loved writer of Atlanta newspaper status. An icon of the South. Everyone who grew up in Atlanta loved Lewis. He had a special way of telling a story and I was so sad after his death. We all missed him and his witticisms. And Sean Dietrich is another Southern writer who has captured my attention and I'm so enjoying following along with his life.
If you want an uplifting email every day in your inbox, go and do yourself a favor and subscribe to Sean of the South.
One of my favorite posts of his is about tomato sandwiches and how it's such an iconic Southern rite of summer. It sure is in my family too! There are so many great posts, so just go through and read a few of them.
He has such an interesting story and the biggest thing you should know about Sean is that his dad committed suicide when he was 11 and that changed his life forever. As it should. He was raised by his single mom, along with his sister who is younger than he is. I love his stories so much and he's also a musician who plays the piano, guitar, banjo and accordian. He's 40 years old and a very old soul. I'm sure his childhood has contributed to him being an old soul, but his funny stories and witticisms make him the guy he is meant to be and he's sharing himself with the country now. Several years ago, he began being invited to do his show (singing and story telling) on stage around the country. This has grown and grown and now he spends a lot of time on the road. You can check his Events page to see if he will be close to you in his future shows.
His lifelong dream was to play on the Grand Ole Opry stage, because his dad took him when he was a boy. Back in March, he announced that he had been invited to play there for the first time and I was cheering him on as well as his other thousands of fans. In June, he was invited back to the Opry and now, he's been invited back in September. If you're anywhere near Nashville, you should go! I'm so happy for him to realize this dream of his and I know that I'm not the only one cheering him on. He is a national treasure!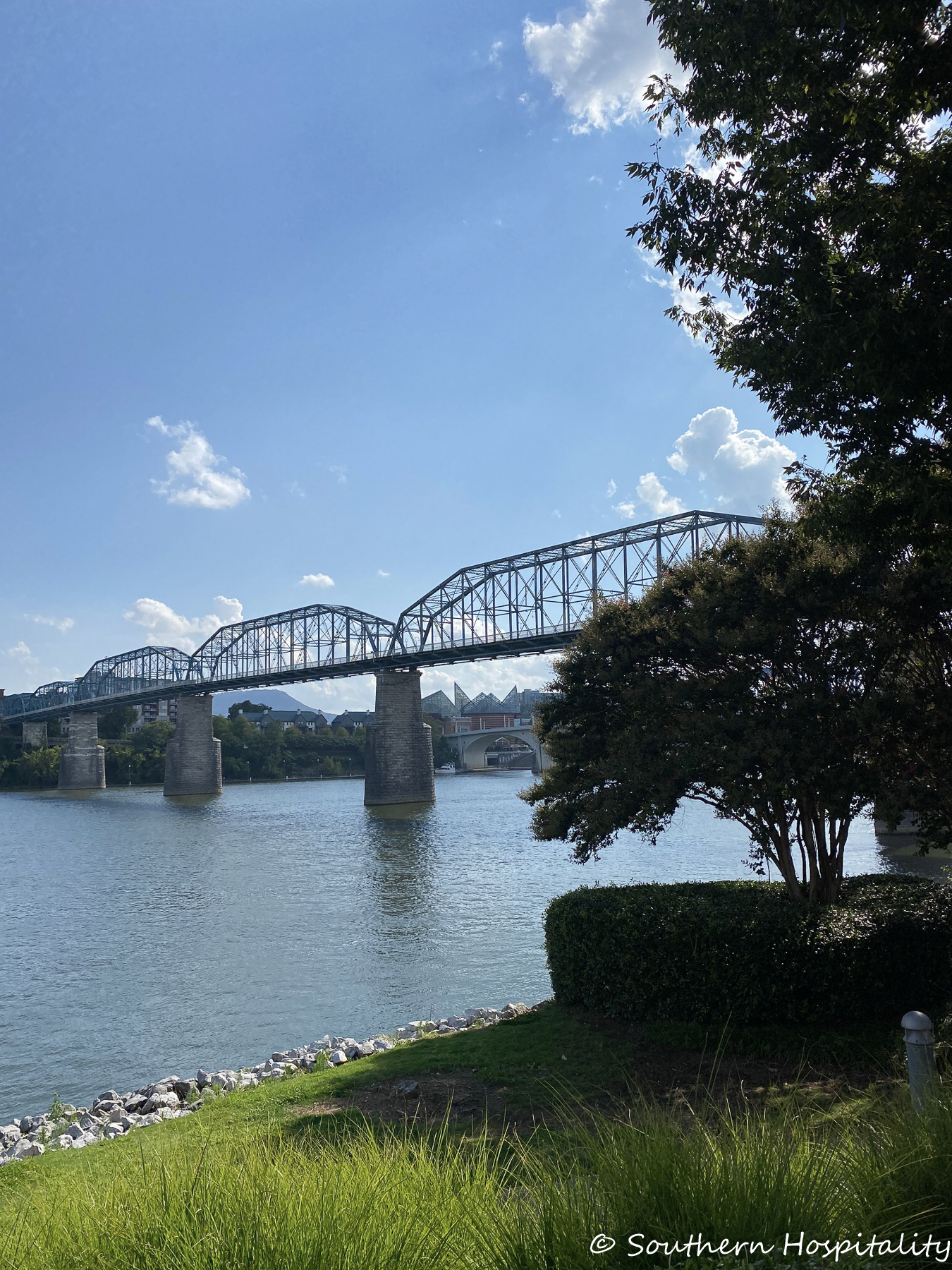 When I looked at his schedule, I saw he was going to be in  Chattanooga in August and I bought tickets. I then talked Mark into going with me. He wasn't as excited as I was, but he was a trooper about it and went with me. We both enjoyed it a lot, especially me. Of course, I had to get pictures with Sean. The Chattanooga Theater is right beside the river in Chattanooga, so Mark and I had an early dinner at Puckett's BBQ and then went to the theater. It was such a fun evening and I thoroughly enjoyed it!
We enjoyed the scenery along the way too.
When we walked in, I spotted his wife Jamie behind the book table. She travels everywhere with him and I asked her if I could get a picture with her. I love following them on Instagram and seeing his day to day life unfold. He's so funny too and such an uplifting guy. He also loves dogs more than anyone I've ever seen. They have 2 or 3 hounds, one a blind rescue dog named Marigold and his love of dogs is so endearing.
He walked out on stage and began playing his banjo and I was enthralled with his stories and songs. He sang so many hymns and gospel songs throughout the evening and at one point had the audience singing along to the old hymns that we all know by heart. He was raised Southern Baptist and has lots of funnies about church and pot luck dinners. I know all about those myself since my daddy was a preacher.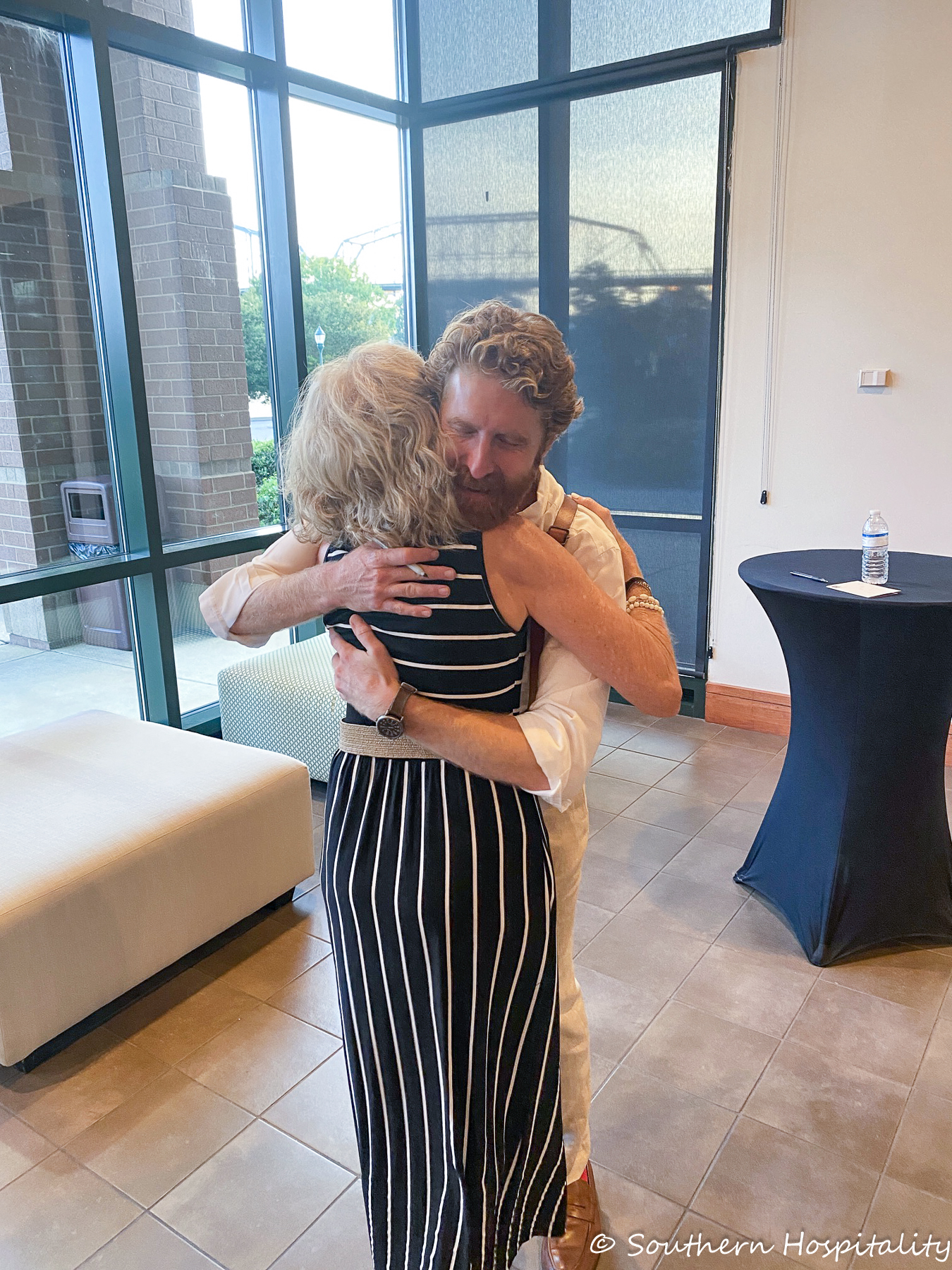 I stood in line while Mark had my phone camera, so I could meet Sean and give him a big hug. He's known for meet and greets with his fans and I love that. He's such a humble and down to earth guy and I think he deserves all the success that's coming his way.
I told him that my dad was raised in Florida, where Sean and his mom and sister ended up. He was raised in the panhandle of Florida not far from Destin. I told him about my 96 year old red headed daddy who grew up in  Wakulla County, Florida and later Panama City. My daddy had a hardscrabble life too, but nothing like Sean had to endure.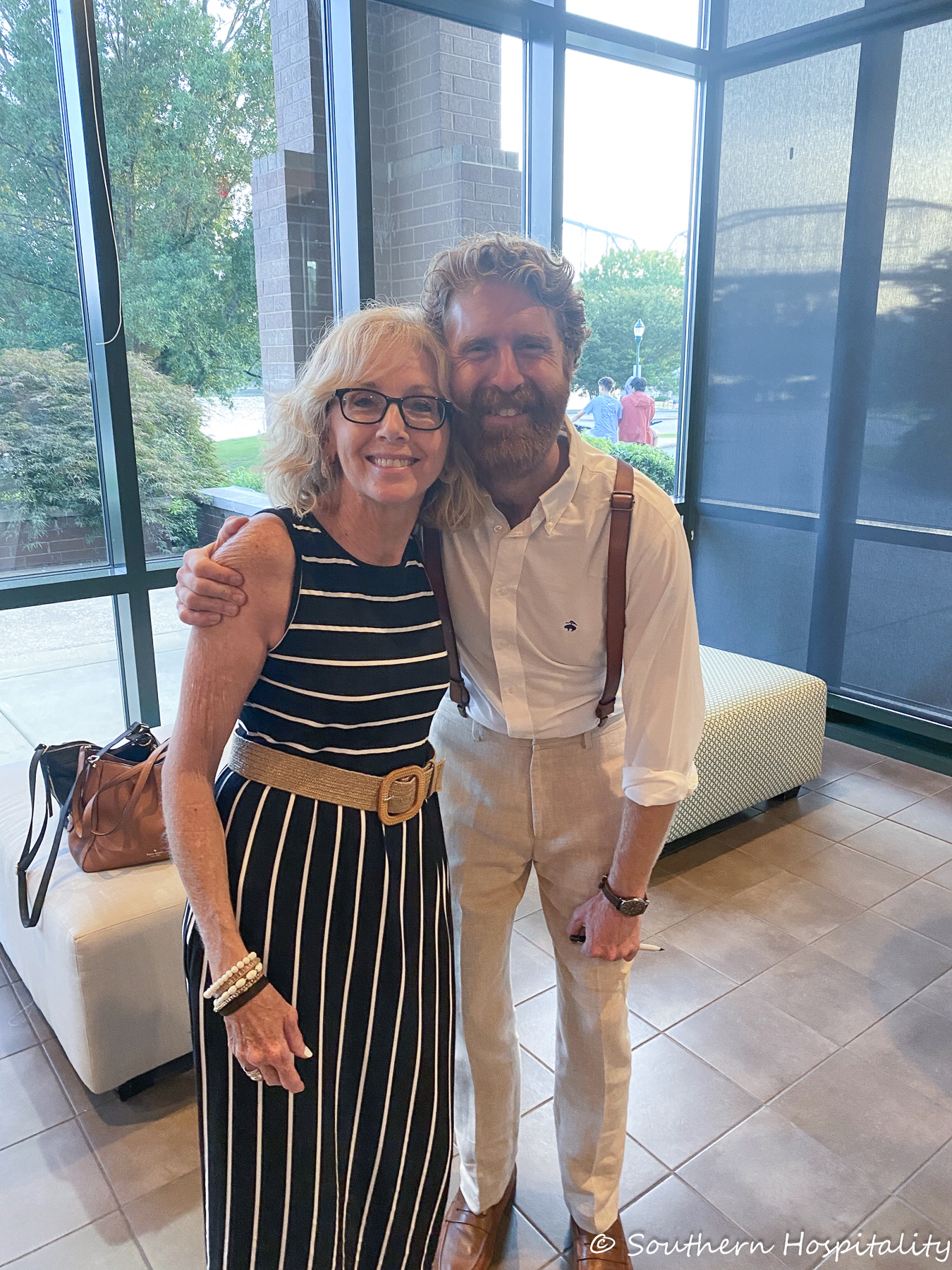 It was great to meet him in person and hear him play his instruments and tell stories. He even brought his accordian to play, which made me laugh. My mama had an old accordian when we were growing up and we used to play with it. So today, I wanted to share Sean with all of you too. Amid the chaos of the world, he's a good person to follow. He will touch your heart and uplift your day with his stories of others and also his own life. He will make you feel better, not worse for reading. I'm so very happy for him that he found his way after his dad died and became such an uplifting guy with a huge audience.
I promptly ordered his memoir, Will the Circle Be Unbroken (affiliate link) and read it in just a couple of days. It was so good and I loved reading Sean's whole story about his life and how he arrived where he is today. I should have bought the book at Sean's show, but I wasn't thinking about it then. I could have gotten him to autograph it for me, since so many had one of his many books to sign. Do yourself a favor and start following Sean! You will be glad you did.
Don't Miss a Post, join my list!