I love getting out in other cities to browse their antiques stores, so when I had the chance to do that in Nashville recently, I was happy to find a new spot to look at vintage goodies.  Shopping antiques markets and thrift stores has been on my radar for a long time now and I still enjoy browsing and seeing the possibilities in using older pieces in my home.  I'm definitely not all about just new stuff, but love to mix in the old with the new for a more well rounded and interesting home.
I thought y'all might enjoy browsing with me, so I took several pics along the way in this new to me antiques store in Nashville, Gas Lamp Antiques. There are 2 buildings, so be sure and go in both of them if you get the chance.  I really loved this one and they had some wonderful older pieces of beautiful antique furniture which you don't always see in antiques stores anymore.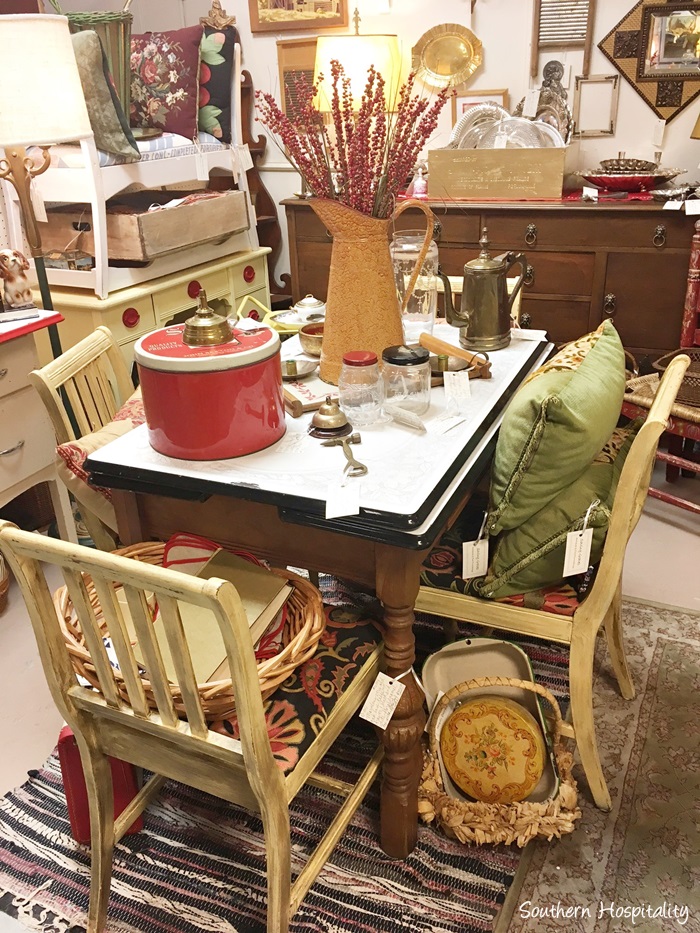 The younger generation is definitely not into pretty antiques from what I can see online, but I still love many of these older pieces for their vintage patina and beauty that you can't find in new piece of furniture. So, I think there will always be a place in my house for antiques in some sort of fashion.
Someone covered this old piano with sheet music. Quirky and fun!
Gas Lamp Antiques has a lot to look at so enjoy browsing all the selections, like walls of books.
There are painted pieces and older vintage wood pieces that all have character and charm.
I've always loved a pretty needlepoint pillow, even though I don't have any in my decorating anymore. Old dishes catch my eye too.
I'm still on the lookout for vintage bamboo and if I ever find a great deal on some pieces, I'll grab them. Most of these little bookcases were $175 when I've priced them.
Even though antiques are not the rage with many bloggers these days, I still think a beautiful old cabinet like this has its place.  You just can't replicate this look with new furniture, can you?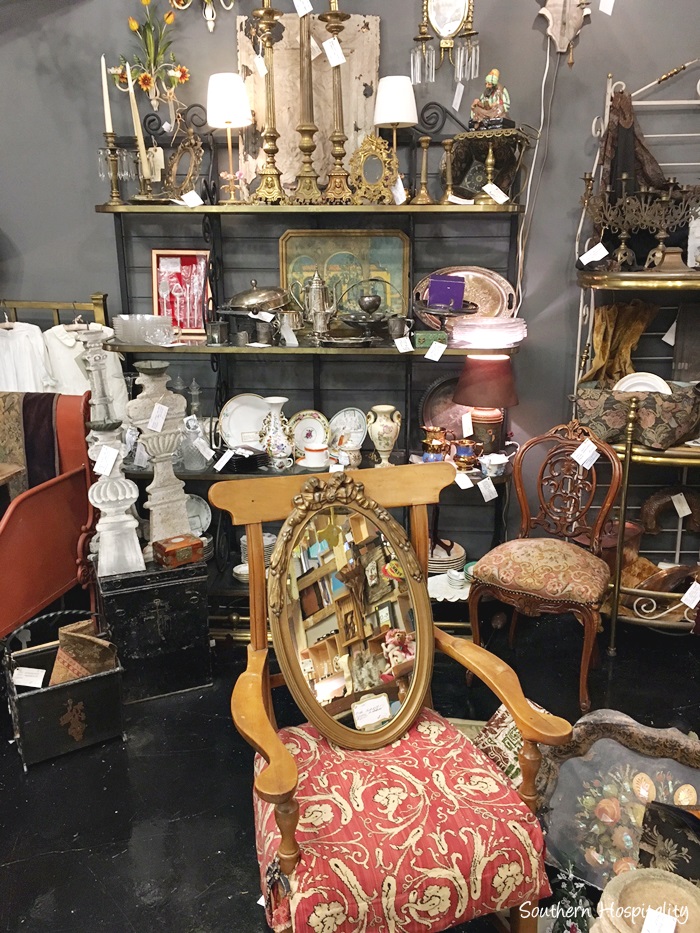 This pair of cane back French style chairs would be so pretty in a certain spot and recovered if floral toile isn't your thing.  I had a thing for toile over 10 years ago and still like it when I see it.
I wouldn't want a whole house of antique furniture, but I really do enjoy a piece in each room.  They have so much character that you just can't find in new furniture and having the mix of old and new is what breathes life in a home to me.
Remember these gilt Florentine pieces from Italy that have been popular over the years.  They still are pretty to me.  I have one tray left in my house that's Florentine.
Prices in this antiques store were not too bad. I don't remember all the pricing, but glancing at it, it seemed pretty reasonable to me.
Lots of French styled vintage pieces to be found.
Another cute side chair.
And yet another vintage bamboo little bookshelf.  I'm not buying yet, but love to look at them.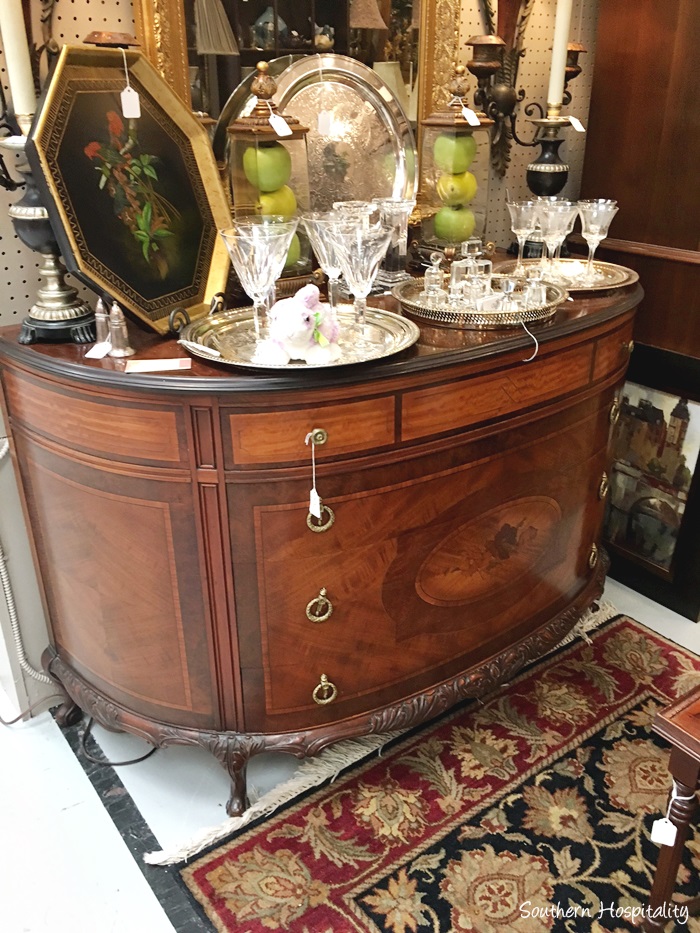 There really were a whole host of beautiful older pieces in here.  Very well kept and in great shape. I would rather have a piece like this than a brand new piece any day.
This large old pine cupboard made my heart sing a little bit too, especially filled with white ironstone.
Most everyone is painting these older pieces now, but I think there is definitely a place for natural wood in decorating.  I totally see painted furniture getting dated one of these days, not that far in the the future and then stripping furniture will come back around again. I like the pieces I've painted, but wouldn't go crazy with painted furniture all over my house.
My sister has a look alike Habersham piece that reminds me of this REAL Habersham piece, which was listed at over $5K in the antiques store. It's a very stately and classic piece of furniture and you'd need a huge space to display it.  My sister's great room is perfect for her entertainment center that is very much like this one.  My sister found hers on Craigslist for a steal!  I had to send her this pic when I saw it!
Still loving the botanicals and this booth caught my eye.
I love pretty white dishes and green botanicals mixed together.
This cute pair of side chairs were so lovely and I love that big mirror behind them.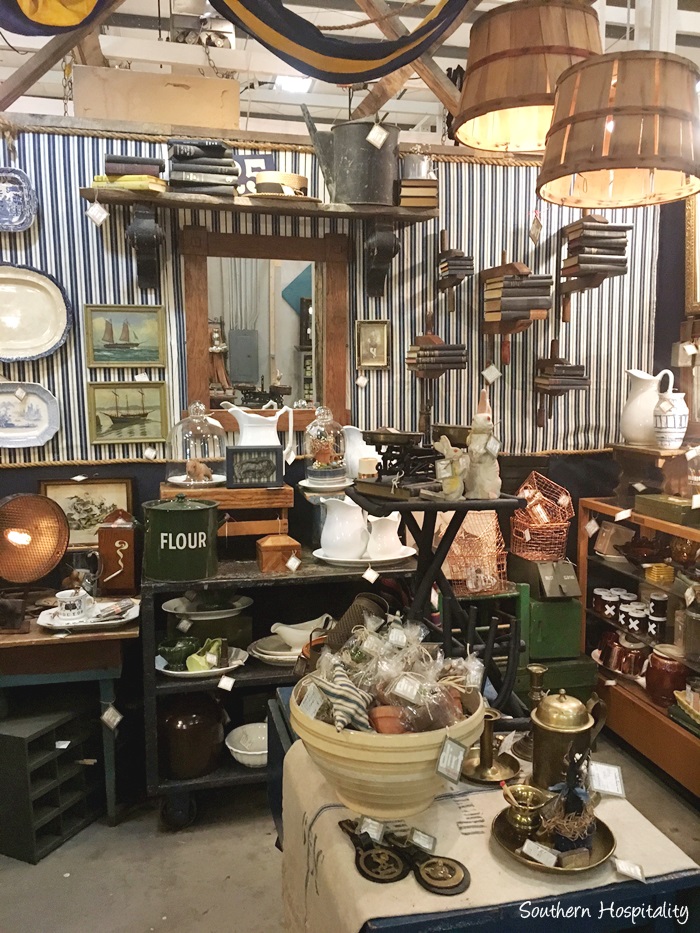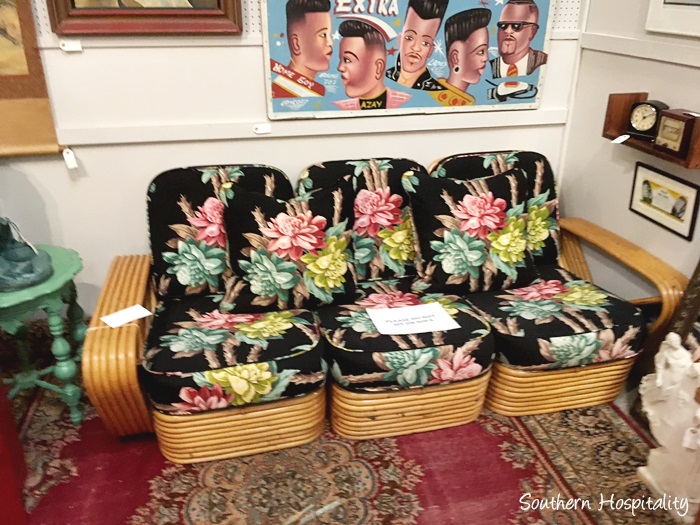 Throwback to the 60's or maybe even the 50's?!
Another older furniture piece, magazine table that has a lot of character.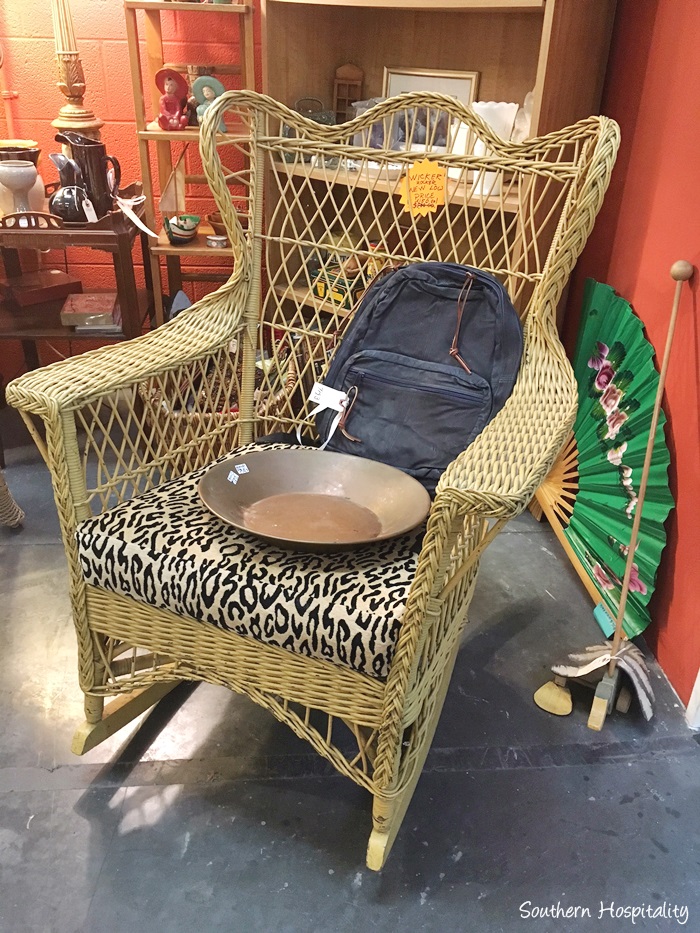 Cute vintage wicker rocker.
Pillows and Nashville towels.
A vintage chippy piece.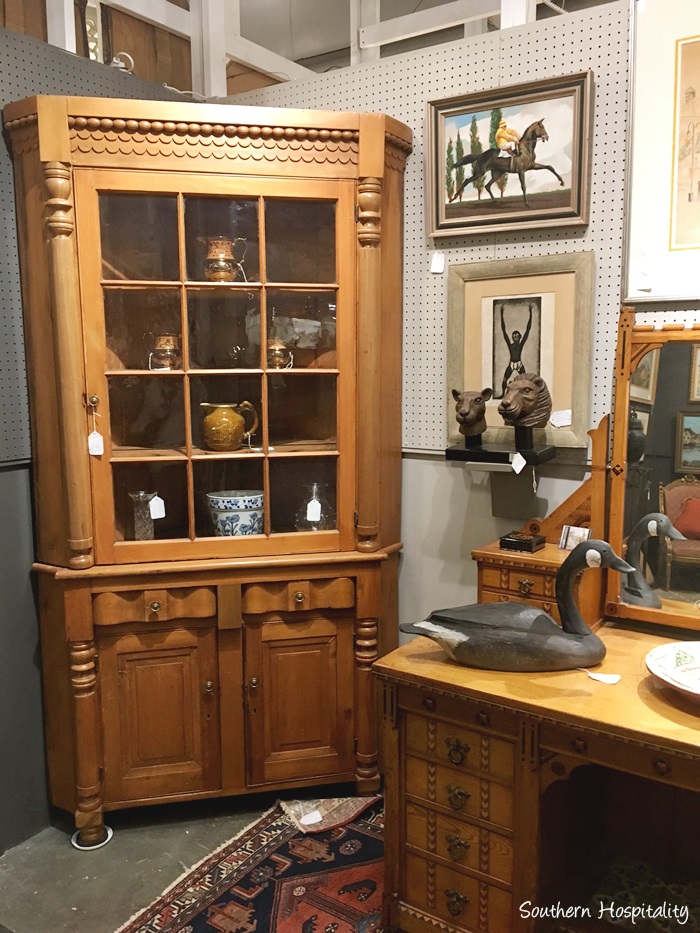 And more natural wood in this corner cabinet and old desk.  Walking through an antiques store makes me happy and content and I love the smells and patina of the old wood in here.  Just makes my heart happy to see these older things come back to life again and I know there are plenty of you out there that love the thrill of the hunt as I do!  Hope you enjoyed this browsing through Gas Lamp Antiques. It sure was a fun day! They have no idea I blogged about them, but I hope you'll stop by there if you're in the area and don't know about them.
Don't Miss a Post, join my list!