For the 3rd year in a row, I went to the Country Living Fair at Stone Mountain in Atlanta and as always, it's a very fun and inspiring place to visit.  From vendors selling vintage wares, clothing, jewelry, furniture, and food items, there is something for everyone at the fair.  Food trucks and vendors are there to feed folks since you need fuel for all that walking around.  The paved paths wind through the woods at Stone Mountain and this time of year is perfect for being outside and enjoying the Fall leaves.  This year was picture perfect!
And this year was a special treat for me, since I was asked by Country Living to do a presentation on the Main Stage on Friday.  It was a real honor to do that and I put together a Powerpoint presentation of my Before and After house pics, along with sharing how I shop for vintage items to mix in my home.  I set up a vignette of my treasures from home and spoke to those who came to hear me speak and it was so much fun.  My long time friend, Vicki, went with me to help me with my things and take pics for me while I was on stage.  Talk about surreal!  If anyone had told me I'd be doing this 10 years ago, I would never have believed it.  Just another blessing coming my way.
Vicki and I arrived on Friday and headed to the big pumpkin pile.  It's always a treat to see this big ole' pile of pumpkins, just an extra special way to celebrate the fair and Fall.
Me and Vicki,my long time friend who I went to high school with.  We have been buddies a long, long time and we have fun going on these little adventures.  She was my helper and took pics. for me. It was chilly that morning, but by afternoon it had warmed up and was actually hot.  My sweater got really hot, but I kept it on anyway.  I got a lot of compliments on this sweater, so in case you are wondering where I got it.  TJ Maxx, a couple of years ago.  Definitely one of my fave shopping spots.
Come along with me and we will stroll through the vendors.  It's always fun seeing what is out there.  I went both Friday and Saturday and did buy a couple of little things on Saturday, a trio of white vintage style bottlebrush trees that I'll use at Christmas, an old wood stained bullseye architectural piece,  and a pair of earrings.
Loved these huge corbels.
Vicki chatting with a vendor.
Fall inspiration everywhere you look.
We ate lunch at Happy Belly on Friday and as always, it was delicious.  They have grass fed beef and organic chicken and some yummy French fries.
The vendors really go all out in setting up their spaces for the fair.
It couldn't have been a more perfect day!
Vicki and I were oohing and ahhing over these chenille baby jackets.  So cute!  Vicki has 3 grandchildren, but neither of us bought one.
This funky owl chair caught my eye at Bohemian Bird.
Lots of vintage style Christmas décor is at the fair too.
If you love this sort of thing, the Country Living fair is the perfect place to spend a day or two.  We talked to many women who had driven in from other states to attend the fair.
Cari from Cash and Cari was at the show again this year.
She's very nice and friendly and lots of folks follow her.
She was on the Main stage doing a presentation right before mine, so I got to say hello to her and chat a bit.  She's so nice.
After getting all my things set up on stage, I was ready to start my talk.
I put together a Powerpoint presentation on my Before and After house pics to show all that we've done on my house and generally talked about decorating and collecting vintage pieces and how I use them in my house.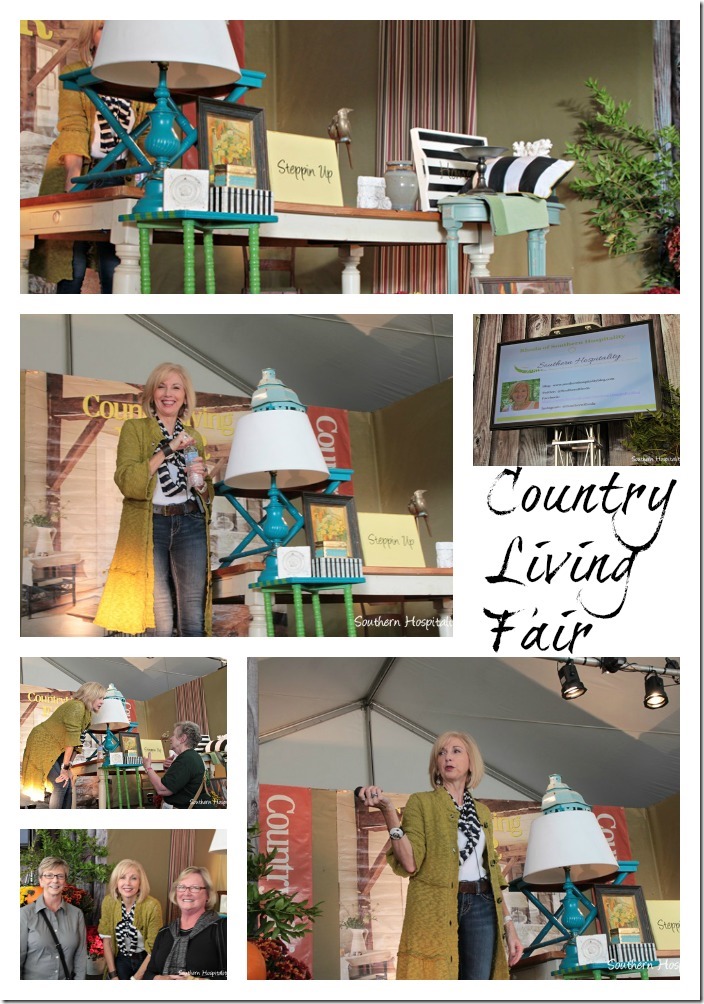 Everyone was so nice and friendly and many came up to talk afterwards. It's always so energizing for me to meet people who read my blog and follow what I do.  That's such a great feeling, so thank you for coming by to say hi.  Those 2 sweet ladies in the above pic (lower left) came up to introduce themselves, telling me they love my blog and came all the way from Hilton Head to see my presentation and attend the fair.  I have the best readers!
It was such a fun day and I'm glad my buddy was with me.  We always have fun together and getting to do this thing with Country Living was another adventure for me.  I still can't get over how far I've come in 3 years.  Amazing, it is and just one more blessing to add to my long list of blessings!
As if one day wasn't enough, I went back on Saturday with another one of my girlfriends, Jill, who I met early on in blogging.  She and I are both single and always enjoy catching up on what is going on with each other.  Both days were lovely and so enjoyable and it was a fun-packed weekend.
Hope you enjoyed going with me to the Country Living fair this year!
Don't Miss a Post, join my list!