This was one of my favorite Holiday homes (from 2014) that I've visited over the years, so I'm sharing again today. This will for sure get you in the mood for Christmas decorating. Enjoy this one again!
*************************************************
Again this year, I had the pleasure of visiting Atlanta Homes and Lifestyles Home for the Holidays decorator showhouse in Buckhead.  It's a newly built home on Habersham Road, a 7,200 s.f. English style home sited on top of a hill.  Inspired by the English Arts and Crafts style, the stone and brick residence, designed by Harrison Design and built by Sheehan Built Homes, the home fits right in with the lovely landscape it is nestled in.
So, come along with me for a tour of this stately home, all decked out for Christmas.  The Christmas décor is there in subtle nods to the Holiday.  I'm not going to narrate all the pics, so just enjoy the views.  I will add the designer names along the way.  There are a few pics mixed in that came from the Press kit.
Beautiful English exterior.

Front Porch – Randy Korando & Dan Belman (Boxwoods Gardens & Gifts)
Entry & Stairhalls – Liz Williams  (Liz Williams Interiors)
Inside the foyer.
Dining room and Butlers Pantry – Beth Webb (Beth Webb Interiors)
This dramatic black and white dining room was very eye-catching.  It takes a big and well-lit room to pull off black and this one does it well. I do love the combo of high contrast Black and White.  There were lots of dark painted rooms and hallways in the showhouse this year and they are all very well done.  I just wouldn't want to live with dark walls at my house.  But for a showhouse, it's fun to see a different approach, so keep that in mind as you are looking.
Note that amazing ceiling in the dining room.
Study – Danielle Rollins and Bill Ingram (Bill Ingram Architect)
I couldn't get decent pics in here because there was little light.
Sitting Room – Amy Morris (Amy Morris Interiors)
Loved this space, it was really pretty.
Peeking back towards the dining room.
Kitchen & Breakfast Room – Mark Williams and Niki Papadopolous (Mark Williams Design Associates)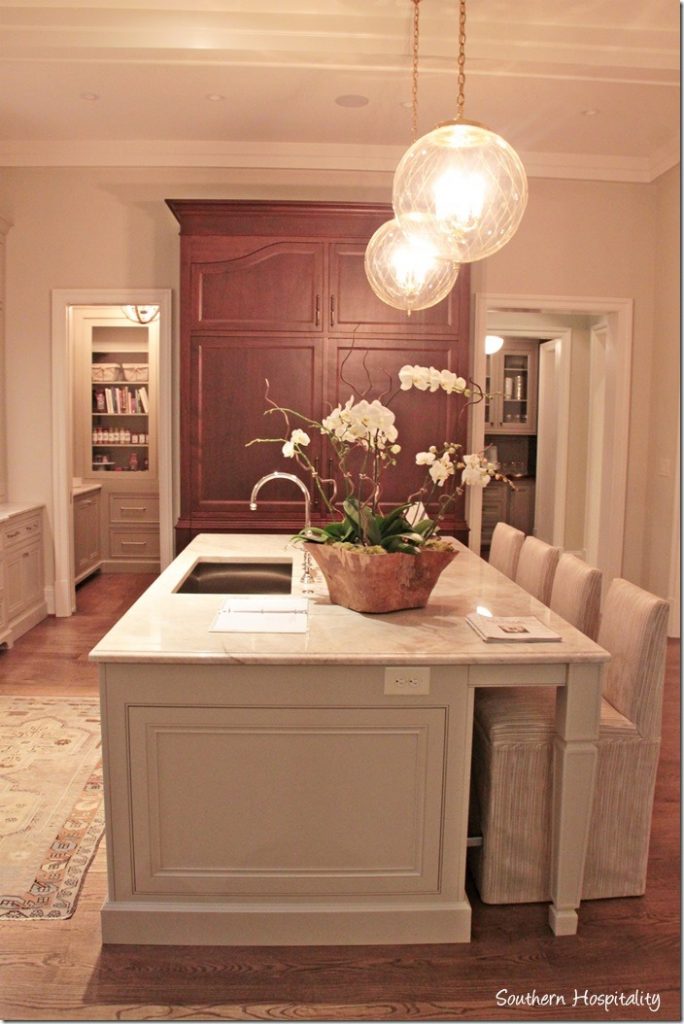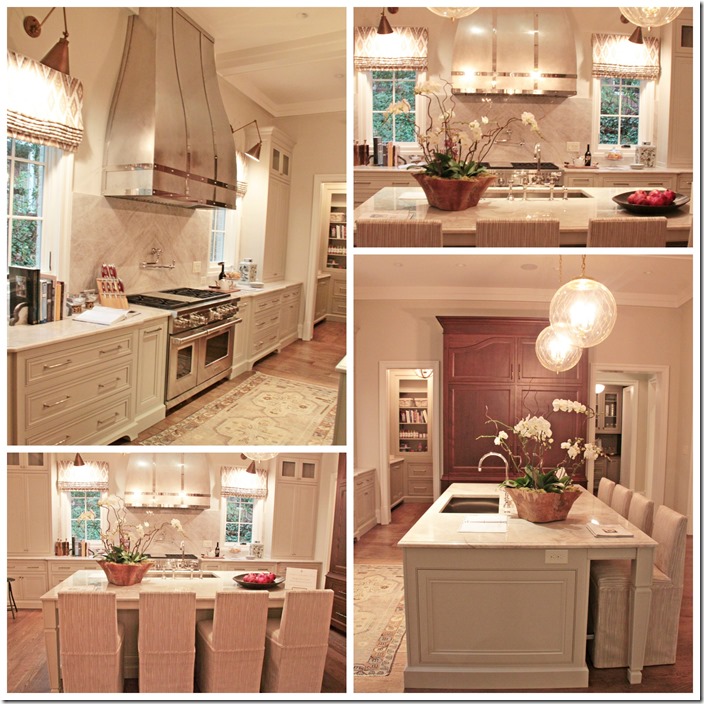 Back Porch – David Ecton and Lance Jackson (Parker Kennedy Living)
OK, so the back porch was my absolute favorite space and I took lots of pics here.  Because it was all blue and white and very Southern, it grabbed my heart.  I could totally live in this space!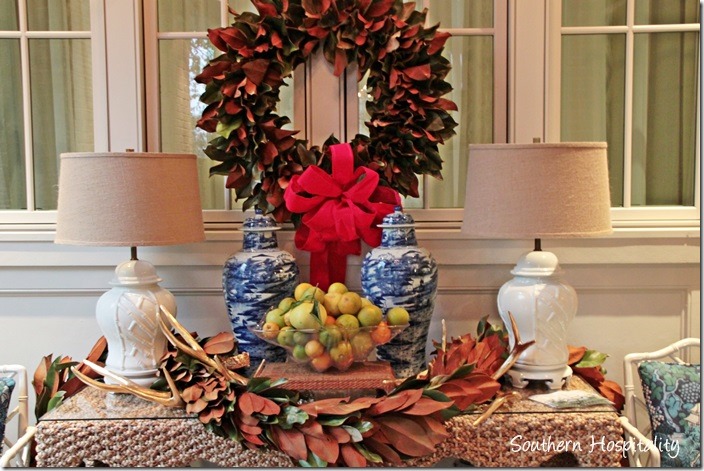 Living Room – Susan Ferrier (McAlpine Booth and Ferrier Interiors)
Bar Powder Room & Vestibule – Eleanor Roper, Debbie Weitz & Kent Drotor (B.D. Jeffries)
Bar area.
Grasscloth on the stairs.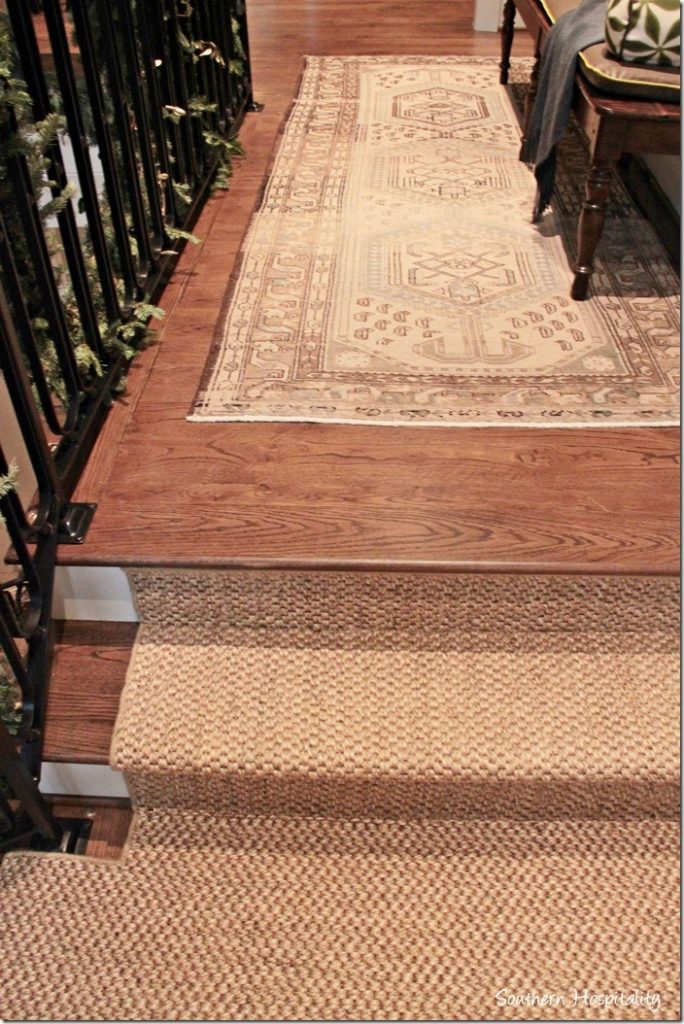 Grasscloth stair detail.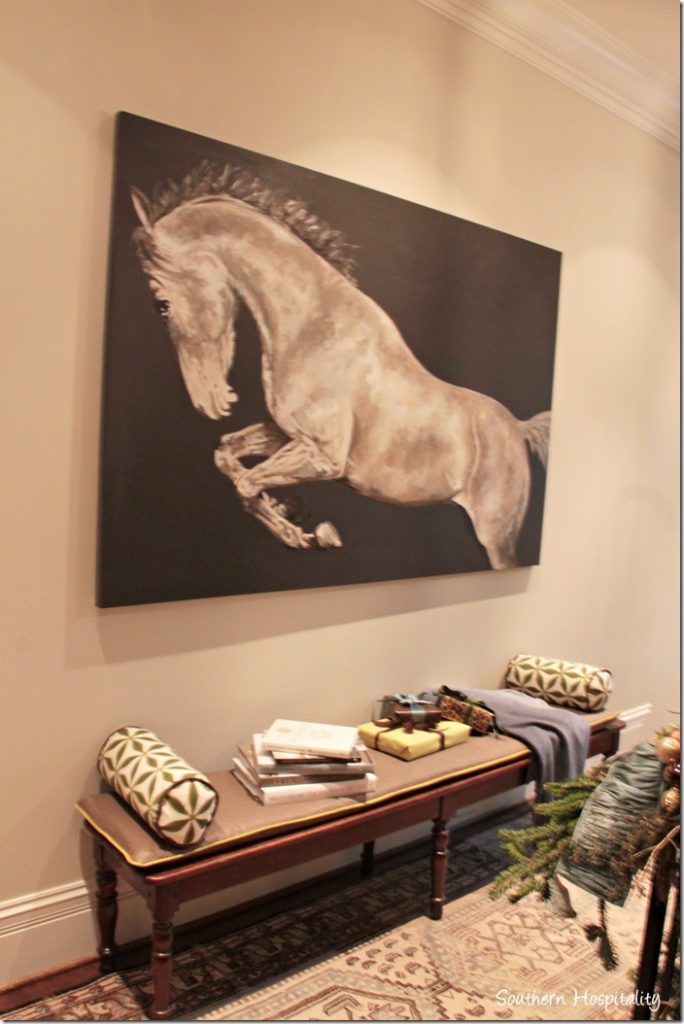 Master Bedroom, Bath and Sitting – Michel Boyd (Smith Boyd Interiors)
Loved this covered porch off the master bedroom.
Master Bedroom Sitting room.
Guest Room – Catherine Happe, Nancy Hooff and Carter Kay (Carter Kay Interiors)
Bedroom and Bath –Margaret Kirkland (Margaret Kirkland Interiors)
Bedroom  and Bath – Barbara Heath (The Mercantile)
Bonus Room  & Vestibule – Krista Nye Schwartz and Tami Ramsay (Cloth and Kind)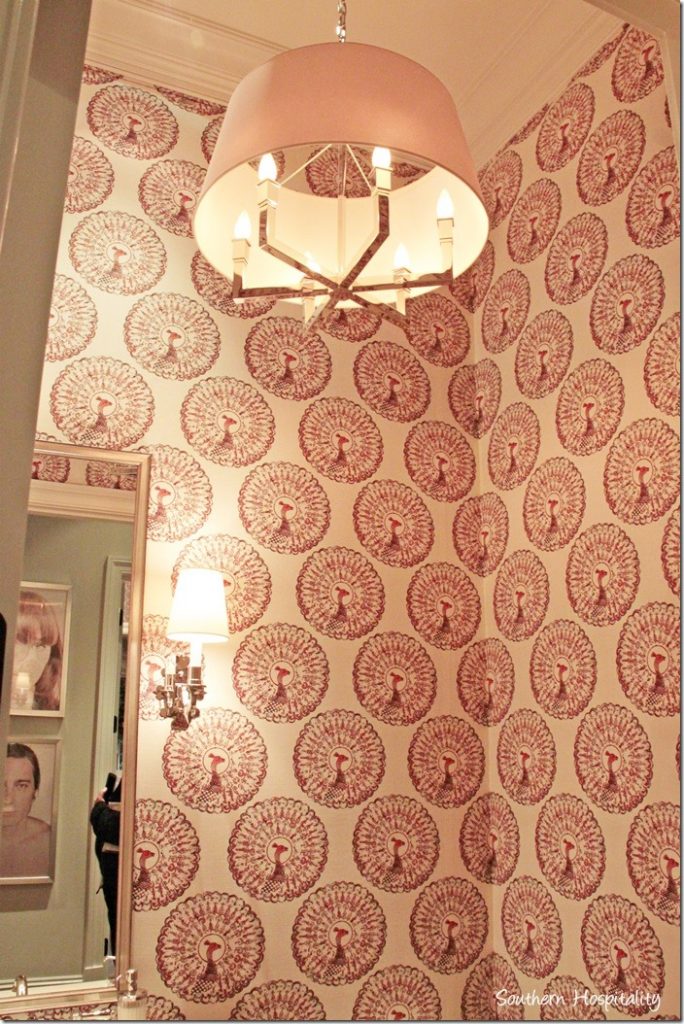 Laundry and Powder Room – Brian Patrick Flynn (Flynnsideout)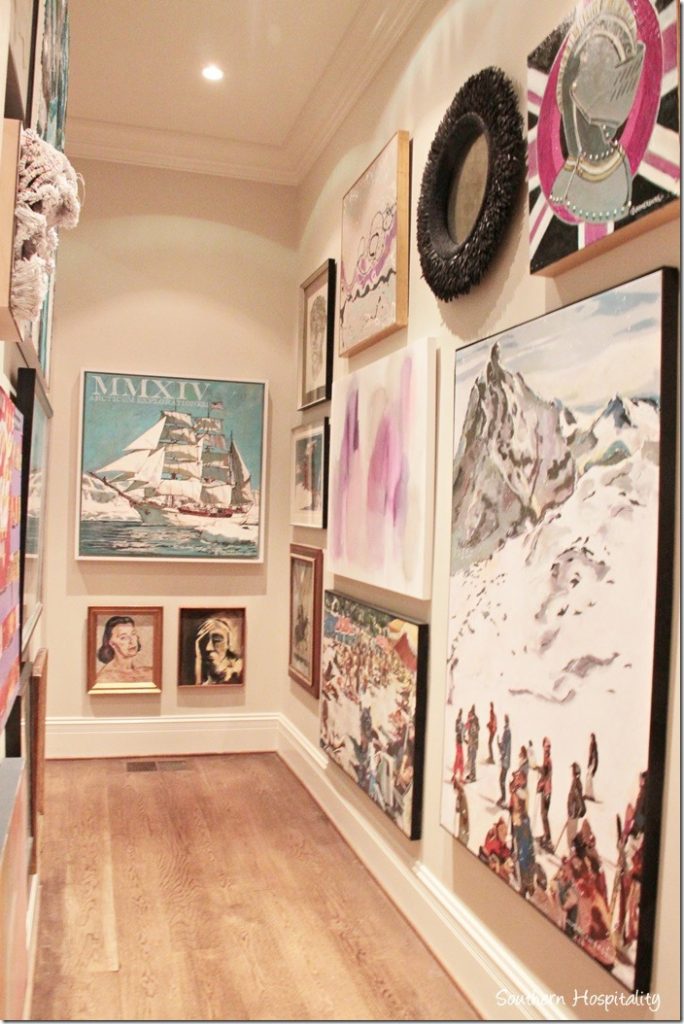 Hallway – Brian Patrick Flynn
Staircase to lower level.
And that's the tour for this year!  I hope you enjoyed seeing this magnificent house.  It's fun to see the different designers take on decorating a house like this and of course, some rooms draw us in more than others, but it's always a fun tour to see.  I thoroughly enjoyed it once again this year and appreciate the invitation by Atlanta Homes and Lifestyles magazine.
If you are in the Atlanta area, the home is open until December 7th.
Don't Miss a Post, join my list!