Woohooo, we had some fun at the 1st annual I Love Thrifting party which was started by the fabulous Rashon, better known as Mr. Goodwill Hunting.  He got the party rolling and many of us hosted in our cities.   We had a great turnout on the North side of Atlanta and had around 25 people show up by the time we hit the 2nd stop.
We met up first at the Goodwill in Woodstock and got the party started.  Lots of bargains were found and I don't think anyone left the party without purchasing something.

Here  we are ready to start our thrifting day, eager to see what treasures await.


Let the thrifting begin!  I walked around and took note of some treasures that I thought were worthy of a makeover, so I'll share those along the way too.  These tables were great candidates for a paint treatment.  Really good prices, like $25 or $30 each.


Another great candidate worthy of a makeover.

I found a few things that I thought were pure bargains and insisted someone take them home and they did for the most part.

Judi found some bargains to take home.


These headboards were crying out for some paint and TLC.  Take me home!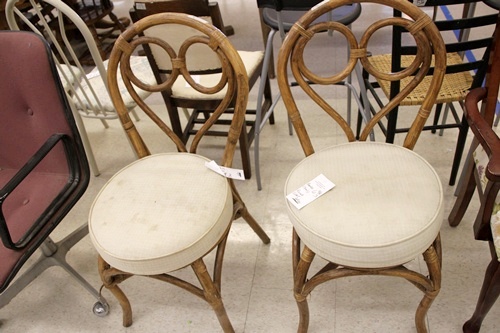 Cute bamboo chairs, but they were a little rickety.


This old oak stool caught my eye for $7 and I thought someone should definitely take this home and give it some new life with paint.


After I gushed over it, BB decided it had to come home with her.


This were a cute pair of chairs too, but needed some work on the caning and upholstery.


Lamps just waiting for a makeover.


My sister, Renee, came along with me and even though thrifting is not really her thing, she found a few treasures.  Like this cute basket for just a $1 or so.


Christina decided to take home 2 light fixtures to makeover, I think they were both less than $5 each.  Bargains, I tell you!   Lisa, in the red, found some kitchen items too.


Cute bloggy friend, Natalie (so glad we finally got to meet!), scored a few things along the way and brought along her mom and a friend.  There were a few mother/daughter duos at the event.


Next stop, Wellspring Treasures.  Sheila, who runs the place had contacted me about coming by there, so it was great to check it out. My first time in there and they had some great items.  She offered everyone shopping a 25% discount, so they got quite a few customers on this trip.


The whole thrifting shopping contingent.  We were a happy bunch of women.  The perfect girl's day out!  I met up with old friend, Cindy, here who also runs the place. She's an old friend from church long ago.


A recovered little ottoman was sitting outside waiting for a  new home.


This bamboo piece was intriguing.  Could be a record album holder (yeah, we all need one of those, huh) OR a magazine rack.  We discussed ways to make this over.


This little table could use a makeover too and might have a new lease on life.


Credenza was a nice functional piece and there were a bunch of plantation shutters to add some architectural interest.


This pretty white bed caught a lot of eyes, but no one bought it.


Cute little newly painted blue chair was around $25.


These twin padded headboards caught a lot of attention too.  They were so cute and $65 for the pair, which would have been a steal with the additional 25% off.  Alas, no one bought these either, although one blog friend, Melissa, really considered them.  Blue and white has made such a comeback.


Susan found a colorful rug.


Wellspring was set up very nice and clean and we all enjoyed our shopping there.  I will definitely pop in there again soon.


Natalie scored this adorable linen Roman shade for around $8.  Cute, cute!


Another bargain that I thought someone should buy, this large square wood coffee table was screaming for a makeover.  This one would look great painted a brighter color and distressed.  At $70, it wasn't bad!


Bargain City on Canton Hwy. was our next stop.  My first time in here too, but they had some neat things.


Natalie and my sister browsing around.


I spotted this cute little side chair, in dire need of a makeover for $10. Good deal for extra seating.  With a redo, it will be outstanding.


This pair of lamps had a nice shape and could be a candidate for spray painting.


As were this pair of yellow lamps for $6 each.  They had a great shape and could easily be painted with a glossy spray paint.


This round outdoor metal table  was $5, a bargain if someone needed this outside.  Again, spray paint to the rescue.


Someone found a neat desk storage cubby.

There ended up being 2 of those cute chairs for $10 each and Bethany bought them!  Love these and hope she'll email me when she does a makeover.

Sharon found a pretty lamp to take home and my sister bought a small heater for their camper.

Next stop, America's Thriftstore on Canton Hwy.

Another pair of lamps primed for a makeover.


Hello shell hanger from the 70's!  No, she didn't buy it. 🙂


This cute little cane end table had already been badly painted, but could have still been rescued for around $10.


By far, the most interesting conversational item of the day was this cot/bed.  We figured that someone had hand-made this piece and all it needed was a piece of foam for an extra bed.  No one bought it for $10.


With the rope, it had a nautical feel and I guess you could make a coffee table out of it too, but it would be a long coffee table.


Checking out.


Last stop, Goodwill on Roswell Rd. in Town and Country shopping center. I spied this huge piece when I walked in. He was just unloading it.  At $70, it would be a great flat screen TV console.  Another makeover candidate.


So what did I find?  At the last stop, I found a pretty green leather Talbot's purse for $5 in excellent shape.  I thought that was a steal and I will enjoy this over the summer.


Wicker bedroom furniture.


These Chinese stools are all the rage and one day if I find a really cheap one, I'll probably get it to spray a glossy white or fun color.  I passed this one up at $20….


But Susan decided she couldn't, so in the cart it went to go home with her for a redo.


Cha Cha and her daughter shopping the clothes rack and found a potential Little House on the Prairie dress for Halloween.  Great idea!


That was our last stop of the day and we were all getting hungry, so off to Le Madelaine we went, where I had my fave, wild field salad with a bowl of tomato basil soup and all the bread I can handle.  Yum, the perfect end to a fun, fun day!


All the girls who came out said they had a fabulous time too. It was great to meet them all and we are definitely going to do it again.  I think our next outing will be Scott's Antiques Market in September.  We hope it will be cooler by then.
Exciting news to share, I'm about to die from anticipation on this one!  I'm going to be flying up to Asheville, NC for a blogger event on Tuesday, coming back Thursday, where we will be wined and dined and shown some products (which I will share all the details with you later), as well as get to experience a candlelit tour of the Biltmore Estate.  Wow, I'm so excited and have to pinch myself over the opportunity!
There are a TON of parties out there to highlight all your projects, so please let's keep this one about thrifty finds that were bought 2nd hand!  Not a great sale from the store, but 2nd Hand finds only!

Add your permalink to the link list, which is the actual post that you did for this party, NOT your general blog url. To get the actual post, after you publish the post, just click on the title and THAT will be your party post url. PLEASE try to get the correct url in the first time!
Please add my button to your post or blog OR at least link back to this post in your post. That's all I ask. It's common courtesy to link back to the person having the party, so that all of your readers can find it too.
Please do NOT link to an Etsy shop or something similar (even if you think it's a fabulous deal) or I will delete the link. This party is for sharing thrifty finds from yardsales, thriftstores, or something along those lines. If I see that your post is not really on track with this theme AND you don't link back, I'll delete your link. Sorry, but I'd like to keep the party consistent! IF YOU SEE THAT YOUR LINK HAS BEEN DELETED, IT IS PROBABLY BECAUSE IT IS NOT IN LINE WITH THIS PARTY THEME.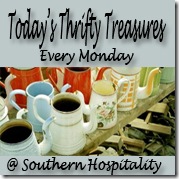 Don't Miss a Post, join my list!