It's always fun for me to go down to the Atlanta Mart (AmericasMart here in Atlanta) for the shows.  I don't go all the time, because I'm not a retailer with a store, but I can get in there with my business license. So, browsing all the new merchandise is always inspiring to me.  Going to the mart for a few days can be exhausting and exciting all at the same time, you definitely need comfortable walking shoes to make it around there all that time.  It's 3 tall buildings packed full of showrooms. The furniture and gift market is held twice a year, I think.  That's the one that is of most interest to me, as there is also a huge apparel show, which I've been to before too.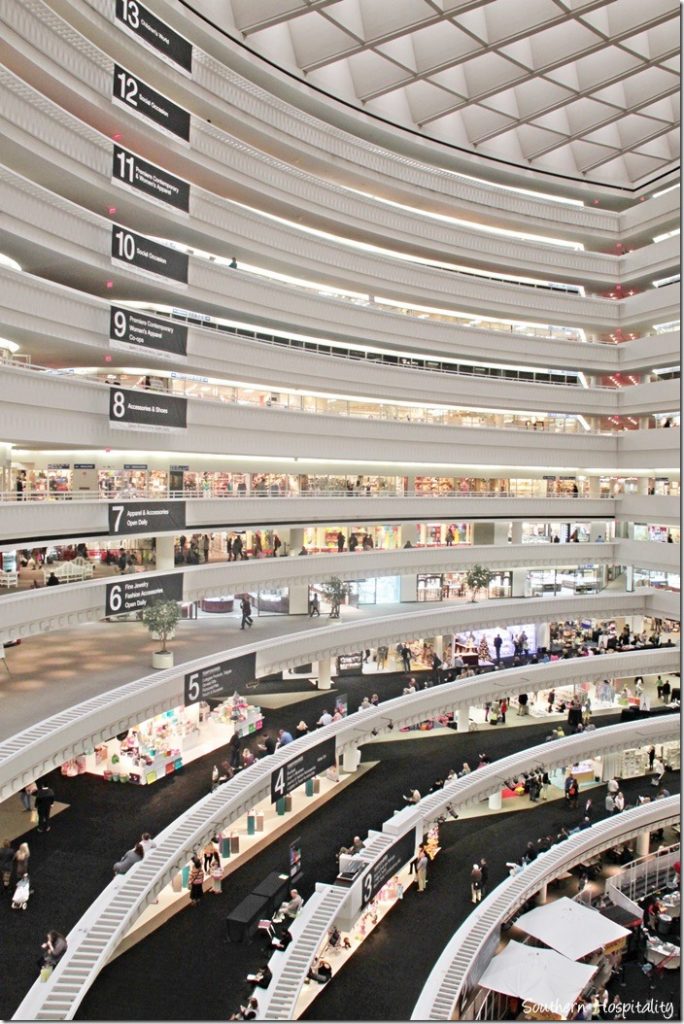 Keep in mind that that AmericasMart here in Atlanta is the wholesale market for retailers.  It's huge and holds thousands of wholesalers who then take orders for next season's merchandise for retailers all over the country.
This is just one of the 3 buildings that house The Atlanta Market.  It is definitely overwhelming to me and I'm certainly not an expert on how it all works, but it's fun to go and see all the new things out there.
One booth space that really caught my eye was Ridley Stallings Art.  I met her mom and she was telling us all about her daughter who lives in Savannah and creates this beautiful art out of reclaimed wood.
I thought her art was so pretty and unique too.
Especially these guitars, aren't they fun?
I loved the dog head too, which has hooks for leashes and dog items.  That would be so cute in a mudroom.
Even adorable wood items for Christmas, so unique.
And a mermaid.  I just loved her fun and fresh art pieces.
Bobo's Intriguing Objects is always a fun place to browse.  They also have a big warehouse in High Point that I visited last year.
Design Legacy had some fun things to see. I hope I didn't get these pics out of order, it was hard to keep up with who was who.
Vagabond Vintage is always one of my favorite showrooms to see.
I've always loved these mirrors.
And these bark planters were too cute.
Mr. Brown showroom.
Saro showroom
Lulu and Company Home store.
And this Downton Abbey store was fun!
Check out the greeters. I still haven't seen that show, am I missing a lot??
House Parts has been an Atlanta fave of mine for years and they always have great architectural items.
My friend, Vicki, went with me to spend the day and we stopped in at the Amy Howard collection paint booth and sat in on a paint demo, which was fun.  We painted blocks of intricate molding in black, then added red with gold leaf on top, finally topped off with her Dust of Age powder on wax.  The finished pieces are the large pic you see.  Isn't that pretty?
Almost forgot! One of the most fun thing about the market is the cash and carry jewelry floor. It's all temporary vendors set up with all this great jewelry at super prices.  Here's what I bought this time.  I love turquoise jewelry!  You might remember a chunky silver charm necklace that I've been wearing for years with my initial on it? I always get asked about that necklace and it came from the mart about 4 years ago. This is real turquoise, but not real silver. He did tell me that it's not supposed to turn and tarnish though, so we will see.  These were $15 each for the necklace and bracelet.  Good deal, I thought!

All in all, a very fun day at the Atlanta Mart.  It's always an inspiring place to visit and I'm glad I get to peek in there occasionally!
Don't Miss a Post, join my list!