Last week for Easter, I made this delicious squash casserole again for our family.  It's a recipe we turn to over and over again and we originally got the recipe from one of the sweet ladies in my dad's church who always had the best Southern recipes.  She somehow shared this one in our church cookbook, from a popular restaurant at the time, Aunt Fanny's Cabin here in the Marietta area.  That restaurant is long gone, but it was a fun place to go for Southern cuisine and they were known for their down-home fried chicken and sides, with this squash casserole being one of them.
I shared this recipe many years ago here on the blog, but it's buried in a family food post and hard to find, so I'm putting it in a post by itself so that you all can enjoy it too!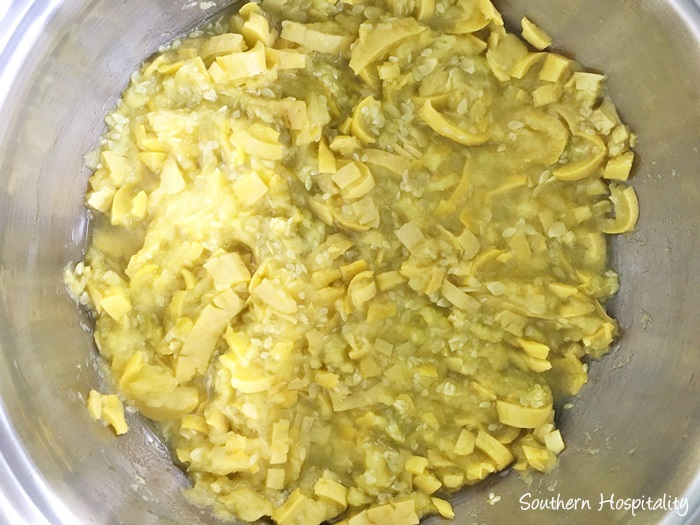 A sweet lady in our church made this and added it to our church cookbook years ago and it's been a family favorite.  Slice and boil 3 lbs. of squash to start with and then mash up the squash for the casserole.
It just has a few ingredients, like butter and eggs, salt and sugar.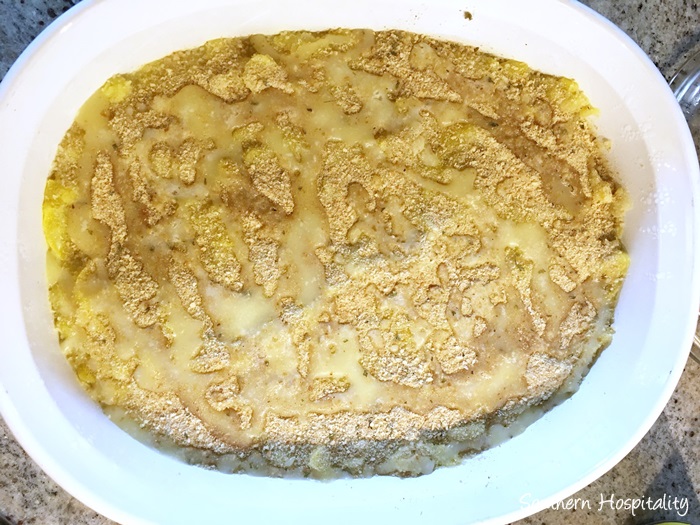 After dribbling butter over the bread crumbs, ready for the 375* oven.
Bake for about 1 hour at 375 and it comes out golden brown and ready to eat.  Mine baked for about 55 minutes.
Our Easter meal, with the squash casserole up there by the green beans.
Here's the recipe how to:
Aunt Fanny's Baked Squash
(Aunt Fanny's Cabin)
3 lbs. yellow squash
1/2 cup chopped onion
1/2 cup cracker meal or bread crumbs (I used more and just sprinkled Italian bread crumbs generously on top)
1/2 tsp. black pepper
2 eggs
1 stick butter
1 T. sugar
1 tsp. salt
Wash and cut squash. Boil until tender, drain thoroughly, then mash.  Add all ingredients except 1/2 of butter to squash.  Melt remaining butter.  Pour mixture in baking dish, then spread melted butter over top, sprinkle with bread crumbs.  Bake in 375* oven for approx. one hour or until brown on top.
Don't Miss a Post, join my list!