One of the best ways to feel young again is riding a bicycle! Mark and I moved to Acworth 2 years ago and knew that it would be a good place to ride our bikes, but we had no idea just how much we were going to love this new exercise program which gets us out and about in our little town. It's been the most fun thing we've done together since moving in our house.
Our new little community is the perfect place for bike riding, as we are surrounded by 2 lakes on either side of us. Lake Acworth is on one side and Lake Alatoona is on the other side of our house, so it's a win-win no matter which direction we go. And downtown Acworth is booming right now! We've seen so much growth since we moved here and things are still growing and building. We are so happy with our house decision and couldn't not be more content with where we are.
So, come along with us as we bike around our town of Acworth and see the sights that we see every time we go out. We love biking for the exercise part of it, but just being on a bike and seeing everything up close and personal is the best part about it too!
We have wanted to find something that we can do together for exercise. Mark hates the gym, I go to the gym and have for many many years, but it's not something he loves. We have walked together and enjoy that, but honestly in the summer walking in the heat and humidity is tough for me. I find that I can ride much easier in the heat than walk. So bike riding is something that we both love to do together, for exercise and the other benefits are great too. It will be something that we can do for many years to come and we happen to live in a great place for bike riding, so that's a huge plus. We can go right out of our neighborhood to downtown Acworth and to the lakes without ever getting on a major road. All the roads right around us are 25 mph.
So,first I'll show you our bikes and what we are riding. That's the first part to getting into bike riding. You need bikes that you really love! Mark has this Schwinn cruiser bike that he's had for I think 15 years or more. He loved riding when he was in his old house in Marietta, but it's been a few years since he has ridden bikes consistently.
I had an old mountain bike that I bought at a yardsale years ago, but mountain bike aren't nearly as comfortable as cruiser bikes which I found out after riding his around the culdesac at our house. After that, I had to have a cruiser too! So I went online at Amazon and started looking at bikes. I found a brand called SixThreeZero that got good reviews and the bike was just what I wanted so I bought it and had it shipped to our house.
I talked Mark into trying to put it together knowing that I might have to take it to a bike shop to finish up, but it didn't go well so I went back online and contacted the company listed on the Amazon listing as someone who could come out to our house and put it together. One of the screws that was in the bike that had to come out to continue with the installation of the bike wouldn't budge, so Mark couldn't finish it up.
It needed a pro to do that part, so we called in a Pro who came out and put my bike together in about an hour! It was well worth the $63 spent and the Amazon seller refunded that to me since we had a problem getting the bike together ourselves with the screw issue and I had called them. So that was a plus! He did a fantastic job and it was great to have someone come to the house.
And there's my cute blue bike all ready to go!  I just love this bike! It fits me perfectly, the seat adjusts up and down easily, it sits upright so I'm not all hunched over and it has 7 speeds which works well for us with our hills around here. Luckily, we don't have any major hills and 1st speed works great for the 3 or 4 that we have on our jaunt around town.
Riding a bike comes right back to you and it feels so freeing to be out there flitting around town on our bikes. And riding a 7 speed is very easy once you get the hang of the gears and hand brakes. I had used hand brakes before so it wasn't a problem for me.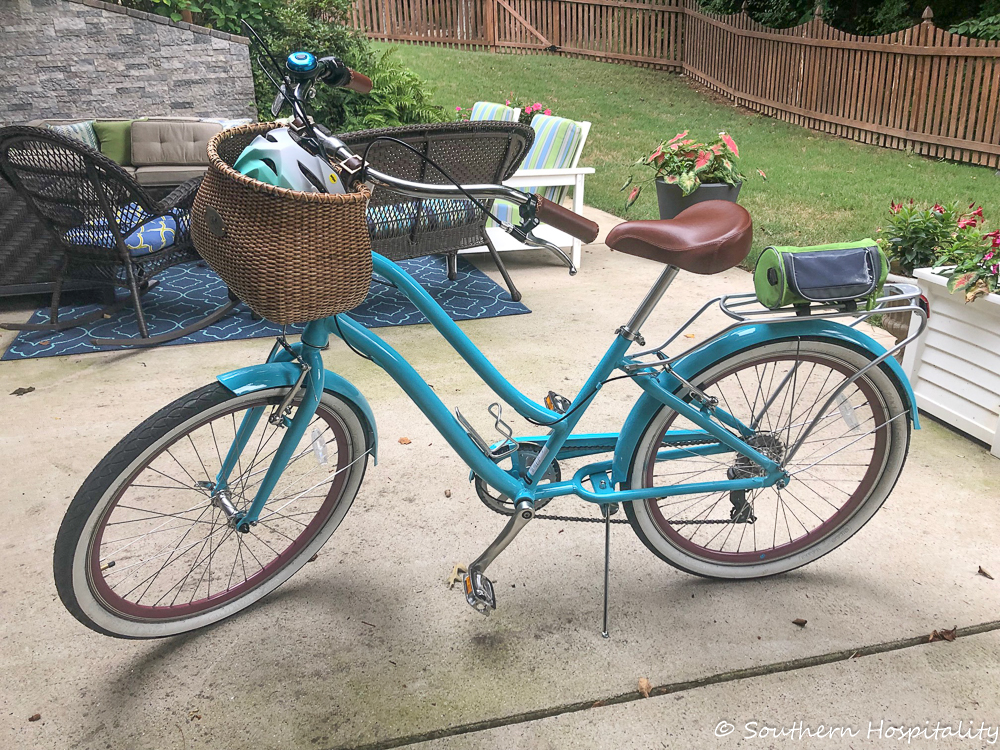 Of course after I got the bike, I had to have a basket. Once I saw this basket, I couldn't love another one, so the Nantucket Bike basket was ordered on Amazon as well as that cute green pouch for the back of the bike. I can put my phone in there to keep it dry if needed. And I bought a blue bike bell which you can just see on the handlebars.
Someone told me about an app called Map My Ride, so I down loaded that and we use it every time we go out to map our route and see how far and how fast we are riding. It's fun to see our route around town and we can increase our time out as we get more conditioned to riding.We have just started riding in the last few weeks and have been out at least 10 times. We've worked up from 5 miles to 10 miles and I'm sure will keep adding distance on as we keep riding. It's a great workout and we are drenched with sweat when we get home.
I bought the helmet (to match my bike, of course!) from Target and the green pouch from Amazon. I'll link it all below if you're interested. Here's the helmet link  from Target in case the pic isn't showing below. Affiliate links used!
I bought my bike from another seller on Amazon, but right after placing my order I saw this listing for less. So Amazon refunded me $60 of my purchase price which got me close to this price. They say they don't price match, but they will refund if you call and complain, so it worked for me. If you want to get the bike put together, you can add that as an extra cost too, which I did after the order.
My cute Nantucket Bike basket. We are going to have a picnic before summer is over and I'll pack it in my basket.
So here we go, let's go to town! Not a flattering pic, but I really don't care what I look like when I'm on the bike.
A note about bike helmets. When I first started posting on Instagram that we were bike riding, we didn't have helmets on and I got a lot of scolding from many of you who bike ride. So I went out and bought a helmet and finally talked Mark into one too. He was resistant at first, but I kept reading him comments from people who had witnessed bad bike accidents, so we just can't take a chance on that, so wearing helmets is a must! I mean, we all survived childhood without helmets and seat belts, so how bad could it be, right? But we are smarter now, so I'm glad we got helmets!
Waiting for the train to pass, we get a lot of train action in downtown Acworth.
Mark and his new helmet. He got his off Amazon.
I hope you enjoy the scenery that we get to enjoy every time we go out. Acworth has a historic district of houses behind the downtown area with the cutest homes. This is just one of a bunch of them that are so cute.
It's so nice to see these restored and renovated historic homes near Lake Acworth. It just has such a nice feel, the little town and lake behind.
And here's a view of the lake and tranquility of the water.
It's so peaceful riding around the lake and enjoying the scenery.
There's a bridge that crosses the lake and goes back in the woods and then comes out in a residential area, so we have figured out a nice loop around town that takes us almost 8 miles in a circle.
We have plenty of sidewalks and paved paths to ride on which is so nice.
A picnic spot by the lake. We are going to ride here one day and enjoy a picnic by the lake. You can do nothing but relax with this view!
You can't tell from this picture, but there's a golf course on the other side of the lake.
A view of the lake from the main road which we don't ride on. See that little sandy strip of beach to the left? That's a park in Lake Acworth for lake use during the day and it's really cute. There are several sandy beach areas around the lakes here which is really nice and we take advantage of that too by taking our floats out and floating in the lake when it's really hot.
Another historic home on our way back to town.
Our route also takes us in the woods to another winding path and we end up at Logan Farm park, which is a really nice park that the city built for residents to take advantage of. The Farmer's market is now held here every Friday during summer months and the walking trails are beautiful. Such a plus to have this right in our backyard!
Here's a look at just part of the park, with large trees and winding concrete paths, The new Acworth Community Center is just beyond those trees.
There's also a nice playground for kinds and that shady trail in the woods that connects to the park. We do a few loops around the park while we're out riding too.
On Fridays, the Acworth farmer's market is in full swing from early summer to Fall. I stop by there periodically.
One of my favorite things there is the fresh peaches from Pearson Farms. I get their "scratch and dent" peaches, which are a little bruised, ripe and ready to eat. That's my idea of summer fun!
This cute new house we watched being built right across the railroad tracks from downtown Acworth. I don't know who lives here but I sure would like to see inside! It's a beautiful little house built in a historic manner.
The new pedestrian bridge that has recently opened in downtown Acworth is a visual addition to the area. It will connect the left side of the railroad tracks with downtown so that when there are crowds of people at an event, they can walk over the bridge and park to the left in parking lots. This area is all being built out with more restaurants and a brewery coming soon, so the landscape of downtown is going to keep changing. We are happy to see the improvements and changes, it only adds to the value of our house which we got at a great time.
An AME church near the park.
And another historic church which I love to see in town, we ride by here every time we are out on our bikes on the way back home.
There's a beautiful wedding venue near downtown too which we rode by on our bikes, Cedar Plantation. It was fun seeing the grounds and I heard from many of you that you've been to weddings here.
And that's a look around our cute little town of Acworth. It truly is the perfect bike town and we are taking full advantage of that this summer. We're trying to ride at least 3 to 4 times a week and even though it's hot, it's a great workout and the breezes are wonderful on a bike. My stamina is much better on a bike than walking in the heat.
I thought you all would enjoy hearing about our latest adventures and how much fun we are having with our bikes! Who knew that being a Baby Boomer would take us back to childhood so easily with biking? We're have a blast!
So how many other bikers are out there riding with us?
Don't Miss a Post, join my list!