Last weekend, I had the pleasure of going back to High Point Spring market for all sorts of inspiration, in and out of showrooms with the Design Bloggers Tour and it was so inspiring and fun. It's a lot to take in in only 2 days, but we did it and came away with so much inspiration from all we saw. It can be design overload for sure, but it's so fun to see the latest offerings in the home furnishings industry up close and personal. I was just thinking that Atlanta doesn't have any large furniture showrooms anymore, except for to the trade ADAC and the Atlanta market, so it's hard to see good furniture in person these days. I love to see high end furniture in person, it really helps to see the difference between high and mid-range styles.
If there's anything that is more fun than looking at all the latest and greatest in design, fabrics, accessories, and more, I'm not sure what it would be. High Point Furniture Market is the mecca for good furniture design and innovations in home furnishings. I did this same tour 5 years ago, but it was time to go back and see what's new again, so I'm very glad I went.
Come along with me and I'll share what I saw! I took so many pictures so I will split this into at least 3 posts.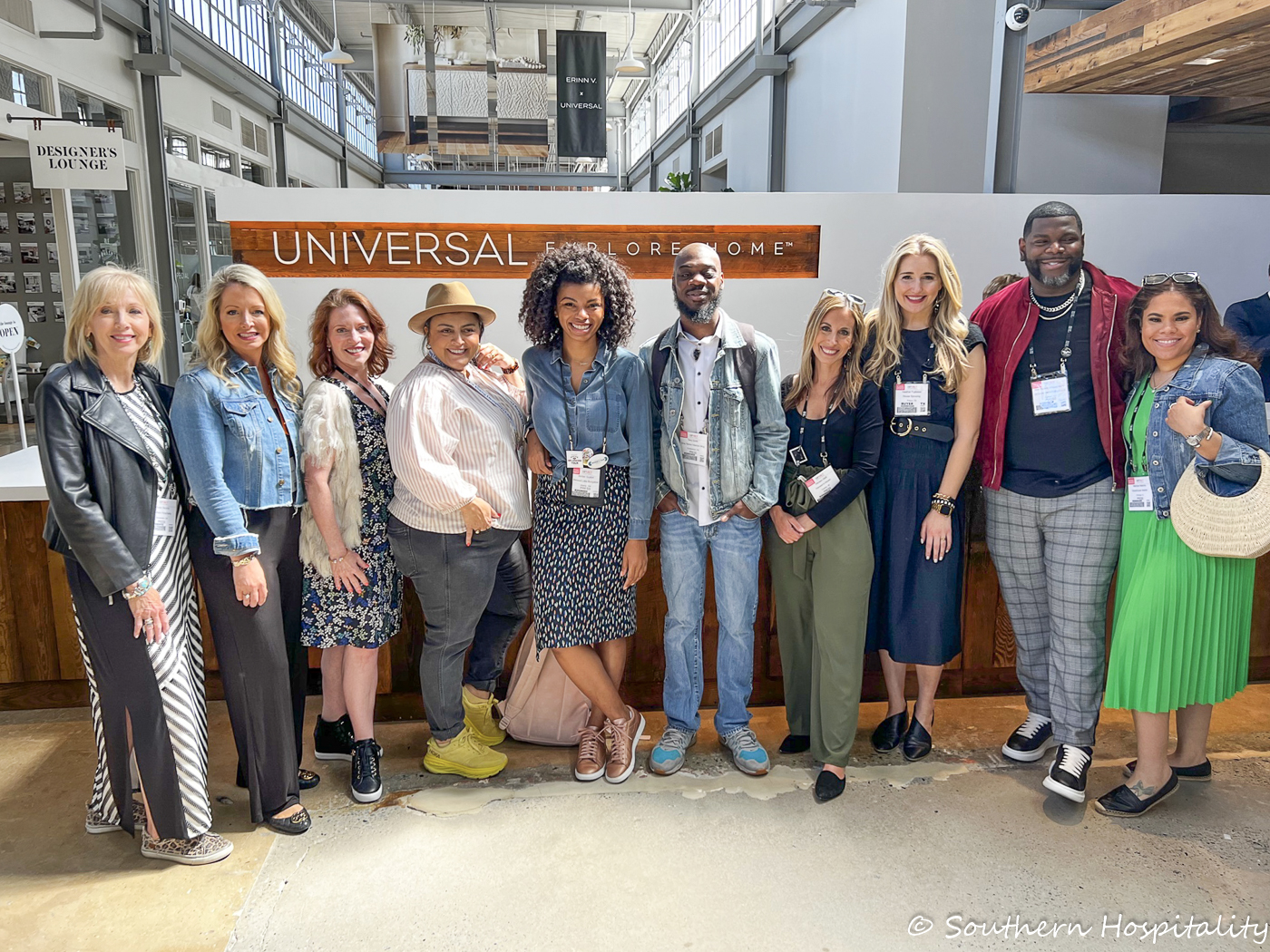 There were 10 of us on the tour, 3 bloggers/designers and the rest are all full time designers, with busy businesses. I'll introduce you so you can check them all out. It was great to see Haneen again, we've met a few times and to finally meet Jennifer Maune, who I've known online for years. All of these guys and gals are extremely talented and their websites are impressive, so definitely take a look! We all had to apply for these 10 positions to go to the High Point influencers tour and it's an honor to be chosen.
From left to right, next to me:
Pamela O'Brien, Pamela Hope Designs
Rebecca Plumb, Studio Plumb
Amber Guyton, Blessed Little Bungalow
Tariq, Rasheeda Gray Interior Design
Haneen Matt, Haneen's Haven
Heather Fujikawa, House Sprucing
Don Ricardo Massenburg, Design Inkredible
Marissa Nelums, Glass House Interiors
HIgh Point, NC is the heart of the furniture industry in our country. It's been a hub of furniture manufacturing for at least a century and it's nice to have that here in the south. These pics give a glimpse around town and these came from the press packet I got on High Point, so I borrowed them so you could see how High Point looks during market. It's a very exciting town!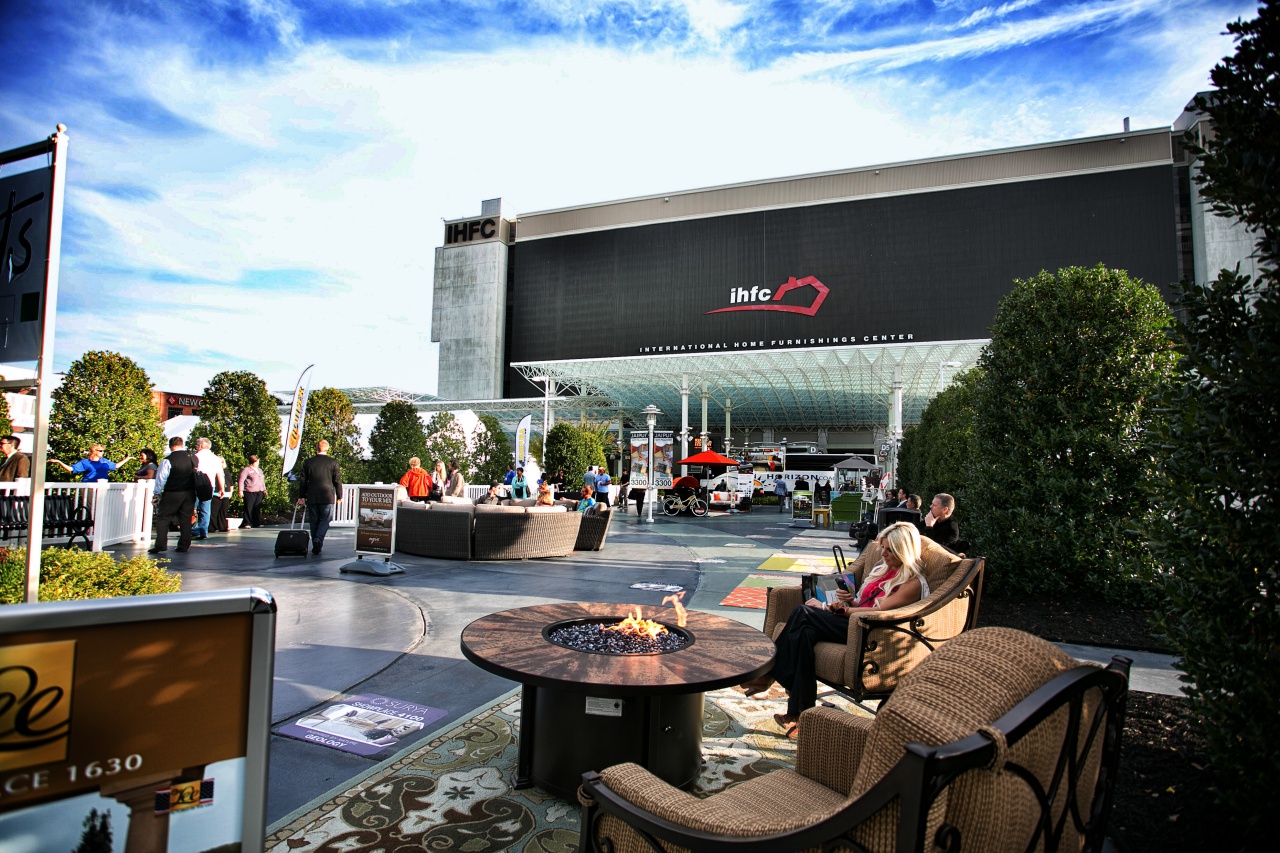 The IHFC building is the main building and there's a busy courtyard area set up between buildings here in this open square, with live music and lots of entertainment during the market days.
Furniture companies are all over town so you can take free shuttles around town to get where you're going. We walked some and took some shuttles too, but definitely got in lots of steps.
I was only there 2 days, so I can imagine those who stay the whole 5 or 6 days come away completely exhausted, but filled with ideas and inspiration. There are parties galore during market week, with book signings, furniture collection debuts, and overall fun going on.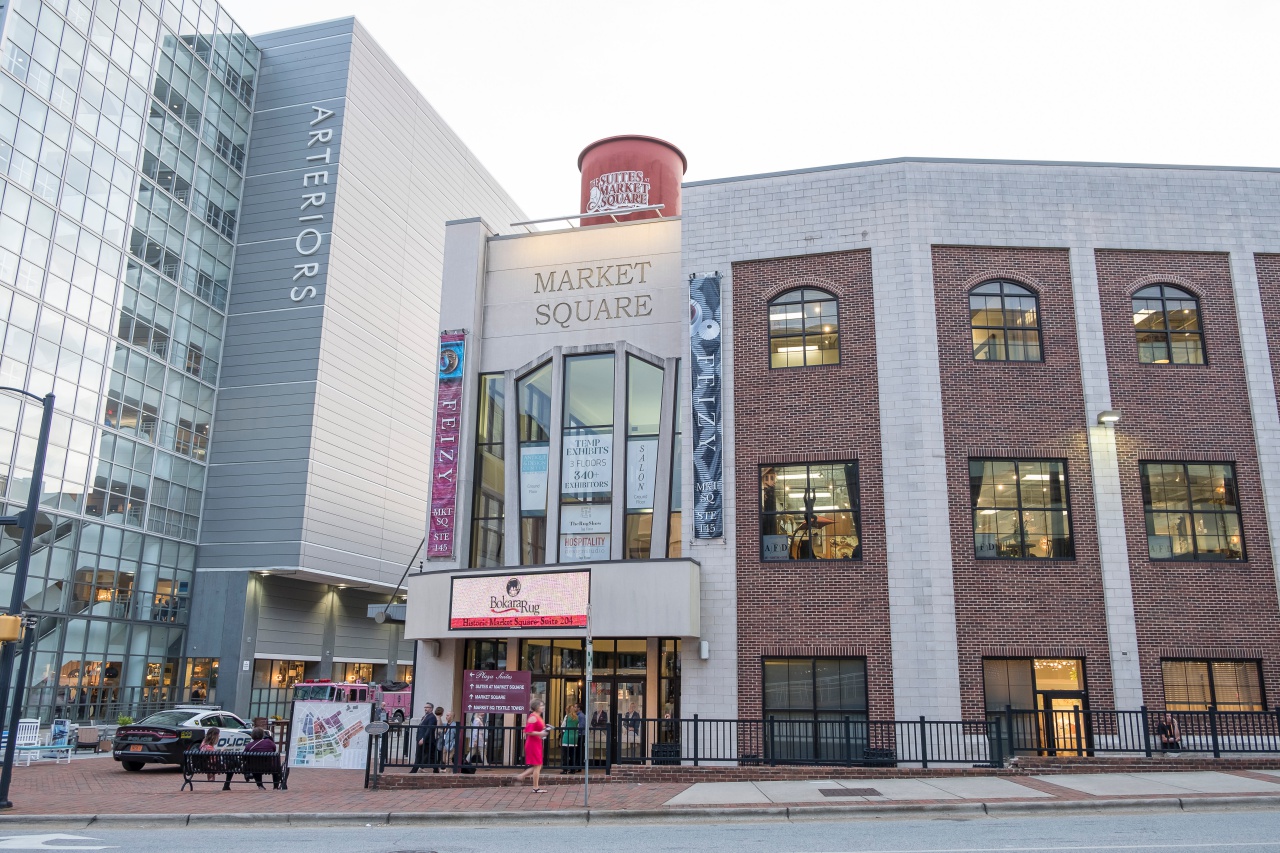 Let's get started in the showrooms we visited!
Our first stop was to Theodore Alexander, which I had visited when I went 5 years ago. This brand is traditional, yet modern with several lines under their umbrella. This furniture company was founded in 1996 and is one of the finest luxury brands in the world. They use interesting materials, with quality and beauty being a big part of their brand, making furniture that lasts a lifetime.
It's so nice to see all the furniture vignettes displayed so well, so that you can picture it in your own home.
I'll share a few trends I noticed along the way.
Style Trend: Wicker, Rattan, Seagrass
Namely, wicker, rattan, seagrass and textures are a super trend right now. I saw so much of this on furniture, lighting and accessories at the market and I'm not mad about that. Lighting in rattan is very much on trend now and it looks so textural and organic. It also mixes so well in modern or traditional settings. You'll see much more of this trend in upcoming showrooms as well.
Crypton Fabrics
Crypton Fabrics was a big sponsor of this tour and are featured in 4 showrooms we visited: Theodore Alexander, Fairfield, Wesley Hall, and Cisco Home, so you'll be seeing plenty of their fabrics throughout the tour.
Crypton Fabrics offers soft velvets, elegant linens, genuine leather, chunky wovens, cool natural fibers and more, all designed with permanent protection from spills, stains and odors. Doesn't that sound great?
Five years ago was when I first learned about the magic of Crypton fabrics and I worked with them afterwards to get my old Ethan Allen sofa recovered. It's a performance fabric of the highest caliber and if you're looking for hard working fabric for a busy family, you cannot beat Crypton. I shared the beading up of liquids when I shared the fabric last time and yes, it still does that too.
She demonstrated both, but this time a yellow Magic Marker was demonstrated and completely lifted out. She said a small amount of Dawn, Woolite or Tide detergent mixed with water is all that's needed to lift out most anything that's spilled on Crypton fabric. Some permanent markers or other stains may not come out, but most everyday stains do.
After blotting with a paper towel, the yellow marker is now on the towel. It's amazing fabric! Crypton Fabric is a partner with many brands throughout High Point, so you'll see more of them along the way too.
We had so much fun walking around the showrooms. As you can see, I wore comfy shoes.
More snapshots of vignettes at Theodore Alexander. I didn't see nearly as much gray around the market as I did 5 years ago in case goods or fabrics, so that trend that was going strong does seem to be waning.
Another treat in the Theodore Alexander showroom was an entire tour through the Althorp Living History collection and a highlight was getting the tour from Lord Charles Spencer, Lady Diana's brother. The desk in the collage above was really unique and we were told the staircase in Bridgerton was modeled after this desk. It had all sorts of cubbies and hidden doors that open.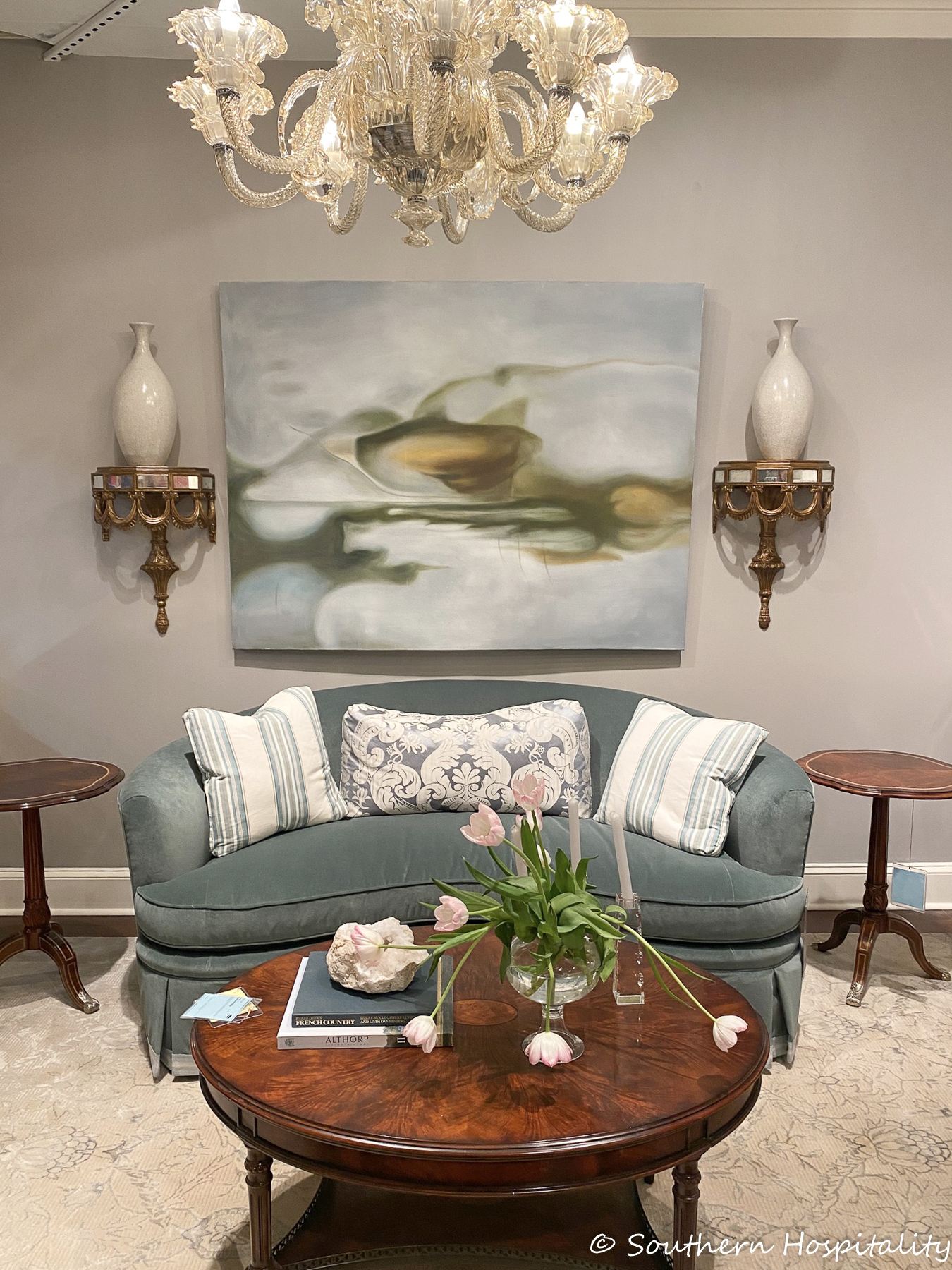 He told us that many of these pieces are exact replicas of the furniture found in their family home of Althorp and that he uses the proceeds of the collection to help keep the house going.
If you're a fan of English fine furniture, the Althorp Living History collection does not disappoint. It's beautiful and very well made, although with a higher price tag than many of us can afford.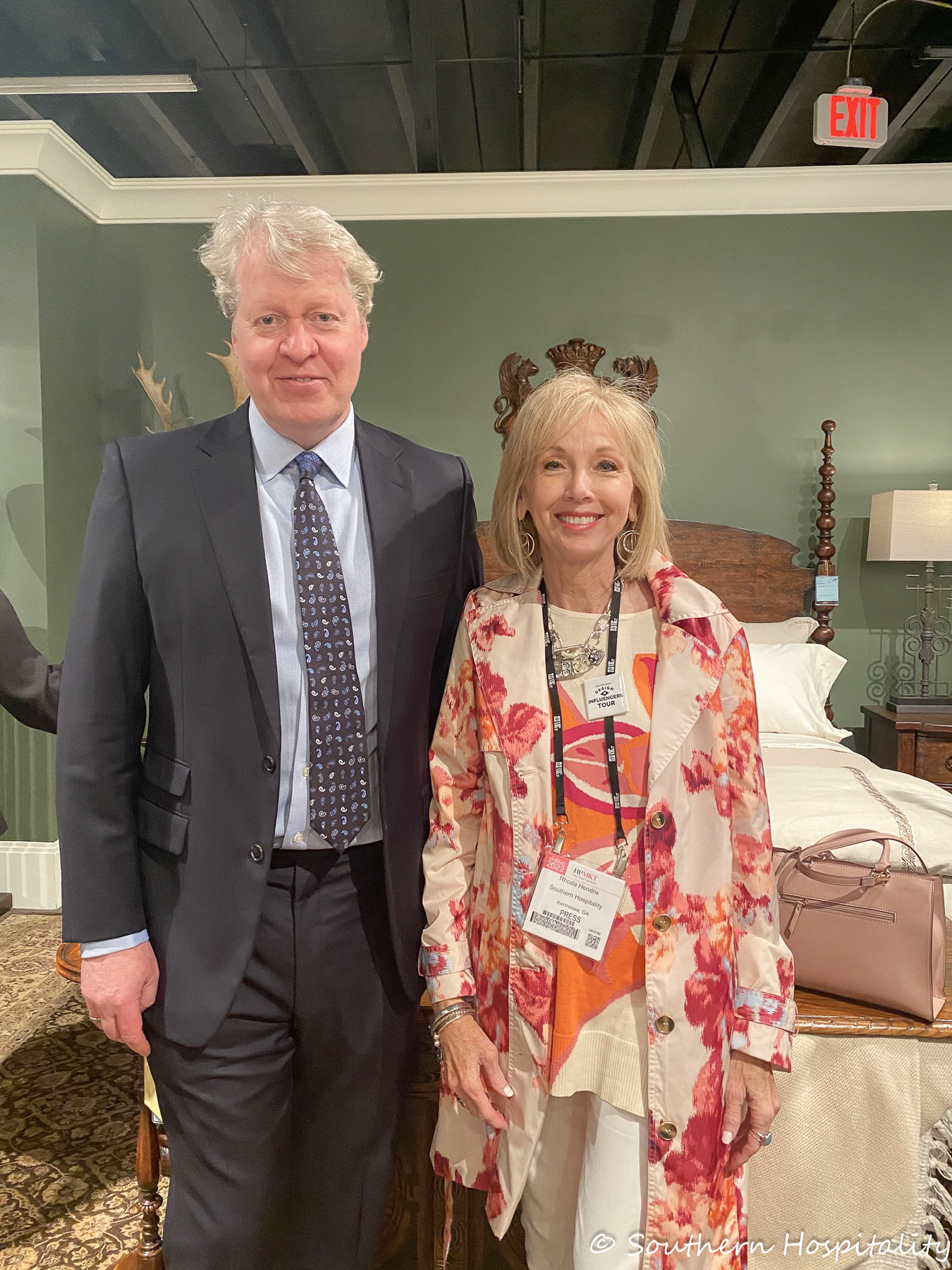 Of course, we all wanted a picture with Charles. He's very tall!
Next up was the Hooker Furniture showroom. It's a personal brand favorite of mine. My foyer table is a Hooker piece and I love that they have so much to offer. It was a treat to see it all in their showrooms. As you can see, they have several brands under their umbrella.
The Big Sky collection was new to market this year and she showed it all off proudly as we looked around at all the pieces. Think Yellowstone and you can see that this rustic yet refined western style would feel right at home on the ranch.
It's bold but down to earth.
I do see some grays here, with lots of textures.
The leather trim on this chair was a striking detail.
Chunky woods and leathers.
Style Trend: Arched Cabinets
I saw several arched cabinets at the market in different showrooms, so I'm calling that a trend. I happen to love arches so I see this going strong.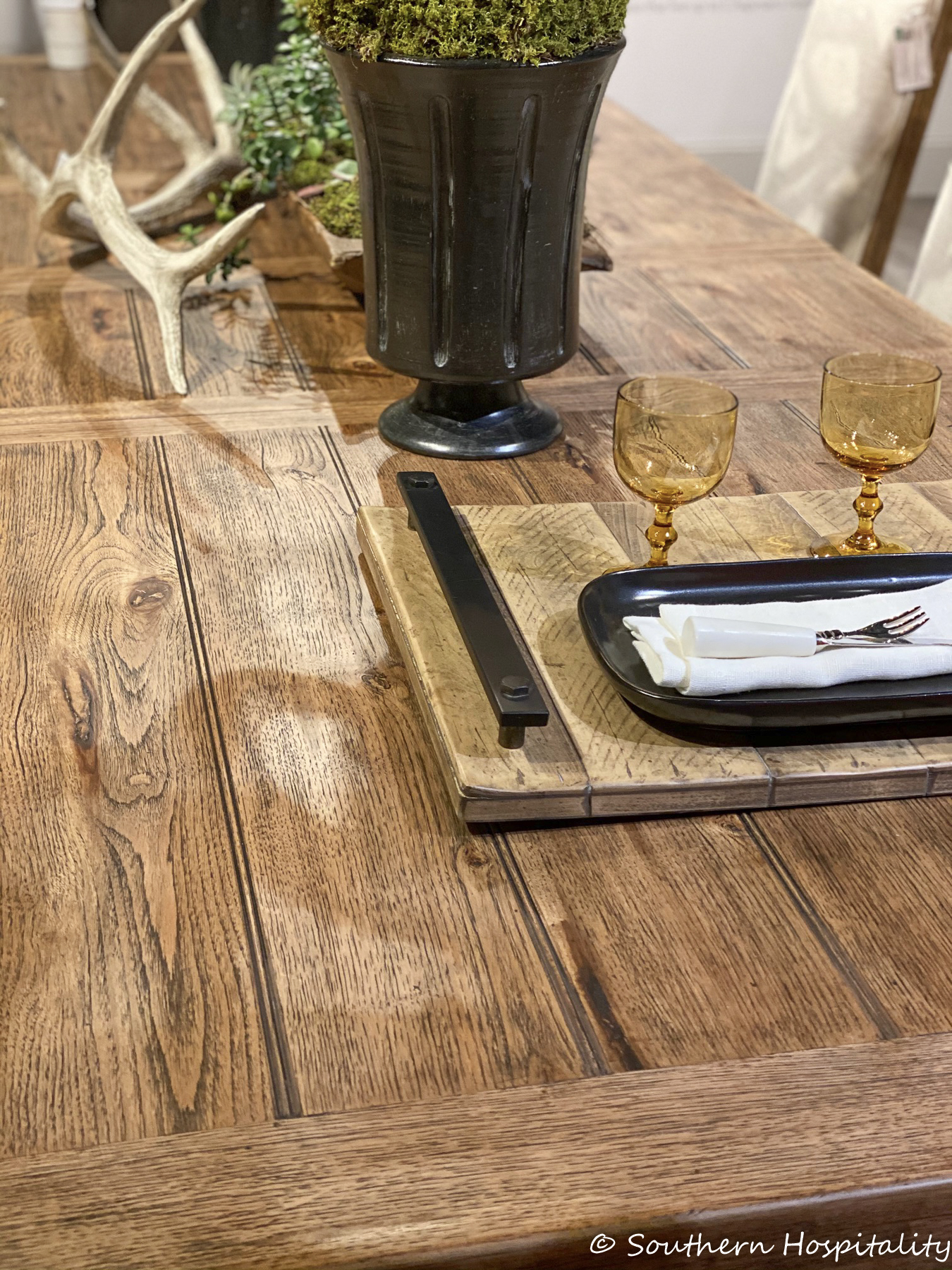 Wood grain on a dining table in Big Sky.
Another new collection is Santorini in the Hooker Showroom. I loved this one. It's lighter, softer hues in the wood tones and very refined and classic.
Here's a closeup of the finish and pulls on a piece.
Another arched cabinet in the Santorini collection.
You can see the details in the pics above from Santorini. The tones, shapes, and painted wood colors were very soothing and pretty and definitely classic in style.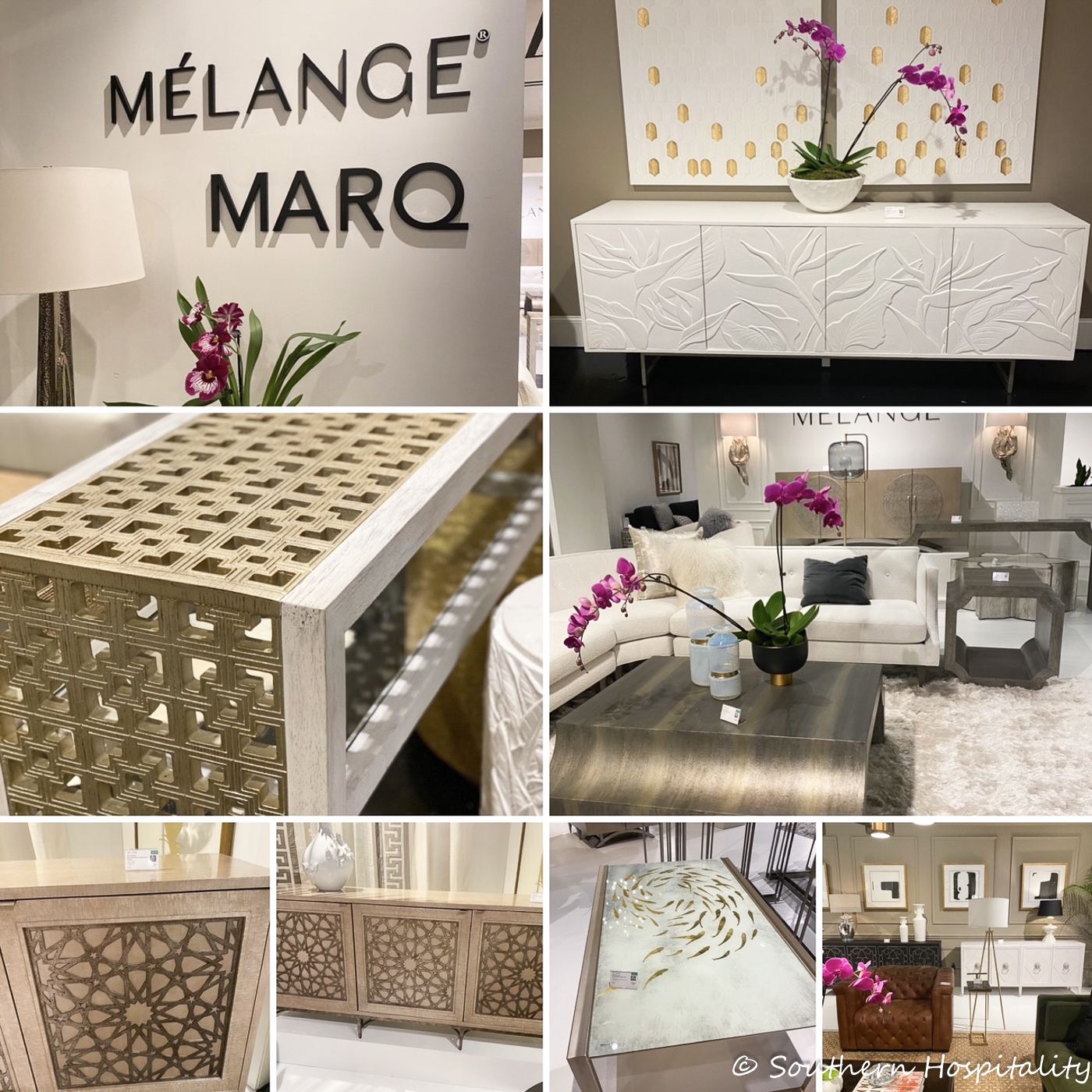 Melange Marq was another collection under Hooker and it's very modern in style, but I did like some of these pieces. The details were very striking with inlays and glass. Lots of textures!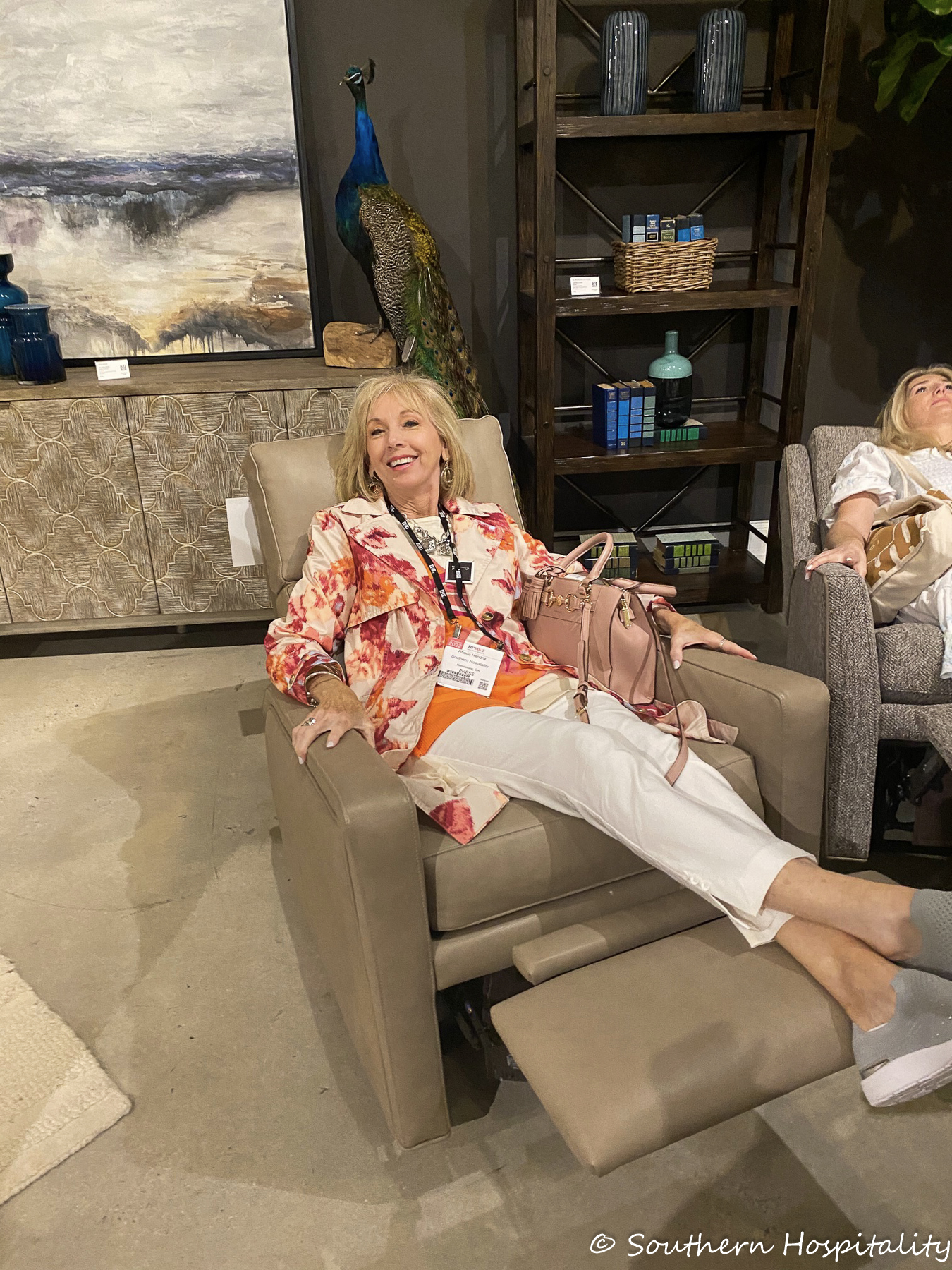 We tried out leather recliners in the Bradington Young section. These were so nice and operated with the push of a button!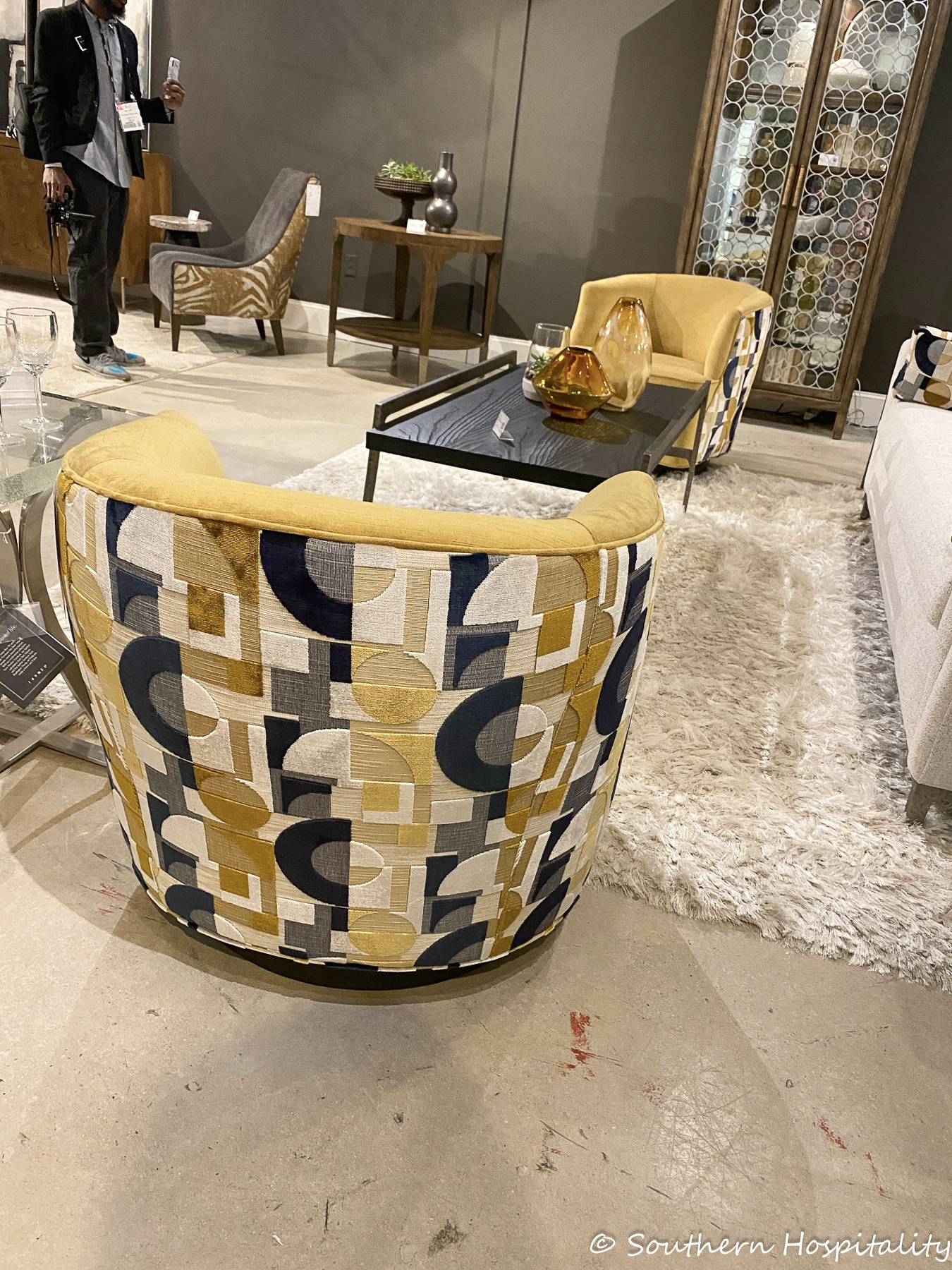 We browsed a lot of vignettes in Hooker and you can see trends in color and fabrics. We saw a lot of this yellow tone, so that might be a new trend too. Lots of rich textures and colors to be found, including green which seems to be having a big moment too.
Style Trend: Swivel Chairs
I'd say swivel chairs are really popular now too. I don't remember seeing them that much 5 years ago, but they are definitely being shown now. I love a good swivel chair and am glad I bought 2 of them for our family room. They are perfect for watching TV or moving for conversation.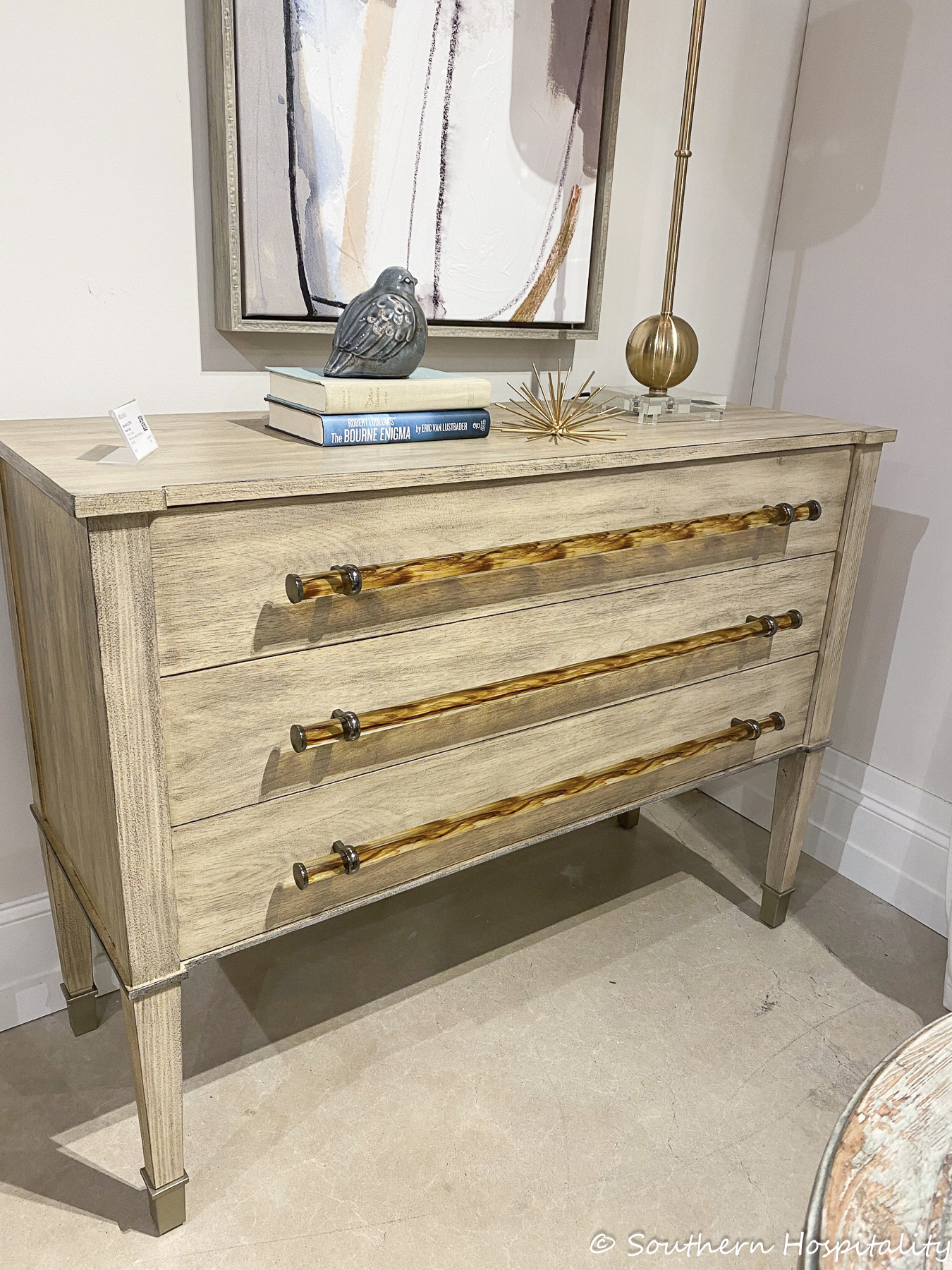 I thought his chest was so unique with those glass pulls. I'm not sure what collection it was at Hooker, but it caught my eye.
Hooker definitely had some gorgeous pieces, didn't they?!
Another stop on our first day was Hubbardton Forge lighting, an innovative lighting company in the Green Mountains of Vermont. If you're looking for a stylish use of materials in lighting choices, this company has that.
Their designers have diverse backgrounds in architecture, sculpture and even jewelry design and their products are unlike any I've seen before. Modern, rustic, with an array of beautiful materials and designs, we enjoyed browsing their new designs and met with many of the design team who came up with these unusual and beautiful lighting designs.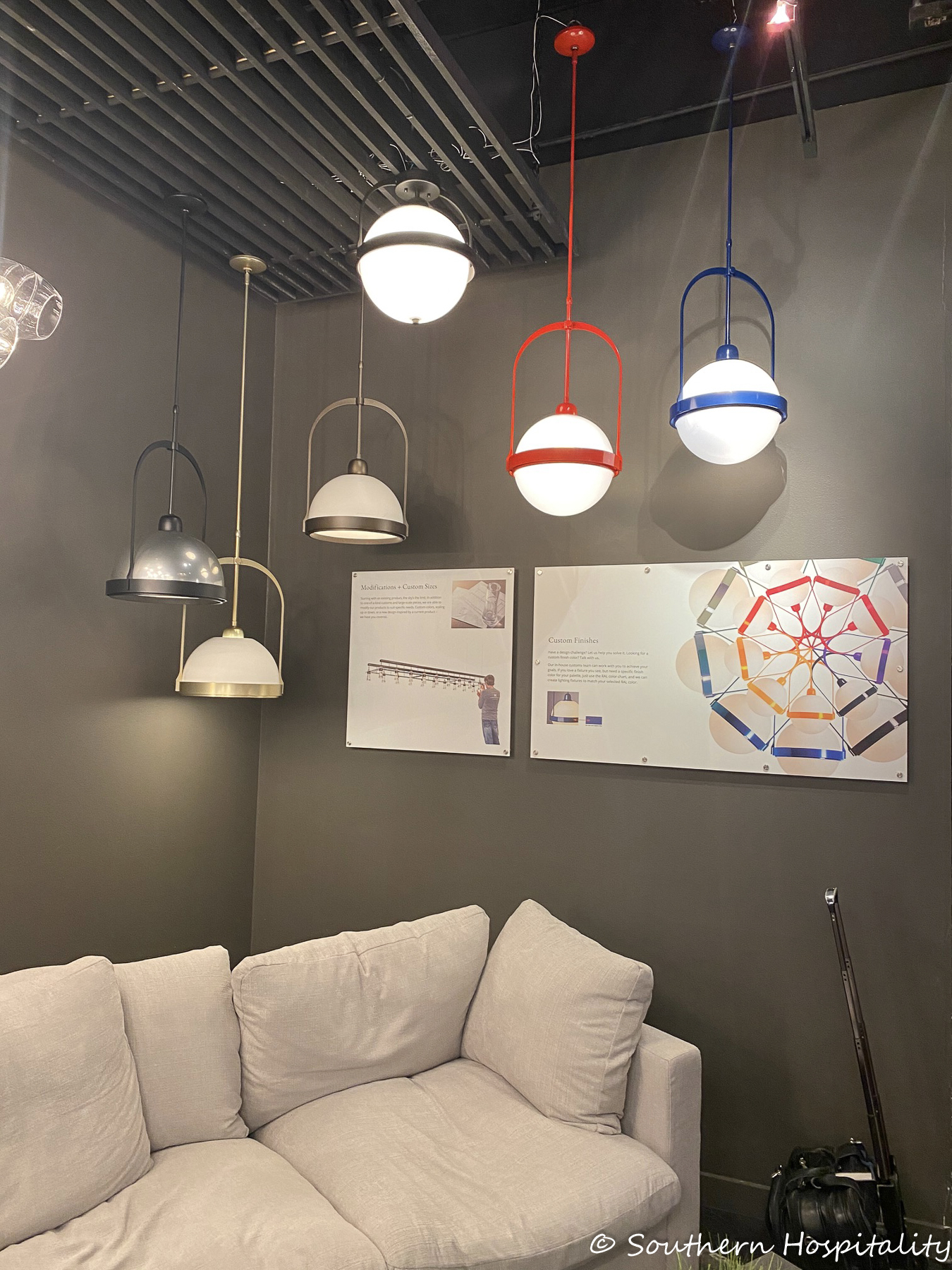 They forge steel with a mix of glass and other materials.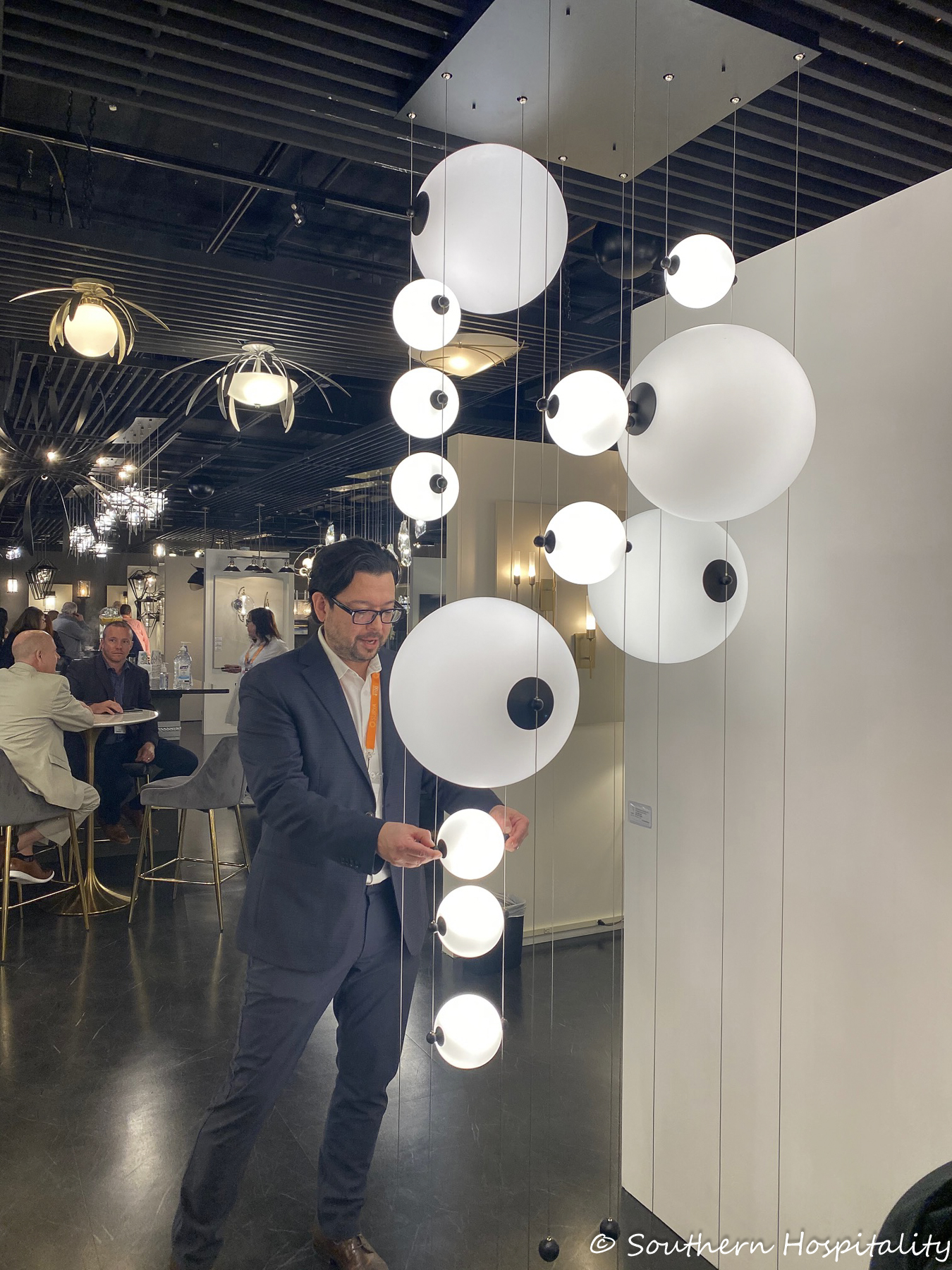 Their VP of design, David Kitts was showing how this innovative lighting piece can be adjusted for preference up and down the cables.
The steel and glass on this piece caught my eye. You can find out more about the company on the website link above.
Next stop was Jaipur Living, a beautiful rug company that I was familiar with already, but we definitely heard a lot of good things from them and had a delicious lunch at their showroom. I loved these muted hand knotted rugs shown above behind the welcome desk.
Jaipur Living was founded in 1978 by NK Chaudhary working with 9 artisans and 2 looms. Since then, the business has really expanded and his 2 daughters now run the company and they have shaped Jaipur Living into innovators in the design world by co-creating rugs with designers and artisans.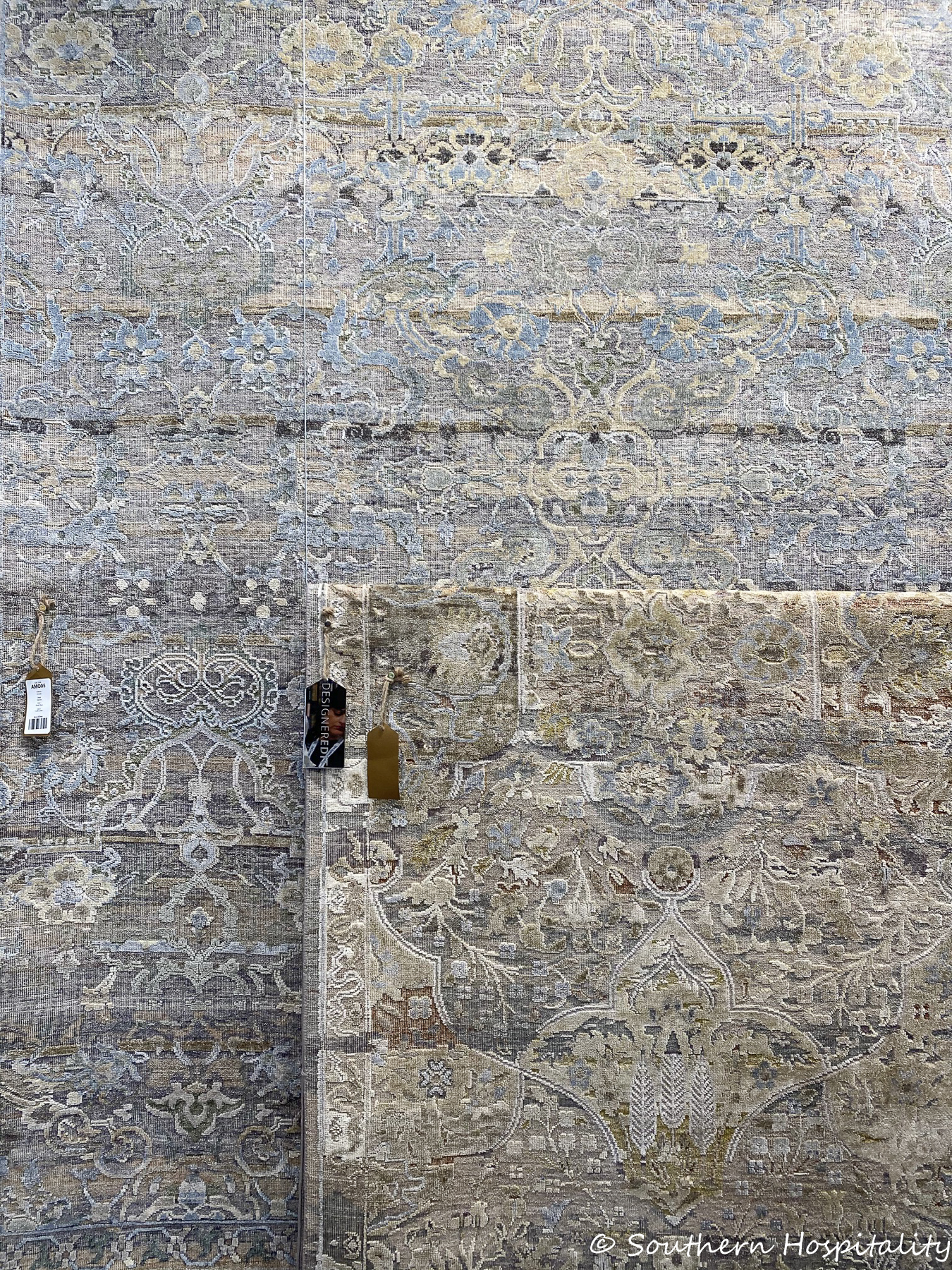 The Jaipur System removes the middleman by employing a network of 40,000 artisans in more than 700 villages in India, ensuring quality and consistency. I just found out they have a presence right here in Acworth, GA with a showroom, so I can't wait to visit them. I think it's only open to the trade, but I'm going to try to go and visit so I can see more in person.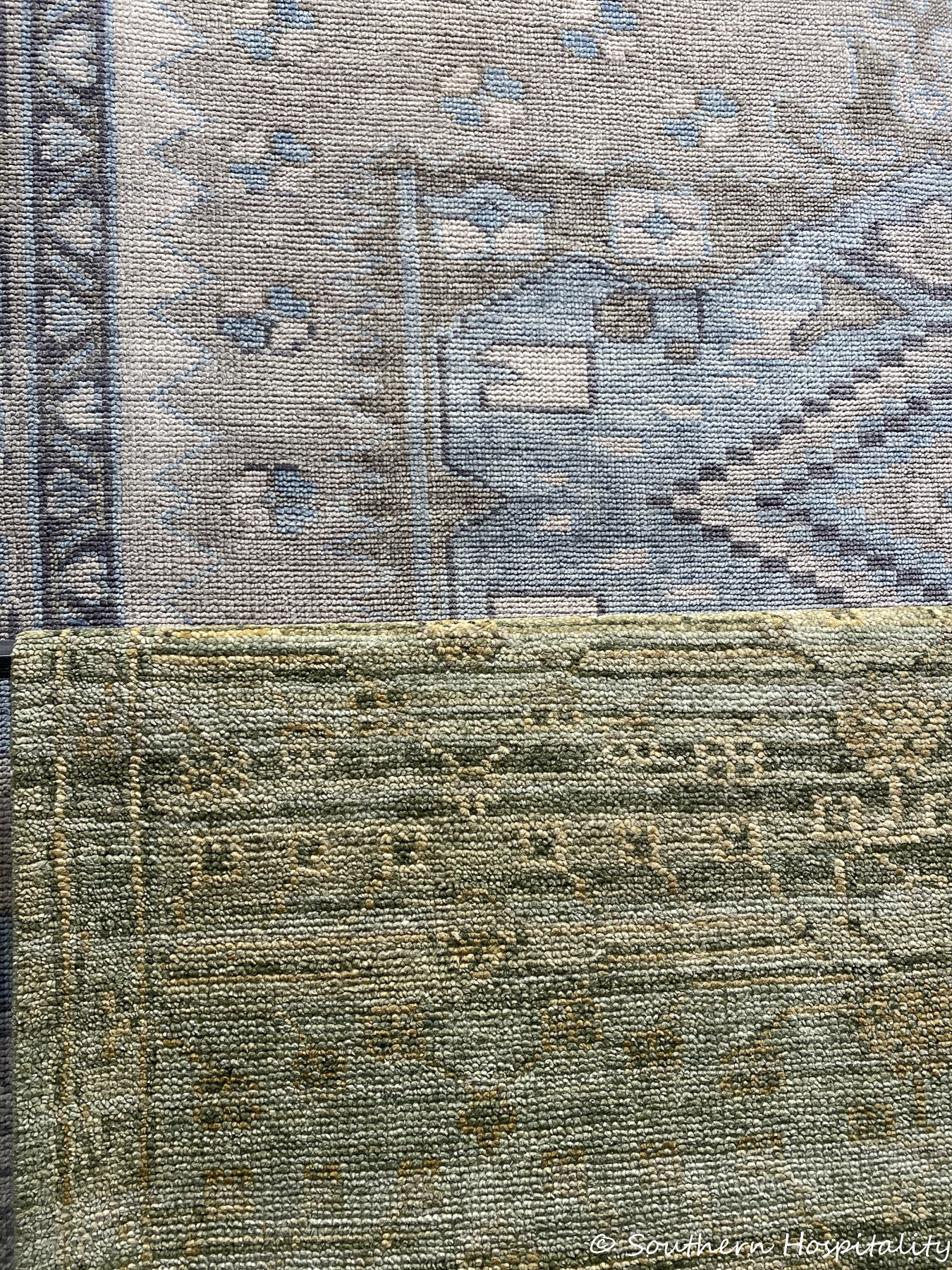 Jaipur Living is committed to the craftsmanship and artfulness of handmade rug and to keeping the age-old art alive. It definitely shows in their beautiful rugs! I would love to own a Jaipur rug myself!
One of their new partnerships is with designer, Kate Lester. We got to meet her and chat with her. Kate is a Southern California based designer who combined her love of vintage rugs with a modern design aesthetic and created the Harman and Harman natural collection with Jaipur Living. Artisan made and machine crafted, patterned and neutral, these rugs are a perfect complement to any home. She based her designs on vintage rugs from her own archive and they are beautiful.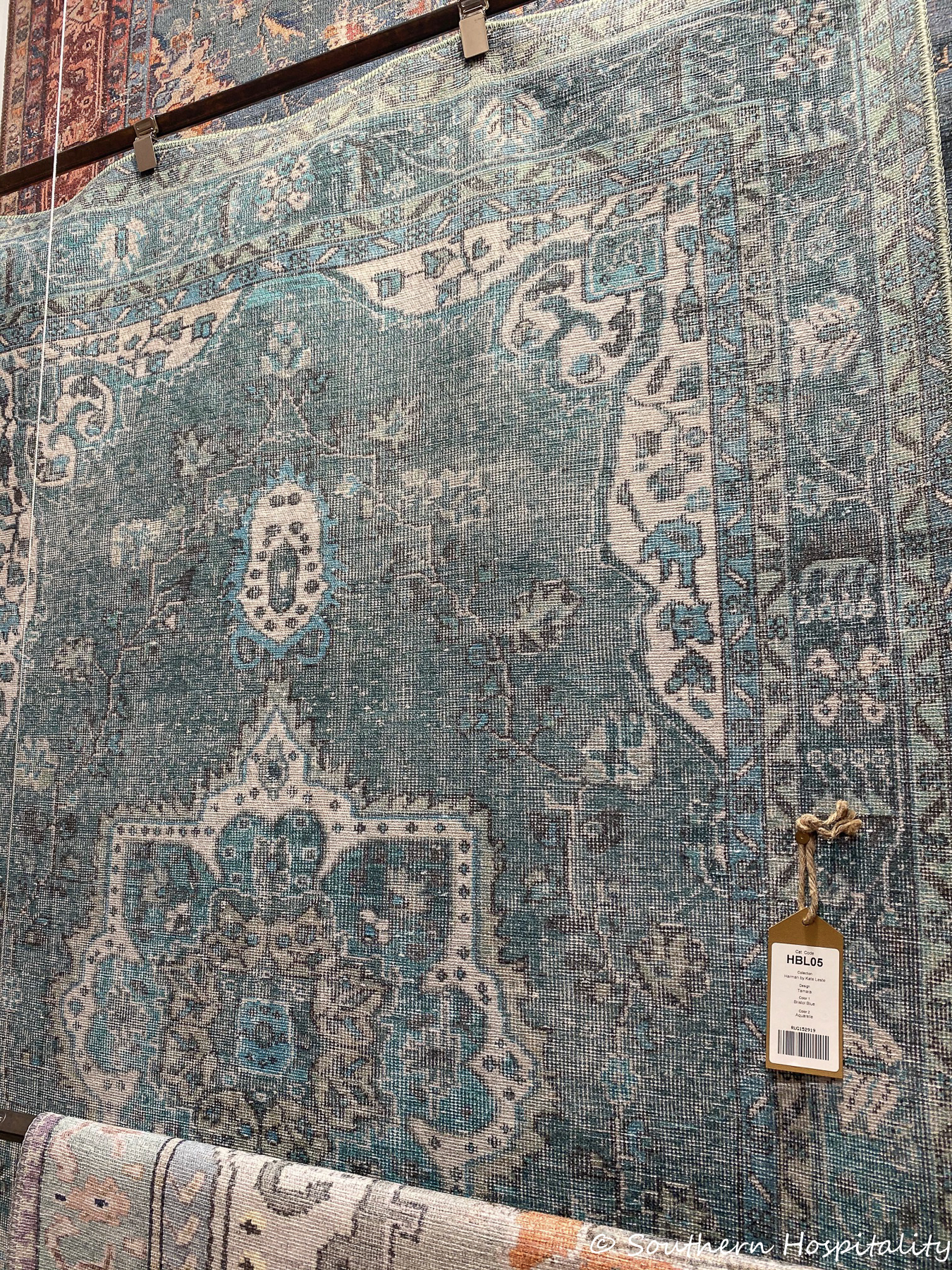 Of course, I loved this vibrant teal blue one, it would be right at home in my house!
Fairfield Chair Company is a brand I've been familiar with for a long time. I even had an upholstered chair and ottoman by them in the past. I've always known them to be stylish and practical for the home. They offer retail designs as well as working with the hospitality industry and senior living industry. Of course, I love to hear that.
Senior living facilities definitely need furniture to suit their needs. I experienced this first hand with my parents senior living facility a couple of months ago, when some totally inappropriate modern leather furniture showed up in the lobby. I vocalized my concern and the old furniture was moved back until they could source something much better, comfortable, and appropriate for the clients they serve, including my parents. (I digress!).
They celebrated their 100th anniversary last year. Fairfield has case goods and upholstery.
Crypton fabrics also works hand in hand with Fairfield Chair Company and this fabric is so hard working as well as beautiful. Crypton for the win in high traffic areas and where kids hang out!
A fun moment of our tour was meeting designer, Libby Langford in the Fairfield showroom. She is a force to be reckoned with a pure delight to meet and listen to.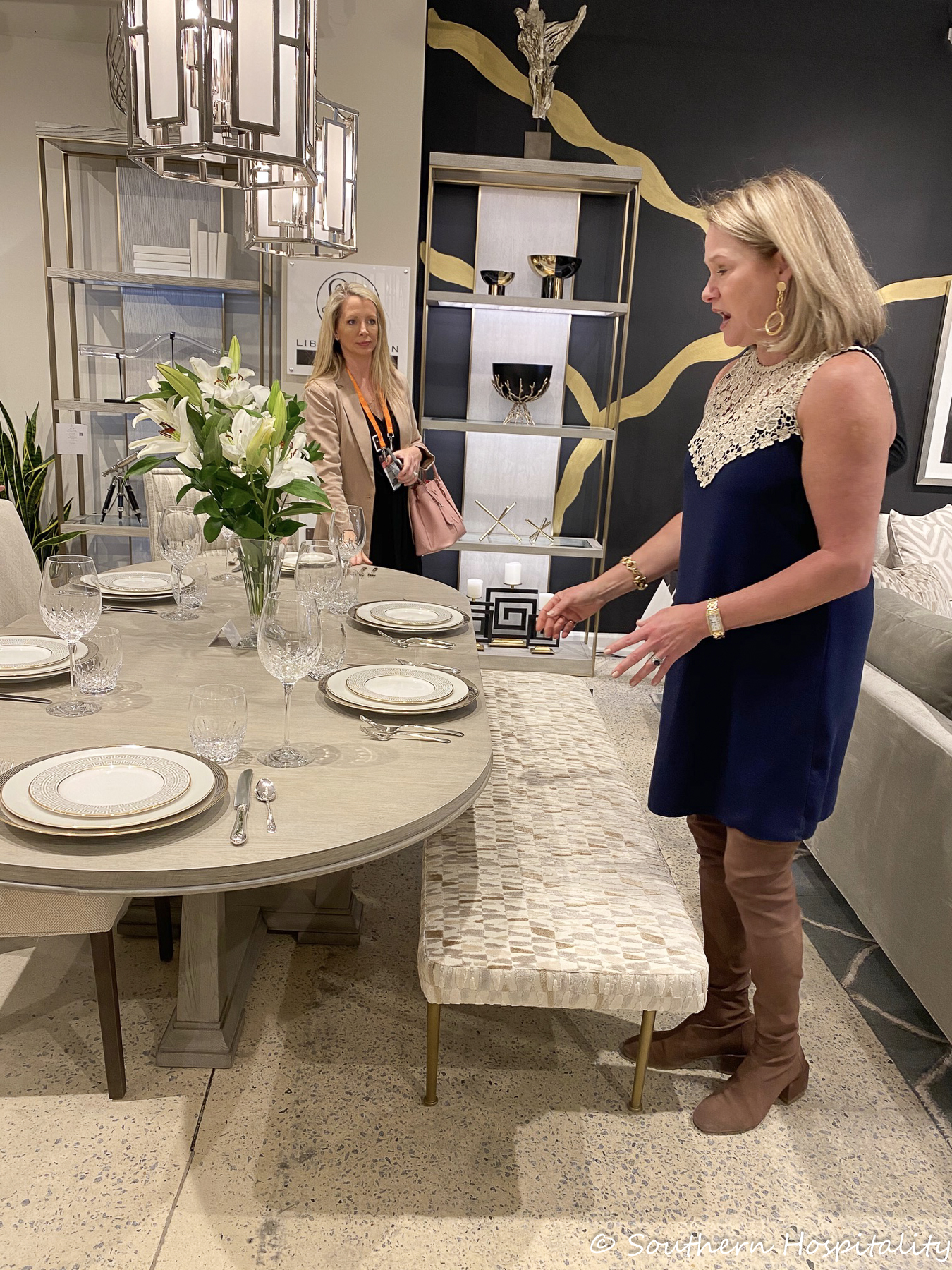 You can see the Libby Langford collection on the Fairfield website, but she took the time to share with us her stylish new pieces.
It was such a treat to see everything up close and personal. I wanted to take it all home with me.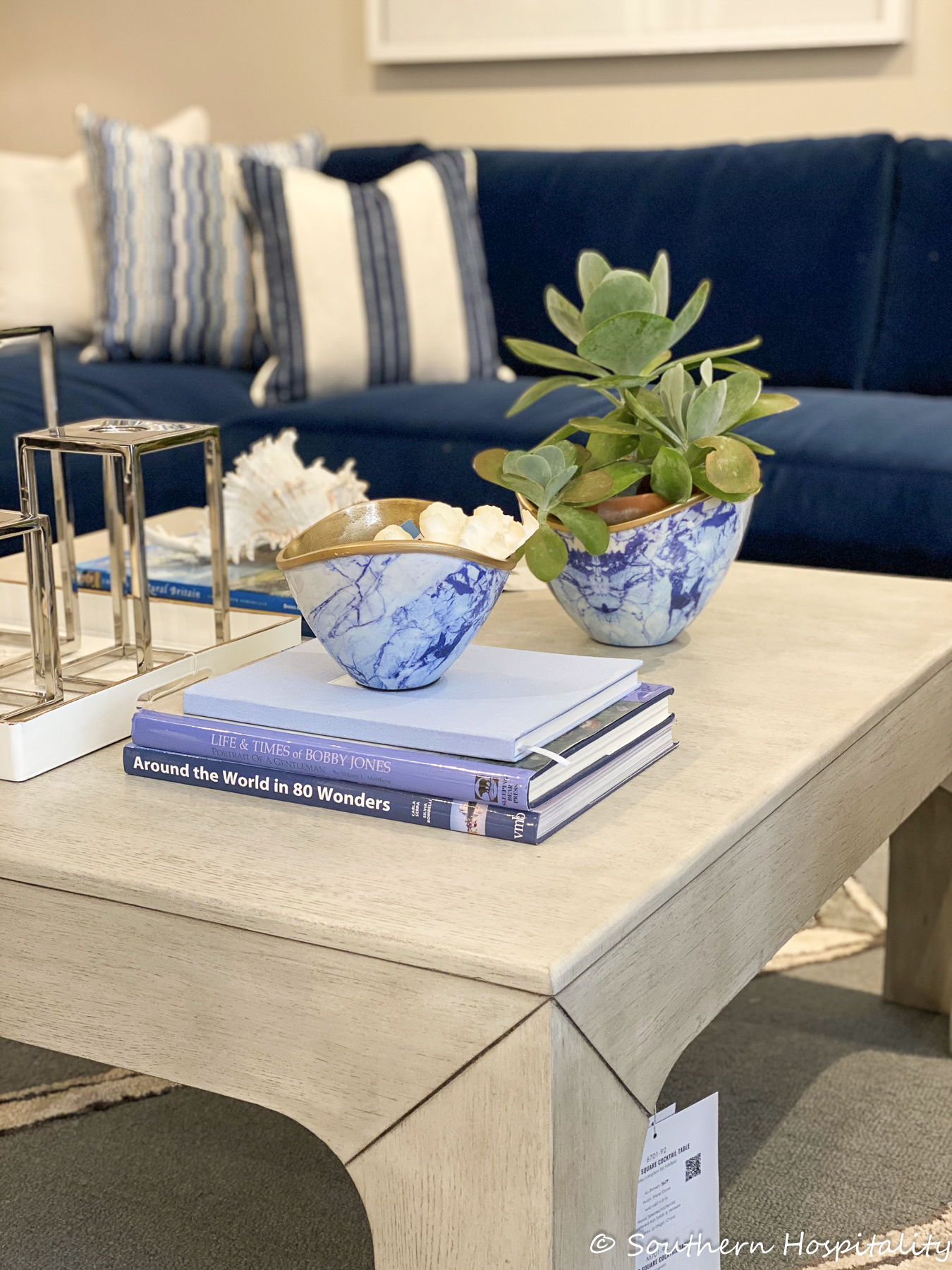 Libby's style is classic and modern with beautiful finishes.
We had fun lounging on the furniture and chatting with each other. Amber is so cute and bubbly and she's from Atlanta too so we had fun getting to know each other. I told her I was going to adopt her. 
I've got lots more to share from many other showrooms, so stay tuned for more. It was a fast paced two days, but I took in a lot of information to share with you all. Even though we all aren't in this industry, it's fun to see what's next.
Note: This tour is sponsored by High Point brands and hosted by Esteem Media. All opinions are my own and we are compensated for our time. 
Don't Miss a Post, join my list!