A couple of weeks ago, right after Round Top, I headed up to NYC to attend the Better Homes and Gardens Stylemaker event. I'lll share that in another post, but wanted to do a little recap on my trip this time. I've been to NYC several times since 2010 and always enjoy my time there.  I've been when it was freezing, during the Fall when the temps were pretty good and also during a hotter time, so the weather can be all over the place in the city.  This time there was rain and some wind going on, so that made for interesting times.  It's not that easy to trek around outside on the streets with an umbrella, trying to stay dry, but we made it work.
I literally had about 9 hours at home between Round Top and leaving for NYC, so it's the tightest flight schedule I've ever had. Not my favorite way to plan, but that's how it turned out.  I'm so glad I did both!
This city is bigger than life and so energizing and busy.  Atlanta is a busy place, but New York is on another level.
I met up with my blog friend, Brooke from Be Fed Again, who lives in upstate NY.  She came into the city to hang out with me and stay a few nights and she was gracious to show me around.  Her hubby also works on Broadway with the show Jersey Boys in lighting and they were kind enough to get me a great seat that first night to see Jersey Boys up close and personal. What a treat that was!  I loved the show and enjoyed every minute of it. I found myself singing along, quietly of course.  The cast was so talented and the show was spectacular.  I hear it's been running for 11 years but getting ready to close after Christmas, so I'm sure that will be bittersweet for those who have been there for so long.  It must feel like a family after all that time.
Strolling through the city that first night was fun and surreal to be there again.
Before the show, we went to dinner, happy hour menu at Ruth's Chris, which was really tasty.
Brooke got me to the theater and in my seat and I had such a happy time seeing Jersey Boys.
They even introduced me to a few cast members.  They were all so talented and the singing was phenomenal.  So great to see actors like this enjoying their craft.  I'm sure being an actor on Broadway is fun and exhilarating, but must have its ups and downs.
Here's who I met:  Sara Schmidt has been on the show since the beginning and she plays several roles in the show, including the lead on My Boyfriend's Back.  Jon Hacker (right) played Frankie that night and Chris Messina (left) played Joe Pesci.  I also met Drew Seeley, who played Bob Gaudio.  What a group of talented performers they were! Truly the best Broadway show I've ever seen.
Passing by the Late Show, which would be fun to get in on.
Radio City Music Hall, an icon in NYC.  I still haven't seen the Rockettes yet, maybe one day I'll get there.  I try to do something different every time I'm there.
One thing I wanted to do was to get up and head to the Today show and hang out in the plaza. I've watched this show for years and know most of the anchors and how many time have I watched those in the plaza waving their signs and trying to talk to the show anchors.  This is the gorgeous Tamron Hall, who came out first.
It was so fun to be there in person!  I've seen this scene so many times and here I was standing on the plaza myself, watching Carson, Matt, Savannah, and Hoda, as they came out to greet the crowd.  It was perfect timing, 5 minutes after we got there, they all came outside.
It was a little drizzly, so Hoda called for an umbrella and then was so nice to walk around the barricade and take people's cell phones and take selfies with them. She came right in front of me, so I shouted please let's do a selfie and handed her my camera to  take a pic and she did!!  How fun is that??!  Hoda and Rhoda!  She's so pretty. That's Brooke right behind me with her phone.
We did a quick tour through Dean and DeLuca, a local grocery store with beautiful produce displayed and lots of gorgeous fresh flowers.
The architecture in the city is always inspiring and pretty.
It was misty and rainy, but we headed out on the Staten Island ferry to pass by the Statue of Liberty.
Pretty views back to the city as we went out and back.
It was my first time being this close to Lady Liberty and she is everything I could imagine. May she always be there standing tall and declaring our freedom!
Busy, noisy and so much going on, that's New York!  I love to visit, but definitely couldn't live there all the time.  I'm too much of a Southern girl for that.
One night, we ate at a Bobby Flay restaurant, Bar Americain.  It was delicious and I had fresh mussels.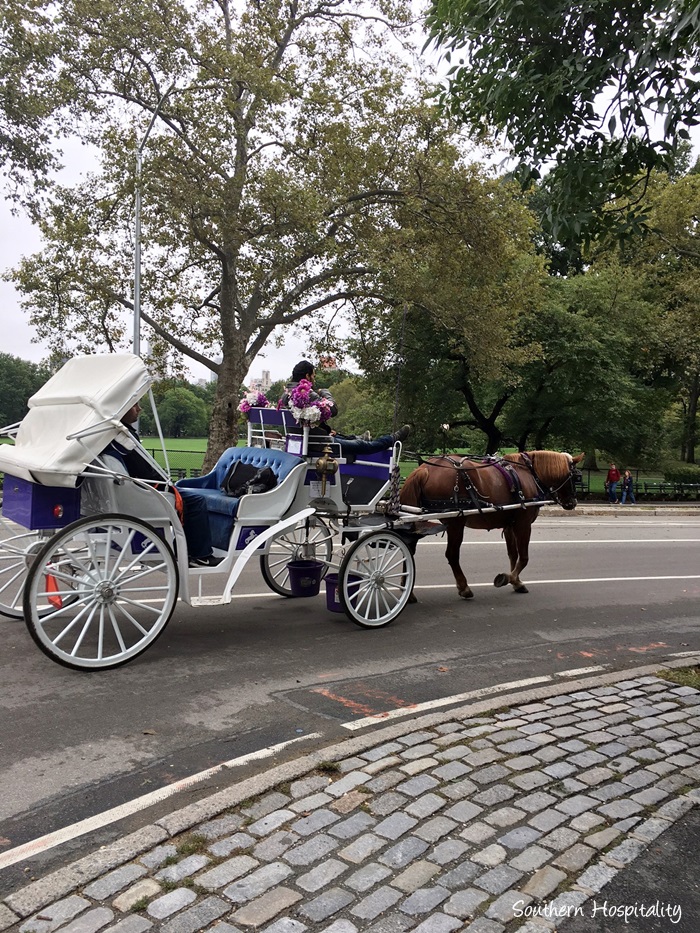 After brunch with my friends, Heather and Vanessa, that I shared earlier, I took off in Central Park and decided to head down to the American Museum of Natural History, which borders on Central Park.
I saw some pretty sights along the way.
Once inside, I strolled around taking in all the history and beauty of this place.
I couldn't help but think about the movie, Night at the Museum.
This museum is huge and has so much to see and read about.  I barely made a dent, but was happy to be there.
So much in the dinosaur wing to see.
I loved all this botanical information.
Out in Central Park, it was a pleasant afternoon for a bit of strolling.  The park is bigger than you can see and I ended up walking what felt like a good 2 or 3 miles from one side to the other.
I'm sure this park is so appreciated by New Yorkers and having a green space like this in the middle of a huge city is such a wonderful thing to enjoy.
I had pizza once at John's Pizza, which was really fantastic!  Such a great NYC place to eat.  Before I left for the airport, I stopped in a local pizza shop and had one more slice before I headed home.  It was delicious and I could live on pizza.
Wanted to share a bit of my time in the city with you, so thanks for coming by today!  I'll share another post on the Stylemaker's event very soon.
Don't Miss a Post, join my list!