This post is sponsored by Southern Living Plant Collection. Thank you Southern Living Plants for sending me plants for our yard. We love them! 
Hey there!  I'm ready to start my Christmas decorating this week, but today I'm sharing a very fun project in our backyard that happened before it got cold recently. We've been working away in our backyard on so many projects and this one is at the top of the list in making me so happy! You all know how much I love hydrangeas and the kings of hydrangeas are Southern Living Plants. They know how to grow hydrangeas, which makes sense as hydrangeas are oh so Southern!
Southern Living Plants sent this huge pallet of boxed up plants right to my door on a freight truck. That was one happy day when they arrived!
I knew I was getting several hydrangeas and a few perennials for the front yard beds and I couldn't wait to take them all out. They were lush and green and all looked so healthy.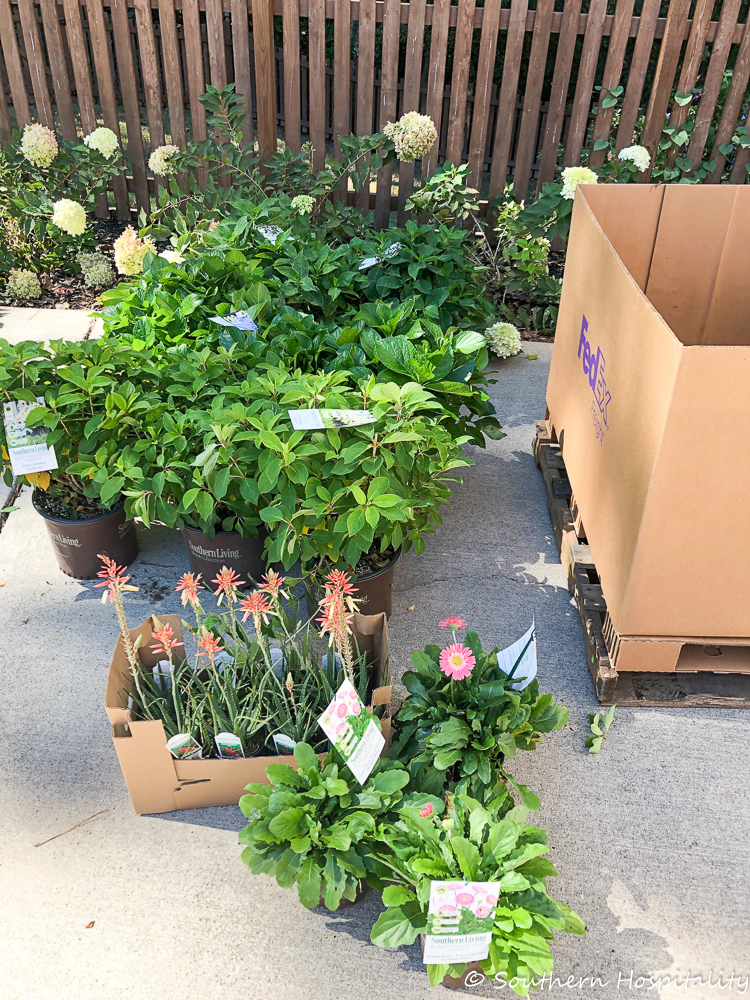 What a beautiful collection of plants to get! I am so thrilled to add these lush green plants to our yard. My plan is to really make our backyard an oasis and I can't think of any better way to do that than to add plenty of blooming hydrangeas and other varieties of plants.
These Safari Sunrise aloe plants will be a fun addition to our front yard bed. We've got some perennials there now, I think purple Salvia and a few yellow coreopsis, but there are some bare spots so I'm filling in with these.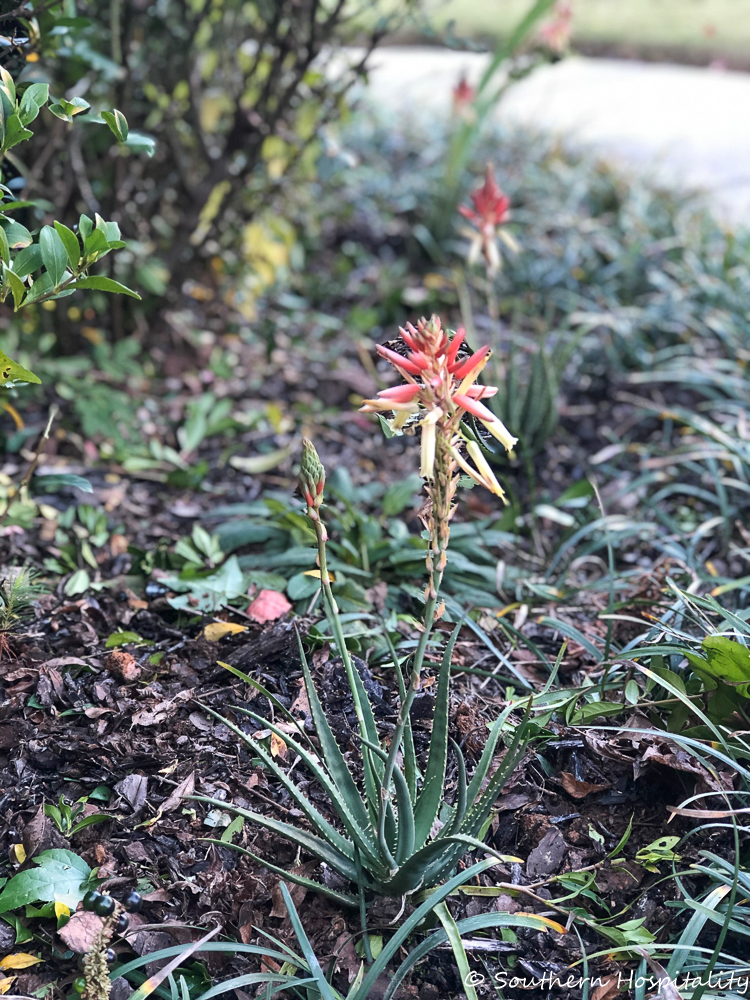 I got these in the ground while the weather was still warm here and they should do fine through the winter months. Fall is a great time to plant new plants and I'm so glad to get these in the ground and growing before Spring gets here.
These pink Garden Jewels Gerbera daisies went in the bed up front with the rock wall. They will be a nice accent underneath the Knockout roses that are already there. I added 3 of these to the rock wall bed.
These pretty aloes have a unique look to them and I can't wait to watch them grow.We will need to add more mulch to this bed and clean it up a bit, but I think the new additions will make a difference. We inherited all the plants in our new house so we've just maintained what we had. Planted in the back is a hedge of gardenias and they've grown a lot too, along with azaleas and knockout roses in this bed. If I had my choice, I'd probably have chosen smaller plants in this bed, but we will keep what we have for now and just keep it all going. The new perennials from Southern Living will help the looks of this bed.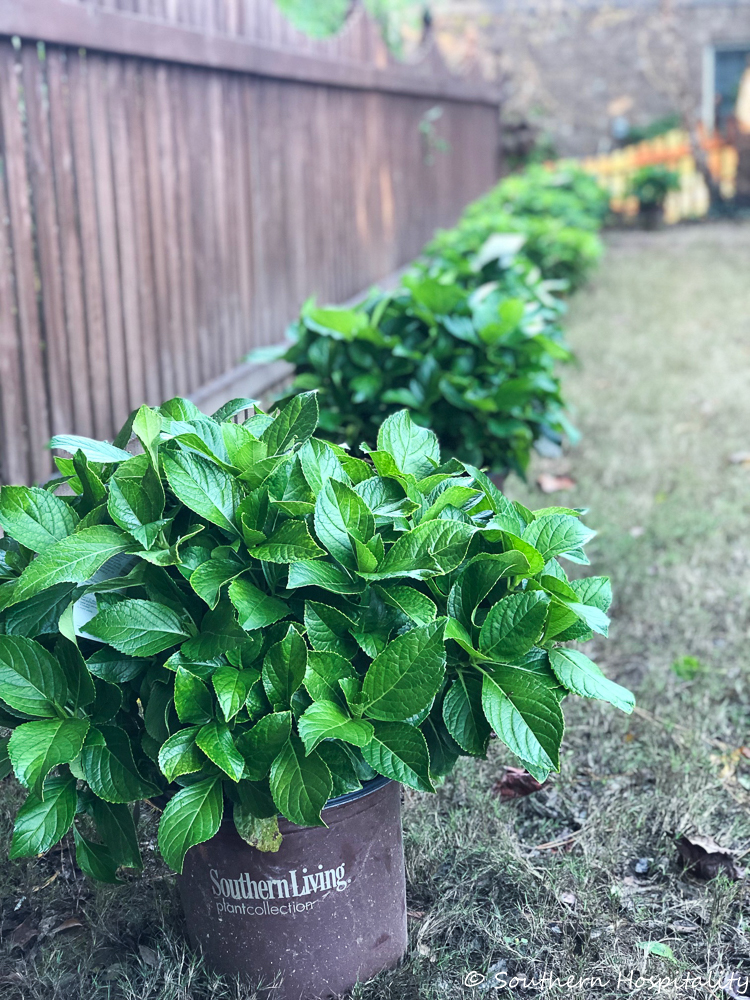 In the backyard, we added 9 big 3 gallon hydrangeas from Southern Living Plant Collection. See how gorgeous and lush they are? I had to figure out how and where to plant these and that wasn't an easy decision either. we want to create a curved planting bed back there against the fence and also take out some of the grass that's next to our patio, so that will be a future project.
In the meantime, I hired a landscape guy I know to plant these for us. Our backs are bad and I just can't dig like I used to, so hiring this part was the best thing. I decided to add a Big Daddy blue hydrangea on either side of our gate coming into the backyard. These will get 5 to 6 ft. tall and wide and will make a big statement here. I made sure to keep them away from the fence and gate enough so they won't be in the way. It's hard to see in pictures, but I think it's a safe distance away.
Moving down the fence on the left, I added 3 Dear Delores blue hydrangeas. These are slightly smaller than the Big Daddy's at 5 x 5′ wide and tall. Our yard slopes down hill coming in the gate and we have some plans to create a pretty little wall and a couple of stone stairs that divide the gate from the lower part of the yard. I think this will create some drama and look beautiful coming down the sloped hill. I'll show you more about that down the post.
I left a gap for more plants later and then moved down the fence further and added these White Wedding hydrangeas. These will get 4 to 6′ tall and about 3 to 5′ wide. What a focal point and drama these will add!
Down in the far corner beside the back staircase, I planted another Big Daddy blue hydrangea. It will fill out this corner and look great here.
Here you can see a better view from the deck. As you can see, we've got major grass erosion back here, I suspect a lot of it is from having a 100 lb. German Shepherd back here and also the fact that it doesn't get enough sun. This is the part we are going to take out. We plan to add some gray slate chips back here and keep the plants in a curved bed against the fence. I think curving the beds and adding some pavers as a buffer with the slate chips will be pretty. We'll probably add some sort of stepping stones off the concrete pad at the bottom of the steps and take it over towards the patio.
All of this is to be determined, but that's a loose plan of action for the backyard.
Here's another aerial view and a look at the newly installed hydrangeas. I'm so excited to see them grow and since this is not my first experience with Southern Living Plant Collection hydrangeas, I know what I'm talking about. If you're new here, Southern Living Plants completely landscaped my previous house with their gorgeous hydrangeas and more and totally changed that house 100%. You can see them after they grew in for only two years and see what I mean!
Southern Living plants don't just grow. They thrive!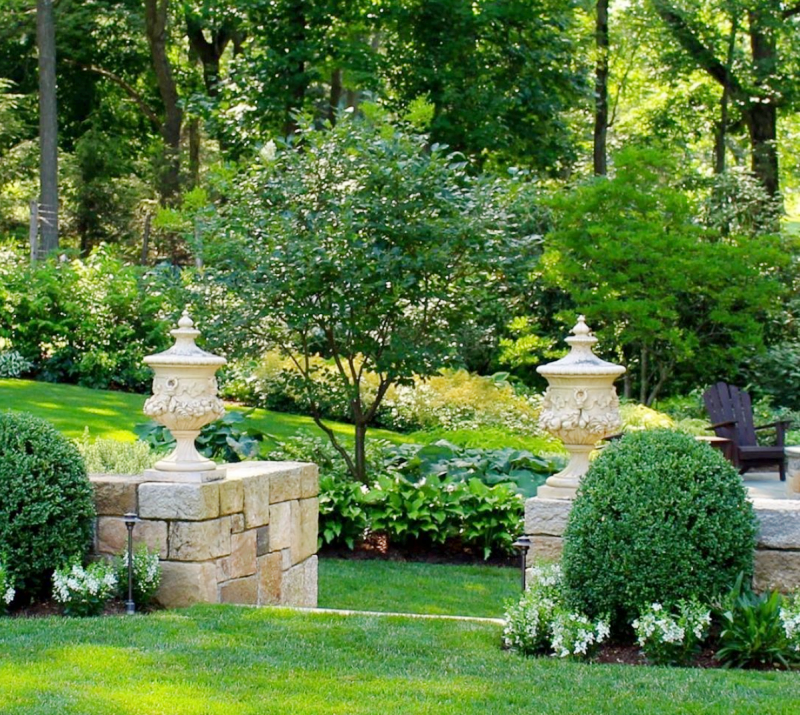 Here's a picture I found on Instagram, credited to Deborahcerboneassociates on there. It's a beautiful little wall with steps. Wish I could see it from the other side!
I can just see a little wall like this coming down our sloped yard from the gate. The wall would sit somewhere around that middle hydrangea coming down the hill on the right. Can you see it with the hydrangeas growing in and adding this little wall and steps with pretty urns like this. I just love garden things and adding vintage garden accessories back here will be so fun to look for.
So, that's a look at our recent backyard plants from Southern Living Plant Collection. I'm so grateful to them for working with us and adding all these gorgeous new hydrangeas to the backyard. It's going to be a showplace one day and of course,
I'll be updating you all along the way as we get this backyard more and more updated with our plans. Backyards are meant to be enjoyed and we plan to enjoy ours to the fullest!
Don't Miss a Post, join my list!