We found a sweet little breakfast spot just up the hill from our hotel, called Bang Bang Cafe and enjoyed a couple of breakfast burritos there, as well as coffee and scones.


It was very good, so we ate there twice and enjoyed it both times! After a hearty breakfast, it was time to hit Bainbridge Island for a little exploring.
We hopped on the ferry and headed over, with blue skies all around.  The ferries around Seattle are so much fun.  We are definitely not used to traveling by ferry in Alabama, but out there, it's a necessity.  They drive their cars on the ferry and take off for land.
These ferries are huge and spacious and you can sit outside in the sea breeze or head inside where it's warmer and less gusty.
With a look back at the city, we were on our way across the water.  It's about a 30 minute trip by ferry.
And a beautiful sea-faring city it it!
Nice and peaceful, the journey is that.
We decided to rent a couple of bikes to take a tour of the island, which is just over 10 miles long.  We were ambitious, even after we heard about the hills.  You definitely need a bike with gears for this trip, but even though we are middle-aged folks, we huffed a bit and made it pretty well.  Even if we did have to stop and rest pretty frequently. 🙂  I think the young guy that rented the bikes to us had a few doubts on our ability to conquer the hills.  And conquer we did!
I had to do some fast shooting with my point and shoot to get a few house shots, as stopping for real estate pics is not high on my hub's list.  This one I loved!
Many of them are tucked away in the evergreens and you can't see them all that well.
But, they are beautiful coastal homes.
We stopped for lunch at this lovely little cafe, which was also a garden center.
Cute spot and exactly what you'd picture on an island like Bainbridge.
We sat out under the trees on a picnic table and ate our lunch.
Hot and fresh paninis were delish!
I took some shots of the garden center too.  As I mentioned, the gardens in the Seattle area are just amazing.  With all that rain, they can grow some stuff out there in the Northwest!   That part is envious. 
The flowers and foliage are breath-taking.  So after about a 3-4 hour bike trip, we were tired and ready to head back to rest.  We didn't get to the little town of Winslow, but I've heard it's really special too.  We rode past the shops, but didn't stop at any of them.
We hopped back on the ferry for the ride back over to Seattle.
Seeing this beautiful view on the way back.  Can you imagine living here?
What gorgeousness surrounding them from all sides.

So, so pretty it all is.  We worked up an appetite with all that bike riding (and a few aches and pains too).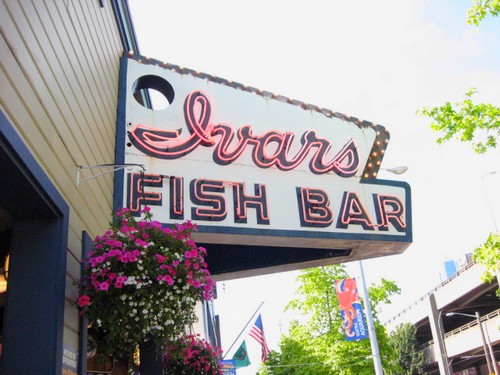 So, we spotted Ivars Fish Bar on the way back and stopped in for some fish and chips. 
And some seagull watching.  They encourage folks to feed the seagulls here, which  might not be the best idea.
The fish and chips was really delicious too. I ate every morsel and enjoyed it a lot. 
It was fun watching the birds too.  They must be so used to getting fed, they practically sit on your table waiting.
And staring at your food.  Sort of like your dog does. 🙂
We didn't feed them, but plenty of folks did. 
We also managed to find a gelato place and had it 2 nights in a row.  I'm a HUGE gelato fan.  That Stracciatella up there is one of my all time faves.
Another pretty sunset in Seattle. Thank you, Lord, for the beauty of your creation.
You can definitely see we had some great weather while we were there and for that I'm grateful!  Many of you that live out there mentioned that it's already gone and the gloomy weather is back.  SO glad we experienced some sunshine!
One more post is coming on the whale watching tour.
Don't Miss a Post, join my list!