If you live in Atlanta, you've probably been to the Ballard's Outlet in Roswell or on DeFoors Ferry Rd.  I've been to both of them plenty of times, but since I now live in Birmingham, it's not often that I get to browse this fun store.  So, I made time while I was over visiting family at Thanksgiving to hop over to the Roswell store and take a look around.  You just never know what you will find in here!  I've scored some pretty good bargains over the years, some really cheap and some just OK deals.  And it's always fun.
I couldn't talk any of my friends into going, so I went by myself.  They always have a pretty large selection of furniture pieces in here and they are usually good prices.  This is a desk almost just like my Target black desk that I have, but the Target version is a lot cheaper, I can tell you that. 
And one thing you should know is this, I don't think any of their furniture is real wood.  If you check it out in here with the dings and dents that are very visible, it's pretty obvious that it's made out of some sort of man-made material, some even looks like heavy duty cardboard to me.  Now, I'm not dissing Ballards, I like Ballards, but this is just what I've noticed about the furniture.  Buyer be warned.
They have some good-looking pieces, but I don't believe you'll find any real wood in here.
Plenty of rugs on clearance, so those are a good deal.
More console tables or islands.
Round tables and chairs.
Plenty of artwork too, although it's pretty expensive for what it is.
They have loads of mirrors and the prices aren't really cheap, but better than the catalog.  Love this sunburst.
This is where I bought those neat shelves in my office nook, right here at this store.  I'd say the outlet prices are about 30% off the catalog prices on these.  I love, love my shelves and didn't mind paying for them, they have served me well.
Lots of clocks.
Plenty of lighting too, along with chandeliers.
Wall art
More mirrors, I love these.  Can't remember how much they were, but they sure would be pretty grouped together in 3's.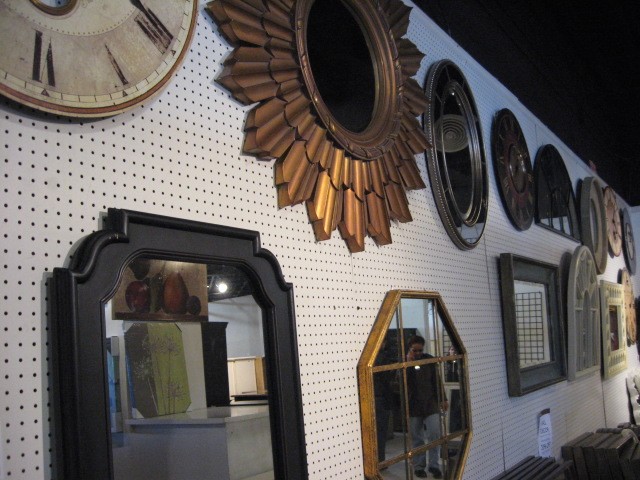 More hung up on display.
Plenty more art on the walls.
Barstools galore.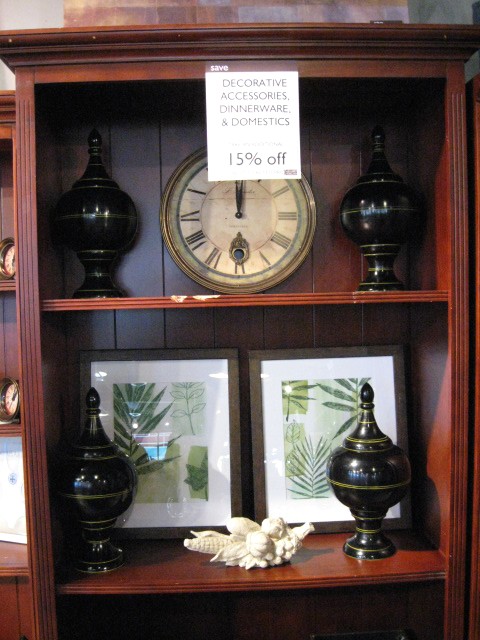 And some office furniture and accessories displayed.
Tables and chairs.
Oh, and this is really funny!  I saw someone in there who I knew from an online decorating board for many years (hi, Susan!) and she lives in Mississippi and was up in Atlanta visiting HER relatives and decided to go to Ballards.  She recognized me and said hello and that was really fun.  It's a small world, you never know who you'll see. 🙂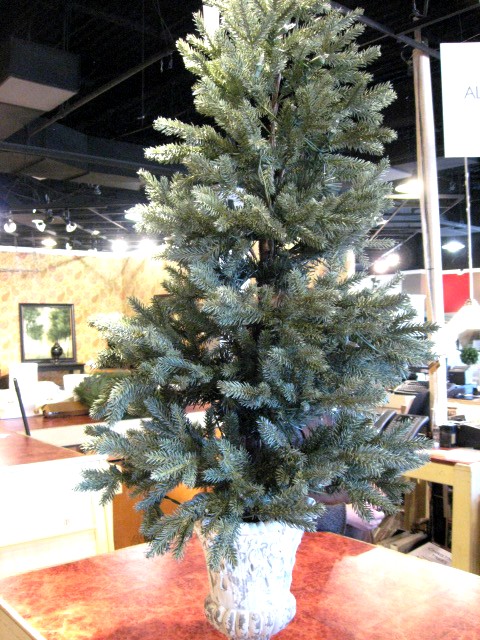 So, what did I buy?
Just one thing…this pretty tall tabletop tree in a white urn.  They had a pretty good sale that day and Christmas stuff was 20% off, plus another 20% off that Friday, so I got it for a total of $50 (including tax), which I didn't think was too bad.  It's nicely made and looks real.  And it's going on my foyer table, which I'll show you soon!
If you get a chance to go to a Ballard's Outlet, check it out! Always fun!
And the winner of the Southern Beauty giveaway is Donna! Congrats, Donna, you are going to have some fun with that prize.
GREAT Movie Alert!  We just saw the BEST movie last night, Blindside. Oh my gosh, it's one of the most fantastic movies I've ever seen and me and my hubby as well as the couple we went with loved every minute of it (I think my hubby went mainly to see Nick Saban, but the rest of the movie was A+++) :). I had no idea what it was about, but it was truly wonderful.  Go and see this movie!!

Don't Miss a Post, join my list!