For many years, browsing the Ballard's Outlet in Roswell has been a fun thing to do.  You never know what you'll spot in there and sometimes there are some smokin' deals to be found.  I spotted a couple of them during my recent visit last week.  My sister and I were over on that side of town for a Biltmore Inspirations meeting and decided to stop in and see what they had.  This was last Tuesday.
Right off the bat, I spotted a fantastic deal on these HUGE and I mean HUGE lanterns they have on clearance for $69.  This bad boy is way bigger than the lantern I had over my breakfast table (that I brought with me with I moved, by the way).  I was keeping that one!  But this Ballard's one is a fabulous deal at this price.  They must have had 25 of them on clearance, but I'm sure they won't last long. I wish I could justify buying one, but I sadly cannot. : (  Why put something else in storage?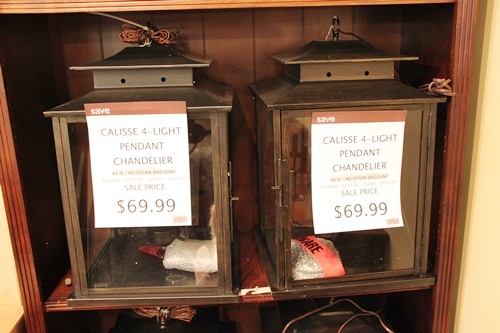 See?  What a deal this is!  I can hardly stand it.
Regularly $229, clearance $69.  Can't be beat!  Someone in ATL needs to run over and get one.  Let me know if you do.  I will be jealous! 🙂
There are always lots of pretty things to see at the Ballard's outlet.
They always come out with new products and sometimes there are great deals to be had. 
Lots of artwork.  Many items are priced at 30% to 50% below retail.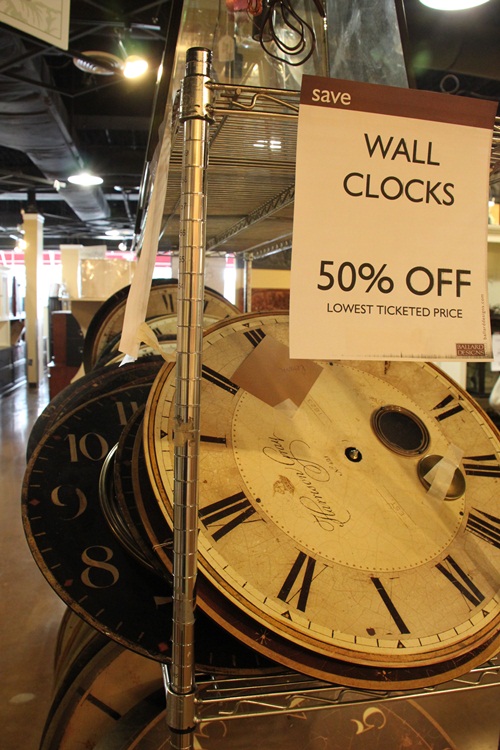 Like these clocks, were 50% off the lowest price, so may be marked down even lower.
My sis was checking them out.
See, more of those amazing lanterns at that rock bottom price.  I can't stand it! 
Here are the Ballards shelves that I love so much, the ones that I had in my office nook.  Still love these things!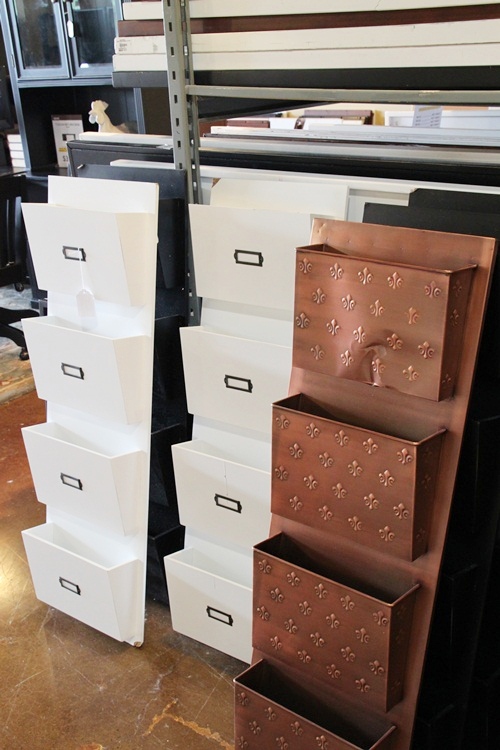 Lots of office storage pieces.
Adore this little side table.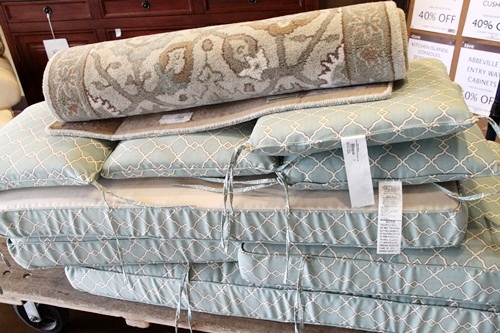 These outdoor cushions were so pretty too, love the fabric.
Here's deal of the day #2!  Check out these metal shelves for $19.99.  Oh my goodness, I love these too, but no I don't need them.  Someone go buy one of these too!  Love the detail on them.  This would be such a great accent piece.
More office storage.
How about this on top of your desk?
Console for a flat screen.
This piece was so unique and pretty.  I can see it as an island.
How about an upholstered in leather king sized headboard?  so pretty!
Wow, at all the chandies!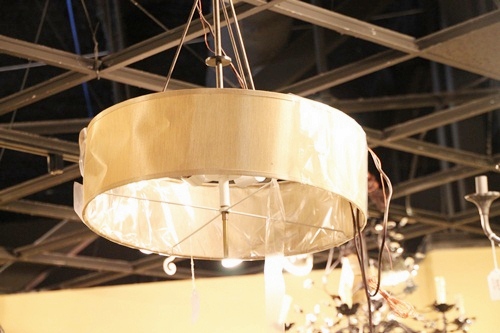 This modern one is so stylish.
Love, love these green pendants!
Stools and chairs galore.
Their mirrors always get my attention. Aren't these beautiful?
I love all of these.
Another type of lantern fixture, these are gorgeous and huge too.
What a cute side chair.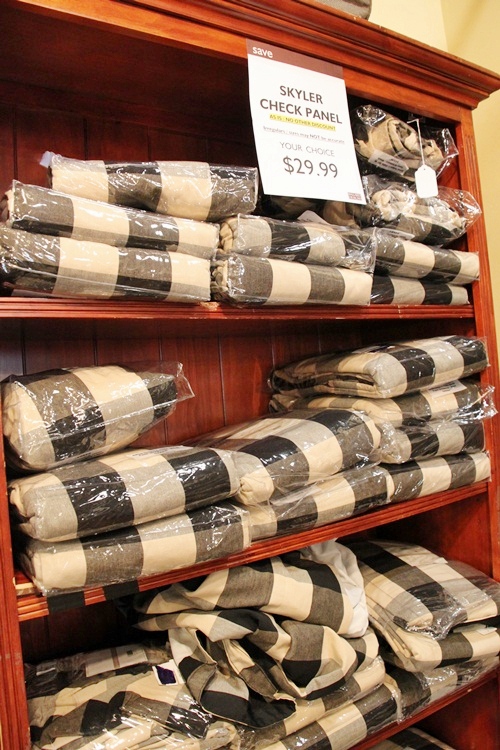 You can find some great deals on linens too.  Look at that price?
You just never know what you will score at the Ballard's outlet in Roswell.  I've loved browsing there for years and when I come across deals like the lantern and metal shelves, they are definitely worth sharing.
Do you have a Ballard's Outlet in your area?  I know there aren't that many, so we are lucky to have one here in Atlanta.
The 2 lucky winners of the Home Decor by me 40% off coupons are:
#39 – Kim
#45 – Melissa D.
I've already emailed you both, so just get back to me to claim your prize!

Don't Miss a Post, join my list!