In the midst of our Christmas plans, with all the decorating and getting ready for the Holidays, Mark and I took time (well, I can say this was mostly him) to complete a little project that he's wanted to do since we moved in this house just over a year ago.  There's a little alcove inside the door coming in from the garage, the same alcove with a door that goes down to the basement.  It's plain and nothing special because it is so small.  Most of the time, small spaces like this this don't get any attention.  They are just there as pass through areas, places we go through from one space to another. But the neat thing is, these spaces can be made to look better with just a little extra detail.
Here's a shot of that little alcove after I finished painting the doors last spring.  The wall we addressed is to the right which you can't see here very well. Mark took off the baseboard and cut a sheet of MDF beadboard to about 6′ tall and installed it on that little wall. Our ceiling heights on this lower level are 9′ tall, so that gives it a more spacious feel too.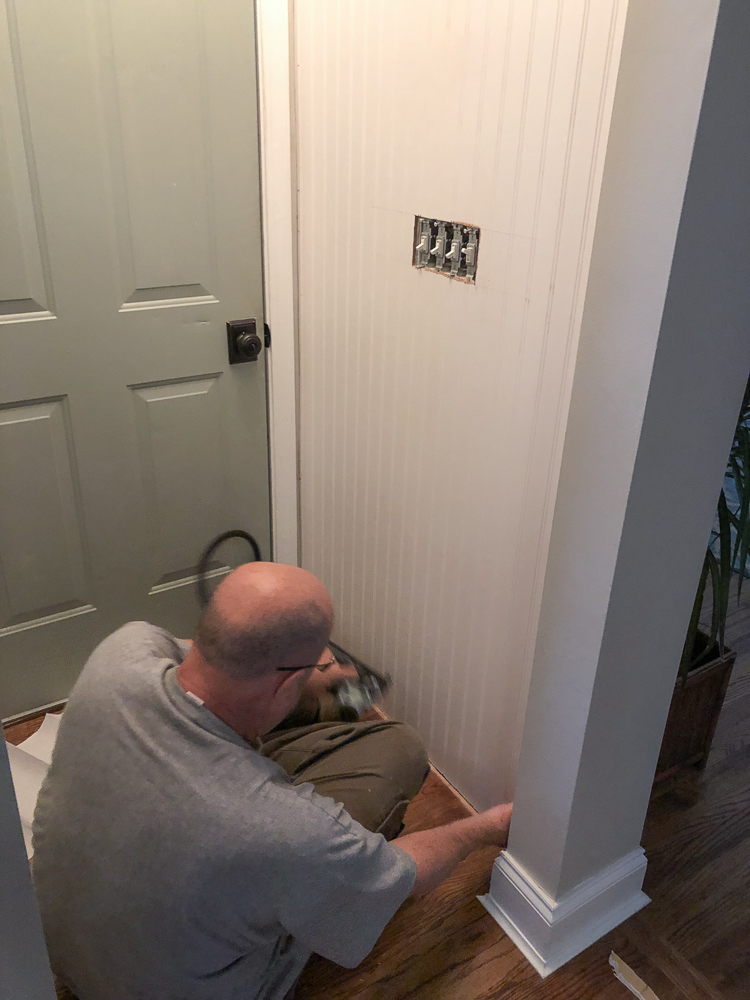 Here's the wall after he installed the beadboard sheet, cutting around the light switch too.  He's wanted to do this little "mudroom" treatment with hooks for a long time.
He used the nail gun to adhere the beadboard and make it all sit flat on the wall.
Then it was time to put the baseboard back on the bottom and trim it out with cove molding like the rest of our downstairs.
This space is painted the same color as the rest of our walls on the lower level, Magnolia Home Gatherings.
Baseboards back on and waiting for cove molding.
And here is is all finished and painted. We painted the white beadboard with our white semi-gloss trim paint to blend it all in with the trim. He added a 6″ piece of trim to the top with a 2″ cap piece to finish it off to a height of 6′ tall.  I decorated it with some fun Christmas things to make it festive.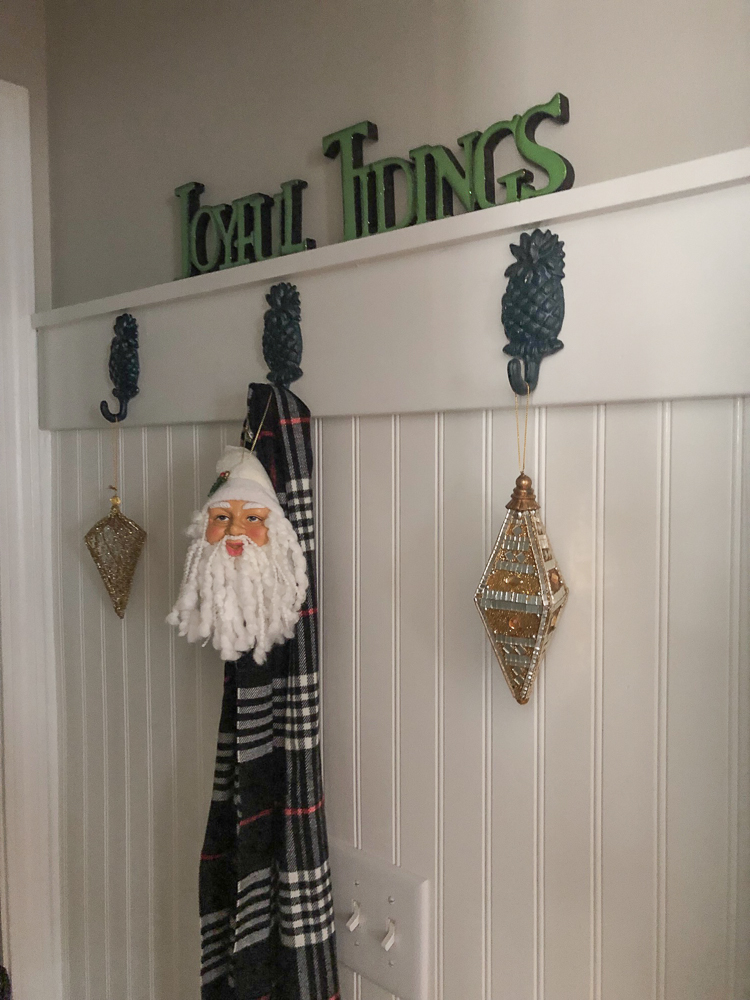 Once we finished it, we both realized at the same time that the wall above might need a darker paint color, to really set it off and make it even more special.
It's so cute already.  The pineapple hooks we found up in Newport at a little shop and brought 3 home just for this project.
You can see here how small it is and how it fits in with our family room next door.  Now it has a special presence all its own!  We walk in and out of this door everyday and now it's so cute.
We had some extra paint that we hadn't used yet and decided on a dark gray.  And here it is with a coat of Magnolia Home Garden Trowel above the beadboard and on the ceiling too. We just painted it all out with the darker shade and it feels so cozy in there now.  Garden Trowel is a darker gray shade.
We also shopped for an original piece of art and found this from an artist who had a booth at Scott Antiques, Chawn Murrah. We loved the colors in this piece and I really like the contemporary abstract feel in this little space. It looks like it could be a tree line on water and we both really like it a lot!
Pineapple hooks.
With low light in here, it's almost impossible to get a really good shot of this space.  With the light on, everything is blown out and with the light off, it's very grainy.
But this gives you a good idea of what it looks like.  We painted the white frame that the painting came in to further give it more of a moody feel.  The frame color is the same as our bar, Ben Moore Knoxville Gray.
With the light on, it blows out the true paint color and doesn't show how dark it is.
It's impossible to get all the colors to show correctly. This shot looks like we didn't paint that right side of the wall but it's all the same color as is the ceiling.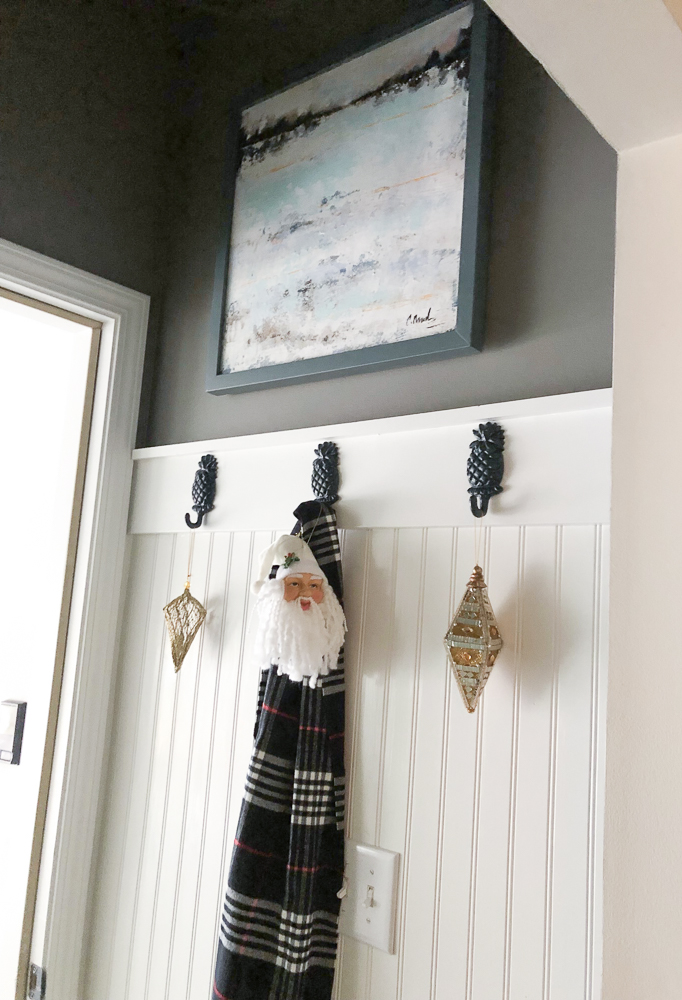 This shot is pretty accurate and shows how nice it all looks together. We are thrilled with how this little project turned out and it gives our home even more of a custom look that reflects us!
We are so enjoying adding these special little architectural details to our home that sets it apart from all the rest.  Those are truly the things that make a home special and unique and we love that about personalizing with DIY projects.
We're currently working on another fun DIY project, adding herringbone marble tile to our fireplace, so I'll be sharing that one soon too.  Mark's been off work for a couple of weeks for Christmas vacation, so it's been fun to get these project completed.
Hope you're all ready for Christmas next week, it's coming fast, isn't it! We've had some fun vacation days, mixed in with these projects, so it's been a nice Holiday season so far.
Don't Miss a Post, join my list!