Over a week ago, I had the pleasure of spending a little more than 4 days with my friend, Kate, out in her hometown of Petaluma, CA.  I had been through the wine country before, in Sonoma County even, but got an extra special treat of hometown tours from Kate herself.  And boy was it fun!  One of the best get-aways I've ever encountered.
Kate and her lovely family of 4 live in this beautiful stucco home with a vineyard in the backyard and rolling amber hills in view out the front door.  Truly lovely!  Kate's hubby, Matt, was such a nice guy and I thoroughly enjoyed chatting with him and the 2 adorable kids.  Wonderful folks and they welcomed me in like family.
I remarked to Kate as soon as I got in and walked out to the backyard patio that her house totally reminded me of being in Italy.  Really it did!  They have the cutest guesthouse and that's where I stayed, through those French doors.
There's the new cabana that Kate just added this summer, ready for grilling and chilling.  And we did!   You can see her kitchen window faces the beautiful view of their backyard.
The first evening I was there, Kate brought out this hand made wooden cutting board (that she made!!) and served up crusty bread, fruit, cheese and wine.  Oh, could I get spoiled with this treatment! She amazes me with all she gets done and I told her that.  She's a busy mom of 2, but manages to cram in projects and tutorials so many days on her blog.
They have a vineyard in the backyard, people! Can you believe that?  They had just been wrapped with netting to keep the birds out since the grapes are getting ripe at the moment.
Kate and her hubby are amateur wine makers and this is the gorgeous crop of grapes currently hanging on the vine.  How fun is that?
Cute Kate in her kitchen.  She made me feel right at home and we simply had the best time.  You can bet I'll be going back out there next year. This was the perfect time of year for a visit to the wine country.
Kate's beautiful mantel that is ever-a-changing.
Her office, where we both perched together, blogging side by side.  What fun it is to catch up and hang out with another blogger.  Bloggers "get" each other!
Kate's kid room and the famous mongo map, which I love.
She has the most amazing kitchen, perfect size for a party around the island.
Another lovely mantel.
I made myself at home in the guesthouse and blogged away.
Our first day out took us to her hometown of Petaluma, really an all-American little town with a quaint downtown of shops and restaurants.   We hit a few antique stores.
And acted silly.  Lots of laughing.
We had fun!
Kate is quite the drama queen.  🙂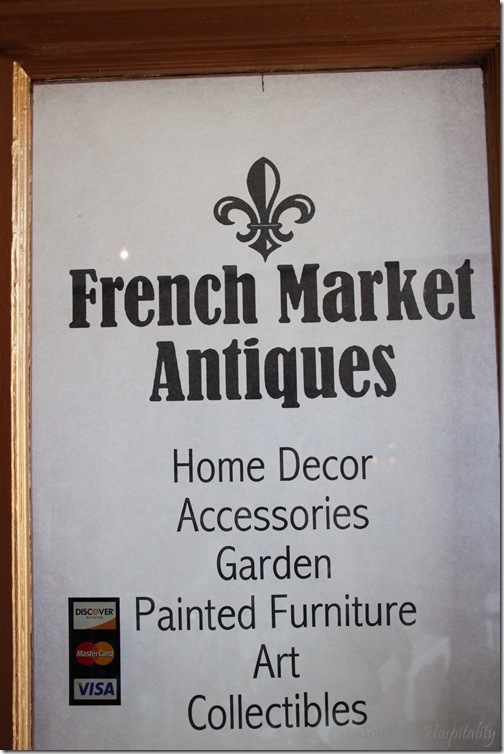 This cute shop had some great eye candy.
Kate taking a break with a striped pillow.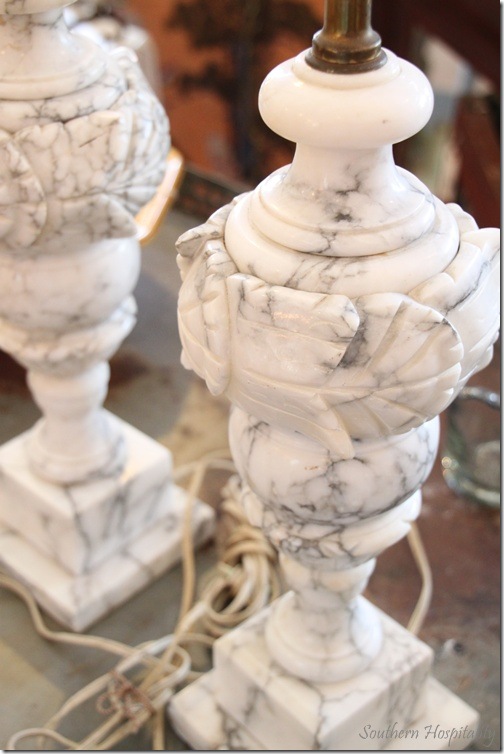 Beautiful marble lamps..
A pretty painted cabinet.
And a shabby chic dresser.
Loved this settee.
We browsed, walked around and had lunch in downtown Petaluma.  I'll treasure my time out there forever.  I'll be back with lots more to share of the antiques faire, Sonoma wine country, and beautiful San Francisco.
I visited at the most perfect time of the year and the trees were just beginning to turn colors.  With a vivid blue sky and the deep azure of the water, the San Francisco area is a sight to behold.
Today is Kate's Fall Craft party and I hate to admit that I don't have anything to share, but it's true.  I don't!  But, please go on over to Centsational Girl and check out all the Fall craft links. You will be inspired, I am sure!
Don't Miss a Post, join my list!