Happy Memorial Day weekend to you all!  It's been gorgeous here in Atlanta and the summer heat is starting to creep up on us, as it always does.  I hope you all are enjoying yourselves too.  We have a week of family time with those baby girls and Lauren home for a week, so that's extra fun for us.
It's only been a couple of weeks ago that I shared my daddy's vegetable garden, but it's growing so swiftly that I thought another post was in order.
April 17th, the garden was newly planted and he was hand watering the baby tomato plants.
May 8th, Mother's Day, the garden was really taking off and growing well.  Everything was looking good!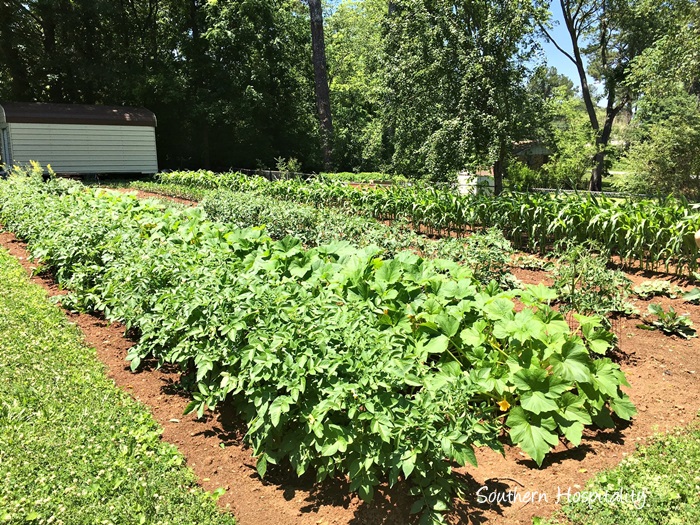 May 22nd, the garden is going gang-busters with growth. Luckily, we have gotten enough rain to keep it watered and thriving.  The heat is about to set in though, so we are crossing our fingers that the rain doesn't stop as it sometimes does during summer months.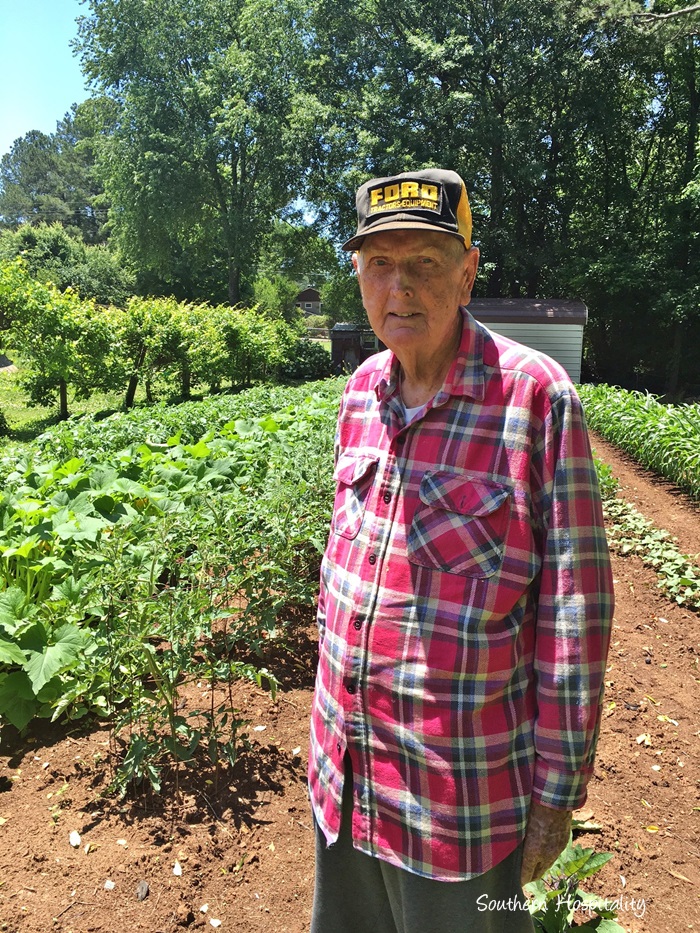 Daddy is one proud gardener and loves showing off his crop.  We are happy to look and admire with him.
First row is Irish potatoes, 2nd row squash and zucchini.
The squash blossoms were going crazy too and squash is already coming in.
Parks Whopper tomatoes are looking good as well.
He's added cages to them so when they grow bigger and produce those big juicy tomatoes, the stems will hold up.
This is an eggplant variety.
More eggplant and sweet potatoes.
Two rows of corn.  You can see they love to throw out vegetable and fruit scraps in the garden. Composting at its best. They have done this my entire life.  Nothing goes to waste.  That's a leaf compost bin in the distance, right side.  He's been composting leaves and then mulching them into his garden the last year.
These are green beans, maybe Blue Lake, not sure, but I can share more on these later on.
He's got pole beans growing on the other side of this fencing and this is another variety of eggplant.
Here were the pole beans just 2 weeks ago.
And the pole beans are climbing the fence and looking good now.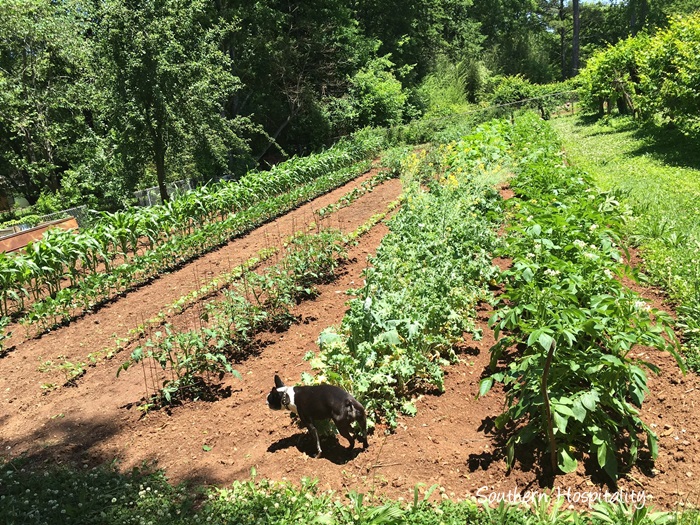 My sister's dog, Buster, was staying with them that day.  He loves the backyard.  He's standing by the row of kale that is about done for the season.  Greens don't  like hot weather, so they die out when it gets too hot.
Here's a great video I did with Dad in his garden, Lauren was shooting the video.  Enjoy!
Just last Wednesday, I was over there for lunch again and dad came in with the first squash of the season.  He dearly loves to garden and grow things and we are glad it gives him a purpose in life, so we encourage him and he keeps on growing (enough for 2 large families, actually!).  He loves that I show off his handiwork to all of you too, so he's happy to pose for pictures.
Their oak leaf hydrangeas in the backyard are looking so lush and beautiful this year.
One of my favorite blooming hydrangeas.
Their huge oak-like leaves and beautiful white blooms are statement makers.
Mom and dad, our precious treasures in life and both 88 years old.  We are so happy they are still doing well and still with us.
Thank you all for enjoying my family so much.  It means the world to me that you do like to read about and keep up with what they are doing.  We don't know when life will change, but we sure are grateful that we still have them in good health and enjoying life with us.
I'll take some new baby girl pics (both of them) this week and share with all of you too!
Don't Miss a Post, join my list!