Did you see the movie, Julie and Julia? I loved that movie, about a blogger who decided to blog her way through Julia Child's iconic cookbook in a year. She cooked her little heart out for a year and it was a cute and heart-warming adventure. I loved it cause it was about a real-life blogger and after her blog became popular, she got a book deal out of it.  The movie was very witty, so if you haven't seen it, rent it sometime.
Here's a fantastic recipe that I just tried out recently and it reminded me of Julie cooking Julia's famous Beef Bourguignon and I can still hear Julia saying it in the movie, in that accent of hers.
I got this recipe on Food Network and it is from Ina Garten, another fabulous chef.  We tweaked it just a little, so you can go over and print her version.  I'll add in my tweaks at the bottom.
It calls for beef stock, so of course I'm using my Knorr Beef Concentrate stock.  It worked great for this too.  I love that they have chicken and beef varieties in Knorr.
There are a lot of ingredients in this one, but once you assemble everything and get it going, it's not hard at all.    Prep time is a little longer than normal, but then it goes in the oven for a couple of hours.
Dicing the onions.
Chopping the carrots.
Mushrooms and pearl onions go in at the end.
Chopping up the chuck roast.
Olive oil in the pan for searing the meat.
Bacon goes in first for browning.
Getting the beef stock ready to go.
In goes the Knorr Beef Concentrate stock, add water.
After it dissolves, it looks like this.
Bacon nice and brown.
Beef cubes go in next, seared on both sides.
Yum, looking tasty!
Meat comes out and in go the carrots and onions for browning.
Add a whole bottle of red wine, we used Pinot Noir.  My friend, Tammy, helped me with this recipe and we did it at her house.
Adding the beef stock.
Adding fresh thyme.
Adding tomato paste.
Sauteeing the mushrooms.
After it comes out of the 2 hour oven, it looks like this.
Add in the mushrooms and pearl onions and let simmer a few more minutes.
Add a flour/butter mixture to thicken a bit.
We whipped up a small batch of mashed potatoes, added the Beef Bourguignon over the top and OH MY HEAVENS, was it delish!!  I had never made this dish before, but it was fantastically good.  I almost licked the plate. 🙂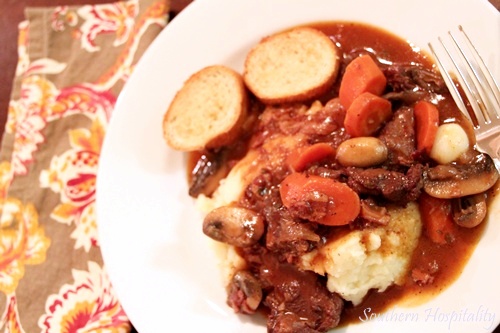 Talk about a Fall comfort food, this is it!  The flavors meld so well and it is just so tasty and delicious.  I would definitely make this again.  It feeds at least 6.
Have you ever made Beef Bourguignon?  First time for me, but it won't be the last!! 
Beef Bourguignon by Ina Garten
Food Network makes it easy to print recipes, so head on over and print it off.
Here's what we changed:
We added 3 TBL tomato paste instead of 1.
Cut down the salt from 1 TBL to 2 TSP.
We also did NOT use the cognac listed in Ina's recipe.  The whole bottle of red wine was plenty of flavor.
Cooked it for 2 hours instead of 1 hr. 15 min.  We felt with the chuck roast, it would tenderize more if it was cooked longer and it certainly did.
Fantastic dish!!
I'm very happy to be a representative for Knorr this Fall!  Don't miss this!  I'm giving away  a Knorr prize pack, with Knorr products AND $100 giftcard and there's still time to sign up until Oct. 6th!!
I took a little break today from Feature Friday, but we'll be back next week with a new one!
Don't Miss a Post, join my list!