Getting in a magazine was always a big dream of mine and I wasn't sure if it would ever happen, but it did…it totally did!  Better Homes and Gardens was here last week to do my kitchen, dining room and guest bath photo shoot.
Pinch me NOW!!!  Really, I can hardly believe all the dream come true things happening to me the last couple of years.  Humbled and happy, that's me right now!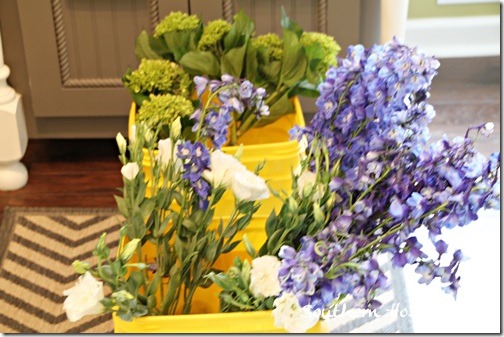 Bright and early, 2 buckets of fresh flowers arrived at my house.  Lisa Mowry, the BHG scout who is doing my story, sent them over. You'll be hearing more about Lisa later on, I'm going to do a fun interview with her. She's been involved with magazines for over 20 years and has a lot of knowledge about the business.
This is Lisa.  Lisa and the camera crew of 2 arrived, husband and wife team, Owen Masterson and Christine Anthony, and they were so professional and fun to watch work.  They are masters at getting the right angle and great shots of a room.  Lisa worked on putting white flowers in the vase and put me in charge of the green hydrangeas and adding them to one of my soup tureens.
And this is how that turned out.  I ADORE these green hydrangeas, aren't they perfect for spring?  The crew came armed with pages of details on what the magazine wanted out of the photoshoot, so they followed those instructions on getting all the shots that they needed. That was fun to watch.
Lisa was styling all the rooms too and I had already told her I had a lot of good pieces in my accessory stash and most everything she needed, I already had, like the white vase and soup tureen, cake stand, large glass vase for the island flowers and most everything else.  Lisa did bring in some bath towels and a pretty green and white hand towel for the kitchen and I got to keep all of those, as well as ALL those beautiful flowers.  It looks pretty around here this week!
Lisa had told me ahead of time what to move out of the kitchen so I got that done before she got here.  When shooting a magazine spread, it's not all real life, if you'll notice in the pics.  My toaster and coffee maker were put away and in their place, more styled items were there, for color pop and just beauty shots.  Things like that.  It's real life, but not all real life if you know what I mean.  Magazines want to enhance a room and not everything in a kitchen will add to the photo (like paper towels) and that was fine with me.  She did keep a lot of my things in place and that made me happy.
Owen Masterson, primo photographer.
Christine and Owen were fun to listen to as they moved things, tweaking, did this or that to get the perfect shots.  I loved seeing the shots in the computer after he finished in the bathroom.  It's going to be so pretty in the magazine!   They made my little bathroom look like a million bucks.
Owen and Christine getting the right camera angle.
Moving on to the kitchen, lots of details shots were done in here too.
Christine adjusting the camera and looking for the sweet spot. It was quite an experience and it's amazing the hours that go into a photo shoot.  Like a day and 1/2 type hours.  I'm sure they take 100's of photos to get just the right shots.  All the angles and details take hours to get right and that's why we all love looking at magazine photos.  Perfection takes practice!
Lisa made the island look so pretty with my big glass Willow House vase filled with cherry blossoms.  I didn't get a close up of that shot, but it's lovely.  She used lots of green and a little pink in there.
Owen and Lisa looking at the list to complete.
Discussing photos, angles and all of that detail stuff.  I was like a fly on the wall, listening in and asking questions.  I actually had time to get some work done in my office since this was such a long process. I didn't need to hover over every single thing happening, but it was sure fun to see the process in real life.  And have it happening at MY house!
Shooting the kitchen.
I'm happy to say, Lisa left my shelves just like I had styled them, with the exception of moving off a couple of things that didn't fit the colors.
At one point, she asked me if I had napkins and I got out my cute green and white napkins that I got at a yardsale.  They go so well with the green hydrangeas. She would mention something and I'd say….oh yeah, I have that!
My smaller Willow House green glass vase is holding those gorgeous blooms from my front yard tree, I think it's a type of cherry. Anyone recognize this bloom?  They are so delicate and pink.
They took a couple of shots of the dining area too, since it's connected to the kitchen.
Here's a partial shot of the island with the big glass vase and cherry blossoms that Lisa brought.  She had this set up as a beverage station in the shoot.
Cupcakes were part of the props too and boy, were they yum!  My little planter with ferns got in on the action too.
She kept my real plants in the windows and added these white flowers in a white vase too and the vase moved back and forth between the bathroom and kitchen, which she said is OK.  My kitchen and dining room will run together in the magazine and the bathroom will be in another area (maybe separate issues, I don't know), so it was fine to use the same flowers for both.  They don't usually do that if all the pics will run together.
It was truly such a fun experience and I'm so glad I got to do it. What an honor to get in Better Homes and Gardens.  I'll let you all know when I find out more details on when it will come out.  Lisa told me it's going to be in the Better Homes and Gardens Kitchens and Bath makeovers edition, so when I know more, you'll be the first to know!
Thanks so much for being happy with me and following along my journey all these years. It's been a blast to have all of you out there, cheering me on!  Ya'll are the BEST!!
Don't Miss a Post, join my list!