This is the dreariest time of the year, the time between the Christmas holidays and Spring. We are all eagerly awaiting the time when spring greens burst forth again outside our windows. But, in the meantime, here are a few ideas for growing houseplants and keeping them healthy inside.
Plants are one of my most favorite materials to decorate with. There is no substitute for real plants to me, even though I have a few faux ones around too in a few spots. Real plants just create a sense of warmth and beauty in a home that nothing else can mimic. They fill in the holes, add green, and generally make a home feel warm and inviting. I think I got my green thumb from my mom. She has always loved plants and grows African violets, along with a few others.
Coming in our front door, this fiddle leaf fig is just inside the front door, adding a splash of green to the entryway.
In the living room, I have two more real plants. This Button fern has been alive for going on 2 years since I planted in in this blue and white cup planter for my old screened porch almost 2 years ago. I'm still amazed myself that it's still doing so well. I thought for sure this little delicate fern would not make in inside the house for long, but it's still going strong. I keep it well hydrated.
I found this website online, Houseplant 411, which has a whole list of the most popular houseplants, so that's how I identified most all of mine. I don't ever keep the tags and sometimes the tags don't really tell you the proper names, so I found most of these on that site.
This Alocasia (or Elephant Ear or African Mask plant) has also been alive for at least 3 years. I think I bought most of my houseplants at Home Depot or Lowes. This one from Africa is very exotic looking. I wasn't sure how it would fare either, but it's done very well in this container. I saw one like this at Ikea last summer and wish I had bought another! I don't see them often, but they are such pretty plants.
In the family room, this little plant, a Dracaena (not sure of exact variety), with limey leaves has been with me for at least a couple of years too. Most all of my plants survived the move over a year ago and are doing well in our well-lit house.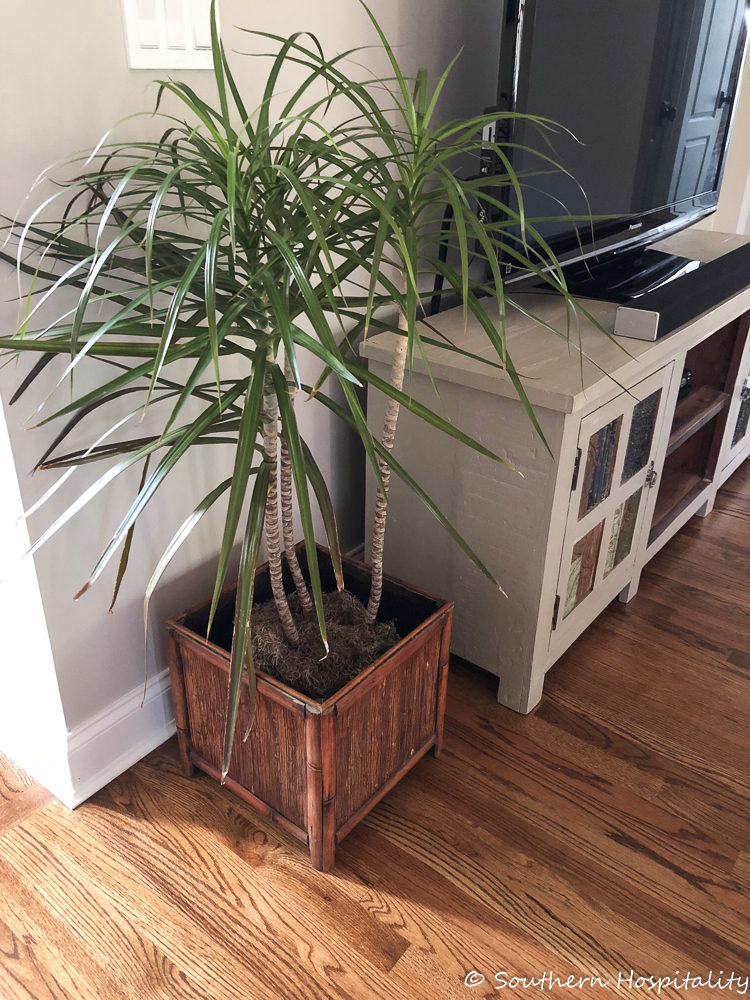 Here's an interesting story about this pretty Dracaena Marginata. As of now, it's gone! It's been here in this spot for probably 6 months at least, did very well and grew a lot of new growth on the top. It was looking very healthy with only a few leaves dropping here and there. All of a sudden it went into decline and one of them dropped all the leaves, the little stub drooping over like it was over watered. It has drainage holes in the bottom so I can't imagine that it was really too wet, but nonetheless it died. The rest of the leaves all fell off in about a week or two until none were left, so right before Christmas I tossed it.
Too bad, it really was pretty, now I need another to take its place. Do I dare try this variety again?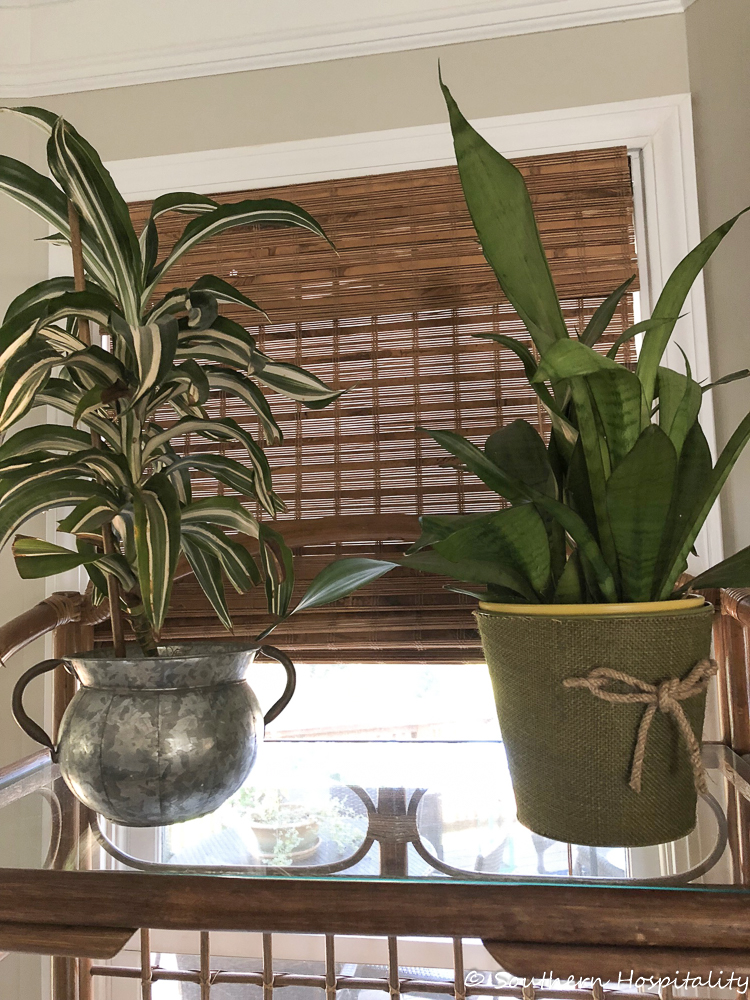 Over on my rattan shelves, I have added most of my plants that sometimes go outside during summer. So this is a good place to house them all. That's another Dracaena Warnekii on the left and a Sansevieria Plant, or Mother-in-Law's Tongue or Snake Plant. Those are the easiest plants to grow! I have several of them and they do so well. So if you have a black thumb, get a Snake Plant.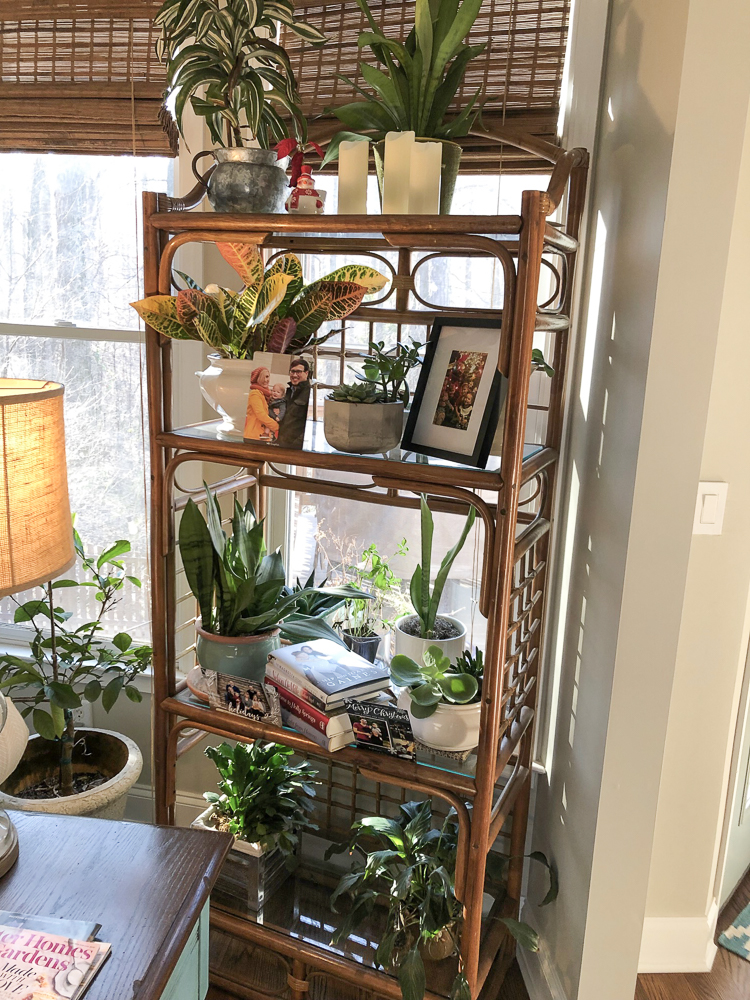 Many of my plants from around the house ended up here for the Christmas Holidays. Some of these may move around again and some will go back out on the porch when Spring somes.
This cute little succulent was on my old porch and I'll put it back outside in Spring. Succulents are easy to grow especially outside. This one has done great, but I don't know the name of it.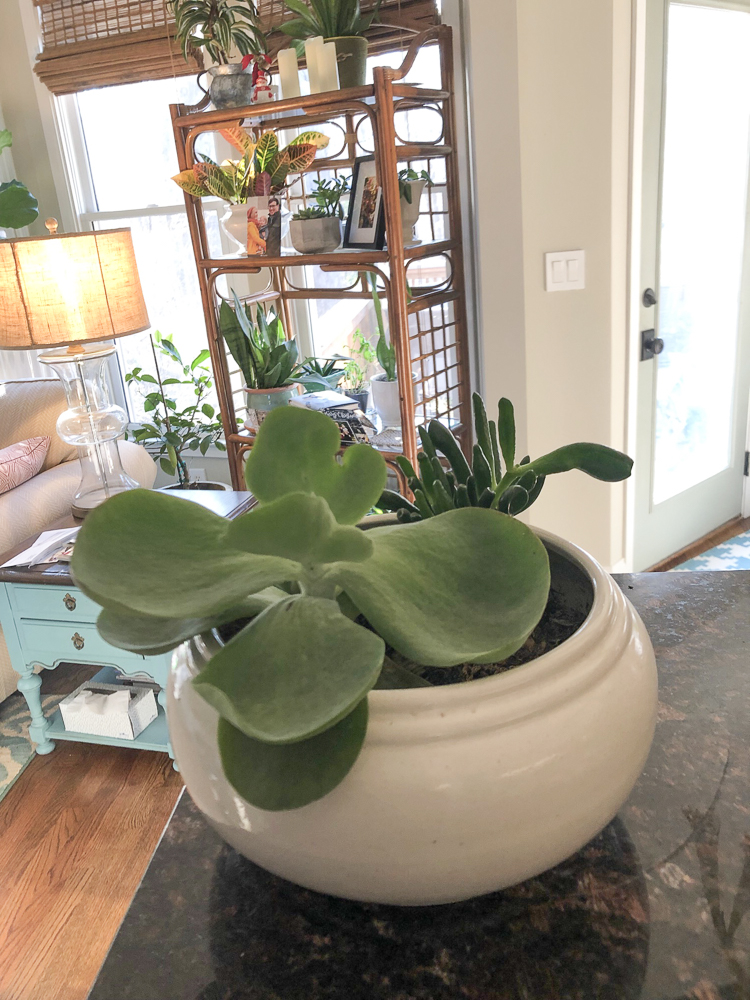 Here's another succulent, they are readily available at the home stores.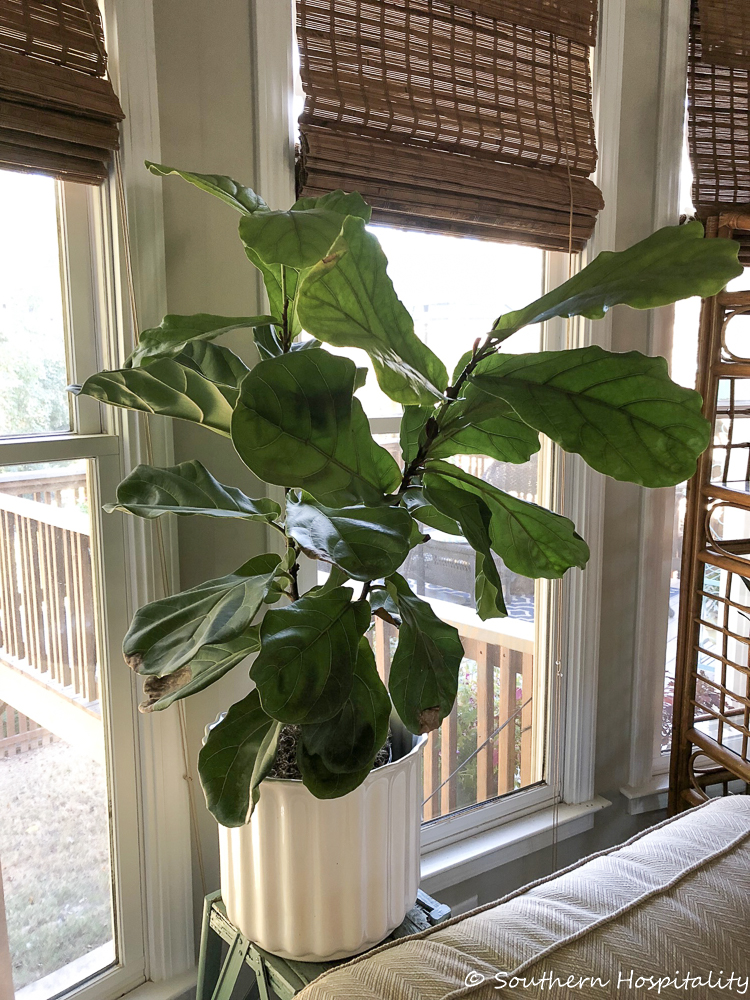 Another fiddle leaf fig tree is behind the sofa and it's done really well too. I've had these smaller fiddle leaf figs for over a year and they've done well. One of the keys to growing these is they need bright indirect light and not too much water.
These little plants I've had for years. In fact, I got them in Birmingham at a yardsale one time and they have stayed with me in these little planters. I had them on the porch too, but they multiply and I can repot them when another baby pops up. They're not succulents, but I'm not sure what they are.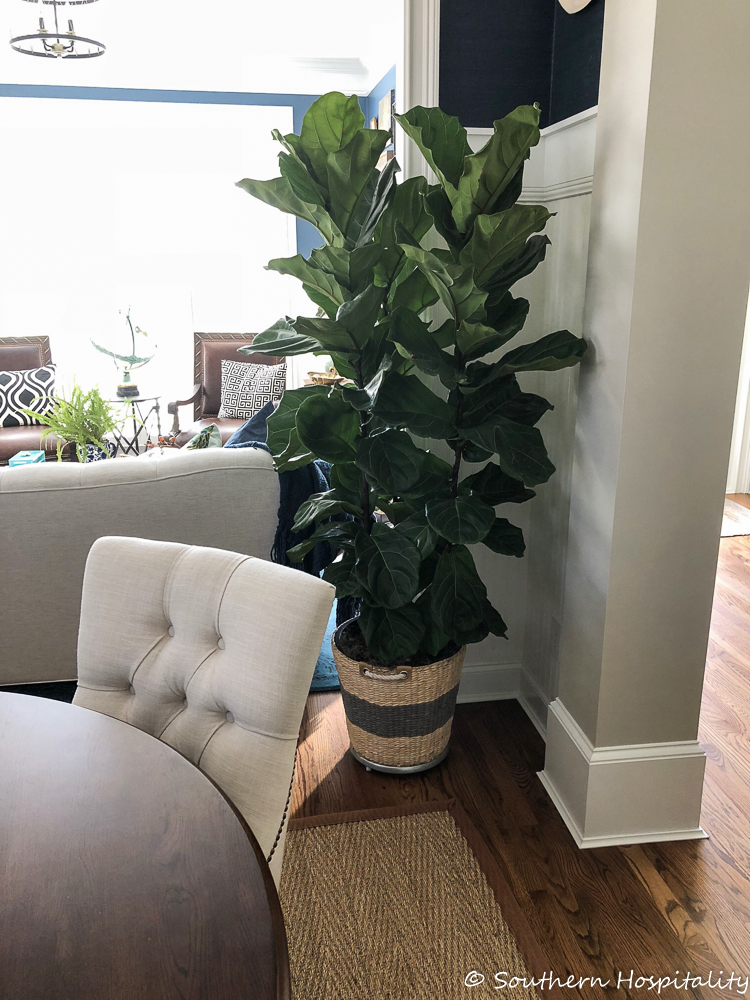 I got a large fiddle leaf fig tree for the dining room probably in October. It has done very well for about 3 months, but lately it's taken a turn for the worse.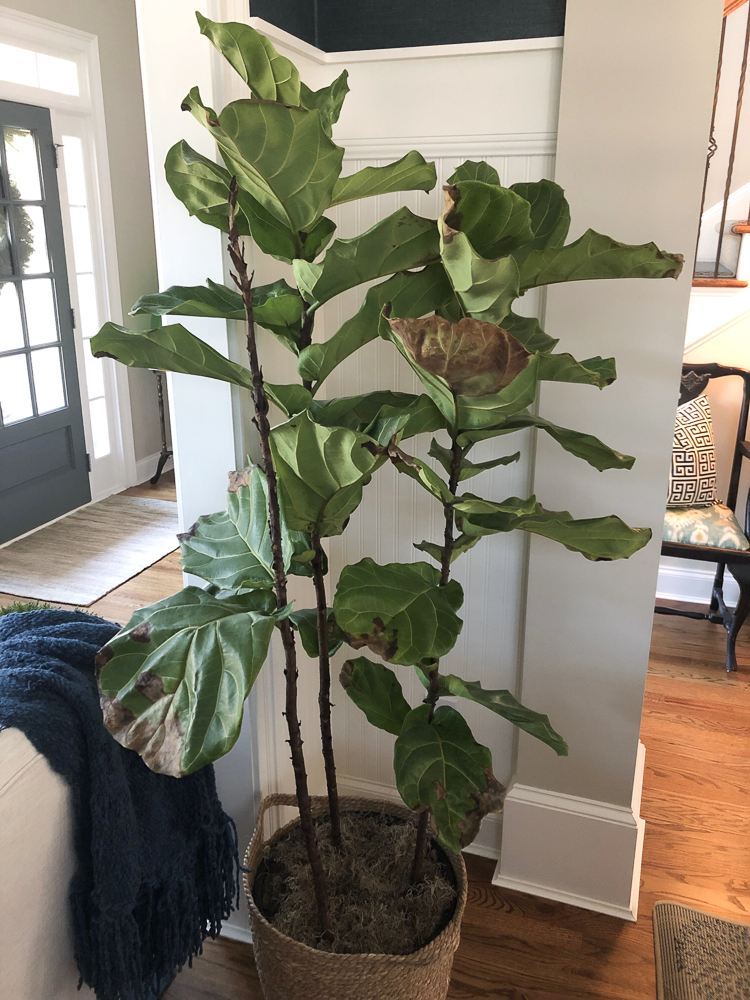 It has 3 trunks and one of them has lost all the leaves except 2. I had lost a few leaves here and there, but during the Holidays we got a lot of rain and cloudy weather. The sun shines in here during sunny days and hits the leaves late morning, so I think it was enough light to keep it going, but it's not looking so good now, so I'm not sure if it's going to make it or not. They have a 1 year guarantee at Home Depot, so if it continues to decline, I'll take it back. I'd be fine with cutting that one trunk back and see if the other 2 survive. It's a little skinnier now, which is fine with me.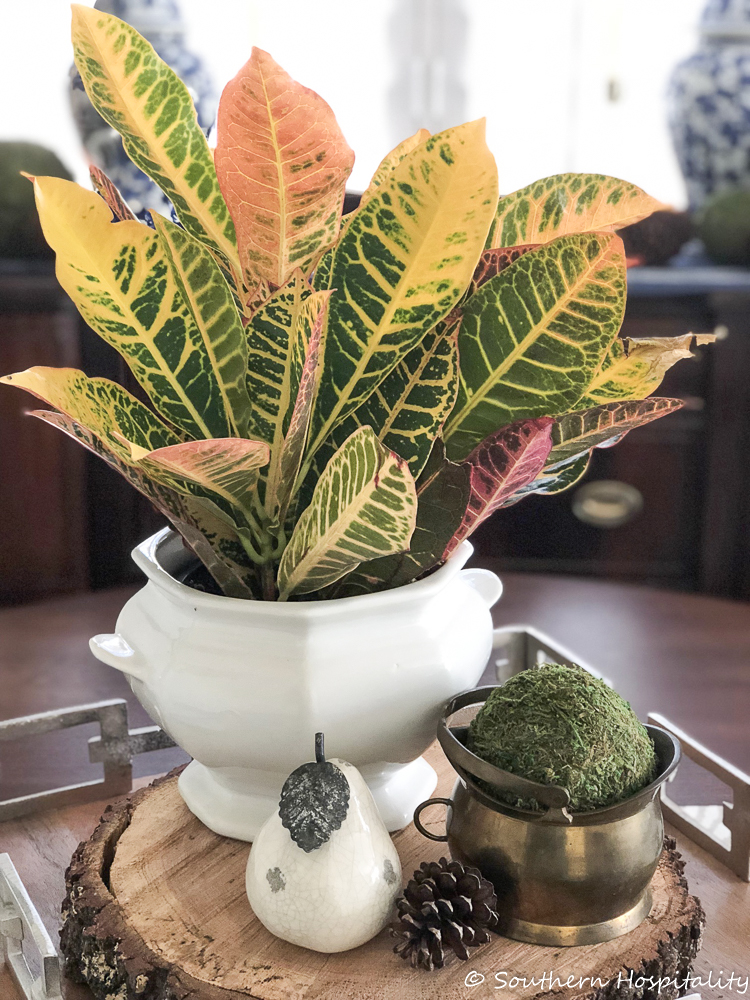 I bought this colorful Croton for Fall decorating and love it. The colors are so pretty and it is making a nice houseplant. I read you can't plant them outside because they will freeze, but I'm really enjoying having it inside on these dreary days.
Upstairs, I planted a lime tree that my cousin sent me from her online nursery, Root 98 Warehouse. Kendra and her husband have a beautiful online nursery, so if you're looking for some exotic and different plants, check them out in Lakeland, FL. I'll be putting this back outside for the summer and hopefully it will grow and maybe produce some limes in the future.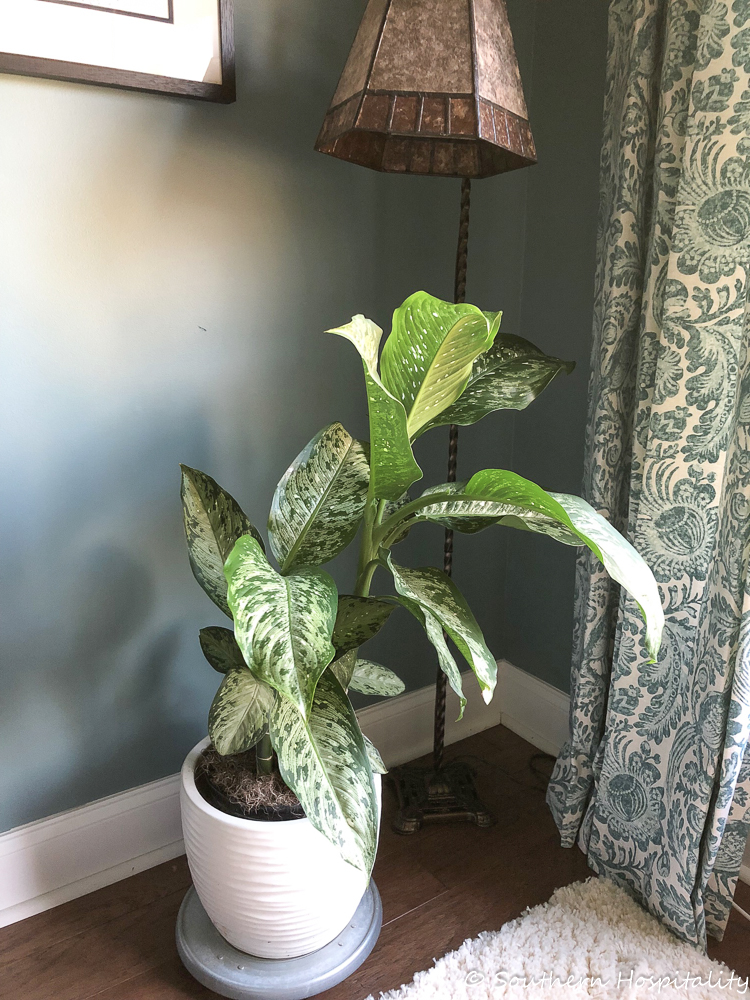 I've got a Dieffenbachia in our master sitting room and I've had this one for a long time too. It almost died after the move. I had neglected it for awhile, but I put it outside on the porch over the summer and it came back strong.
Here's another one of those potted plants I got at the yardsale years ago. I love these little plants, they are a bright spot on a cloudy day and I've enjoyed collecting some unique little planters and adding plants to them. If you have a little bit of light coming in your windows, you should be able to grow many of these.
I hope you enjoyed this little look at my houseplants and how I've kept them going. They are not all foolproof and you do have to pay attention to them, but I've had really good luck with most all of these so far, with the exception of that one I talked about. It gave up and bit the dust so fast!
I'm always willing to add another houseplant to the mix. I love them and feel like they add so much to our home. If they were gone, there would be a hole and a lack of warmth, I think. They really do add all that to your home.
Are you a houseplant lover or do you only do faux. I do have a few faux ones too, faux cypress and boxwood, things like that and they have their place, but real plants will always have my heart!
Don't Miss a Post, join my list!