Birmingham has a very nice art museum and I've visited there a couple of times since we moved here. I didn't grow up being a big lover of art, nor did I study much about art history in school. In fact, I'm quite ignorant of what world renowned and real art is all about. I know what I enjoy looking at and can appreciate art for the beauty in it, but as far as perusing art with a keen and sophisticated eye, well, ha! that's just not me. 🙂 I'm afraid I'm rather a clod when it comes to knowing and really appreciating art. 🙂
I was fortunate enough to visit the Louvre in Paris about 20 year ago and saw the Mona Lisa in person (it's really small by the way!), as well as a couple of the famous art museums in Florence and even gazed at the well-known statue of David by Michelangelo in the Uffizi Gallery oops, wrong museum, it's actually the Galleria dell'Accademia, which was quite exciting for this Southern girl.  I actually went to both museums while I was in  Florence, but it has been a long time, so the memory betrayed me.
(Dale Chihuly, well-known glass artist)
So, when I saw that our art museum was hosting a special exhibit called Life, Liberty and the Pursuit of Happiness, it sounded like a good outing for me and my hubby.  Touring from Yale University, it was really fantastic to see all that history of America in front of us.  We got there just a few days before it left, so I'm glad we got to see it.  Chocked full of interesting Americana artifacts, it was a wonderful history lesson and we both enjoyed it so much.  Unfortunately, they didn't allow pics in the exhibit, so you'll have to look at the ones I was allowed to take in the rest of the museum.
Our museum has one of the largest collection of Wedgewood of any outside England,  in the world, from what I read, with over 1,400 pieces.
This is a Wedgwood fireplace mantel, which was really spectacular.
And a collage of just a portion of the Wedgwood on display.  Beautiful blue, this is what we mostly think of when Wedgwood is mentioned, but there were several other colors too.
I didn't take notes on everything I photographed, but just took pics of things I thought were unusually pretty.
This is black basalt ware which is also Wedgwood too.
I really love how striking they are.
And I think this was a Wedgwood piece too.
In the Woodlands area, this is a collage of Native American art and artifacts.
Beautiful old pottery from the American Art area.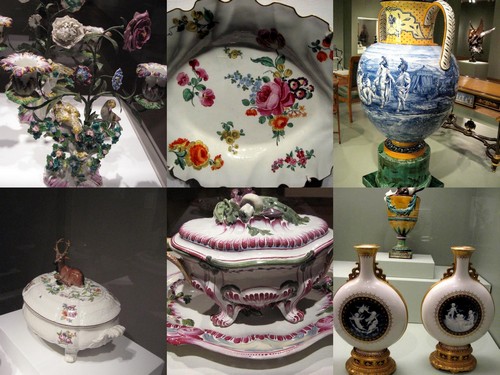 These were all just beautiful pieces on display.
This was a marble bust, can't remember who it is.
From the American history area.  I love seeing all the old furniture and imagining how it was to live during that time period.
Silver and silver-plated service that graced some fancy tables.
The old wood in these furniture pieces is just spectacular.
Now, this is an artist I do know about:  Frederic Remington's bronze sculpture was beautiful.
This was a lion from an old Carousel.
More furniture.
The paintings are just amazing. I remember from visiting the Louvre how wonderfully detailed these Old World Masters paintings are.  I don't remember how old these are, but the detail just astounds me.  What talent!
Almost looks like a photograph.
Some beautiful old stain glass windows, these probably came from a church.
Thought this was interesting, a pair of mid-1800's lawn chairs.  They could be current today.
Sculpture of John the Baptist.
More beautiful paintings.
This one was in the Italian art section.  Gorgeous, I saw so many beautiful pieces of art when I visited Italy 20 years ago too.
And this blue and white tile was from Belgium.
And now we come to the Modern art gallery.  I have to tell you that I just don't really "get" Modern art.  See, told you I'm a clod. 🙂  I didn't see the artist or tag on this to tell about it, but what do you think?  Like it?  It's probably called "big green ball", don't you think?
I did like the colors in the painting beyond on the wall.  This is pretty and I can see why it's hanging here, I think.
Hummm, this is wood, sort of sculptural.  I guess I just don't appreciate Modern art all that much.
This one I took a pic of the artist name, who is from Tuscaloosa and I think it's pretty cool looking. See below for the name of the piece.
And this, I get, but doesn't that dog look rather like he's speaking to the camera, saying "why on earth are you doing this to me?" 🙂
OK, I'll stop now.
Now you know how unsophisticated I really am!   Ha! Ha!

Don't Miss a Post, join my list!