I'm editing this post, since it was against policy to take pics inside the house. I'll leave up the outside pics for now, hope you enjoy these.
The hot topic in design around Birmingham this month is the annual Alabama Symphony Decorators Showhouse, which is always a fun event. I think I've attended every year since I've lived here and this year decided to sign up as a hostess. My day to be a docent will be April 28th, so if you do come by that day, please look me up.
This year's house has been on the tour before, back in 1989 and as much as it is being downplayed, the house was bought after that year's showhouse by former Healthsouth exec, Richard Scrushy, whose wife toured the home and fell in love with it.  He is now serving time in a Texas prison on a different charge from the Healthsouth scandal, after being convicted in 2006 and no longer owns the house.   The house is currently on the market for $4.7 million and will be open from April 17 through May 2.  The event will be well attended, I'm sure.
According to the paper, the house was built in 1956, with many renovations along the way.  It's a HUGE home at 18,000 s.f. and my pics will not do it justice, but enjoy the tour. I'm not going to try to describe all the rooms and all the details, but the more than 40 decorators who had a part in the house deserve a round of applause.  It is truly beautiful and inspiring. The house is in Longleaf Estates.

For more information on the tour this year, go to the Symphony website for all the details.  Cost for tickets will be $20 at the door.
Enjoy the tour!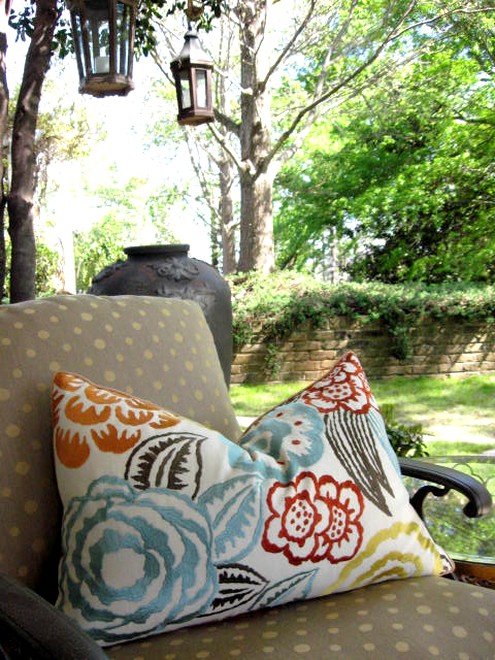 If you local girls get a chance, come out and see the house in person. I think you'll really enjoy the tour, not to mention the view.  Again, I'll be a hostess at the house on Wednesday, the 28th from 10 til 1 pm, so stop by and say hello if you're there!
Don't miss the Fiesta giveaway in the post below!  It will be active for about 3 days!
Don't Miss a Post, join my list!