It's been awhile since I shared my Cuban black bean soup recipe, so I thought it was time to get it out again, just in time for Fall weather.  This time, I used the Knorr Chicken Concentrate to make the stock and it was very flavorful, as always.
Dried black beans.
Soak overnight. Drain, add water and simmer for about an hour and 1/2.
Drain beans.
Ingredients for Sofrito.
Adding the Knorr's Chicken Concentrate stock.
Sauteeing the Sofrito.
Adding spices.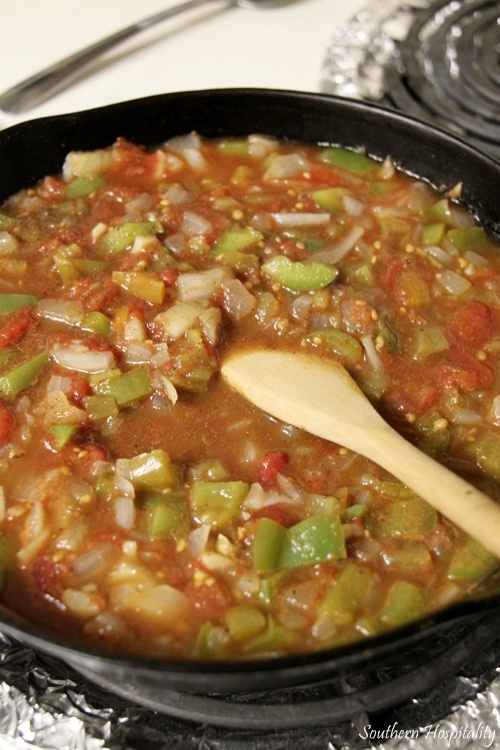 Simmering down.
Add all to stock pot and beans and simmer.
Delicious black bean soup, Cuban style!
I found this recipe several years ago in the Atlanta paper and it was from Gloria Estefan in Miami, who had opened a restaurant at the time and this soup was one of her own.  It's delicious, easy and flavorful.  A great way to add beans to your meals and no meat for those who prefer that.
Cuban Black Bean Soup
1 lb. black beans (dried) I'm sure you could use cans if you like
2 cans chicken broth (I used 3 1/2 cups water and 1 Knorr Chicken concentrate packet) By the way, there is NO MSG in this product!
Sofrito
2 TBL olive oil
1 large onion, chopped fine
1 TBL minced garlic
1 green bell pepper, chopped
1 can (14 oz.) whole or diced tomatoes (I don't drain, just dump in)
1 TBL cumin
1 TSP chile (optional or use canned)
2 TBL cider vinegar (I sometimes use Red Wine vinegar)
1 TSP Salt
1/2 TSP pepper
1 TBL fresh cilantro (optional)
Soak beans in water to cover 2 inches overnight (to quick-soak, combine beans with water, cover by 2 inches in large pot and bring to boil; boil 2 minutes. Cover and let stand 1 hour.)  Drain water.
Return beans to large pot with fresh water to cover by 2 inches.  Bring to boil over high heat, reduce heat, cover and simmer until beans are tender (usually 1 1/2 hours).
Sofrito: Meanwhile, heat oil in large skillet over medium heat.  Add onion, garlic and green pepper, cook stirring occasionally, until onion is translucent, 8 min. or so.  Add tomatoes cumin, chiles, vinegar, salt and pepper.  Cook, breaking up tomatoes, 2 minutes more.
Drain beans.  Add chicken broth to pot, along with beans, add Sofrito, cover  and cook for about 30 min. to an hour.  Flavors will blend as it simmers.
Eat and enjoy!
Let me know if you try this one, it's one of my faves for the Fall and Winter months.  Add some crusty bread and a small side salad and it's a meal.
If you haven't signed up for the Knorr prize pack, you can still comment to win a great giveaway.
I'm honored to be a part of the Knorr 4 and for the next 4 months you will be seeing several recipes from me using their great products!
Don't Miss a Post, join my list!