It's been an exciting week at my house!  My tile contractor started last Tuesday on the master bathroom and it's been fun to watch the process and progress.  And it's really been fun to not be doing the work.  It was 4 years ago that my dad and I were knee-deep in this house renovation all during the summer and we worked like dogs getting this house done in 6 months enough that I could even move in.  That's not including all the other projects we have done since then, getting my house to where it is now.
On that note, I was happy to hire this one out. It was way over my dad's head and mine and we would not have been able to do it all.  A bathroom requires someone who knows what they are doing, so I got a recommendation from blog friends and came up with a guy who I called and he came out, gave me an estimate and I hired him to start.  I had to wait over a month to get him here, but the day finally came last week. I will share his information with you later, because I'm very happy with his work ethic and how things are going so far.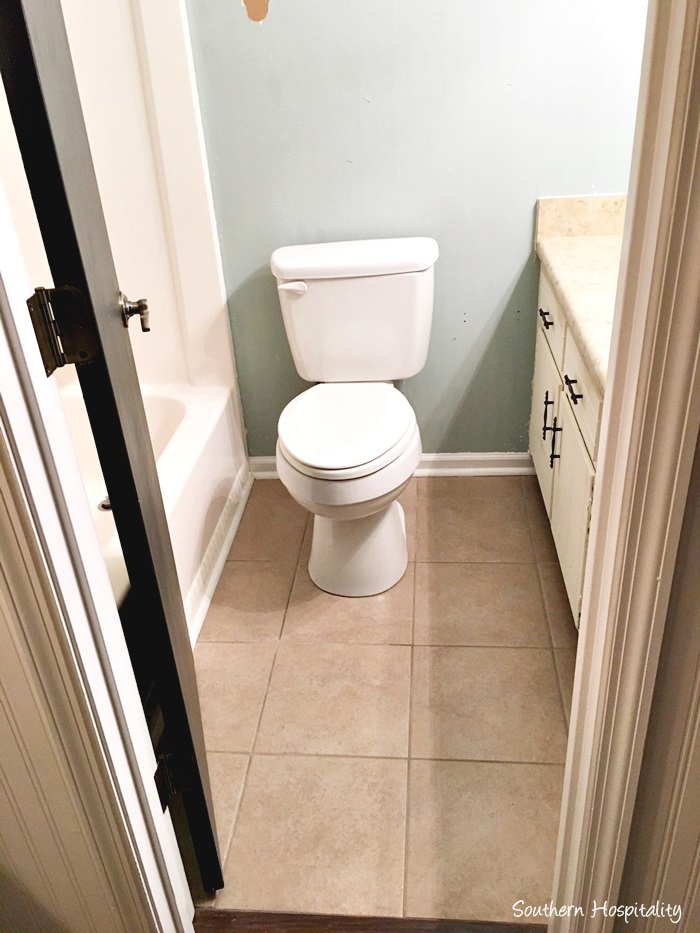 I took everything out of my bathroom vanity, in preparation for the gutting to come.  The rustic cabinet came off the wall. I can't make myself get rid of it and will hopefully use it somewhere else.
The one piece fiberglass tub had to be cut out.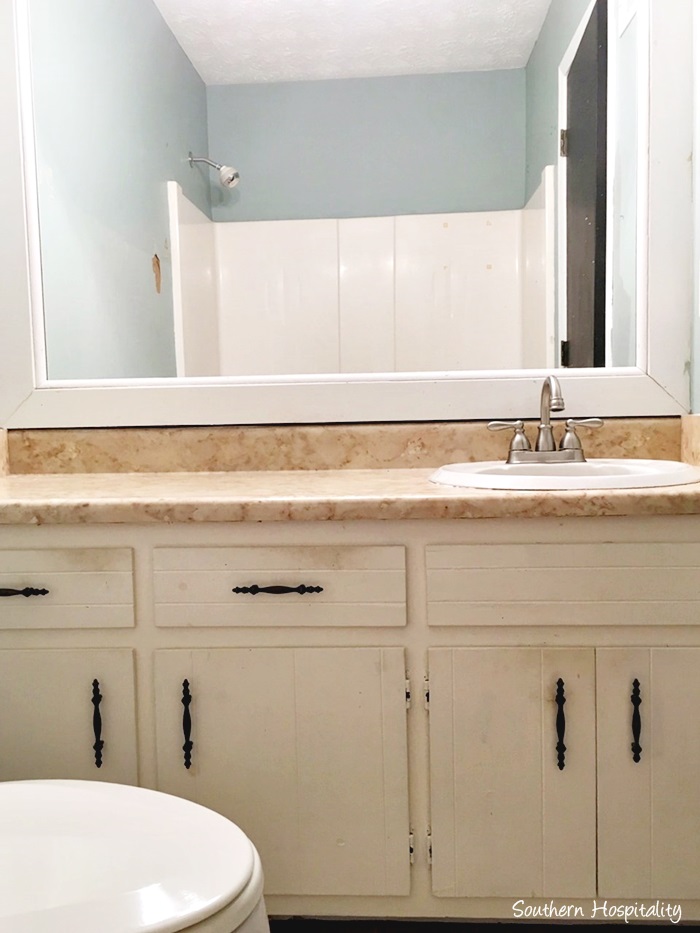 Original vanity  is all empty and ready to remove. The mirror will go too.  You can see the chalk paint looks dirty in here, since I didn't seal this cabinet.  That's why a sealer is needed over chalk paint.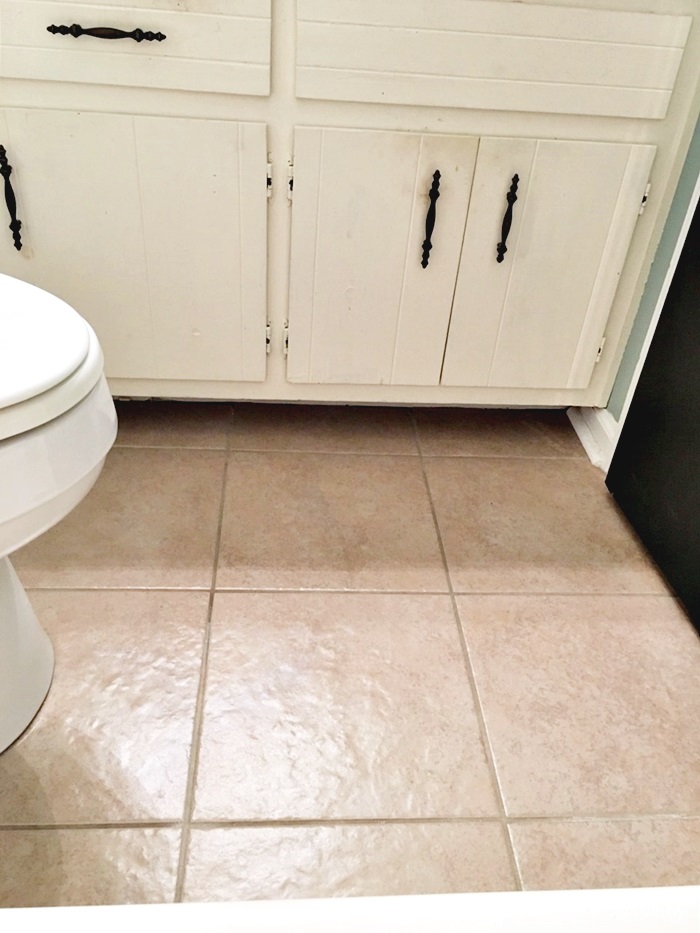 The old tile floor will go too.  It's a complete gut job!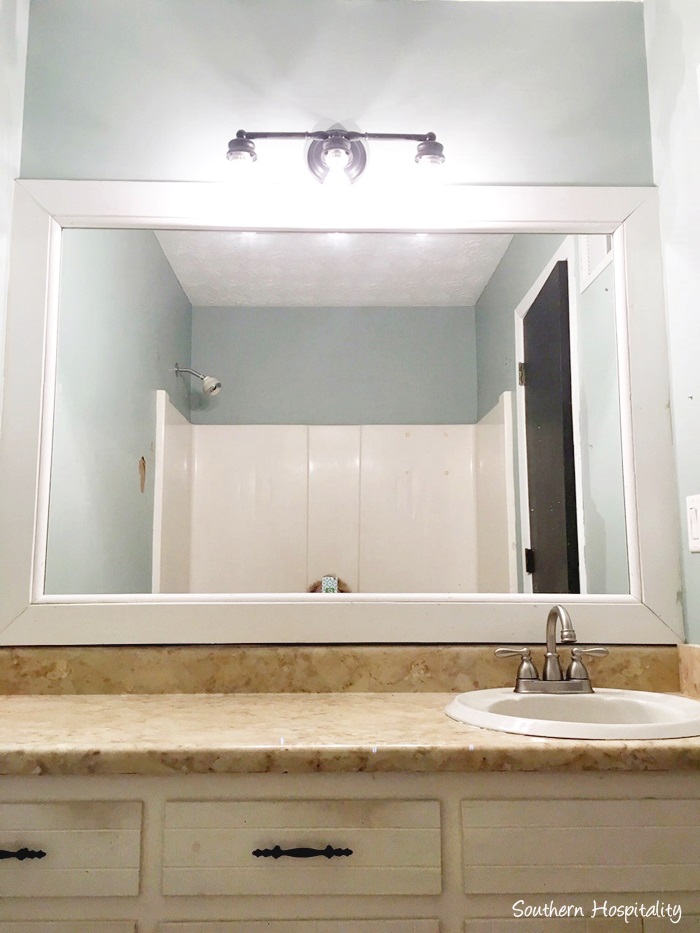 You can see how tiny this bathroom is. When the tub came out and the vanity, the space measures just over 7′ x 5′.
I didn't want to knock down walls and add to the cost, so I will work with the space I have, making it as pretty as I can with a new tiled shower and vanity.  Bye-bye 70's, I will not miss you!
My tile contractor was really meticulous and he brought in someone to gut the bathroom, but first laid down tarps from my front door, all the way up the stairs into the bathroom.  I appreciated that detail.
He also closed off my bedroom with hanging plastic sheets that will hopefully have kept out most of the dust from the demo of the bathroom.  Dust is inevitable when you are doing a remodel, so I'll have to do a thorough cleaning when all of this is finished.
Plastic hangs all the way into the alcove of my vanity area.
Day One: Demo day!  He got up the old tile, tore out the vanity, took down the mirror, and cut the tub in several pieces to haul it out of here.
And it was down to the sheetrock and plywood floors.   Vanity side.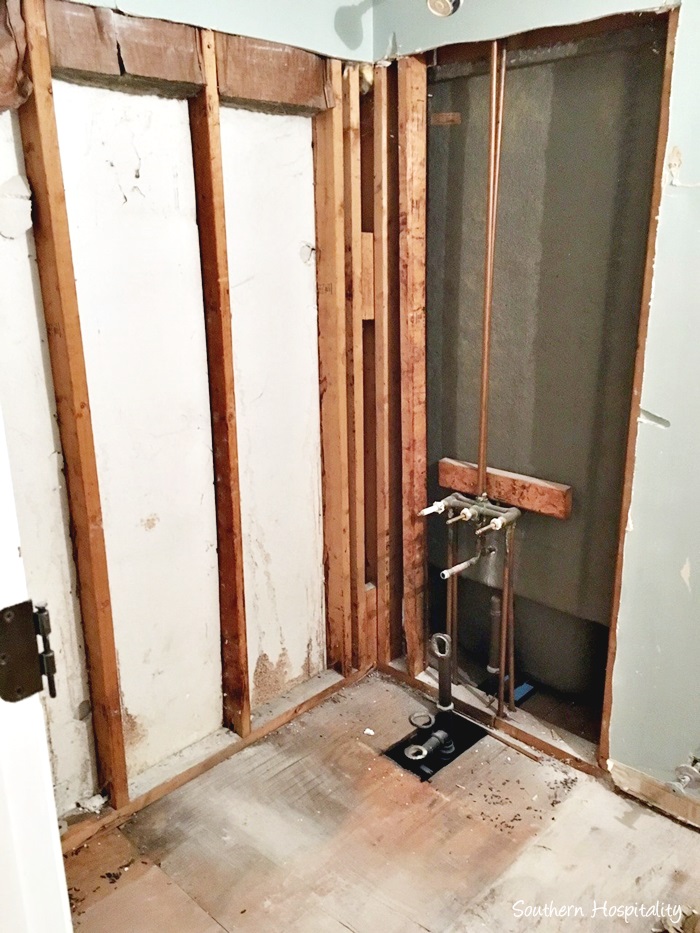 Tub side, down to the studs.  He added in insulation behind the concrete board that was added in the shower for water proofing the tile. There was no insulation before behind the old tub, which of course I didn't know.
Down to the plywood subfloor.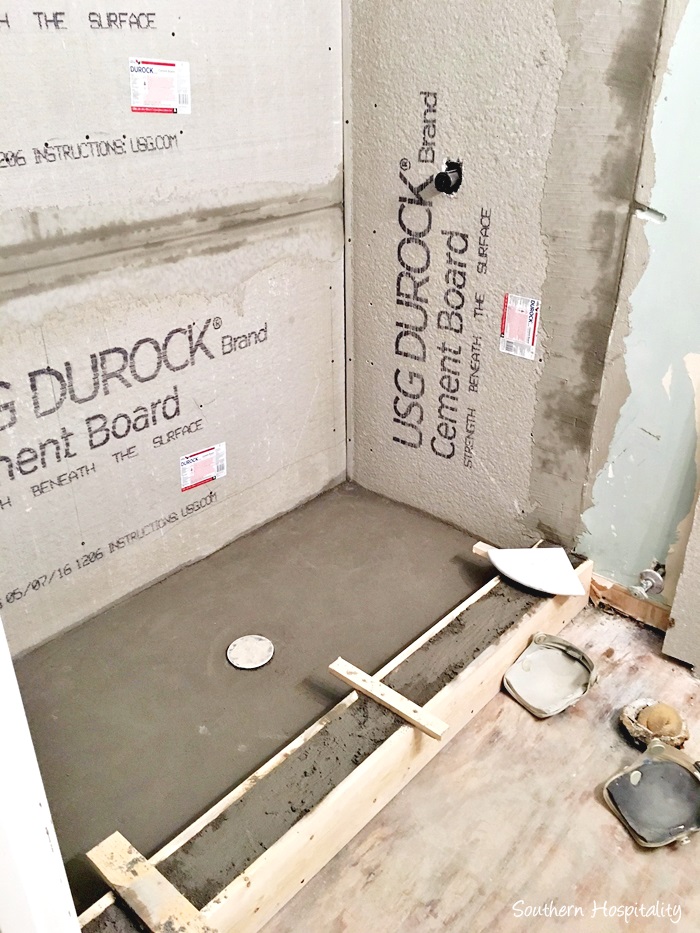 The next day, the shower floor was prepped by moving the drain and doing all the plumbing necessary to get this all completed.  He had to take out the old faucets and plumbing parts where the tub used to be, to prepare for a shower only.  He moved the drain to the middle and poured the shower bed so that the water will drain properly.  You can see the Durock cement board was used for a water proof shower.
New drain in the middle.
Day 4: Tiling begins.  And now the pretty part starts!  I watched him add subway tile on the walls and set the black and white penny tile on the shower floor.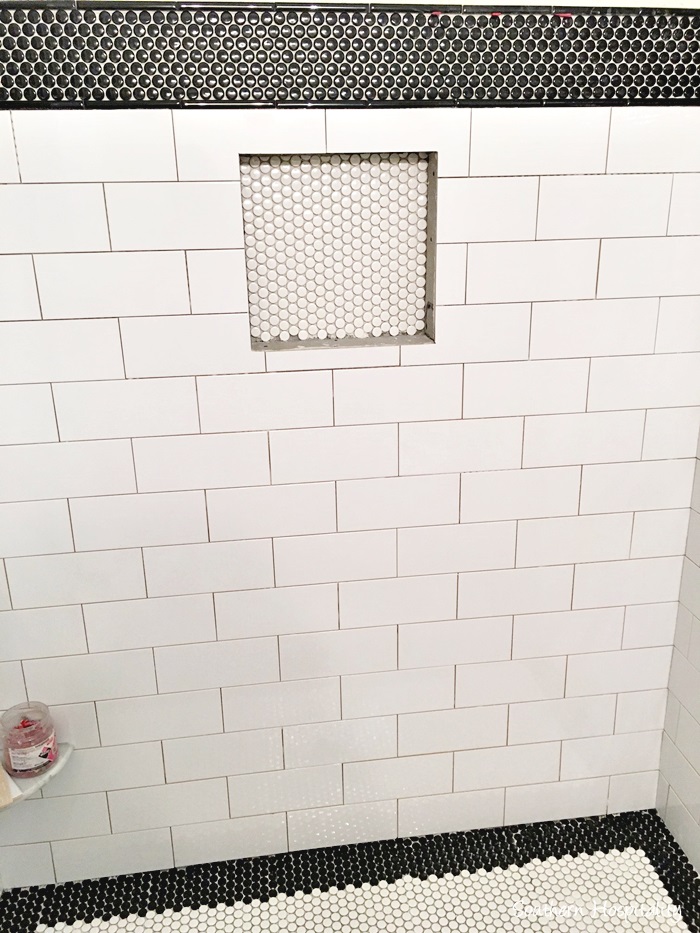 I have a 6″ border of black penny tile along the top of the shower, with subway tile finishing it off above. Grout will be a medium gray shade.  That cute little niche holds white penny tile.
I added a little marble corner shelf towards the bottom so I have somewhere to prop for shaving legs.  He told me I really didn't have room for a seat in here, so I took his advice.
This is the grout I got from Floor and Decor, color called Delorean Gray. It doesn't require sealing and is supposed to be a great choice for bathrooms, in helping prohibit mold growing.
Next day, he started above the black border with a herringbone pattern all the way to the ceiling.  We had talked about herringbone and he advised me to do a straight herringbone instead of an angled one as I originally wanted, because he said the angled one would have more small cuts and look much busier in the corners.
I took his advice again and we did a straight herringbone above. I know I'll be completely happy with the outcome, because I'm already loving it now.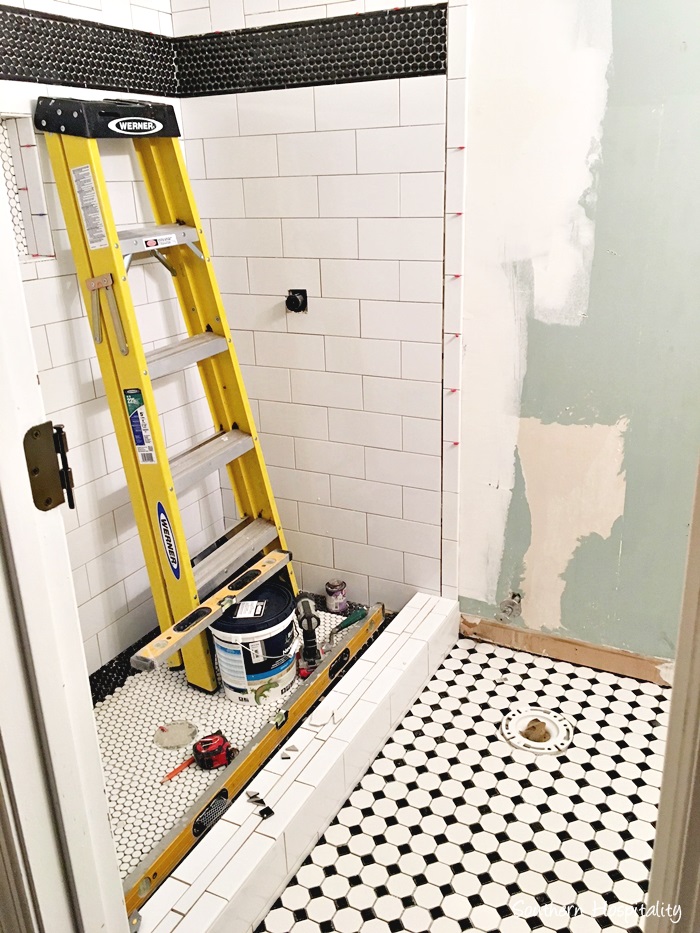 The bullnose tiles were set along the edge of the shower walls, as well as on the step up where the sliding glass doors will go.
And the hex black and white tiles were set on the floor.  Grouting starts next and then we will be almost finished with this bathroom.  I've enjoyed watching the process and am happy I have a contractor who knows what he is doing.  Again, I'll share his information later on when I do a complete reveal post.
That's how far we are right now and this week, the grouting will happen and soon we'll be installing the vanity.  I can't wait to get this project complete and get to take a shower in here for the first time. It's so exciting to get a fancier shower with pretty clear glass doors, it will make this small space look so much better to open it up with glass and white tile.
Here's a look at my mood board again and it's finally all coming together!

Big thanks to Floor and Decor for helping out with this project! They sponsored all my tile. 
Don't Miss a Post, join my list!