First, let me just say a big heartfelt thank you for all the wonderful comments and emails you all sent to me.   I've had tears in my eyes all day from reading them and believe me, I've read every single one. It was so much appreciated and my heart is full from all the love I feel from ya'll.  You are the BEST group of women out there.  Thank you SO much.  I will definitely be keeping you up to date on what the next steps for me will be.  I know I will be having a moving sale in the next few weeks, so if you are nearby and want to come, stay tuned for details on that.
Last week in Nashville was just what I needed right now.
Time with the girls.
A little get away and girlfriend time with lots of laughter to get my mind off my stuff.
Had the best time hanging out with other bloggy friends, catching up at the Opryland Hotel in Nashville.  The Blissdom conference was going strong and very well attended, so we got to hang out with many of those girls as well.  My roomies and I chose not to attend the conference, so we had extra time for relaxing and time for a day of thrifting.
The Opryland hotel is back, better than ever after the flood of last spring.  It's a beautiful and truly inspiring place to spend a few days.  Sort of like a mini-Disney world.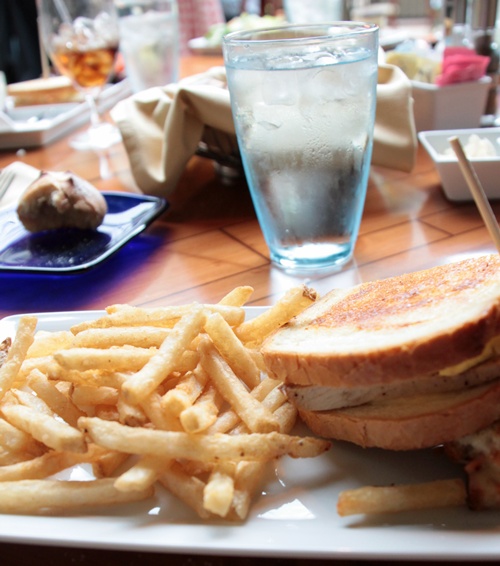 We ate here at the American Cafe for lunch one day.
Just walking around looking at the gorgeous scenery is fun to do.  If you have to spend a few days anywhere, the Gaylord Opryland is prime real estate.
Fountains and flora everywhere.  They take especially good care of the grounds.
Those glassed in ceilings are just awe-inspiring.
Beautiful outdoor seating.
We all hung out on these beautiful lounge chairs one evening, feeling like we were sitting outside under the stars.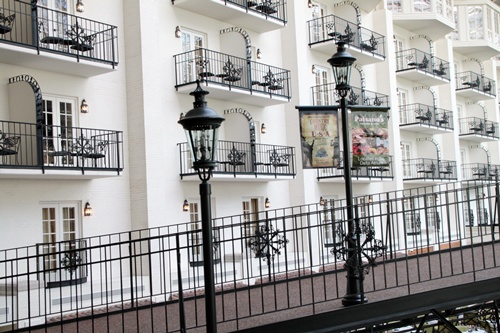 These balconies remind me of the French Quarter.
(Decor Chick, Honey We're Home, Sand and Sisal, me, Centsational Girl, 320 Sycamore & her sister, and 2 bloggers I don't know).
Here's a photo borrowed from Honey We're Home, with a few bloggers I got to spend some time with.  The home bloggers were in full force this year, much bigger than the previous year and it's a terrific bunch of girls.
Me and my roomies (Chris with Just A Girl, Me, Sarah Thrifty Decor Chick, & Beth with Stories of A2Z).   I told them I feel like the den mother, since I'm almost 20 years older than these girls.  We had so much fun, not a better group of friends around.  Thanks girls for letting this old gal hang with you stylin' young things. 🙂
If you've never been to the Opryland, you must go sometime.  Truly a treat for the eyes.
These gazebos are just amazing.  And see the flowers?  so pretty
They must have a large number on the landscape crew.
Gorge!
So much to see and take in.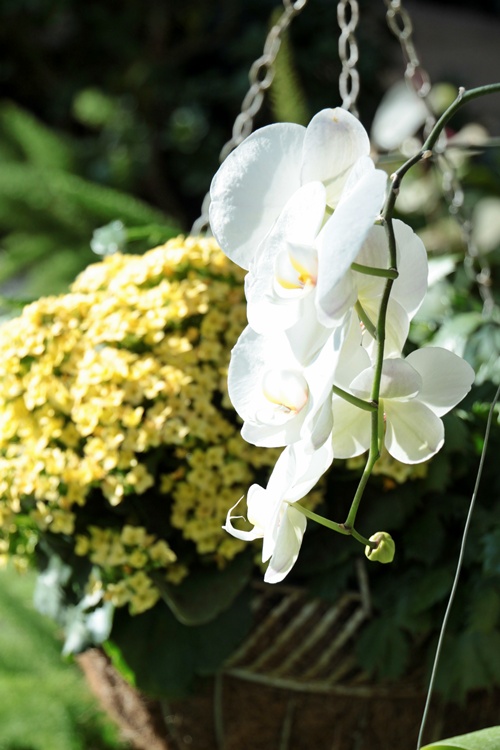 Like these orchids.
Lots of neat buildings and restaurants to choose from.
A glassed in little city.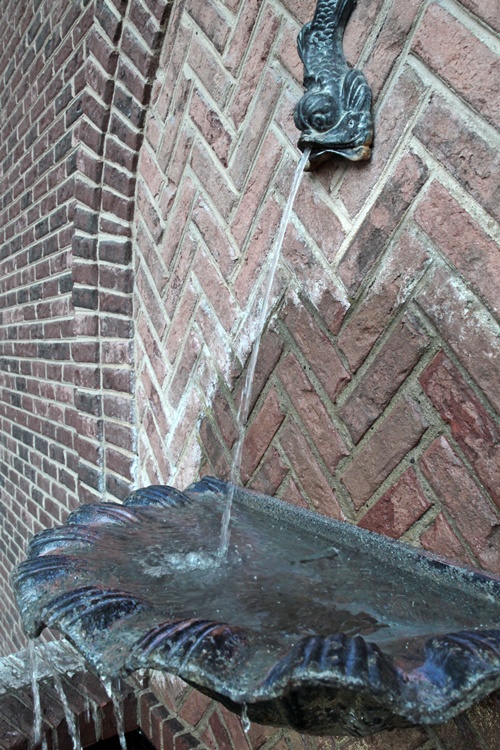 Fountain on the wall.
One day, Beth, Chris and I walked around and had lunch over looking this beautiful spot.
Pizza and a salad and we sat here and talked and talked and talked.
Beth and Chris.  I loved getting to know them better and when you room with someone, you do get to know them.
Waterfall nearby.
Isn't this amazing?
It's truly such a beautiful spot.
So glad that I got to go this year.
A beautiful group of bloggers!  I'm not going to try to name all of them, but I loved getting to know these girls and spending time with them.
Don't Miss a Post, join my list!