Here's another recipe I found in the Taste of the South Southern Favorites magazine from the Winter issue and I tried it recently and WOW, is it delish.
We love anything with blueberries in it and my parents grow some wonderful blueberries every summer at their mountain house and share the bounty with us.  So, I've got some stashed in the freezer and am always looking for some good recipes to try out with this favorite berry.  And you use that breadstick dough in the can for these, easy-easy.
Nothing better than blueberries!
Here's the recipe:
Blueberry Cream-Cheese Braided Loaf
6 oz. cream cheese, softened (I think I used the whole 8 oz pkg, that's me 🙂
1 large egg, separated
1 1/4 cups confectioners sugar, divided
1 (11 oz) can refrigerated breadstick dough
3/4 cup fresh or frozen blueberries  (I used almost a cup)
2 tsp. water
2 tbl. orange juice
Preheat oven to 375*. Lightly grease a baking sheet.
Beat cream cheese in a mixing bowl at med. speed with an electric mixer until creamy.  Add egg yolk and 1/4 cup confectioners sugar.  Beat until well mixed.  Set aside.
Remove breadstick dough from can. Unroll and separate dough into rectangle.  Place dough horizontally on baking sheet.  Press seams together to seal.
Spoon cream cheese mixture onto center third of dough.
Wash, drain, and dry blueberries.  Sprinkle blueberries over cream cheese mixture.
Separate dough at perforations up to cream-cheese mixture slightly stretching dough strips.  Beginning at top edge of dough, braid strips to cover filling (this makes more sense as you are doing it).  Tuck last 2 ends under at bottom of loaf.
In a small bowl, beat egg white and water with fork until blended to form an egg wash.  Brush egg wash over braided loaf.
Bake until golden brown, approx. 20 minutes.  Cool for at least 45 min. or as long as you can stand it.
In another small bowl, combine remaining 1 cup confectioners sugar and orange juice, whisking until smooth.  Drizzle glaze over braided loaf before serving.  Slice with bread knife.
After braiding, it looks like this.
And then out of the oven, golden brown.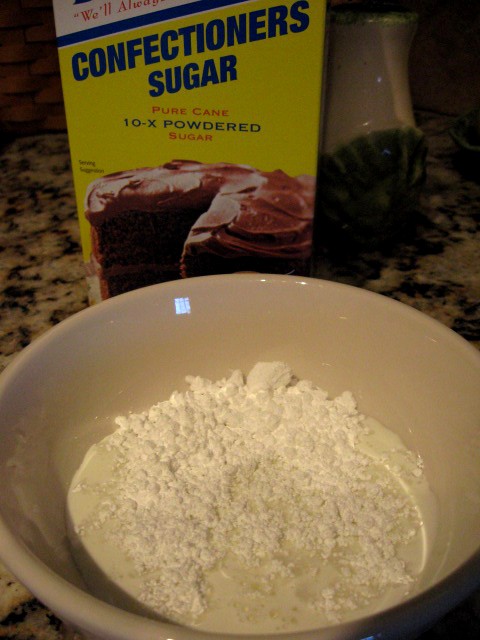 I didn't have any orange juice on hand, so just made my glaze with confectioners sugar and milk.  It was still yummy.
This would be perfect for breakfast or brunch, a special treat.  Let me know if you try it, it really is a good one and it's great with a cup of coffee. 🙂

Added to Jen's Tasty Tuesday.
Don't Miss a Post, join my list!