This is a sponsored review from BlogHer and Kraft.
My mom has been making this dessert for our family for years and it is so refreshing and light for summer. Made with fresh blueberries that they grow up in NC at their mountain house, they always have a bountiful crop of sweet delicious blueberries and my mom then freezes to use later. This recipe can be used with fresh or frozen blueberries. It's equally delicious either way!
This is a take-off of the old style cherry cream cheese recipe that we all grew up with, but really blueberries make it even better. Mom had a great idea when she started substituting blueberries in her version.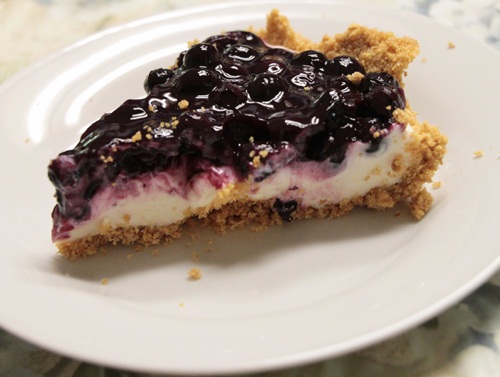 Does that look fantastic or what? This is a wonderful dessert for summer months, when you want something cool and refreshing.  Pop it in the fridge to cool it off and it is a very tasty treat.
NOTE: If you've made this pie and your filling is not setting up properly, it's too runny, we found out that the condensed milk sold now has more milk in it and is a thinner consistency. So use less condensed milk than the recipe called for and it will set up firm. 
Blueberry Cream Cheese Pie
One 9″ Graham cracker crust
1 8 oz. PHILADELPHIA Cream Cheese bar
1 can sweetened condensed milk (only use 1 and 1/4 cups, not the whole can for best results)
1/3 cup lemon juice
1 tsp. vanilla
Mix the cream cheese with the condensed milk with a mixer. Then add the lemon juice and vanilla. Mix well to thicken. Pour into crust.
Blueberry Topping
1 1/2 cups fresh or frozen blueberries
1/4 cup sugar
Heaping tsp. corn starch
Cook berries with sugar over medium/low heat, stirring well. Add a heaping tsp. corn starch to thicken. Mix well and cook about 5 min.
Pour over top of cream cheese mixture and chill for a few hours.
Slice, eat and sit back with a sigh of contentment! Let me know if you try this one. It is definitely one of our family faves!
Have you been over to the Real Women of Philadelphia site yet? It's a great community with so many wonderful recipes to choose from. Go take a look at the finalists' recipes from their recent contest (they'll be announcing the winners at The Live Event on June 30th).

Tell me which one is your favorite and the one you'd like to try! There are lots of great recipes over there, so be sure to check them all out. You are sure to get some great new ideas for family meal planning.  I know I did.
Visit the Promotions & Prizes section
Don't Miss a Post, join my list!