The blueberries are ripe and ready up at my parents house in the mountains and they needed some extra hands to pick the berries, so they wouldn't go to waste.  So, my sister and I (and her 2 dogs) headed up for a day of blueberry picking last week.  We both brought some home to freeze too and they will come in handy during the winter months when berries are not readily available. I'm so glad my dad loves to garden with veggies and fruits.  All the bounty is a part of our growing up years and it's been so nice to have all of it around.  We know that this bounty will not last forever and if we want to grow our own, we will have to learn to do it ourselves.
But, for hopefully a few more seasons, we will pick blueberries and enjoy them.  I've shared my parents mountain home several times in the last 6 years, but I'll do another recap for you here.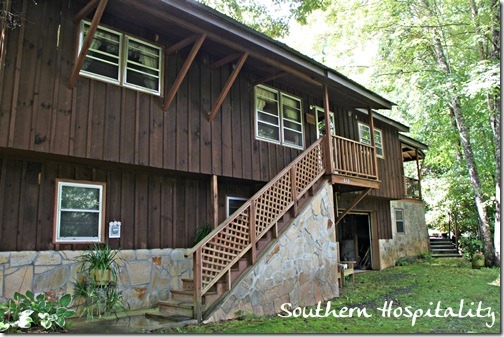 My dad built this house about 30 years ago in the Murphy, NC area and they originally planned to retire up here permanently, but when their granddaughter, Lauren, came along, those plans changed. They wanted to be close to see her often and they did.  She spent a lot of time with them in her young years in Marietta and up here at the mountain house.
In fact, her name made it on the name plaque outside the front door.  Renee and I are missing, but not Lauren! 
  They love that girl.
We've been coming to this house for so many summers and it is such good memories for all of us.  My dad's imprint is all over the house and everywhere I look, he's there.
So, this trip was just for blueberry picking, but it was raining when we got there, so we sat on the porch as we do every trip and talked and watched the rain drip off the leaves.  My dad knows that they will not be able to take care of both houses for too many more years and we talked about that too.  It will be a sad, sad day when the house has to be sold.  It's been such a part of our family's lives for so long.  But, we girls really do not love the mountains as much as our parents do and so wouldn't want to take on the upkeep of this house too, which means the house will have to eventually be sold.  They have done so well to still be able to take care of 2 houses all these years, but time is catching up with them.
We have enjoyed many family times on this porch over the years.  Buster is a lap dog and will gladly hop in anyone's lap who will let him.
Buster the Boston.
During the summer months, tomatoes are always bountiful. This year, the abundance of rain has kept his crops to a minimum. There is such a thing as too much rain on a garden.
I love the lacy ferns growing wild up in the North Carolina mountains.
I took my camera and did a little photoshoot while I was sitting on the porch.
Mountain laurel is abundant  in these mountains and they bloom in the spring.  So pretty and peaceful up here.
One of our highlights on the porch is watching the hummingbirds come to the feeder that my mom keeps filled up with sweet nectar.  I always try to catch them with my camera and succeeded this time.
They are so fast with their fluttery wings but I snapped quickly too.
They are fun to watch and are so fiercely protective of their feeders, fighting among themselves.
I caught one little guy on the tip of a branch.

Dad and Buster.
Birdbath hidden among the ferns.
Dad is trendy and doesn't even know it.
Mom fixed a completely vegetable meal for lunch. This kitchen has seen  many a meal over the years and she has cooked up scrumptious food for many family members out of this kitchen too.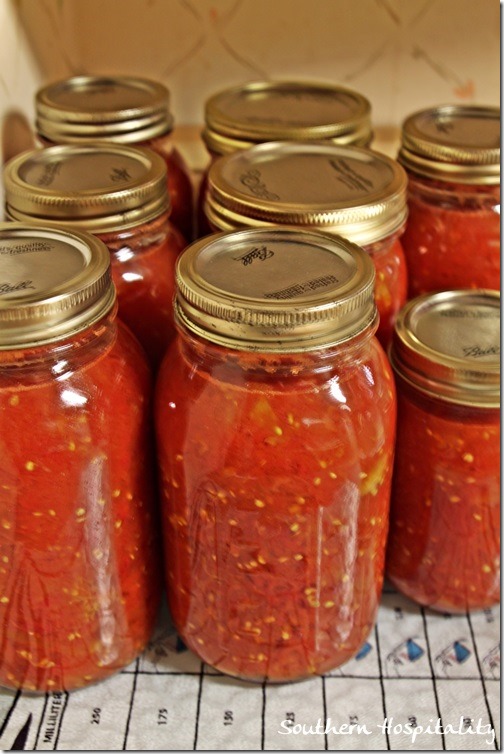 She still cans her tomatoes when they all start coming in.
She fried up some green tomatoes for us, cause she knows we like them.
Peas, fried okra, fresh creamed corn and tomatoes and cornbread.  It was a meal!
The rain finally stopped and the sun came out, just in time for our blueberry picking.
Dad built these steps down to the creek many years ago too.  It goes over the creek and into the flat area below.
The creek is as full as I've ever seen it with all the rain this summer.
Here's the huge blueberries bushes that have been growing here for years. We've enjoyed this fruit for a long, long time too and it's a treat when they get ripe.
Dad's garden is winding down for this year.
Blueberries waiting for us to pick.
A few more shots of greenery around the creek.
I love the mossy lichen growing on the trees.  There's nothing like the North Carolina mountains for beauty.
The 3 of us picked, me, my dad, and sister and filled up this pan with blueberries in about an hour or so.  Picking goes a lot faster with 3 people.
Our beautiful bounty of berries.
Dad is very proud of his blueberry bushes.  He planted some cherry trees up there last year and is waiting for those to produce too.
In the meantime, mom likes to pick out the bad berries and stems before they go in the freezer.  We freeze these berries to use later on.
I took a good amount home to use myself and here's how we freeze them.  I do not wash them first (and mom doesn't either).  I didn't take time to de-stem mine either, but you can do that as you use them.  Spread them all out single layer on a cookie sheet and freeze in the freezer. Then put them in freezer bags. They will freeze like little marbles and not stick together if you freeze them like this.
That was our day in the mountains picking blueberries. Hope you enjoyed going along with us.  It's a special family place for us.
Don't Miss a Post, join my list!