I've already done a whole post on the living room, but couldn't help but shoot some better pics, since the sun has been out last week.  I'm so trying to get better with my photography, using a tripod and editing them as best as possible.  And I changed out a big piece of artwork in here too, to add the Ballard Designs large modern oil  painting I found at Ballard's outlet back in December (for only $35, a steal!).
Here's a reminder of what the living room looked like BEORE. 
Wall color in here and throughout much of my house is Sherwin Williams Moderate White.
My style has certainly evolved over the last 10 years.  I'm more relaxed with my traditional décor and even though these pieces are the same ones I've had for many years, just adding the playful zebra rug (from Shaw Floors, Zybra rug in Teal) and more casual accessories makes this room feel less showy and more relaxed.
I hope that when I look back at this room in 10 years, I won't cringe nearly as bad as I did looking back to my 2002 decor.  Yikes, it wasn't that refined back then, but I do think the last 5 years have been the biggest growth to my own personal style yet.  I need to do a post about personal style again, we've talked about it before, so sometimes it's hard to get to when there are so many styles out there to fall in love with.  Can you relate?
Classic, yet casual.  That is what I'm going for. I'm not going to part with my leather chairs or any of my traditional lined furniture anytime soon, so changing out fabrics and accessories is the easiest and most cost effective way to change up a room.  So many of these accessory pieces were collected over a few years time, at yardsales and thriftstores and I still love them.
The Ballards painting is so serene and calming.  It's a seaside scene, maybe a lake or lagoon, with trees in the background and brownish sand and reeds on the bottom part.  I love it!
You just can't go and find all of this brand new and get the same effect, I don't think.  Those heavy iron wall sconces were scored over in Birmingham at a really nice yardsale in Mountain Brook and I remember the day I found them.  Still love them to this day. Mixed with the modern painting, my room now has a much more casual feel.
I still remember the prices of most of my finds, like this armillary that was found here in GA years ago for $25.  At the time, I thought it was a splurge, but I'm so glad I snagged it, in my favorite turquoise hue and that burnished brass is so pretty.
The rug is from Shaw Floors HGTV Home line called Zybra in Teal.
Another new addition to the living room is this cute iron side table from Ballard Designs.  I did purchase it with a gift certificate they gave me, but the furniture was on sale when I bought so that helped too.  The lamp was scored at Homegoods on my shopping outing there and I love it. It's mercury glass, which you can't see very well in the pic, but fits nicely on this little side table.
The drum table that was in this spot was a little too large here and besides, one of the legs fell off one day!  My dad is repairing it for me and I think I'll paint it when I get it back from him and find another spot for it.
Looking back towards the foyer and the pretty stairs now have my runners on them.  I wanted to do an update post with all the changes to date.  As I've mentioned before, all my bamboo blinds came from Payless Décor, a company here in Atlanta that I work with as a brand ambassador and I love how they finish off my spaces.   These are called Tibet.
Behind the sofa, my long time china cabinet holds some favorite dishes.
More blues on the end table here.  That blue pottery bowl is one I made in pottery class. Who knew I was so talented?!
  Haha, not really.  No one was more surprised than me to see a cute bowl turn out after they added the glaze.
Up on top of the china cabinet, another yardsale find, the turquoise birdcage had to find a home. I love this piece, it was $10 from a Birmingham sale.  And the old picture frame wasn't much either, I think a couple of $$.
More pretties and another one of my pottery pieces I made.  No, not the bunny jar, it's a real live pottery piece from Mississippi that I loved and bought from a shop in Birmingham.  My rusty wavy bowl is on the left.  Cotton from the cotton fields in AL was one of the things I brought back to GA with me.  That cute turquoise and gold box was a yardsale find, as were the books and turquoise vase.  The architectural plaster piece came from an antiques store.
I do dearly love my plants and how much life they bring to a space.
Here's a closer look at my pinch pleated Ikat drapes. I had these made at a local shop called Fringe Benefits in Marietta.
Back to the foyer table, my old $5 yardsale vintage lamp that I redid a few years ago is still going strong. I do have a pretty piece of burlap with my monogram on it, that just might replace the current fabric.  Love that big bubbled glass jug that came from Willow House.  And the little bird pottery piece was a yardsale find, as was the silver tray.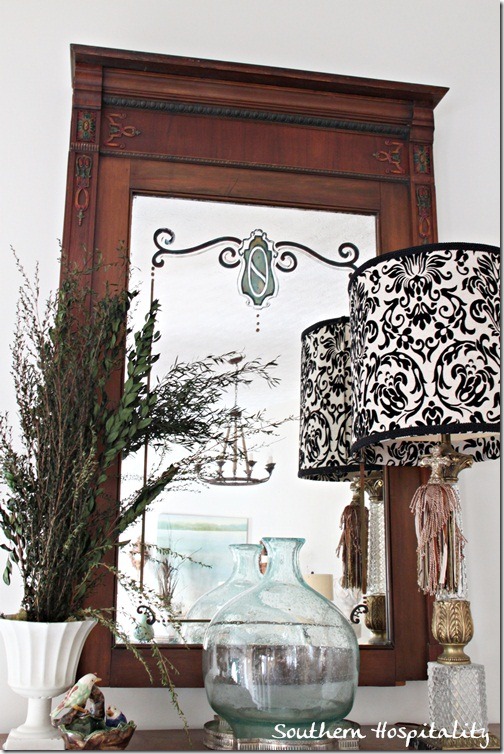 I love how this mirror reflects the chandelier from Ballard Designs and that pretty painting.  By the way, this antique mirror was the very first really old piece I ever bought, at least 25 years ago, from Chattanooga.  It's definitely an antique.
Here's a better look at the front door I painted before Christmas in Annie Sloan's Florence.  It brings a happy smile to my face and that cute little houndstooth rug came from a Joss and Main sale. Perfect spot of brightness coming in the door!  I just painted another door in a bright color that I'll show you soon.  I'm loving these pops of color around the house.
Another look at this yardsale desk I found here in Georgia years ago, for $25.  It's a Henredon piece, well made and still pretty.  I painted it black a long time ago too.
This white urn I think came from a yardsale and I added sticks, feathers and moss to it for a casual and easy arrangement.
Looking towards the dining room, it's all pretty to look at.
I dearly love my house, did I mention that?  At least a zillion times, I know.  It truly is a wonderful place to just "be" and I'm looking forward to nesting here for many years to come.
Thank you all for going with me on this journey and celebrating with me the fruits of our labor.  There will be many more projects to come this year.  We have lots more to do to this humble house, starting with the screened porch.  As soon as it warms up, we'll be buying material and the renovation on that space will commence.
I can't wait to have a screened porch this Spring!!
Don't Miss a Post, join my list!