There are so many cool places to shop in Atlanta, but this is a new to me spot on the Buckhead map, Boxwoods Gardens.  My longtime decor friend, Maureen, introduced me to it and we met up for lunch and some browsing a couple of weeks ago.  It did not disappoint.  Full of beautiful eye candy, and a live garden outside, Boxwoods Gardens is a treasure trove for those who love eye-catching interior design as well as garden treasures.
Featured in Atlanta Homes and Lifestyles, it is a not to be missed spot in Buckhead for the home decor and garden enthusiast.
Set in a pretty old house, draped in ivy, it's a very fun spot to spend an afternoon.  We had so much fun looking at all the eye candy.
The owner graciously let me take pics of everything. I usually ask if I'm not sure and most of the time these shops will let me snap away.  After all, it brings them business, so why not?
There are some gorgeous things to look at and I took tons of pics.
Giant antique cloches
These glass vases were really pretty.
Antiques and white were abundant.
An orange garden stool was in vogue right now.
Bookcases filled with pretties.
Birds and horse heads are so prevalent now, have you noticed that too?
They have an entire area devoted to garden things, so I'll share that in another post.  Love these birdcages and the birds.
This room absolutely made me smile really big when I walked in. I am in love with these colors and they are such a perfect complement to each other.  Lime green and turquoise.  What is not to love about this?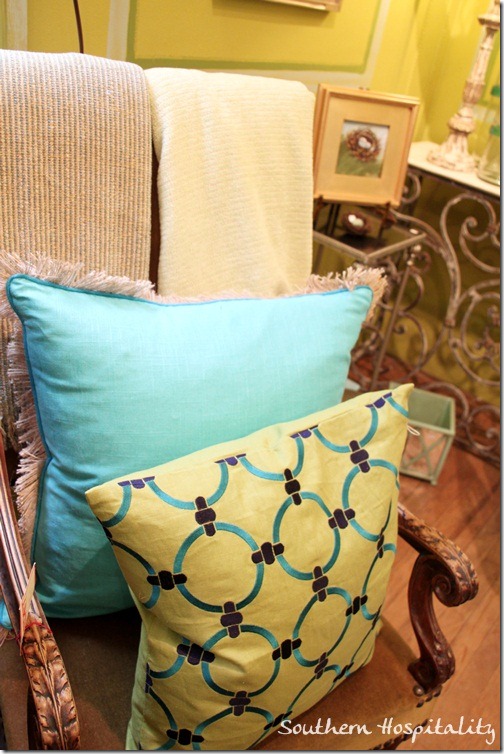 These colors make me happy.  Now where am I going to use them?
This whole room was a wonderful explosion of eye candy and got me thinking about spring.
Pretty pillows.
These glass cylinder vases filled with more blue and green glass balls were mesmerizing.
Lovely
And these, these big orchid topiaries with moss under the glass cloches.   Oh, how I loved them.
This pair was on a mantel.
And this pretty architectural piece was over the top of it all.
I adore real plants and they have some nice ones.
Check out the little glass bird on this pretty piece.
These were faux dogwoods, but I wouldn't even care if they are this pretty.  Tuck them in a vase for some Spring happy.
More of those luscious blue and green glass balls.
These pillows really make me smile.
And these monogrammed ones are gorgeous too.
Everywhere we turned, there was more to look at.
Then we walked in this huge room.  All white and neutrals and gorgeous lighting, it was more than I could stand.
If you are looking for some unique light fixtures, here you go.
More treasures.
Rustic lanterns are all the rage now and they had many to choose from as well.
Fun to get ideas on putting it all together.
Lovely displays and beautiful pieces.
White ceramics
Pretty corbel shelves.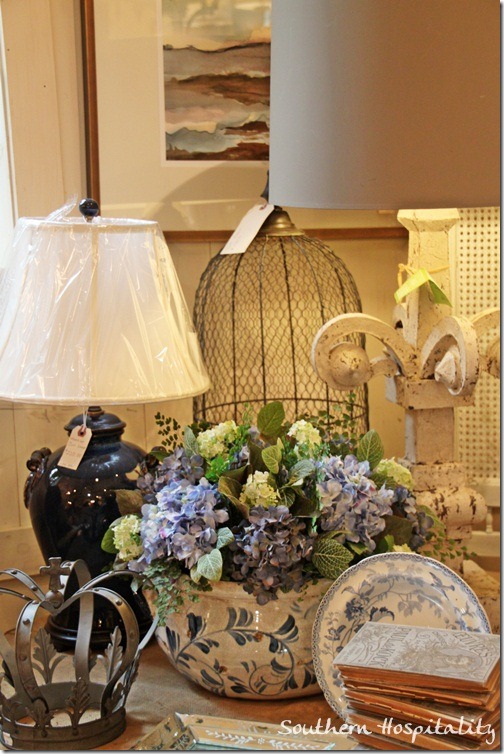 Blue and white
Loved this huge window and the architectural feel of this pic.
Some very stunning light fixtures to choose from.  I see a bunch I could take home.
It's not a true bargain place, but sure is fun to look.  And wow at the unique items they offer.
Furniture, accessories, and lighting.
A huge birdcage, I think this is.
More unique lighting
Tables and chairs.
One last light fixture to drool over.
I hope you enjoy going with me all over Atlanta to see the sights and what is out there.  I'm having a ball catching up on new places to see here in my city and I knew that all of you would love it too.
If you get a chance to go by Boxwoods in Buckhead, it is on East Andrews drive.  You can't miss it!  There's another Boxwoods next door with tableware, so check that out too.
I'll be back with more posts on this beautiful spot, with the garden area and the tableware store.  So much to see!
Don't Miss a Post, join my list!