I hope you are not tired of seeing these beach cottages on Tybee Island, because I warned you I took lots of pics.  They are too beautiful not to share!  One of the cottages that our group stayed in on Tybee Island with Mermaid Cottages was The Breeze Inn, another of Mary Kay Andrews beach cottages.  It's such a beauty with an old style beach feel, just as you'd expect from a 60's beach resort. That's the feel some of these cottages have. I love the nostalgia created on Tybee and it truly is a fun getaway.  I can't wait to go back!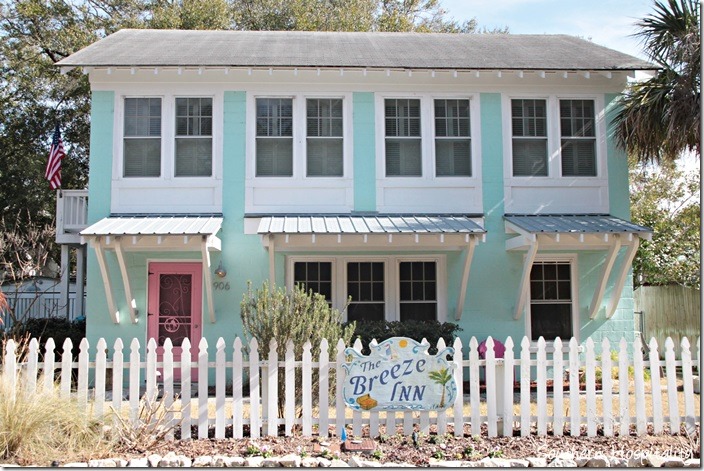 The Breeze Inn. Doesn't this pic just make you smile?
Inside is a welcoming beach cottage chock full of vintage goodness.
Bookcases filled with books and slipcovered chairs.
The living room is a happy mix of coral, blues, and greens. Those cute vintage shutters make the space so quaint.  Check out those lamps, too cute.
An old fashioned ceiling fan.
Living room looking towards the dining area.  Check out the sailfish over the TV.
Fish chest by the front door.
Looking into one room with a daybed.
Turquoise daybed.
Charming white planked walls going upstairs.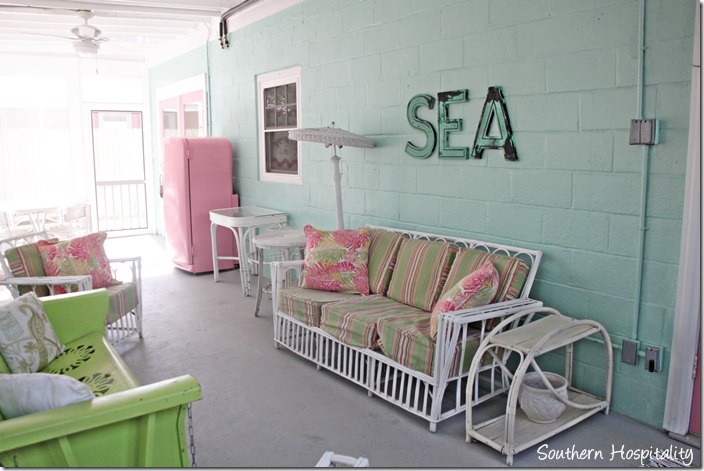 Right out back is a cute screened porch with an old green glider and vintage rattan furniture.  I love this mix and the SEA sign.
The Sea, what a great place to relax.
The pink fridge was fun.
The whole screened porch.
One of the bedrooms.
And bathroom
Upstairs, is a room with 3 twin beds and it has such a cute feel with red, white, and blue Americana.
Love this, can't you see 3 little ones in here?
The master in shades of blue and white.
Love all those shuttered windows.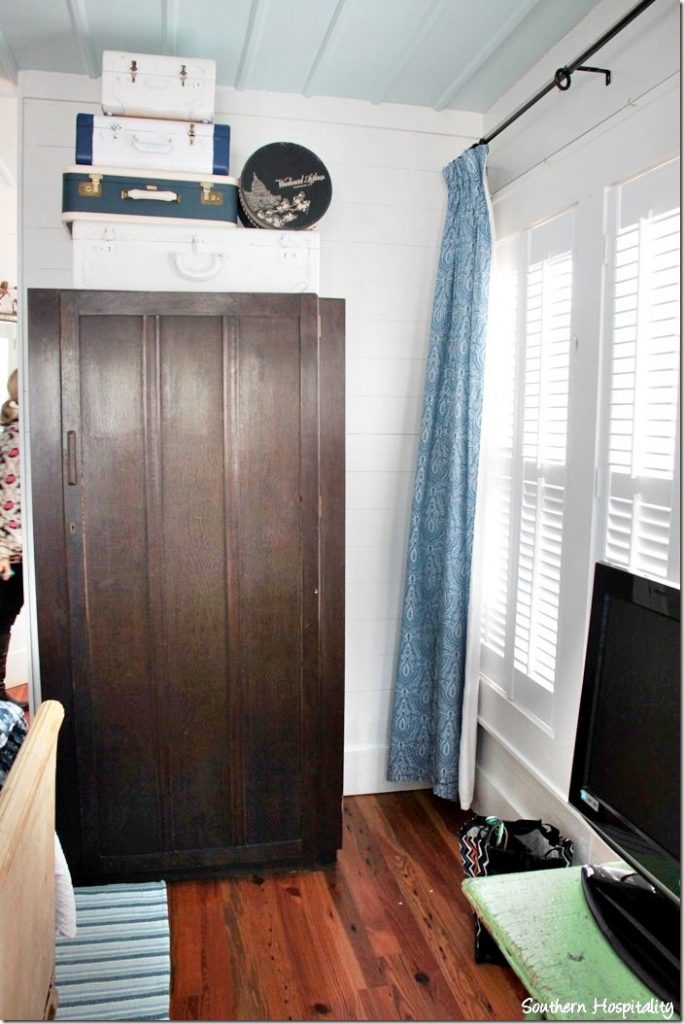 Armoire with old suitcases.
This little hallway goes to the master bath inside the bedroom.
Very cute and quaint in shades of soft blue and white.  Look at that bird holding the toilet paper roll.
A cute little ducky.
Treasures from the sea on those vintage sconces.
A cute desk with old typewriter and above is Mary Kay's book covers framed.
A Breeze Inn vignette.
Downstairs bath.
I love the old watering cans and pails she has collected.
A warning for guests…Careful you'll end up in my novel.
The kitchen with white cabinets and lime green walls.  You know I love this!
And that big ole' cast iron sink makes me smile too.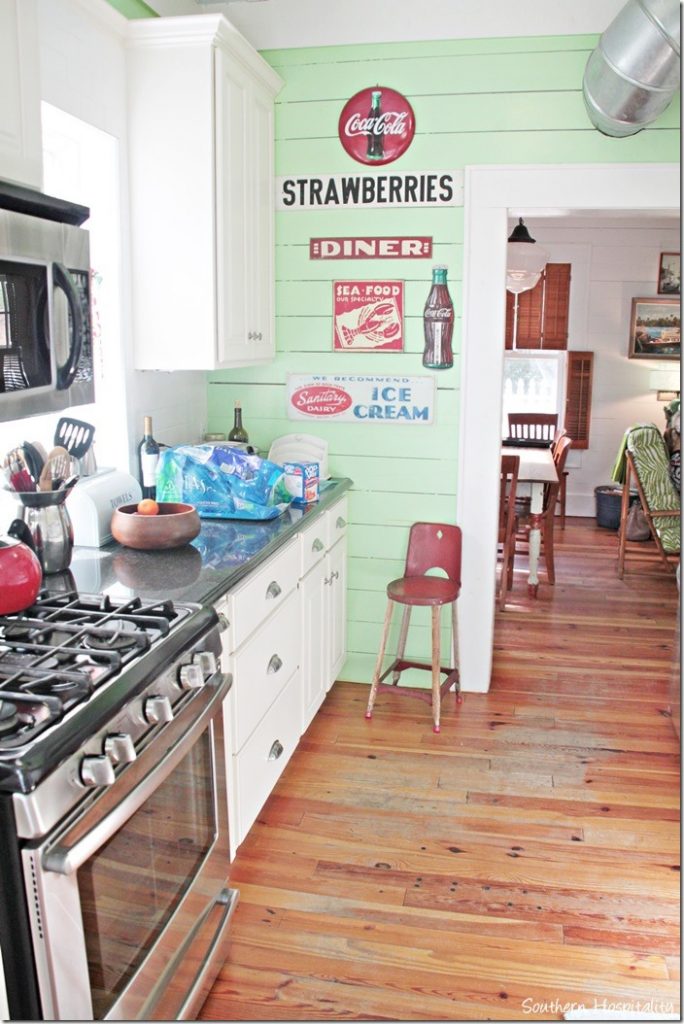 Such a cute kitchen with the vintage red signs.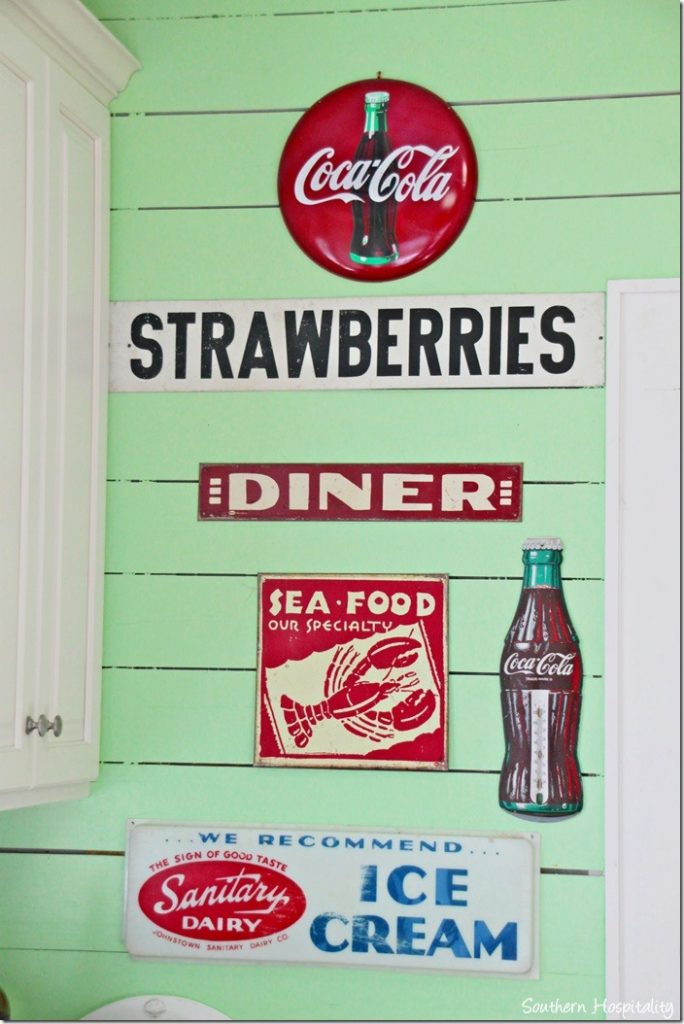 A lovely wall.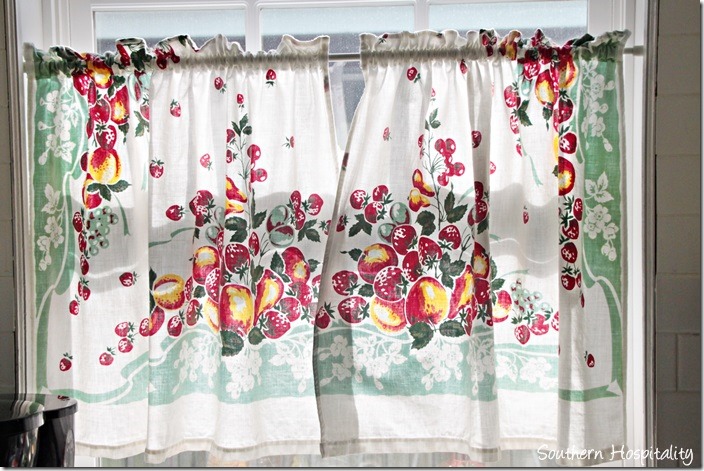 Vintage curtains too probably made from an old tablecloth.
We sure loved gathering in here and seeing all the cottages up close.  The 4 Pike Road, AL ladies stayed in this cottage and they loved it.  I can see why. It's so charming and adorable.
I have some fun news for you!  Diane from Mermaid Cottages wants to do a giveaway!!  Yay!  I'm so excited that one of my readers can win a 2 night stay at Tybee Island (up to 4 people) and you can pick a cottage to stay in, subject to availability, of course.  You will have to work with Diane on which cottages will be open on which dates. 
This will be 2 nights from now to Memorial Day or after Labor Day. Their summers are highly prized times to visit, so the summer months are off.   Leave a comment and follow the Rafflecopter widget for how to enter. 
Leave a comment telling me what you think you'd like most about Tybee Island? 
Good luck, I'll chose a random winner at the end of the giveaway time!
a Rafflecopter giveaway

Don't Miss a Post, join my list!