One of the big antiques malls that is near my house and one that I've been shopping at for 20 years or so, is Big Shanty Antiques in Kennesaw.  It's an old fashioned antiques mall, with separate vendor stalls all set up in this huge warehouse space, that I think used to be a grocery store.  It's big and has LOTS of stuff in there, so be prepared to walk for a couple of hours at least.  Some of the antiques shops now are going more towards the storefront look with curated spaces and a mix of old and new, with vignettes and pretty rooms set up.  But, Big Shanty is old school. It's full of old and vintage items and you have to carefully look through it all to find treasures, but there is plenty to look at.  And they still have lots of wood furniture that hasn't been painted.  The painted furniture trend has not found its way to Big Shanty for the most part.
So, if you're up for looking, take a peek at the Big Shanty Antique Mall for yourself.  With many square feet of furniture and collectibles, there is something for every taste.  I met up with my blog friend, Heidi of Décor and More who lives not far from me, for a couple of hours recently and we reintroduced ourselves to Big Shanty.  It was fun to walk down memory lane together.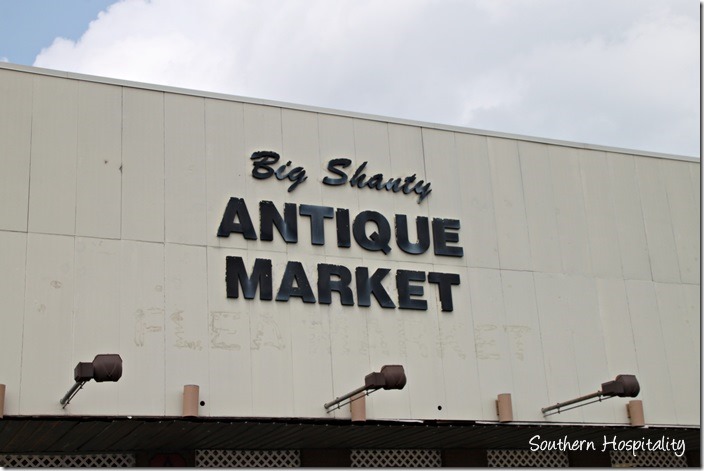 Big Shanty Antiques is on Cobb Pkwy. in Kennesaw.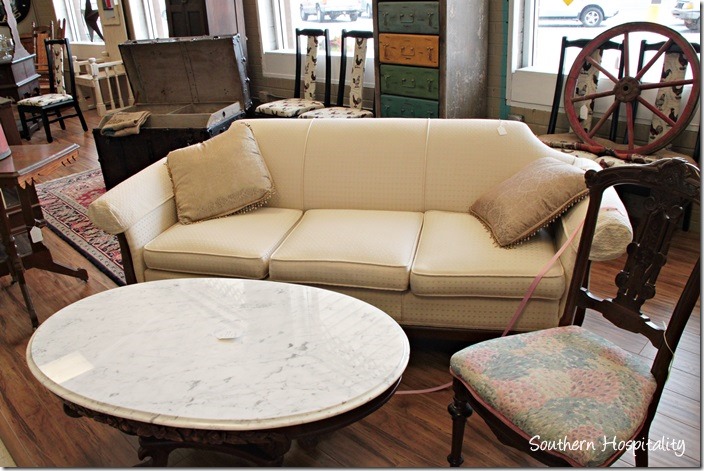 Lots of vintage and antique furniture and most are still unpainted.  The painted furniture craze has not hit Big Shanty for the most part.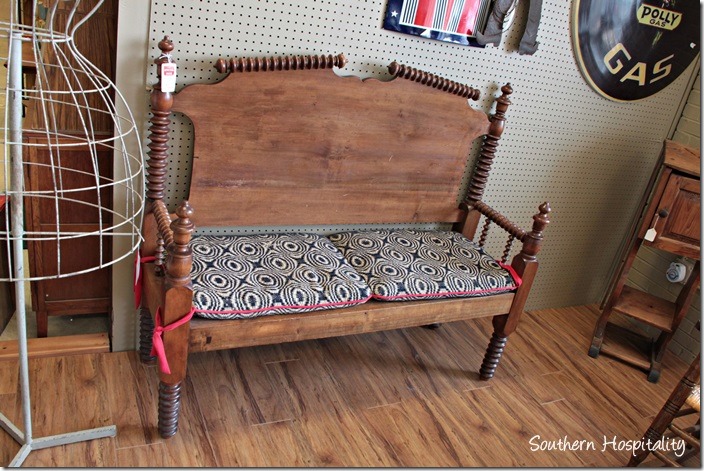 An old spool bed made into a bench, really cute.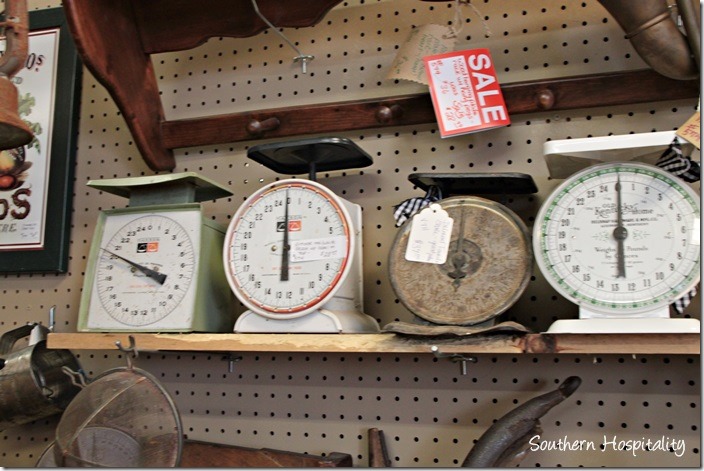 Lots of vintage scales.
A cool tobacco basket.
Vintage mixer, anyone?
Plenty of dough bowls and old rolling pins.
I liked this flamingo print, so colorful.
Plenty of older pieces of furniture to be found.  Prices are pretty average, not huge bargains, but some decent pieces if you are in the market.  I do love how well made older furniture is.
This album made me chuckle, since Peter Frampton was in my vinyl album collection back in the 70's.  I've long since gotten rid of those old records.  I hear the young folks are collecting them again.
A cute and petite china cabinet caught my eye.
This silver sea shell on a stand would be pretty in a bookshelf display. It was nice and large for $21.
An old cart made into a coffee table, the industrial rage continues.
Pretty oil paintings framed in gold.
Blue Ridge pottery pieces.  There are lots of dishware and pottery pieces at Big Shanty.
More and more vintage furniture.
A vintage dish cabinet.  I think my grandma had one of these in her kitchen.
THIS made me laugh out loud.  I told Heidi that my mom had a set of these acrylic grapes on her coffee table for years.  Back in the 70's, these were all the rage.  Did you have one or did your mother?  So funny to see them now.
This brass table was pretty cute, but I didn't love the smoked glass on it.  Love the shape though and I think it was less than $100.
This cute and sweet vintage stroller made me think of Parker, but at $250, not a bargain.  I can see that little sweet pea rolling around in this, but newer strollers are so much nicer.
This vintage, probably from the 50's or 60's dining set, was so nostalgic.  I totally remember this look growing up.  Vinyl seat covers and all.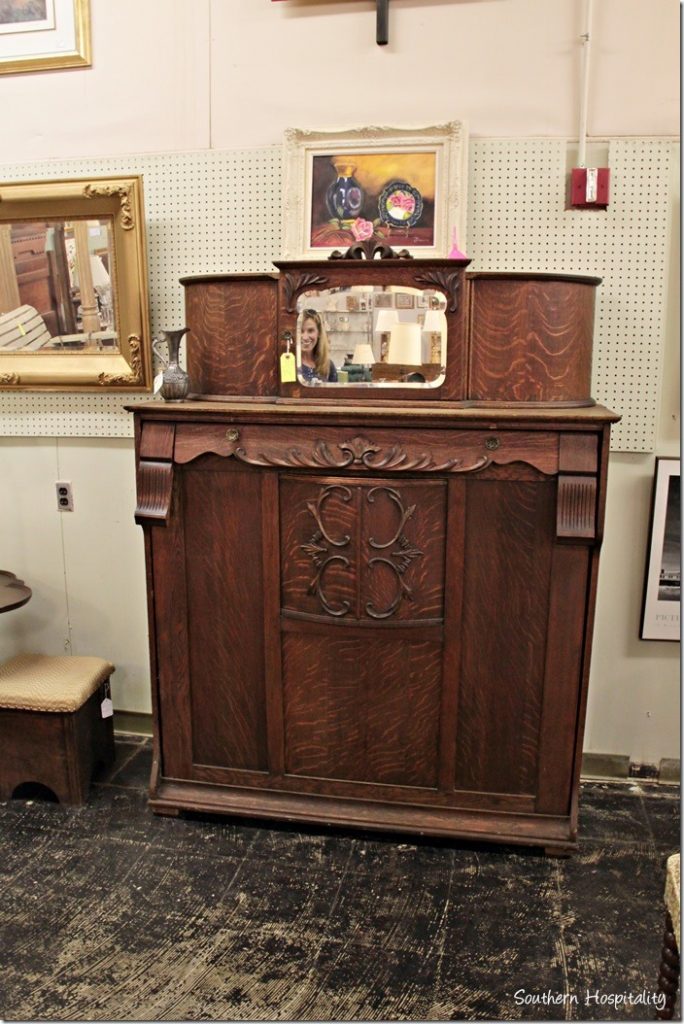 This was a Murphy bed. How fun if you have a small space and need an extra bed.   Of course, the mattress may not be all that comfortable.
These Pez dispensers took me back to childhood.  Ah, the good old days!
Coca Cola memorabilia was fun to see too.  Atlanta is the Coke capitol, you know!
This beautiful antique mirrored French armoire reminds me of mine in my bedroom.  I checked the prices and it was around $2400 or so, more than I paid several years ago for mine, so I was happy to see the prices still up on these pretty pieces.
Blue and white dishes are always popular and always in style.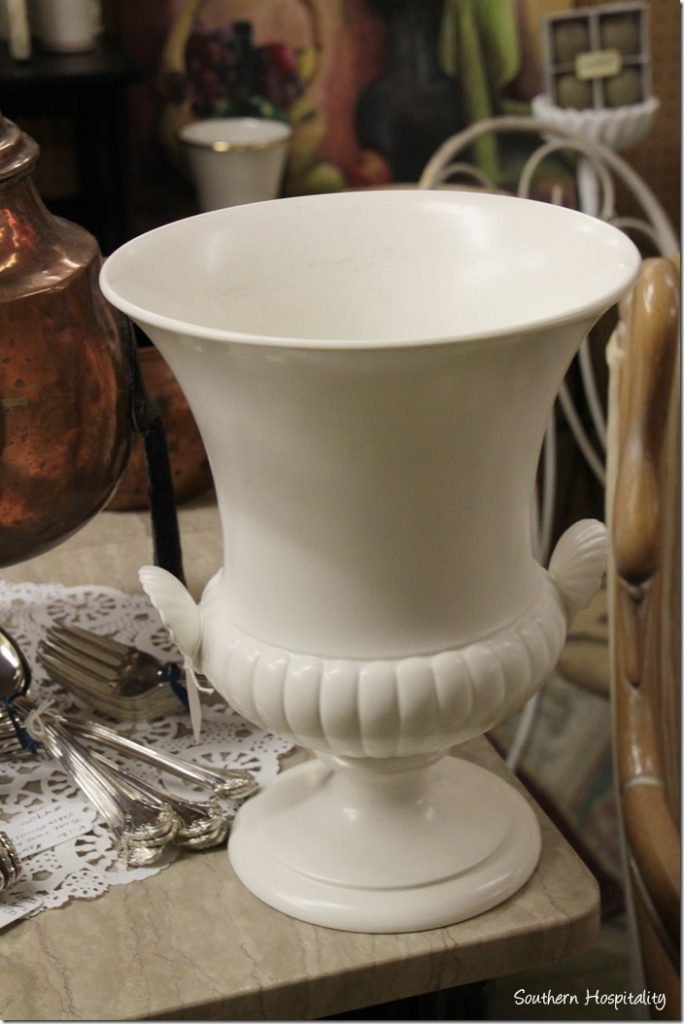 Here's that pretty white Wedgewood urn I spotted and took home with me, at $29.  I'll add it to my white pottery collection.
Another older china cabinet, maybe mid-century.
We spotted this burnished brass lamp for $29, which was really heavy and I talked Heidi into taking it home with her.  It's a  nice shape and will look great with an updated lampshade.  Brass is all the rage again and I do like the burnished antique brass that is out there.  Still wouldn't put in shiny brass light fixtures or door knobs again though.
Heidi and I got a kick out of some old phones in one booth. This one is aqua and a dial phone, which totally took us back to childhood.  We were laughing over the fact that it took SO long to dial a number, especially if it had a lot of 8 or 9's in there.  You had to work at dialing a phone back then!  My mom and dad had an old black dial phone on their kitchen wall for AGES.  It was finally updated to a touchtone and now they have cordless ones.
Someone painted an old ladder aqua blue, the color of the moment.
You never know what you'll see at an antique mall.  Bejeweled and blingy Folk art guitar by Canton artist John Paul Heinz.
We found that out by looking at the card attached.  Not my style, but someone may love this guitar and have to have it.
And who doesn't want a Star  Wars Princess Leia cookie jar?  You can buy one for $69.99 and get your Star Wars fix every single day.  Just goes to show, there is something for every collector out there.
Are you collecting anything right now?  I'm about maxxed out on my collections and bringing a lot more to my house at the moment, but I still enjoy looking and seeing what's out there.
I went to Nashville last weekend and met up with some other blogger friends and we hit several Nashville antiques shops, so I'll be sharing all of that soon!  It was a hot, but fun weekend in Nashville!
Don't Miss a Post, join my list!