Several times here on the blog, I've shared shopping at Scott Antiques, that huge antiques market that's held once a month here in Atlanta. It's been going on for years and I've been going there for a least 20 years.  It's fun, it's inspirational, and you can see some really neat things.
My sister is getting ready to paint her house again and losing the gold paint and going with a warm neutral gray/beige shade throughout.  And part of that is getting rid of some of her accessories that she's had a for a few years.  I've been helping her shop for some new things, vintage interesting things to decorate with and it's been a lot of fun.  I shopped at Round Top and she and I went to a local antiques shop, Queen of Hearts in Marietta and also Scott's last weekend.  Mark went with us to Scott's and we had a very fun day.  So, I thought I'd show you a few things that caught my eye.  I'll be sharing her house painting and new accessories along the way too, so stay tuned for that. It's always fun to freshen things up in our homes, isn't it?
I took lots of pics to share, so enjoy the browsing with me.  You never know what all you'll see at Scott's, but some of the vendors come back month after month, so I'm used to seeing them in the same spots whenever I go.  I usually make it there a couple of times a year.  It is fun to shop there when you are looking for something special, because you never know where you'll find it.
There are a lot of antique furniture pieces at Scott's, some beautiful old vintage furniture that a lot of folks don't love anymore, but I happen to still like some dark wood furniture, like those classic buffets there.
Lots of ironstone to be found too.  You just have to shop around, some prices are probably more than you'd want to pay, but dealers will usually work with you.
We saw lots of original art and some of it is pretty pricey and some affordable.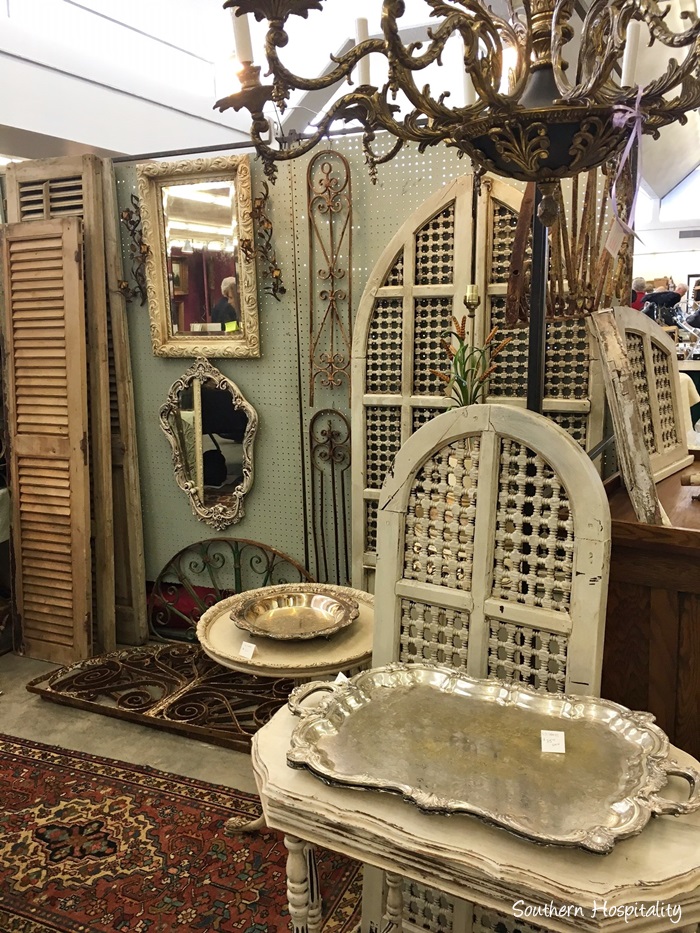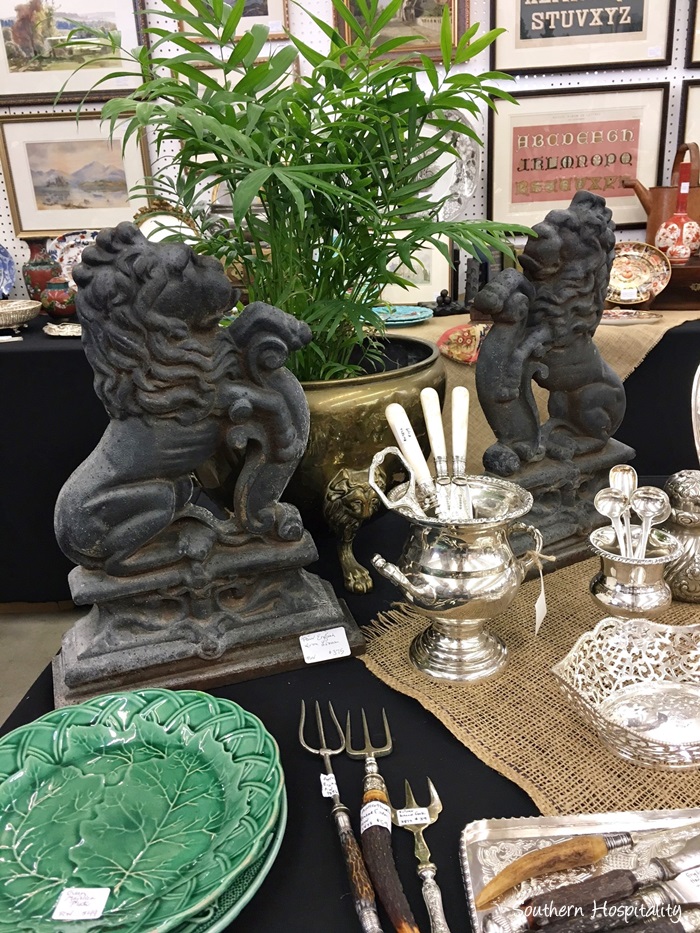 I'd love to know the story behind these marble "thrones". Have you ever?
My sis loves old Santas and had a fit over this one, although she didn't get it.
There are rugs galore, especially Oriental antique ones at Scott's.
Plenty of farmhouse decor and painted furniture too.  It's still super popular out there.
Vintage Shiny Brites always catch my eye.
After shopping around, my sister found a pretty piece of white coral that she took home. Prices were all over the place, so it pays to shop around.
Plenty of Christmas decor out there too.
I always love this shop, filled with pretty containers and preserved florals. It's not inexpensive as you can see from this price tag, but I love it.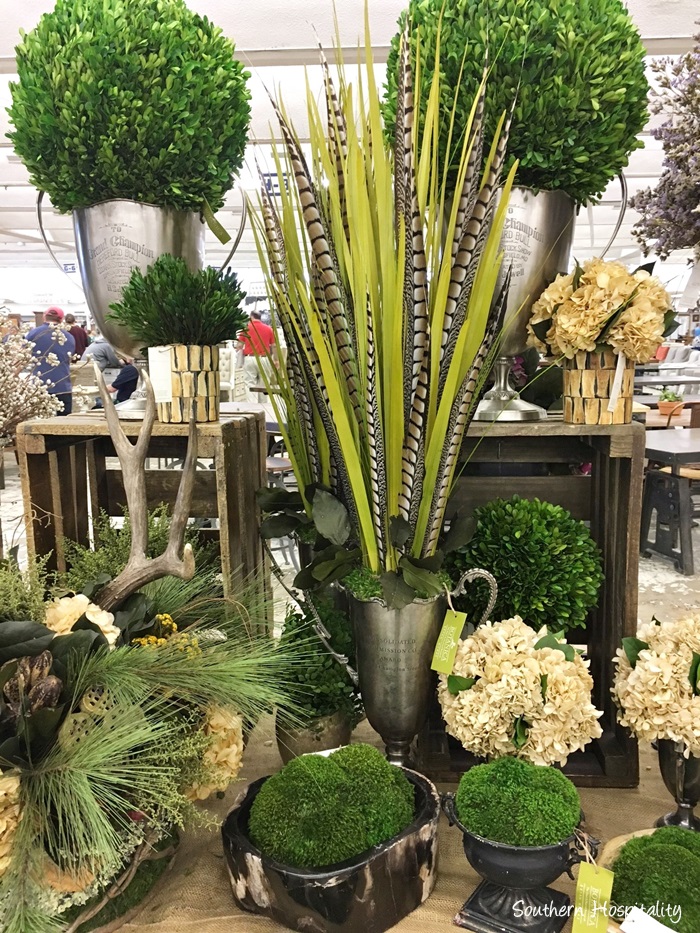 One day, it's on my wish list to have one of these hanging swing beds.
Lots of chalk painted furniture to be found.
And you never know what interesting and quirky sorts of things you'll see, like this parrot made out of old parts and pieces of stuff.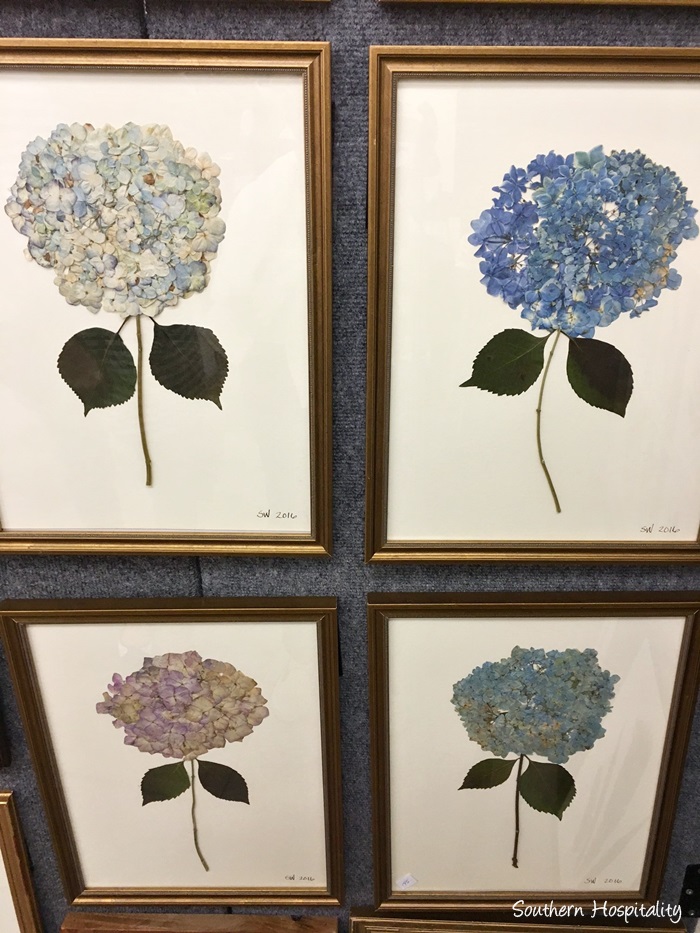 I've been in this booth before and love her dried and preserved botanicals, like these dried hydrangeas framed so pretty.
There are new chairs at Scott's too, lots of them to choose from and the prices aren't bad.  I think this black and white chair was $600 something.  I loved the fabric and saw lots I liked.
There are bathroom vanities there too and the prices on these are not really much more than shopping online.  Probably better made too.
Loved this tall cabinet with glass front. I didn't get a price on it.
Outside the South building, you can find all sorts of architectural pieces.
And more quirkiness with painted Santa heads on stumps.
I always enjoy this booth of iron furniture with stone tops and some unusual chandeliers. I think they are here every month.
Get out the Skilsaw and make yourself a letter out of an old Reader's Digest.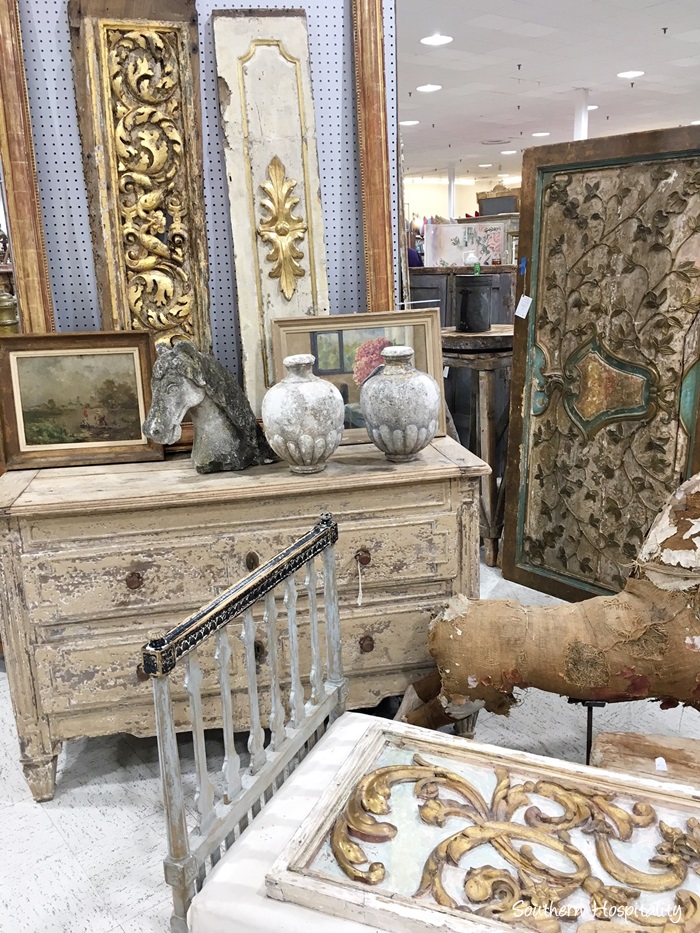 And that's the end of our day browsing Scott's.  It was a fun day and perfect weather!  My sister brought this horse head home with her. He's made out of wood and not old, but a neat piece. She got it for less than this.
I'll share all her accessories and what she is doing at her house soon!  I also hope to have an update very soon on Andrea and David's 1950's ranch house kitchen.  They moved along on the kitchen and got most everything done and then finding an island held things up all summer. They just couldn't find the right island, but I think they've found one now and most all the updates are done in their kitchen and I can't wait to get over there and photograph it to share. It looks SO different!!
Don't Miss a Post, join my list!