I've shared Woodstock Market with all of you a few times now and last weekend, we had an Atlanta bloggers meet-up at WM, which  is located on Bells Ferry Road at Hwy. 92.  It's a treasure trove of fun vintage shopping and the booths are set up really nice. They love bloggers and encourage us to come and hang out there and oh yeah, they fed us lunch too, so that is pretty sweet.
If you haven't been, I'd definitely recommend a day at Woodstock Market in the Marietta area.
A big beautiful island inside the front door.
Go Dogs!  After all, it's Georgia.
Market days.  They have lots of events going on at Woodstock Market so check out their website.
Laura with Rethunk Junk has a large area displaying her line of paint and painted furniture.
This vintage buffet was for sale, all painted in greys.
A pretty two toned neutral dresser was up for grabs too. This is for those of you who don't want to paint it yourself. You can find lots of painted furniture out there now.
A nice classic chair with fresh fabric in turquoise and Lime stripes.
This looks to be some sort of mail sorter. What would you do with this?  Great for storing lots of scrapbook paper if you are into that.
Quilts and linens vignette.
A chalkboard headboard ready to go home with someone.
Another cute vintage chair with some fresh modern fabric.  Love this one!
Vintage and worn white wicker.  So cute!
This shop has lots of industrial items for sale.
Metal Lake sign is really cute.
Fireplace and living room set up.
Coca-Cola sign and lots more.
Painted Ball jars with a French vibe.
They offer some  new furniture too.
Like this beautiful bench.
A room set up with cowhide rug and lime green walls.
A pair of nightstands.  I think these were $100 for the pair.
Aqua Home vignette.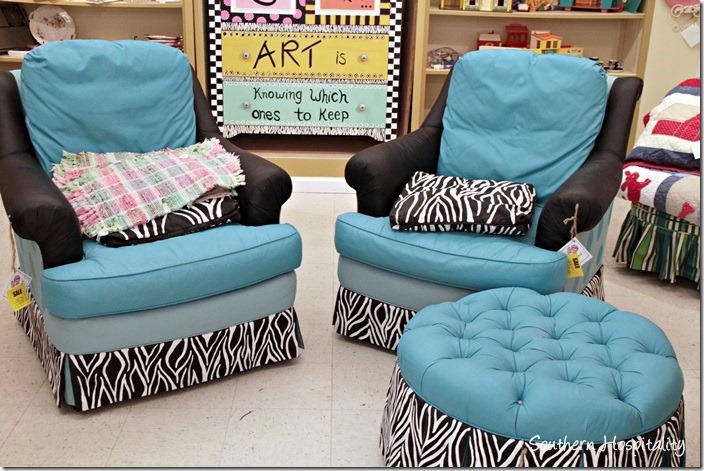 Some fun and funky chairs recovered.
Loved these black and white striped pieces.
An old vintage scale.
Great idea for a bulletin board.
Lunch was delicious with these cute and tasty cupcakes.
Sandwiches and salad rounded out our blogger lunch and we sat down and talked after walking around the store.
It's always a fun day of browsing at Woodstock Market.  If I had room for more treasures, I know I could find some there!
Don't Miss a Post, join my list!