We Southerners love a good brunch.   I suspect you Northerners do too, as well as all ya'll in the Midwest. I have no idea. I just know that down South, we love us a good time with the girls and brunch is a big part of those celebrations, whether it be for weddings or most any special girlie occasion.

My friends know I enjoy things like this so my friend, Judy, invited me to her family gathering.  A wedding brunch in the countryside out in Paulding County.  It is still country out there, unlike around Cobb County where I live.  You have to drive out much further these days to see livestock, chickens, and goats.  But out in Paulding County, it is still a way of life and I love to see the countryside that remains and flourishes.
Judy's niece, Lisa, lives in this pretty white farmhouse and it is picture perfect out on 260 acres of land.  You don't see homesteads like this anymore, but it was a treat to enjoy.  This is not an old house, at around 10 years old, but it has an old farmhouse feel.
Beautiful grounds with plants and flowers.
She told me to take as many pics as I wanted to, so I did.
Cause sharing on this blog is what I do and I knew ya'll would enjoy it too.   Where I go, you go! 🙂
Picturesque white farmhouses are one of my faves.
Lisa has great taste and welcomed her guests for the day.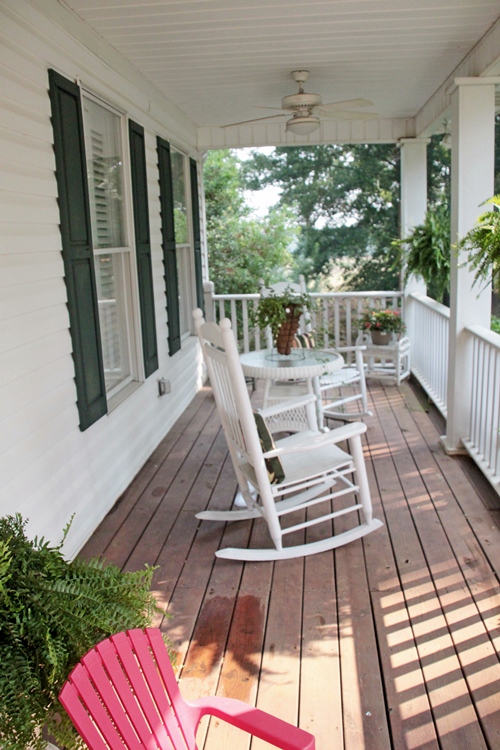 I love this long front porch.
These pretty birdsnests were on the door. 
And a welcome into the foyer.
It's a very lovely and comfortable home and I felt right at home there with Judy's relatives.   They were all so sweet.
Lisa has one of the Target bunnies too, so I know we could be friends now.
We ate here on the sunporch and it was just a beautiful day.
Pretty things everywhere you looked.
Her daughter made this beautiful burlap table runner.
Then it was time for the food.  Did I mention that I can be bribed with good food?  Oh yeah!  Mention food to me and I'm all over it.  I knew this would be a fantastic brunch and I was not disappointed.    From baked French toast, to bagels and muffins.
Fresh fruit, congealed salad, sausage balls and cheese grits.  Yummo, it was good!
That big bowl held the cheese grits, near and dear to my Southern heart.  I was raised on lots of grits and love them dearly.
Stuffed strawberries were so pretty and delish too.
This yummy cool and refreshing punch was great too.
The coffee station was ready and waiting.
That's Judy in the middle in pink and her sweet relatives, Lisa, Lisa's daughters Cassie and Brooke, and her sister-in-law, Margaret.  It was a fun day spent with some very sweet ladies and I enjoyed it so much.  It was actually a wedding shower that they were hosting and everything went off wonderfully.  I wish them the best!
Did I mention there were goats on this farm?  Oh yeah, the cutest and cuddliest goats you ever saw.  And a snake.   Come back tomorrow and I'll share all of that with you.
The snake I could have lived without, but I did get a pic of it, just for ya'll!
Don't Miss a Post, join my list!