Portico is a fancy little word, which really means a covered front porch, so I'm adopting that word for my new and improved little front porch.  I have a new front portico!!  And yes,  I'm still so excited about getting this project done on my house. This one alone makes such a huge difference in the outside of my home and it's the first thing I notice now when I'm driving up to my house, so I'm going to share how building this front portico came about.
That beautiful little portico is just what I envisioned and having it built was a dream come true. This project was way more than my dad could possibly tackle at his age (although he likes to think he could have climbed up there, figured out all the angles and wood that needed to be purchased, and built it himself!), but we knew better than that.  It was out of his scope of doing at this time in life and so I found the best remodeler guys that I think I could have found.
BEFORE: 
AFTER: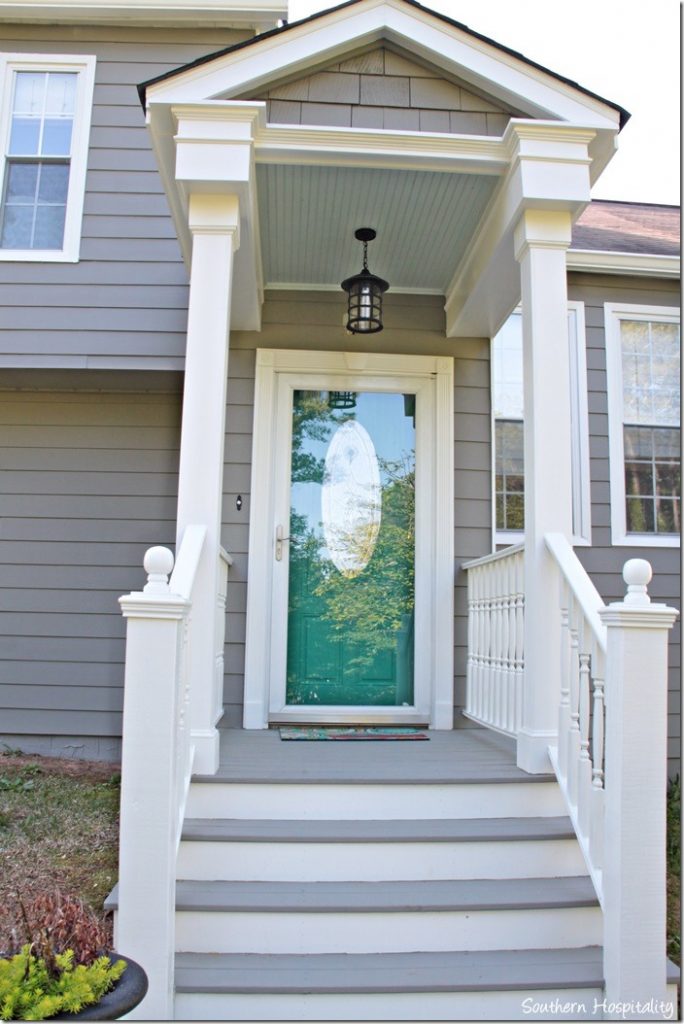 The process: 
Mike Joiner is a guy I grew up with in church.  His whole family went to my dad's church here in Marietta and we grew up together in youth group, so I've known him almost all my life.  We had heard that Mike and his son, Dave were now doing remodeling work and that they did a great job.  So, I got in touch with him and asked him to come by and give me an estimate.  He came by in mid-summer, but was so busy that he wasn't able to get to me right away. They specialize in kitchen renovations and work with a company that does that and they work on one kitchen after another.  But, they also do lots of other projects and can handle anything from a remodeling/renovation standpoint.  You can bet they will be doing all of my projects around here from now on that my dad and I can't handle.  They did a fantastic job on my little portico.  I told Mike I would be putting his name and phone number out there and that he could probably expect to get some business, so I'm sharing with those of you who live locally in case you need a great remodeler.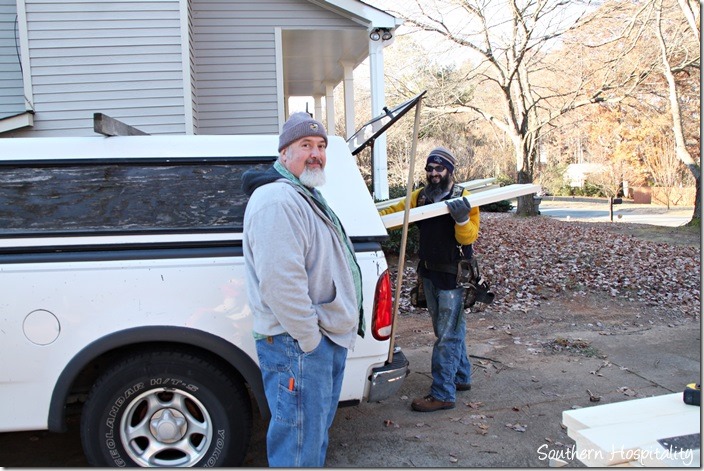 Mike Joiner – 770-634-2013:  If you contact him, just tell him you read about his work from my blog.  He's a great guy to work with, very fair and does excellent work!  I couldn't recommend he and Dave any more highly.  I told them they look a little Duck Dynasty with those beards and they laughed about that. They are hunters too and just like hairy faces, but don't let that fool you. They are great at what they do!
So, let's get on with how this portico came together!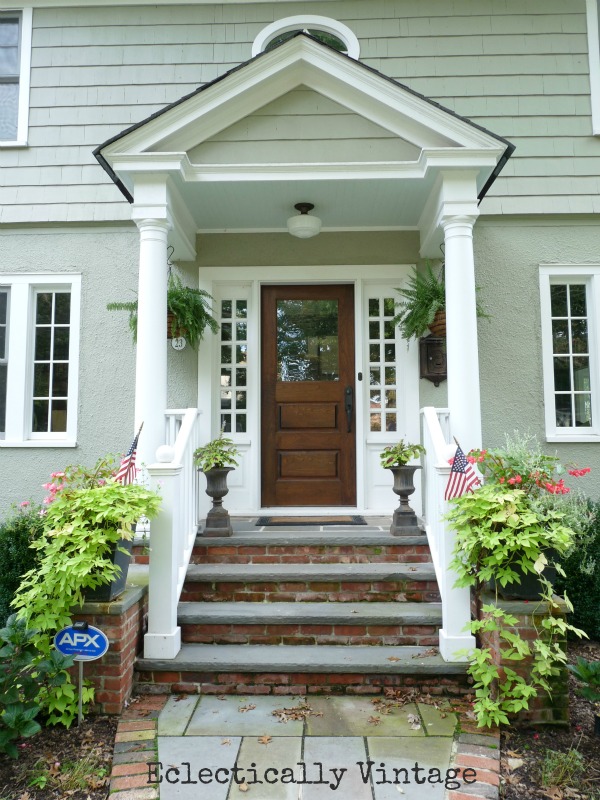 It all started with this pic!  This is the inspiration pic that started my whole obsession for getting my front portico completed.  My friend, Kelly, from Eclectically Vintage lives in a beautiful 100 year old historic home in NJ and when I saw her front porch, my heart skipped a beat!  It's so cute, as well as traditional and classic, just what I envisioned for my own porch.  Kelly has done amazing things with her vintage home, so check it out with the exterior photos to see all the changes.
I sent this pic to my remodeler and told him this is the look I'm going for and he delivered my vision!  He kept telling me it won't look exactly the same, but it will be pretty close.  I knew going along that I was going to love the finished project and definitely DO!  Now I don't have charming brick steps or a tiled sidewalk, but lots more changes are coming to the front of my house next year. Can't wait to share all of that with you!
The guys set up in my driveway with all of their power tools.  It wasn't the best time of year to do this sort of project, but they worked around the weather until it was finished.  We had some rain-out days along the way, but it was finally done!
First things first, was tearing out the old porch. They removed the porch floor and all the old railings and steps and left the base, making sure it was solid and secure to the house.
The base was still solid, so they kept it in place and just added from there.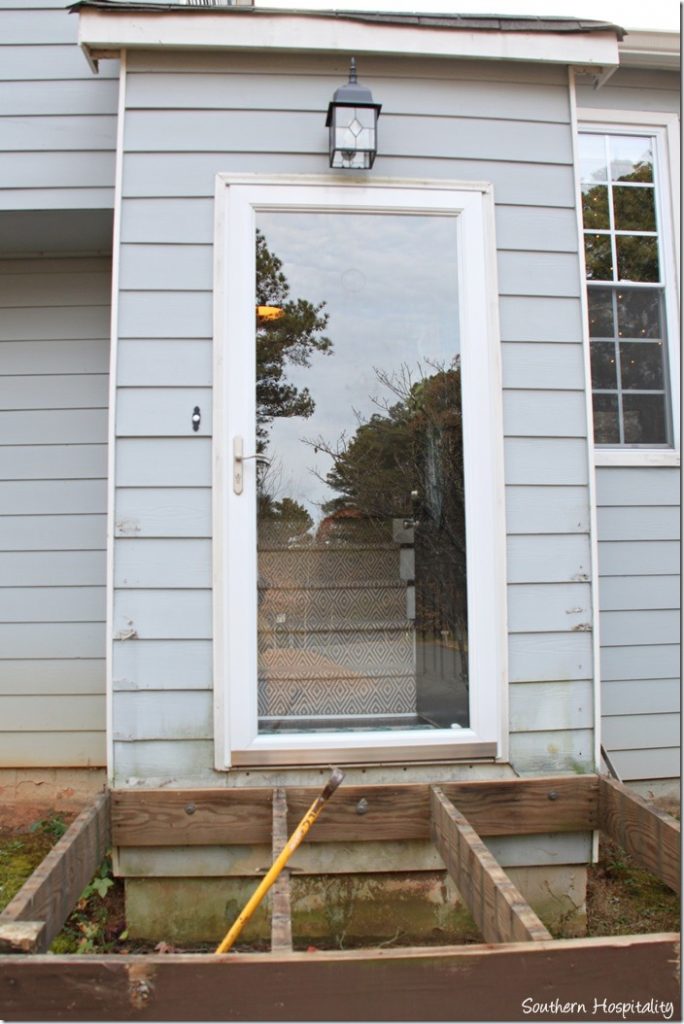 Take note of the trim around the front door. I didn't plan on changing it at first, but you know how things like this snowball.  Once the porch was finished, I knew that the trim around the door needed something more, so you'll see that below.  Just note how skimpy it looks here!  Plain Jane for sure especially after I added the white storm door on top of the old trim early on after moving in.  It was practically non-existent anymore.
First thing they did was build the new decking for the porch floor and built the stairs in.  My old stairs had only 3 which were very cumbersome to walk up and down.  Mike made the new porch with 4 stairs, which are to code and much more comfortable.  Notice the slope of the porch, since my lot slopes here in the front yard.  He had a solution for that too and you'll see it later in the after pics.  You have to deal with what you're working with on things like this.  He got it all level, but a sloping lower stair isn't very attractive.
The finished porch floor and stairs.  We're on a roll now!  I was excited watching every single step of this project and tried to get all the major steps photographed.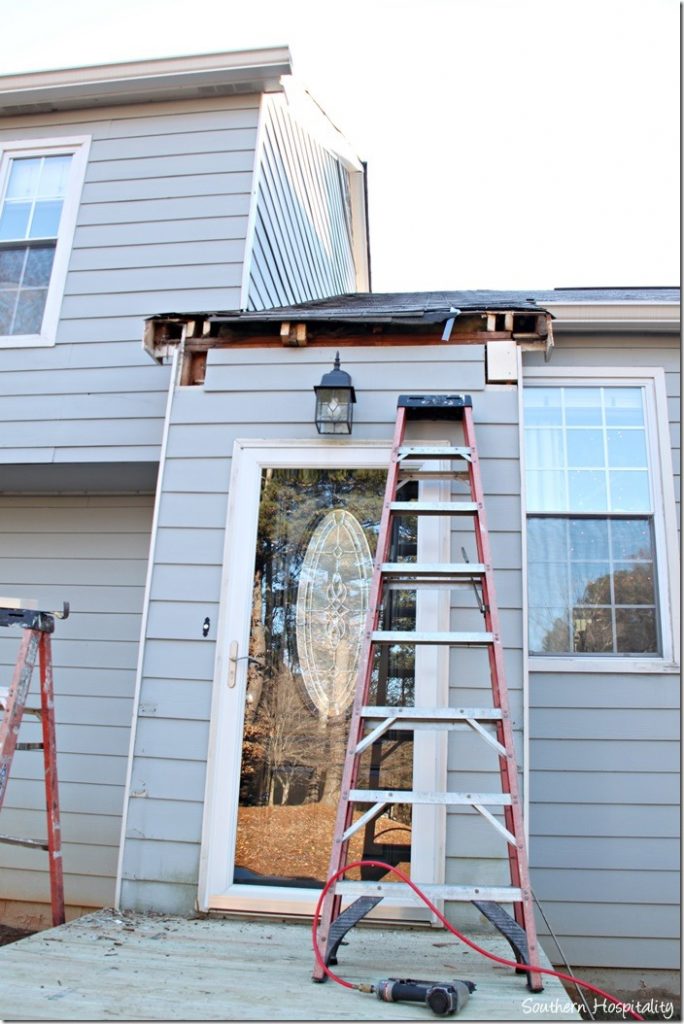 Next, Dave began cutting into the roof above the front door to tie in the new front portico.  I'm so glad they are experts at this and knew just how to do it. They had to add a little angled part on the roof to tie in with the existing roof.  That takes skill for sure!
Cutting into the front porch rafters.
Next step was adding these boxes they assembled that would be the outer edge of the porch roof.  I don't know the technical terms for these things, so bear with me.
Those trusses or whatever they are called were added on either side, along with temporary 2×4 supports.  Later 4×4 posts were added and wrapped with vinyl to beef it all up.
They supported the new porch roof structure which went up pretty fast.
Looking up at the new roof line.
Dave up on the roof adding the necessary components to tie into my existing roof.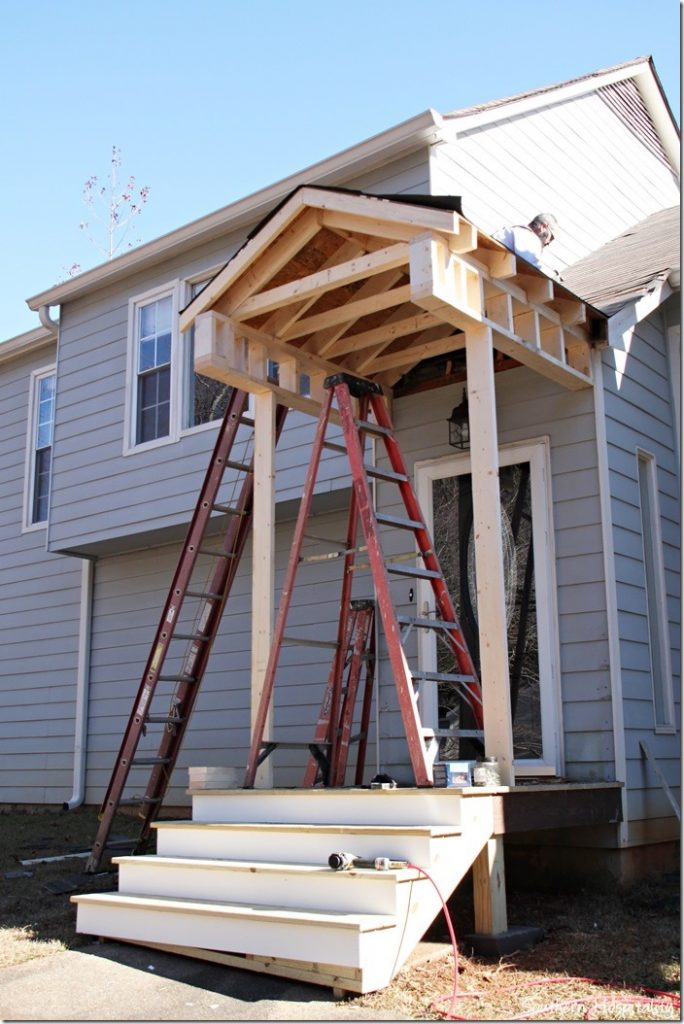 I have no idea what he did up there, but it all worked in the end.  You can see here the new white risers have been added to the porch stairs.  These are vinyl risers and will never rot.  This material is more expensive than pressure treated wood, so he used vinyl in areas that are most vulnerable to damage.  The new columns he added are also vinyl and this can be painted too.
I totally missed the steps they took to add the big beefy columns, but you can see they are in here. I know he wrapped a 4×4 post, I think it was with the vinyl material and then capped it off with trim at the top and bottom.  They are beautiful, I love these beefy columns!   The roof also has new shingles here. They matched the new shingles up very well with my existing shingles.
Roof line and top of column.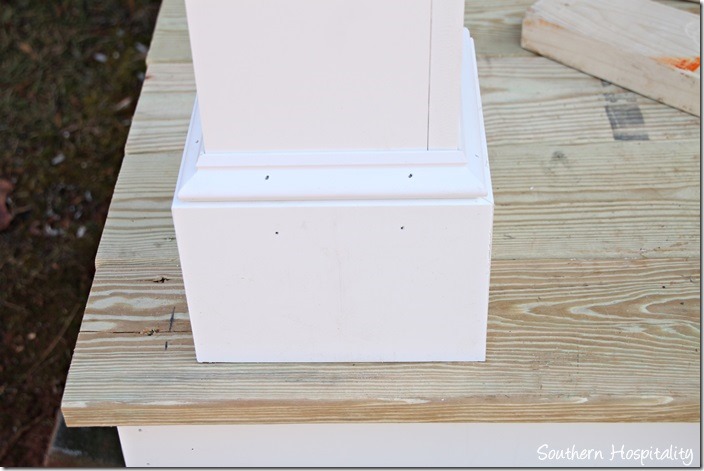 Base of column.  All this little trim detail makes such a huge difference in a project like this.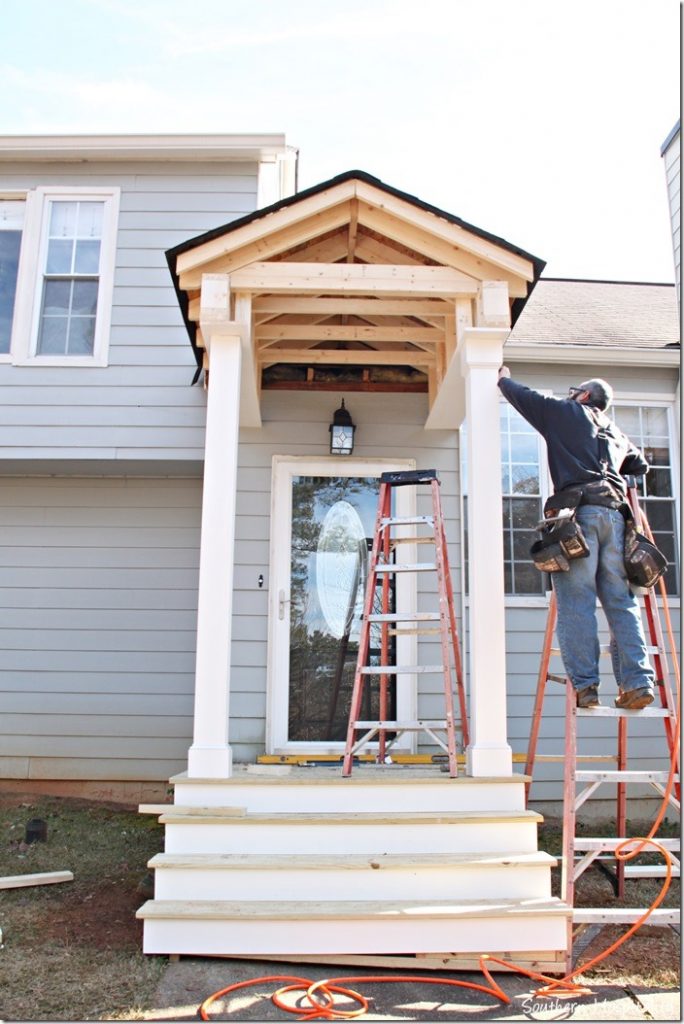 I'm practically jumping up and down like a little girl about now, seeing this all come together, exclaiming…I love it, I love it!  They were smiling along the way, happy that I was happy.
More details from the side.
It's really starting to come together now.
Top of roof line.  I asked for a beadboard ceiling and so that's what I got.
The beadboard ceiling is in place along with the new and improved beefed up fluted trim with bullseyes and a key in the middle.  See the key behind the light fixture?  I'm pretty sure at this point that I'm going to put up a hanging lantern in the middle of the ceiling. I still have to call my electrician back out and get a light fixture, but right now that is the plan.  The old light fixture covers up some of my trim work, so I know it will look better to change that out.
See how one thing leads to another?  Every. Single. Time!
The old concrete siding had to come off too to allow for the  new trim pieces to go in. These all had to be recut and added back.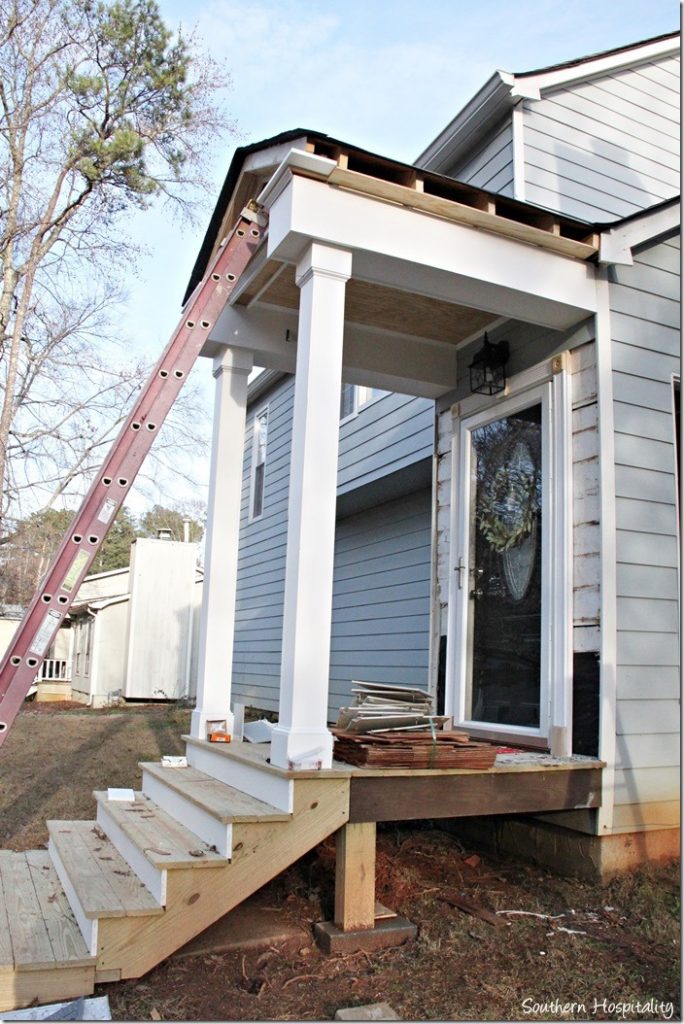 Side view of the porch progress.
When those cute cedar shingles went in place, I clapped with glee. This was my plan all along, to add some cute New England style cedar shakes to the front of the portico and they look just as I imagined they would.
Still more trimming on the edges to do.
Working on the top trimming out.
More trim added and more progress.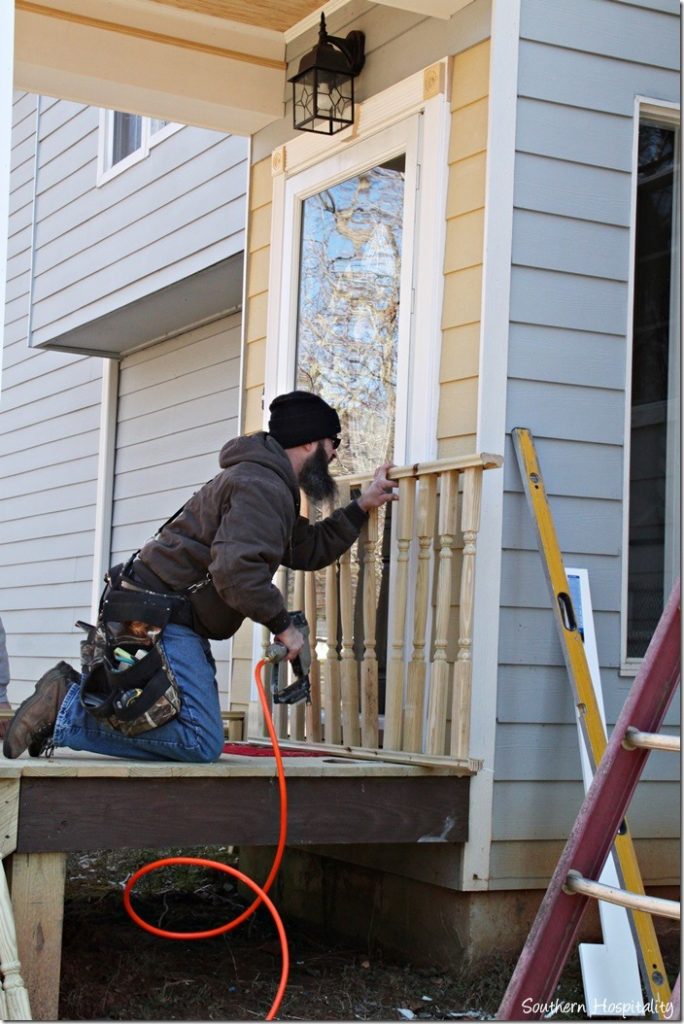 Now it's time for the railings!  Oh yeah!  We discussed this as we went along and he brought along some chunky railings and I OK'd and went with.  I wanted something a little more decorative than flat wood and plain spindles like I had before.
The top of the portico is done and I love all the little trim details.  All of that makes such a huge difference.  It will be amazing when it is painted.  And yes, I'm painting the beadboard ceiling the same soft blue that I painted my back porch ceiling.
Working on the railings.
Here it is all finished and completed except for caulking and painting. It will be awhile before all of that is done, since we have to wait for the weather to cooperate.  Here you can see what Mike came up with to handle the sloping sidewalk.  He added a little platform at the bottom which took away the awkwardness of the sloping last stair against the sidewalk.  At least now, it's a gradual slope and much more attractive and gives another step up from the sidewalk that is not so steep.
Notice the new siding around the door, all needing new paint.  And here's a good view of the platform at the bottom on top of the sidewalk.  I really like how this part turned out and it looks so much better than just leaving the stairs at a slope.  Once I get it all painted, it will look so much better. I'd love to do a flagstone sidewalk, so I'm going to look into that and see if I can figure out something decorative to do with my sidewalk without tearing it all out.
The sides of the porch are left open for now, but my plan is to add a concrete board underneath and add either faux stone or real stone to the bottom side of my porch on either side, sort of like a skirt. Won't that be pretty!?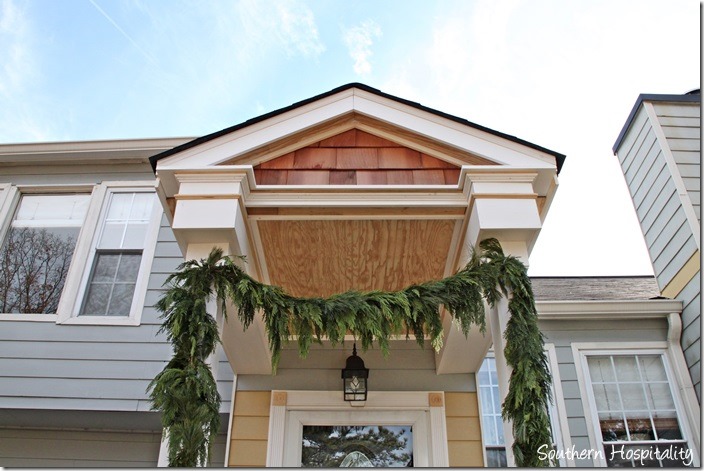 I'm leaving up this garland for awhile, it's really so pretty (from Lynch Creek Farm) and will last awhile longer in the cold.
The beefed up front door trim up close.  Isn't it gorgeous??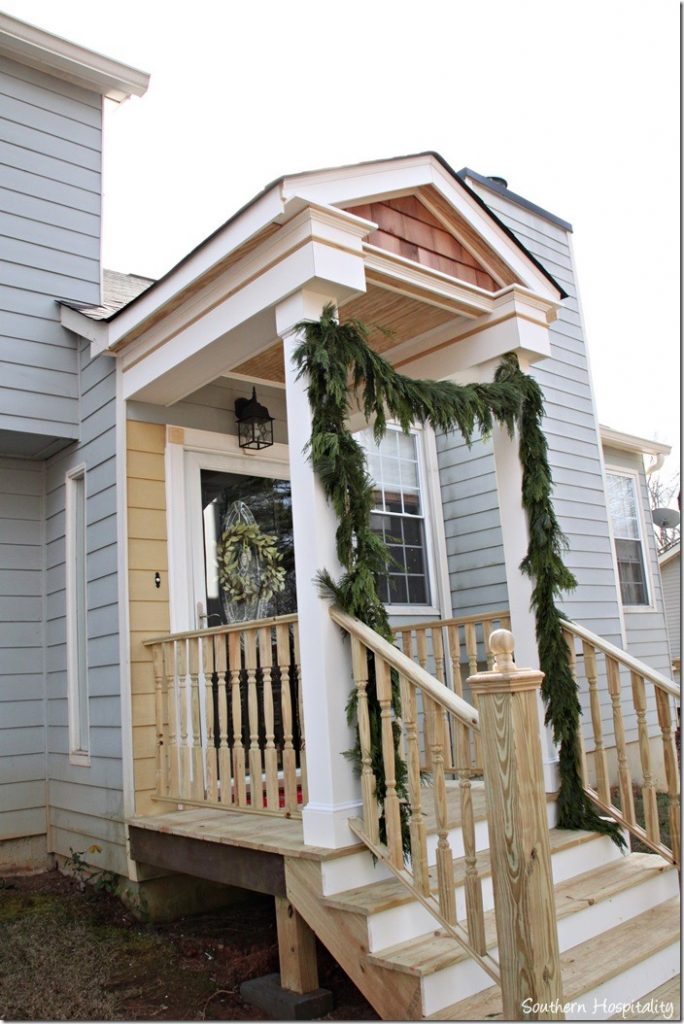 I'm so completely in love with this new portico that I can hardly stand it!  It just adds so much more beauty to my plain house and takes it up several notches.
My friend Carmen, who I introduced you to is going to help me with a landscape plan for my front yard and I'm so, so excited about that.  It's going to be so cottagey and cute when we get it all finished. She is an expert and this place is going to be transformed with azaleas, hydrangeas and lots more.  God blessed me even more when I met Carmen and she came into my life!  She's already getting ideas on what we can do out there and this yard is going to start being transformed in the Spring, I hope.
So, here's the Before and After!  It's all I dreamed it could be and I can't wait for more of the landscape story to unfold this new year. It's a complete blank slate, waiting for an artist to transform it.
Another area I really have never showed y'all is this ugly side entry in between my garage doors.  This existing old door was so rotten and pathetic, but we've been working so hard on the inside that I have just ignored the outside for now.  But getting Mike over to do the front portico project, I asked him about this door and so he took that on to and I'm so glad to get this outta here!
The wood trim right above my garage door was all rotten, so he replaced it with new pressure treated wood.
He took the old rotten door out and enlarged the space so that a new bigger door could be put in.  The old one was so skinny!
He got a new fiberglass door installed for me and I'm so happy to have it in place, complete with a door frame and threshold.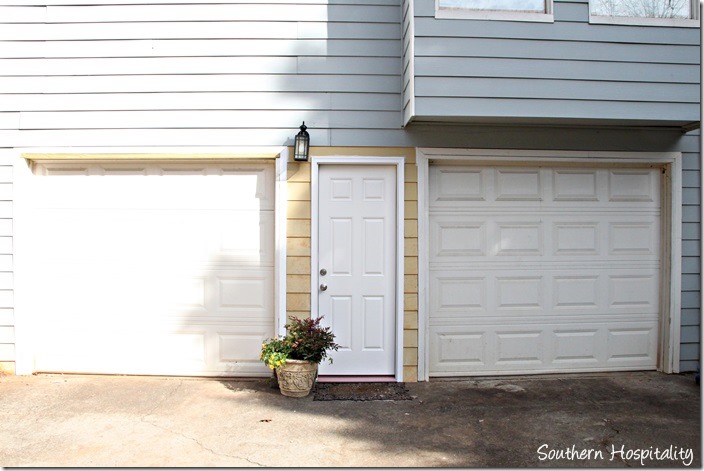 To fit it in, they had to cut out some of the existing 2×4's that were in place, so it ended up not being completely even on either side, but I can live with that. Bigger is better!
Now my front portico is completed and I have the garage area all spiffed up too.  All that's left for the exterior of the house is a good paint job in the spring. That's going to make it all look great! I'm leaning towards a nice medium to dark true gray with crisp white trim for the house. I'll have to do some sampling for sure to find just the right color.
I'm going to share the cost of what I spent on this project, just because I know everyone likes to see how much things cost.  I got the entire portico done, along with repairing the trim above my garage, the new door and repair on the middle garage door, all for $2,400, which I think is a very reasonable price for what all they did.  That's materials and labor, everything.  If you're looking for a remodeler in this area, you can't go wrong with Mike and Dave. They will be doing all of my projects from now on, the things that we can't handle around here.
Hope your New Year is off to a great start!
I'm sharing this over at Sarah's Before and After party this month.
Don't Miss a Post, join my list!