I've got one more post to share with you from my time in San Diego. I was told countless times when I announced I would be heading to CA, to be sure and go to Coronado Island, home of the well-known Hotel Del. My Birmingham friend, Janice, is a CA girl and told me all about it before I left. So I knew I could not miss this one!
Another sweet Birmingham friend who I met up with at BlogHer 11, Heather, decided to go with me and I was so glad she did.  We had a fun afternoon on Coronado. 
We took a short ferry ride over to Coronado.  No, that isn't it behind us.  The ferry was nothing fancy.  
Leaving San Diego behind, we took off across the water, a beautiful sky blue day with temps in the 70's.  Now that is a nice day!
Again, I can see why Californians are so proud of their state.  Weather-wise they have got it made.  Now real estate-wise, it's another story. 🙂
I'm sure this bridge has a name, but I don't know what it is. I was just enjoying the views.
Beautiful San Diego!
Arriving at Coronado Island.
The ferry landing.
This little area by the ferry was very cute, with shops and restaurants along the way.  
We couldn't help but notice the sidewalks were stamped with seashells.  How cool is that?
We stopped for a cupcake in this cute bakery.
And then we started walking up the street towards the Hotel Del, our destination point.  We were told it was about a mile. 
OK, so that's not so bad with this view along the way.    Cute and adorable houses.  I can definitely like this walk! 
These 2 cuties were inside one of the gates.  Mr. Basset Hound wasn't having any part of us. 
He let me know that we were not welcome in his yard.
There were so many different architectural styles to look at.  I can see why this would be a popular place to  live.  I'm sure it is sky high in pricing though.
Beautiful!
Citrus trees in the yards.
Loved this one!
And this one!  Hard to pick a fave.
Oh wait!  It might be this gray one with the pink Crepe Myrtle out front.
Check out the bark on these trees.  We don't have nothin' like that in Georgia!
Wait! This could be my fave!
Oh, this tree was so pretty stretching up to the blue sky.
This one was so colorful!
We finally got to the heart of this area, right in front of the Hotel Del.  There was plenty of activity going on, lots of restaurants and shops to choose from.
Finally, we reached our destination and saw it in all it's glory!  Yes, indeed, the Hotel Del is breath-taking.  Established in 1888, it looks like a vintage gem from old Hollywood.  I can just imagine all the celebrities who have come through this stately hotel.
Isn't it gorgeous? 
It was such a beautiful blue sky day, my camera was busy taking pics of this majestic beauty.
The massive Victorian-turreted Hotel Del, is where Edward VIII (then Prince of Wales) first met Mrs Simpson (then a Coronado housewife) in 1920 and where Some Like It Hot was filmed in 1958, posing as a Miami Beach hotel.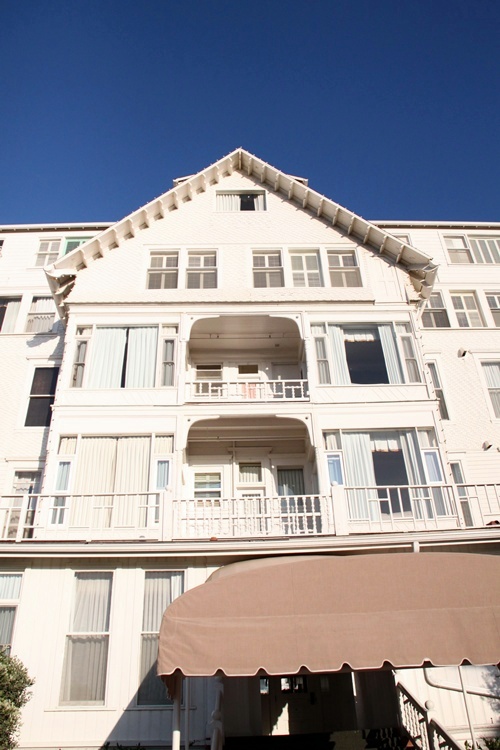 Gorge!
Looking out to the beach. 
And back to the hotel from the beach.  There was plenty of activity going on around here.
Just lovely.
We walked around to the front entrance to see inside.
And had someone snap pics for us.
This place is something else!
Inside was a glorius chandelier and all the woodwork was amazing.
This is all we managed to see inside, but it was very impressive.
Out in the courtyard, a party was going on.  That looks like fun!
We had to hurry back to catch the last ferry back, but stopped in at a neat Italian restaurant, La Terrazza,  and had a bite to eat.  Cheese ravioli for me and it was delish!
Waiting for the ferry, dusk fell.
How beautiful San Diego looks at night.
Wow, I certainly enjoyed my trip to Coronado Island.  What a treat and I'm so glad I managed to fit it in my whirlwind schedule to BlogHer11!  It was so worth taking the time to go over and see it in person.
Have you been to Coronado Island before and the Hotel Del?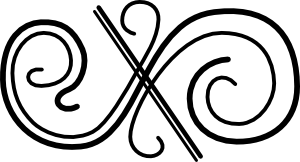 I've got 2 giveaways to announce today!  First, the winner of the Saturated Colors $50 giveaway is Andi T!
If you'd like to order from Saturated Colors & get a 10% discount, use this code from now until September 30th:  SoHo10
And the winner of the Matthew Mead bookazine, Autumn with Matthew Mead is:  Cass at That Old House
Congrats, ladies! I have emailed you and will wait to hear back from you both.

Don't Miss a Post, join my list!