This time of year, I'm eating more simple foods and turning on the stove less and less.  Those fresh tomatoes are a big part of my diet during the summer months and Caprese salad is one of my favorites.  This tomato salad is a very simple, back to basics salad, with tomatoes, fresh mozzarella, and fresh basil, drizzled with a little olive oil and balsamic vinegar. The flavors are intensely summer and so good!
My dad has been growing tomatoes my entire life, so when I was asked to try out a new to me variety of heirloom tomatoes, I said sure, why not.  Seeds of Change contacted me and asked me to come up with a recipe for their tomatoes and the Caprese salad was  a natural fit.
Seeds of Change is an organization that was founded to preserve heirloom plants and keep those fruits and vegetables in the marketplace for consumers to enjoy.  Their products are organically grown ingredients, from famers they know and trust.  Save the Flavors is their campaign to help save the Cherokee Purple Tomato.  I had never tried this variety before so it was interesting to get them in and see them in person.  These tomatoes came from a local grower in my area and were delivered to my door.
They do have sort of a purple hue to the top of the tomatoes, but underneath, look mostly red,  like my dad's tomatoes.
Seeds of Change is trying to change people's access to food.  For example, if you go to the grocery store, most of the time you'll find beefsteak tomatoes, Roma and Cherry Tomatoes.  You probably won't find heirloom varieties like the Cherokee Purple Tomato in your local grocery.  You'd have to find them from a local grower at the farmer's market.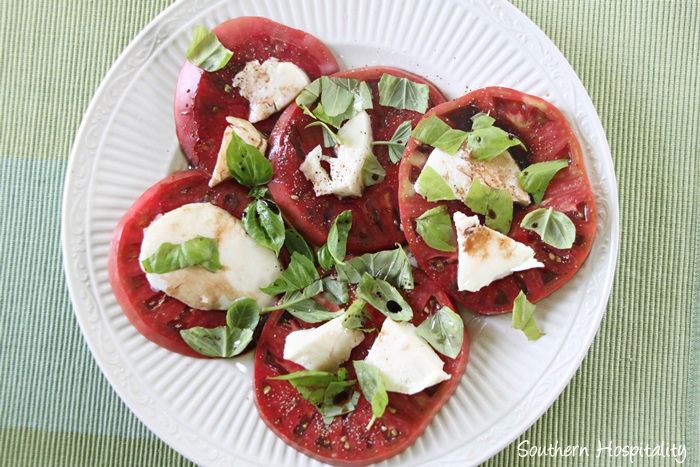 I have had heirloom tomatoes at fancy restaurants and they are very good.  I don't remember the varieties I have tried, but heirloom tomatoes are tasty.  I do know that the tomatoes my dad grows would never be able to be shipped, they are just too fragile for shipping, so you can't find those at the grocery store either.
I made my Caprese salad out of the Cherokee Purple tomatoes and it was SO tasty and delicious. I can't say the Cherokee Purples are better than my dad's tomatoes, but they were equally juicy and red as any homegrown tomatoes you would find.
I love eating tomatoes right off the vine and if you are lucky enough to get your hands on heirloom tomatoes, you will love them.  My dad grows Better Boy tomatoes and you can't beat those either. I've been eating them all my life.
If you want to try growing these tomatoes, the seeds are available from Seeds of Change.  I got some of the seeds and my dad is going to plant them next spring, so we will be trying some Cherokee Purple tomatoes ourselves.
Note:  This post is sponsored by Seeds of Change, spreading the word about heirloom tomatoes.  The recipe is entirely my own. 
Here's my simple Caprese Salad:
Caprese Salad
Slice one tomato on a plate. Layer with slices of fresh mozzarella. Tear or cut about 10 fresh basil leaves and spread around the tomatoes. Add salt and pepper to taste. Drizzle with olive oil and a little Balsamic vinegar. Eat and enjoy!
Don't Miss a Post, join my list!