You Atlanta girls need to pay BIG attention to this post!
You're gonna love me for sharing this crazy fun huge shopping spot and I have my friend, Debbie (Miss Lucy's Monograms)to thank for turning me on to Cash Hotel Furniture Liquidation down south of Atlanta in Forsyth, GA.  I grew up going to church camp as a youngster at Indian Springs, GA, so Forsyth is near and dear to my heart.   Debbie has a knack for sniffing out bargains just like I do and she found this place.  It's an hour and 1/2 from where we live, but Debbie, our friend, Jen and I headed down there recently early one morning. I had to convince Debbie that it was my duty to share the goods with my readers.  She wasn't so sure we needed to get the word out. 🙂
This place is amazing!  It's huge, it's full of hotel liquidation things, all pieces that you would imagine from a hotel chain.  Only we're not talking Motel 6.  No, no, no, we're talking Caesar's Palace Atlantic City and the Ritz Carlton Amelia Island.  Nice places!  Expensive stuff, they don't do junk at those hotels.
Yeah, not too shabby, huh?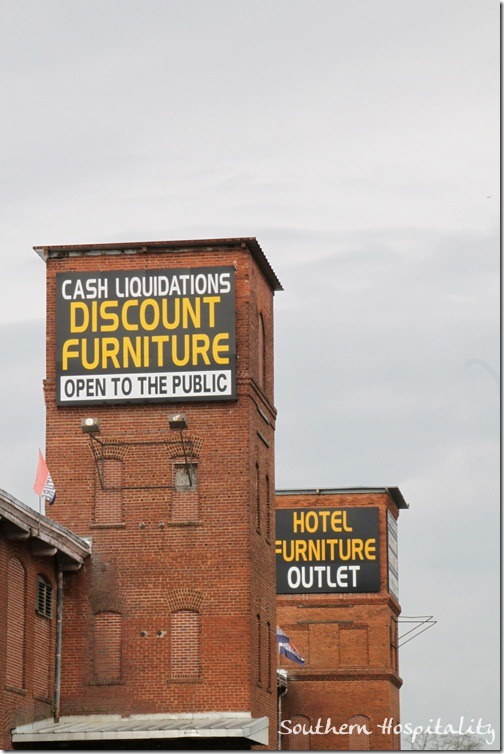 You are going to DIE from excitement when I show you what is in here!  Nope, I am not kidding.
You bargain hunters are going to get as excited as I did when I walked in here and took it all in.  My excitement could hardly be contained!  Bargains, bargains, everywhere bargains.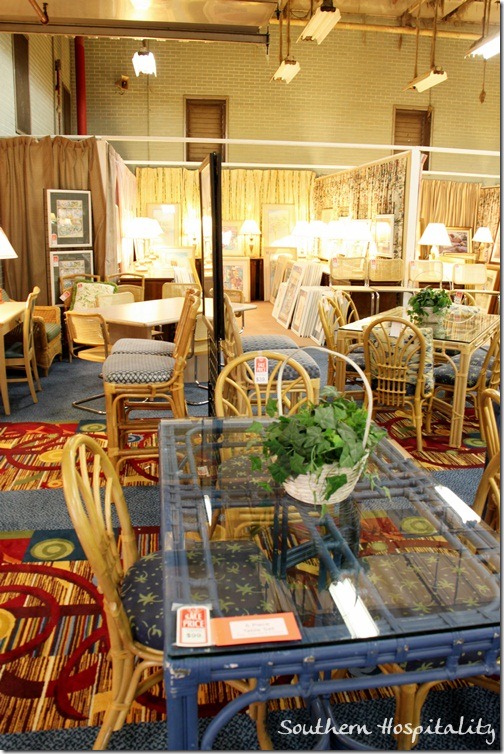 I tried to take notes on the prices, so a lot of them I captured the pricetags.  These were really cute rattan dinette sets, I think they were $99 for the set.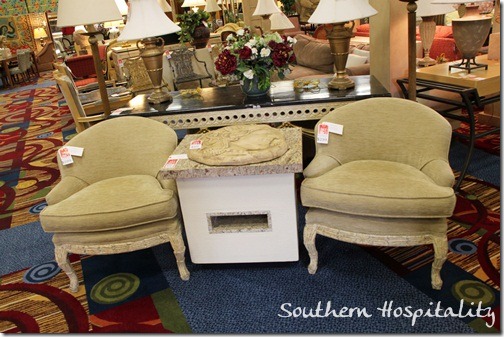 A few things were over $200, but not many.  These chairs came from Caesars Palace Atlantic City and if I remember right, were $299 each.  Everything else goes DOWN from here in price.
Wait, just wait!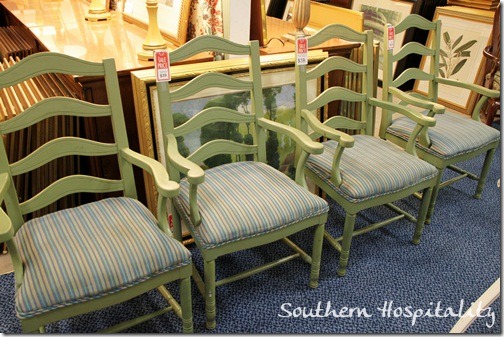 Set of cute country dining chairs.
$39 smackers!  Not bad at all.
Framed prints galore, starting at $5!!
Golf print was $10.  The frames alone are worth that and really, some of the art was still pretty,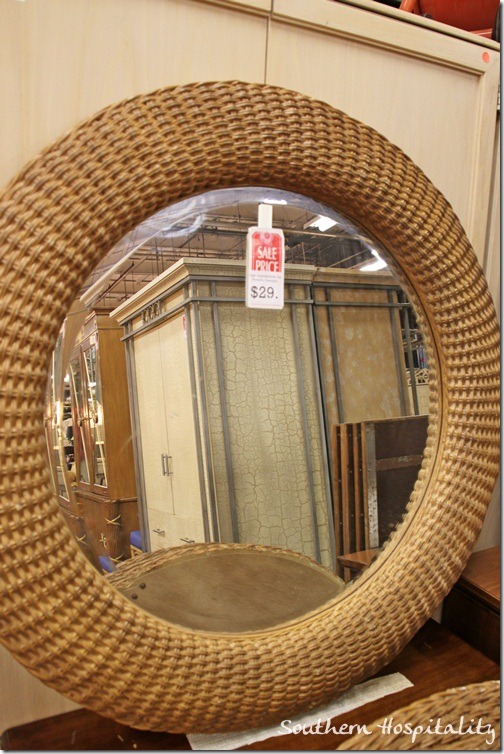 Large round mirror $29.  I know, can you stand it?  You could paint this any color you want.  It's large too, not small.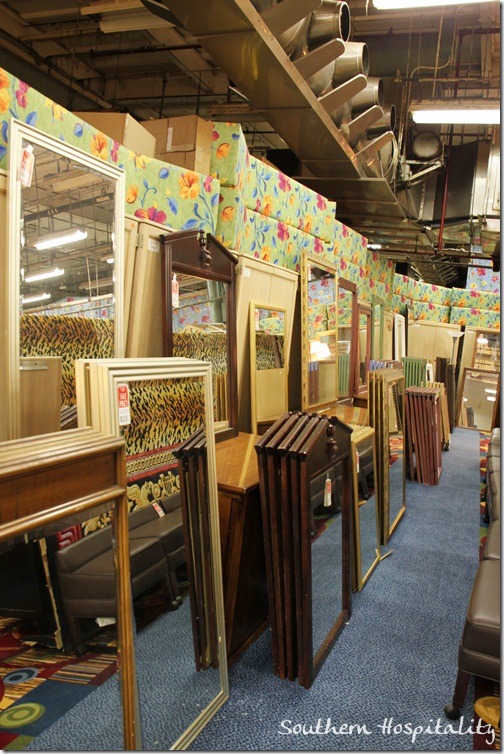 Mirrors galore, in all price points. Most a bargain!!
I can't read this pricetag, but I think it was under $100 for this pretty cabinet.
You can see this leather chair was $159 and the pillow $10.  I was walking around with my mouth gaped open.  Even if you don't like the fabrics, it might be worth recovering.  Hotels freshen up their rooms and lobbies and this place buys them out and recycles them.  I love the concept!!
$199 for this pretty wingchair.  A lot of the upholstery is still in decent shape if you find a fabric you like.  Some needed a bit of cleaning.  Debbie has bought a few chairs and lots of other things here already.
Modern side table, $39.
Traditional wood frame chair $29.  Are you dyin' yet?
Cute, cute wood and fabric French style chair, $39. I'll take 2 please!
This cool statue was $79.
More mirrors, silver $29
Classic gold and black for $49.  You can tell these are huge.
Ornate furniture, lamps and mirrors.
This was a HUGE framed neo-classical print for $299, more expensive than most things, but it was taller than me!
Debbie bought one of these for $49.
There was a pair of these yellow chairs for $79 each.  Don't they look comfy?
Two of these plaid chairs, $79 each.  They were cute, I thought!
This large armoire was $159.
More framed art, I think this was about $20.
Check out these brass lamps with the plugs in the base.  Now that could come in handy for plugging in electronics on a side table.
More framed art, $49.
Tons of framed art and lamps.
Deb bought one of these cute cottage side tables for $19.
We all loved this pierced white ceramic lamp for $29.
Desk and chair, I think both were about $100 something total.  Really good prices.
Ritz Carlton Amelia Island drapes, $19 each.  Now, I know these colors are NOT the height of fashion, but you just might find something for the price.
Ritz Carlton drapes and valances, a pretty purple and green toile.  $19, yep read it!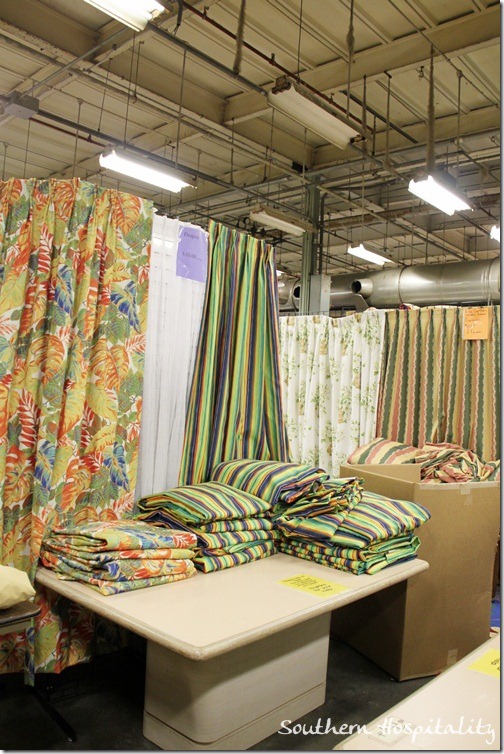 They are hanging and stacked in the back of the store.  My mouth was still hanging open even after an hour of walking around snapping pics.
More drapes.
$99 for this bathroom vanity.
These cornice boards were $5 each!  You could easily recover the boards, love that thick cording.
Padded headboard, I think these were $100+.
Debbie bought one of these when she went earlier, $79 for this gorgeous black and gold side table.  I love these!  They would be great as nightstands in a bedroom.
All wood side round table, $19.  Paint this baby and watch it change!
$99 for this pretty cherry all wood traditional side table.
Another modern silver one for $39.
French style, this one would be easy to recover for $99.
Loved this gold-toned coffee table for $89.  It was beautiful!
French style nightstands for $129.  This could be painted too.
I love barley twist legs and this little side table was $29.  Are you jumping in your car yet?!
Another bargain, solid turned wood floor lamps for $19.  Debbie and Jen bought one.
$79 with a black granite like top.  Love the shape.
Tons of lamp bases for $1 and $5.  What are the possibilities on this table?
$10 for these ceramic bases.  Oh how fun would these be too. You could always spray paint them, don't forget that.
Wall sconces, $1.  One measly dollar!!!  I can't stand it.
Pretty French style sconce, $10.  You can bet I'll be heading back here when I get a house.  OH yeah!
Silver tissue boxes, $5.
Caesars Atlantic City wall sconces, $1.50.  Die now!
Cute Jen bought one of those white and turquoise side tables, $19.  There were 2 different feet to choose from. She got the turned feet, Debbie got the bun feet.
This pretty piece was $199.  Biedermier anyone?!
So after 2 hours of wandering around, it was time to get that stuff to the SUV.  Jen's SUV.  I did not think they would get all of it in there, but those loading guys surprised me.
Here's part of it.
The guys worked diligently on packing that SUV like a puzzle and got every single thing in there.  I was shocked!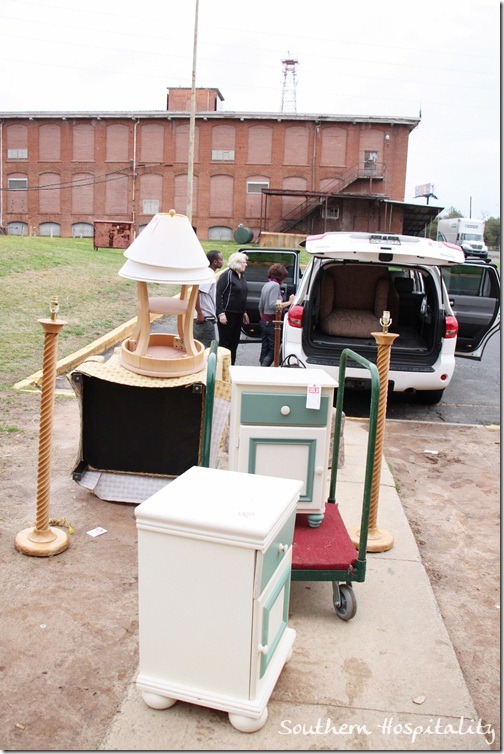 2 chairs, ottoman, 3 side tables, 4 lamps, and misc. stuff.  It was crazy and exhilarating.
There was just enough room for Debbie to sit here.
Packed to the gills, but we made it.  I totally did not think they would get it all packed in the SUV, but everything made it home with those girls.  And no, I didn't buy a thing, but had a ball looking at all those goodies.  You can bet your grocery money that I'll be heading back down there.
It's a treasure trove and the guy that runs the place told me that many designers come in here.  Yeah, I can see why!!
I know all you Atlanta girls are going to be heading down to check it out.  It's right off I-75, you can see it from the interstate, exit in Forsyth, GA.  Forsyth is between Atlanta and Macon.  Debbie had been telling me all about it and I am so glad I got to see it in person.  It's fantastic and as you can see, the prices ROCK!! 
So, who's going first?
Don't Miss a Post, join my list!