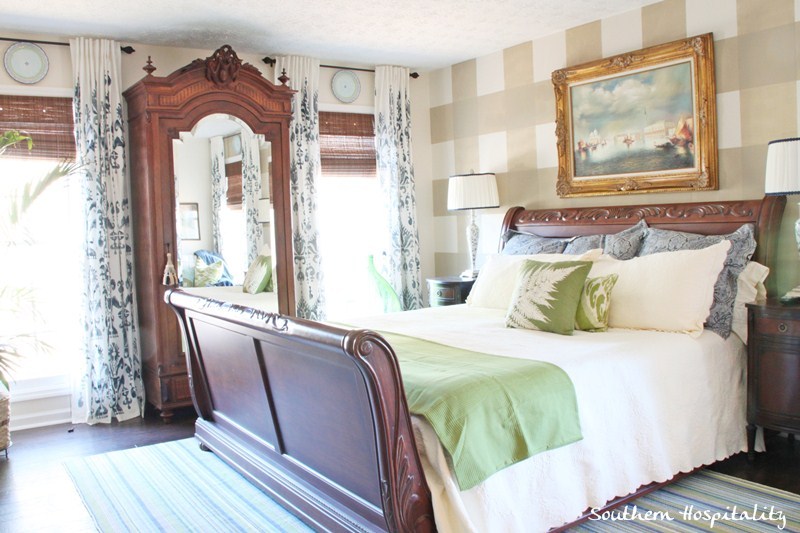 1. Why did you start a blog?
I was at home at the time and not working and had been online for many years on decorating forums, so on a whim I decided to start my own blog, after hearing about them for awhile.  Seemed like a fun thing to do and so I jumped in on a blogger blog and started sharing my home projects.  Decorating has been a passion of mine for many years, so it was a natural sharing process.
2. What was the most exciting thing that has happened to you because of your blog?
I'd say that has to be getting to do a video promotion with The Pioneer Woman in 2010 with our ad network, Blogher and traveling to her ranch for a 2 day trip and staying overnight at her Lodge.  That was a dream come true for me.  She is one of my bloggy heros and getting to meet her in person was so much fun.  I've since seen her at a few other events and it's fun knowing her and watching her success.
3. What is your dream gig?  (like being in a particular magazine, having your own cooking show, the sky's the limit).
Wow, that's a tough one. I really still love the journey of blogging so much and many of my friends are writing books and doing lots of other things.  I really don't have a huge desire to write a book, although I've thought about writing a book about my blog journey.  I'm getting in 3 magazines this year and that was truly a dream come true, so to have that happen has been a huge awe-inspiring moment.  I don't think getting on TV is a big dream of mine either at this time.  I'm really happy doing what I'm doing and getting to travel and see new places and meet new people.  I feel like I have a dream job!
4. What are a few things that readers would be surprised to find out about you?
I've mentioned this on my blog before, but I worked in the corporate world for 30 years before my life taking a new direction with blogging.  My life has completely been reinvented in my 50's and I couldn't be happier about that.
5. How would you describe your style?
I'm most definitely in the Traditional camp, but over the years my style has evolved to a more casual style, so a mix of traditional and casual/cottage would be how I'd describe it now, with a definite eclectic leaning.
5. What are your top 3 favorite posts?
I love writing about so many things from decorating projects, to recipes and travel.  Some of the posts that continue to do well for me from a reader standpoint are painting furniture black with spray paint, framing out boring mirrors, which I showed a step by step how I did that on my blog, and a strawberry cake recipe that has been pinned thousands of times.
6. How has blogging changed since you first began? And do you think things are better or worse for bloggers and readers?
Blogging has completely changed my life in so many ways. It started off as a fun hobby back in early 2007 when I first started. There weren't a lot of us out there at that time in the home decor arena, so it was a fun journey of growing and getting to know others.  Little did I know that it would evolve into a full-time business for me and that has been the greatest thing, to get to do what I love and am passionate about and to earn a living doing that is just the best thing ever.  I've really been blessed by God in so many ways and my desire is to always give Him the glory for what He's done in my life.
I think there is room for everyone in blogging, but now the process is just a little harder on figuring out how to grow a blog and get noticed in the millions of blogs that are now out there.  I have a wonderful core group of readers who have supported me for years and continue to come back and read my blog.  Without them, I wouldn't be where I am now, so I'm very fortunate in that respect.
Thanks for having me share on your series, Anita!