Adding a couple of lamps on my porch was something I wanted to do, since every room needs a lamp, right?  And this new porch is definitely a room we are enjoying every single day.  I wasn't going to go buy a brand new lamp to put out there, to get damp and live outside, so off to the thriftstore I went.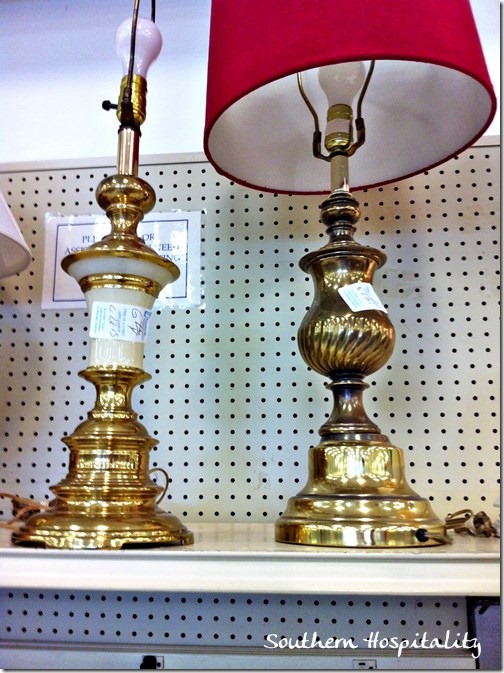 There's a Goodwill about 1/4 mile from my house in Kennesaw, so I browsed in there one day and found 2 for my porch.  There are lots of old brass lamps out there these days.  I don't hate brass for something like this at all.  The one on the left is really heavy brass too, so I decided to leave the brass and paint the stripes a color to go on my porch. The one on the right will be painted a solid blue color and both lamps cost me $15 total.
So, to help out with this project, my trusty FrogTape comes into the picture.
I used it to mask off the areas I didn't want to spray paint and to get a clean line.  It's tricky to tape a round object like this, which you'll find out if you've ever done it.  The tape won't bend in a circle like that, so you have to either fold it and overlap which results in a not so clean line OR you can tear off small pieces and use them overlapping to get a straighter line as you can see on the right side of the lamp.
Here you can see the taped off part and I used Rustoleum's Lagoon color, a beautiful blue Satin shade that is brand new this year.  I love this color!
Outside I went to spray paint and a few light coats later, my lamp stripes were done.  Oh, and I had to do the large stripe first, let it all dry and then go back and paint the smaller stripe later.  As soon as I sprayed the last coat, I took off the tape for a fairly clean line. I did have a little bit of overspray on my brass and some Goof Off took it right off.
Now my $7 thriftstore lamp is even cuter in this beautiful blue shade.  Since I have lots of blue pops around the porch, it will fit right in.
It's not perfect and there are some little bubbles (probably due to the finish and the heat outside), but the Satin finish looks great.  The little imperfections don't bother me a bit.
My cute vintage yardsale fan is perfect out here and it still works. I'm so glad I hung on to this one.
Love this colorful corner of the porch.
The other lamp got a coat of solid Lagoon blue and it's looking so much better too. The old brass was pitted and old looking, but now looks great again.  I love the shape of this one too.
After spray painting, this lamp will be good to go on the porch. I still have to find a new shade for this one too.
And that's the new additions to the screened porch, which by the way is getting daily use.  I'm out here ALL the time and it's become my new summer office.  Love, love, love this space!

Disclosure: I'm a Brand Ambassador for Frogtape and am compensated to share my projects using FrogTape. All opinions and methods of using the product are all my own.
Don't Miss a Post, join my list!