Even though I wasn't a vendor or selling anything last weekend, I'm still recovering from the fun weekend at The Chapel Market, brainchild of my friend, Layla.  This vintage market idea came about a few months ago and Layla's been planning behind the scenes with a few of her blog friends along for the ride. They all showed up last Friday in Pike Road, AL at the cutest chapel you've ever seen to set up shop for the day and bloggers and shoppers came from all over the country to scour this vintage market for treasures.  And there were definitely treasures there, I had to restrain myself from bringing home more stuff right now.   I was there for support, to help out where needed, and just to soak it all in, hanging with my blog friends.
There's nothing more fun than that!
The Pike Road Chapel in The Waters is such a beautiful and picturesque place. Sitting on top of a rolling green hill, the vantage point up there is wonderful.
And I can definitely see why Kevin and Layla moved to this community. It feels like being at the beach on vacation with lovely houses everywhere you look.   I think it must be mandatory for all the houses to have metal roofs, cause that is all I saw from here and it's so quaint and pretty.  I'll share more of the houses in another post, along with a lovely house we had the pleasure of touring and having dinner one night.  Such a treat that was!
The Chapel Market was smaller, with only a few vendors fitting inside this chapel, but it really had a great atmosphere.  It was set for October 19th, from 9 to 5 and lots of folks came to shop.
Me and my friend, Heather, drove down from Atlanta on Friday  and got there in time to help some of them with set up and pricing. It was fun watching it all come together.
Layla did a great job holding it together as hostess of this fun shindig.
Me and Layla, we go way back in blogworld now, to 2008 and she is a precious friend.
Heather and I on the steps of the Chapel. Glad she's in Atlanta now.
Cute Laura was having fun in between setting up her booth.  I didn't get a pic of all the vendors, but it was Heather, Laura, and Kari in one booth, Layla and friends in another one, Marian, Shaunna, Mary and Susan, Evan, Lucy with Southern Accents, and Mary Kay Andrews was there signing books. There were a few other folks there, but I didn't get all their names.
Suffice it to say, there was a LOT of talent in this place!
I mostly took pics of the set up part. Can't believe I didn't go back and get final pics, but it was all a blur of activity.
Kari and Laura having so much fun in their booth.
Layla's booth space.  I helped her price on Friday.
Another view of Layla's space.
Marian did a great job with her booth and by the end of the day Saturday, this was all cleaned out.
She has such beautiful things.
Lovely Miss Mustard Seed style.
Shaunna had some great things going on too.
There might have been a little buying and trading back and forth between vendors too. Isn't that how it happens?
All of these folks were so special and fun.  The air was filled with excitement anticipating the next day.
Fresh flowers from Evan were so pretty.
Mary from Urban Farmgirl had it going on with so many cute vintage items, all the way from Illinois.  It was fun to meet her in person too.
Lots of goodies in her space.
It was fun just to walk around and look at it all.  The inside of the chapel is so cute anyway.
Lucy with Southern Accents and her own blog, representing all things vintage for AL.
After getting set up on Friday, we had an incredible dinner at one of the ladies houses in the community that I'll tell you about later.  Her house was gorgeous too!
In the meantime, Saturday morning rolled around quickly and we were ready to start the show.  Doors opened at 9 a.m. and the line had started by 7:30 or so, from what we heard.  It was really fun to meet longtime blog friend, Linda of Coastal Charm, who was there shopping.  She and I have been blog buddies for several years and it was great to meet her in person. I borrowed this pic from her.
At 9 a.m. sharp, Layla and Evan opened the doors for shoppers at the Chapel Market and the day began.
There was a long line outside winding down the sidewalk, but everyone was so cheerful and happy.
See all the folks in line. I had so much fun meeting some of my readers and hugging their necks.
Inside for the first couple of hours was a frenzy of shopping.
My friend, Dana, came down from Nashville and found a cute treasure to take home.  Great seeing her again!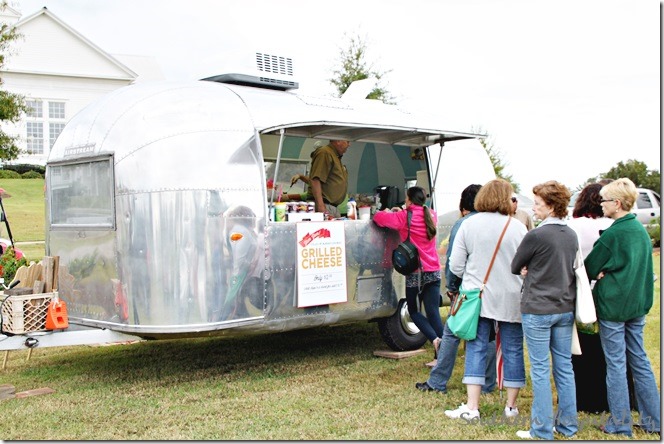 There was the cutest airstream trailer there serving food and drinks. They sold out by early afternoon.
Gourmet grilled cheese, yes please! I didn't get to taste these bites, but I heard it was great.
Golf carts were the mode of transportation for those who parked a few blocks away.  The Pike Road community really stepped up and rallied around this event and they were the nicest people ever.
At the end of the day, we saw a most beautiful sunset and we all had happy hearts from a thrilling day of vintage shopping.  I love events like this and sharing them with friends is the best. I say it all the time, but this blogging thing has changed my life so completely for the better and I'm so blessed to have friends all over the country now.  My life is so full and rich because of it and I'm grateful for it every single day.  Thank you all for going on my journey with me!  It's a blessed life I live and I couldn't be more thankful for it.
Don't Miss a Post, join my list!