I'm always up for an antique outing, even though I can hardly fit anything else in my house.  It's just fun to look and browse.  While we were in Mobile a few weeks ago for the Southern Romance excursion, we all took a trip to Charles Phillips Antiques, one of those hidden away gems of a place that we all just loved.
Crusty, old stuff was piled in there and we found out he shops Europe for most of his treasures and you can really find some great old things at this place.
We were all dying to go inside and look through all the treasures.  You can imagine how we were all oohing and aahing over it all.  We definitely were!
Loved this console piece built from reclaimed wood, iron bracket, and old shutters.  So unique!
Mirrors made from old windows and doors. Love, love!
They have the best selection of swinging beds that I've seen.  Just so beautiful and unique.
More mirrors.
They also have different sizes of headboards made out of all sorts of materials.  I loved this idea too, very unique and different.
Of course, this green shutter headboard caught my eye.
An island made with reclaimed wood.
This table was beautiful with the natural top and painted base.  Gorgeous!
Corbels in all shapes and sizes.
Another rustic old table.  I didn't check prices on everything, but the things I did see were reasonable.  Definitely worth checking out if you are in the area.
Tons of old bottles, all shapes and sizes.
More corbels.
I only bought one thing (you figured I'd buy something, right:!)….this cute green box caught my eye for $40.  It had to be driven home in my friend, Debbie's car, since I was flying and I don't have it at my house yet.
Lots of old linens and sacks.
All these column bases were so pretty and I almost brought one of them home too.
Don't you just love all these colors?
Bookcases with shutters on the front.  Be still my heart!
Old doors galore.
So many unique things to be found here.
Along with dough bowls, some of the biggest I've seen.
A shutter coffee table.
And old wagon and sleigh.
More swinging beds.  Love, love these!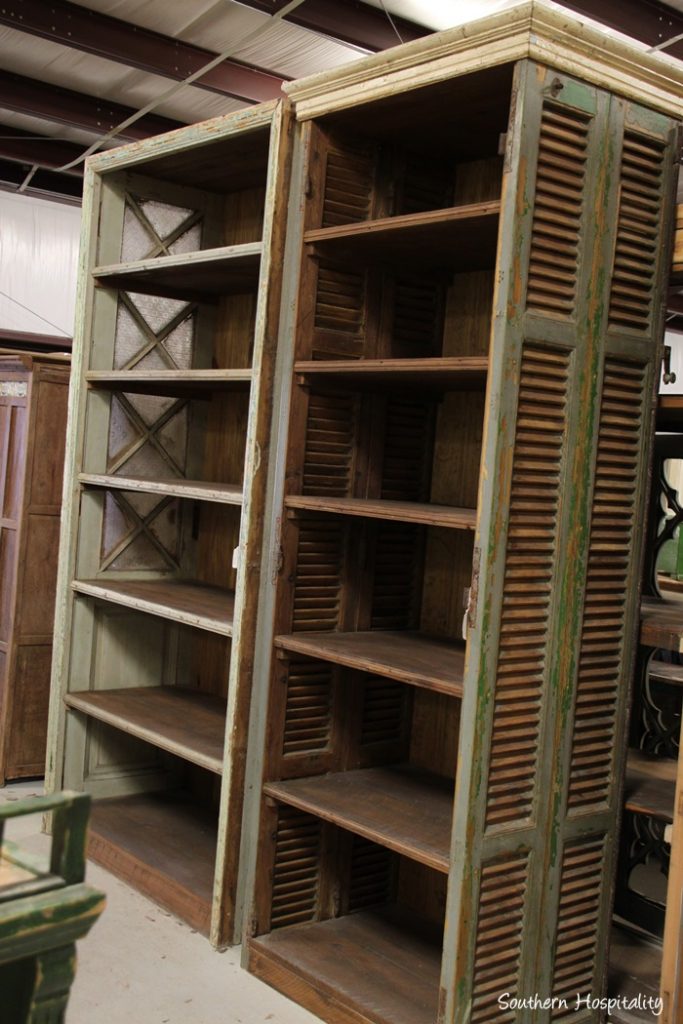 More shuttered bookcases.
Of course, I loved this green chest of drawers too.
If you get the chance to go to Charles Phillips, you must take a tour.
I think most everyone bought something to bring home. It was impossible not to get excited in this place.  We loved it so much.  I don't know of anything quite like it in the Atlanta area, so if you are near Mobile, check it out!
Don't Miss a Post, join my list!