As a blogger, I get invited to many events around Atlanta, from decorating events, to show houses, and a variety of media events. Recently, I was invited to a media event at Chateau Elan, a  winery and resort I was familiar with, but really didn't have a lot of information on what they do there or all the amenities they have.  I knew it was a winery and I knew there were overnight accomodations and I assumed restaurants, but beyond that, I didn't know a lot. I had never been there before, but now I can say I have!
Where European luxury meets Southern Hospitality, that's the experience at Chateau Elan, a 16th century styled chateau and full service winery nestled in the N. Georgia's foothills in Braselton, GA.
Here's a little information about Chateau Elan from the press kit.  The winery was built in 1988 and I remember when it happened and we would see it up on the hill off I-85 when we drove that direction north out of Atlanta.
Donald and Nancy Panoz are the visionaries and founders of Château Élan Winery & Resort in Braselton, GA., USA. The luxurious resort is the first winery of its kind in the region since Prohibition. With numerous expansions over the past 14 years, Château Élan is now an award-winning winery and resort with an inn, conference center, four golf courses, eight restaurants, European-style health spa, residential community, wine market equestrian show center and tennis center
The Panozes decided to bring the same discipline and high standards that created Élan Pharmaceuticals to the wine industry.
The couple visited Georgia frequently since their company, Élan had a research laboratory in Gainesville. During one of their trips, Don and Nancy tasted Muscadine wine, made from indigenous Muscadine grapes. When they asked why no one had ever grown viniferous grapes in the region, they were told, "It can't be done."
Now, Château Élan is a 3,500 acre winery and resort in the hills of north Georgia, thirty minutes north of Atlanta. The wines of Château Élan have won hundreds of national and international awards.
It was so fun to visit the winery and resort and Mark and I stayed overnight in one of the Inn's rooms, a very nice sleeping room. We also enjoyed a harvest dinner for a group of bloggers and media people, gathered in the Winery.
We found out a lot of information on growing grapes here in Georgia and that muscadine grapes are the only grapes that will really grow here. I know all about that, since my dad has muscadine grapes in his backyard. I grew up eating wild muscadines and love their sweet and very distinct taste.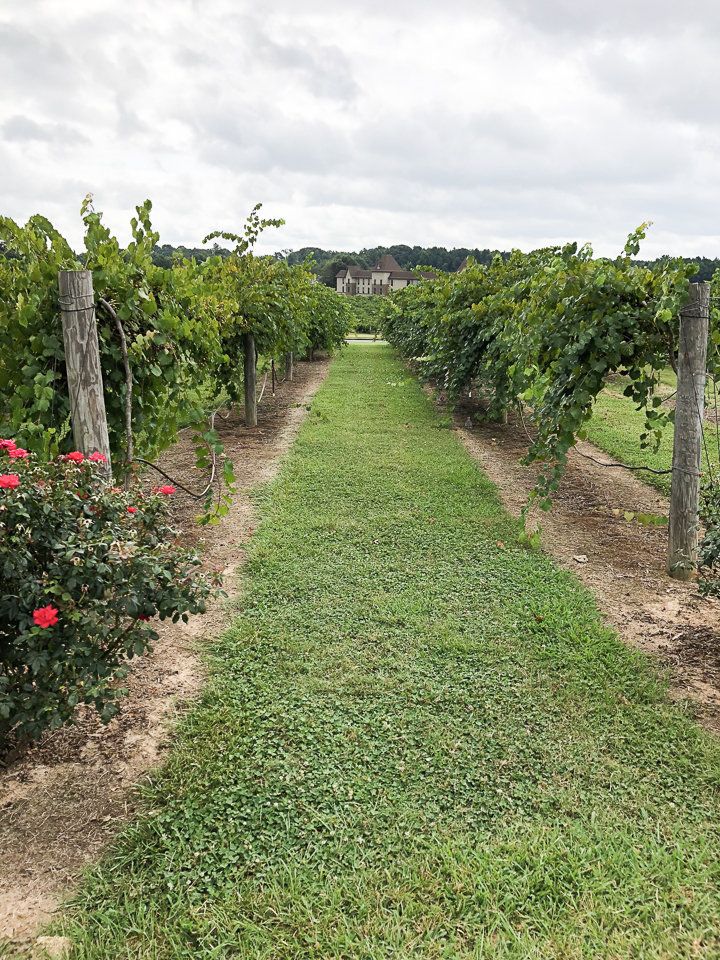 Mark and I enjoyed walking through the vineyard, seeing the muscadine grapes that are starting to get ripe now.
You can see how many grapevines are here, basking in the sun on the hillside.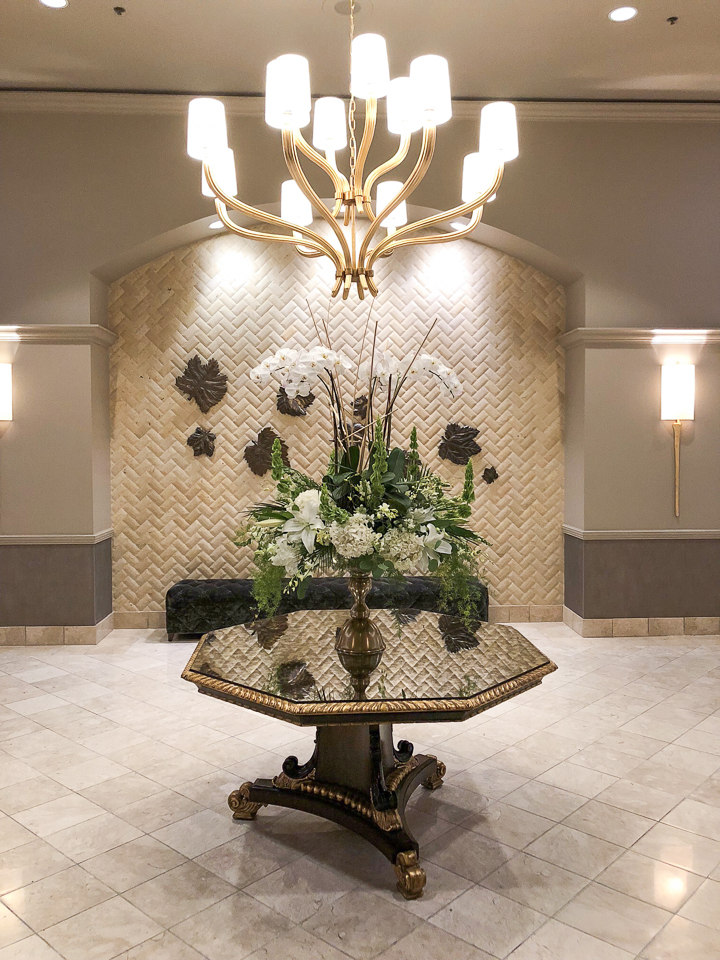 We checked into the hotel on a Friday afternoon and the lobby is gorgeous.  I knew we would be in for a treat.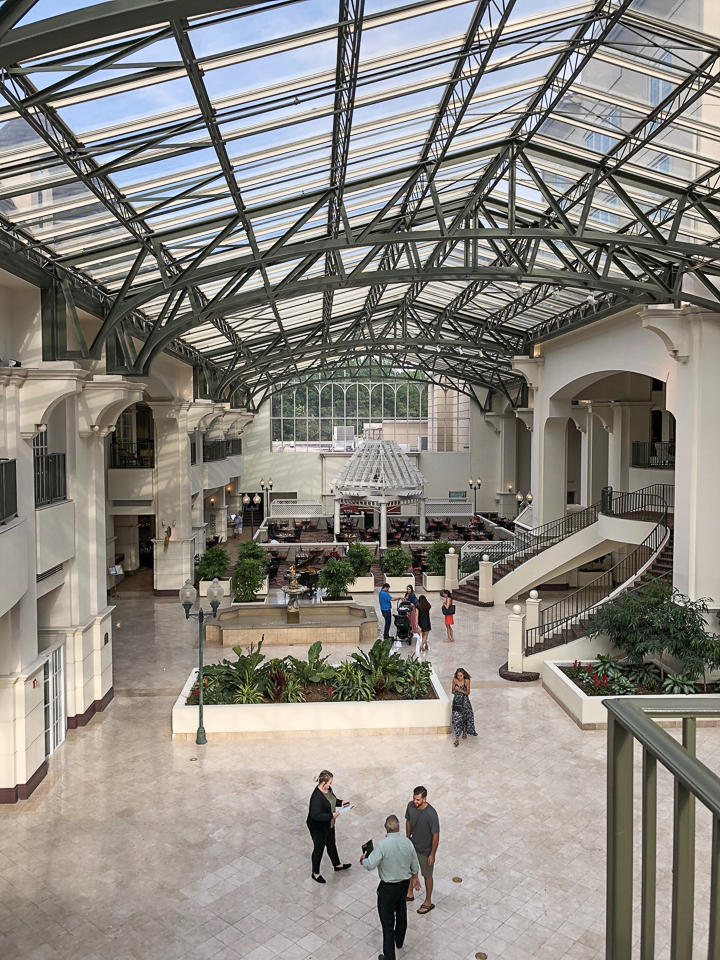 This is the atrium inside the Inn and the Versailles restaurant is over under the gazebo area.  We had a delicious breakfast here the following morning.
Our room had a gorgeous view of the pool and I could see it would be a great place to spend a day or so.  Chateau Elan has a lot to do from meeting spaces, to wedding venues, golf, tennis, a welll known spa, and 7 restaurants on site, so it's definitely a destination and getaway spot.  I can see why Atlanta people like to go here for a special occasion.  It's not as convenient for us, since it's on the other side of town and not as easy to get to in traffic, but I would imagine if you are on that side of town, it would be a fun weekend spot.  I looked online and they have a lot of events going on all during the year, so check that out on their website if you're looking for somewhere to go.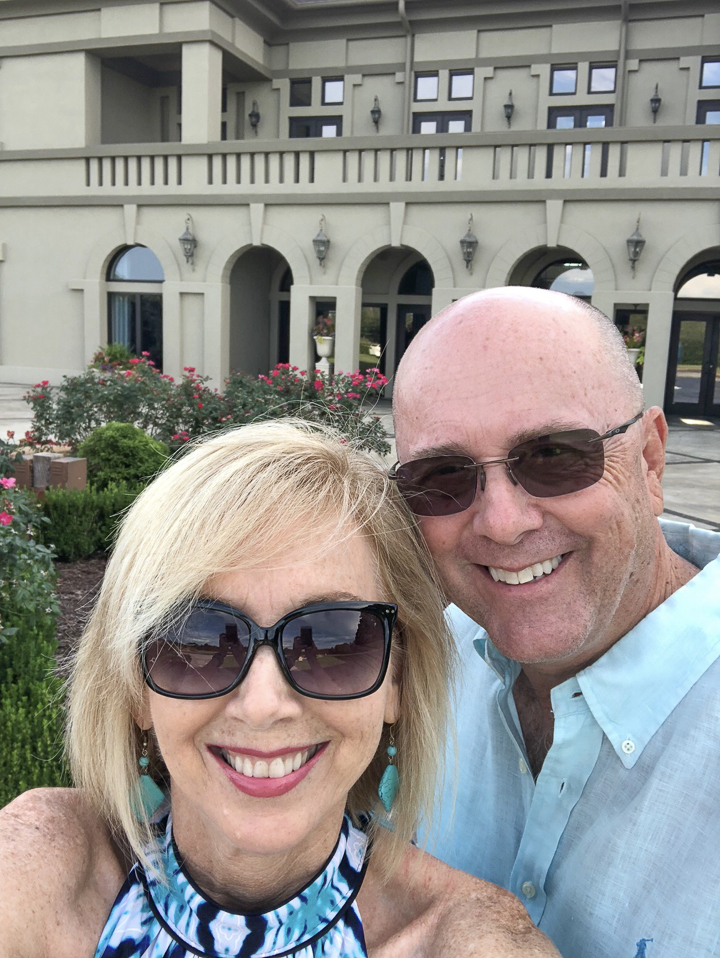 Mark and I had a really nice time, getting dressed up for dinner.
I was happy to have my permanent date with me!
We were greeted in the winery with a refreshing sparkling wine and cassis drink and got a tour of the wine making facilities.
Winemaker Simone Bergese gave us a personal tour of his winery and we could tell immediately that he was a passionate winemaker.  Simone became executive winemaker for Chateau Elan in 2012 and has totally refreshed the winemaking industry of the winery, replanting all the vineyards with disease resistant native muscadines and winning national awards along the way.
It was interesting to hear about all the muscadine grapes grown here in Georgia for winemaking and also how they have partnerships in CA for premier grapes from that region too that are brought here for different varieties of wine being made.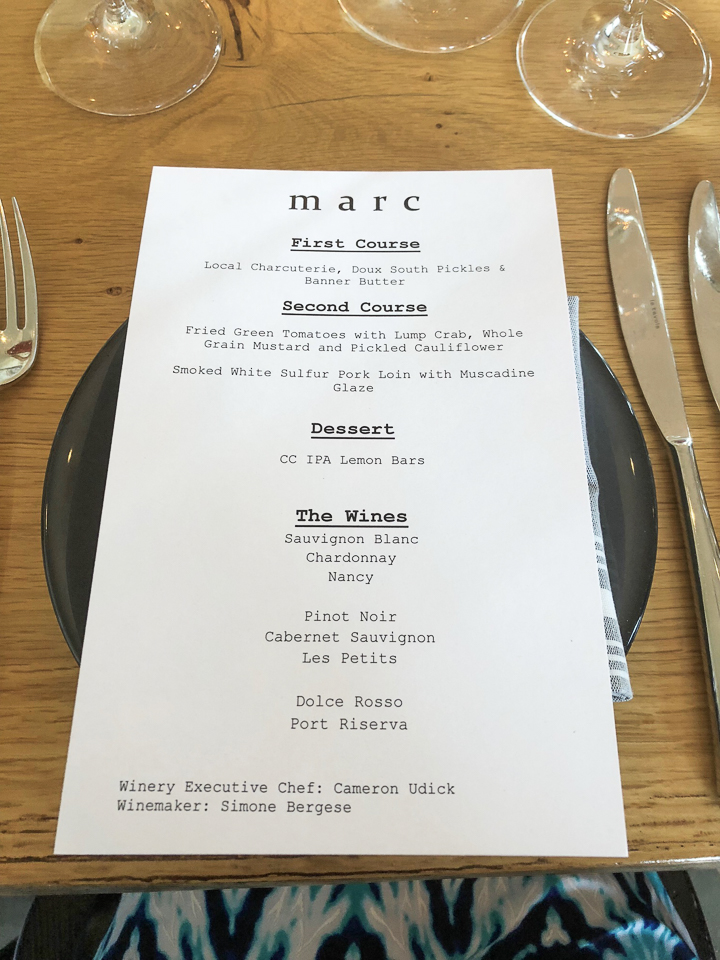 Simone's philosophy is:
"Great wine starts with great grapes, so we tapped into the nation's best territories."  
We were treated to a wonderful dinner in the Winery, menu above, as well as wine tastings from their most popular varieties of wine, including muscadine.  I first had muscadine in AL at a winery over there and love the taste of it.
Simone shared his wine making stories with us all during dinner and we had a such a nice time enjoying delicious food along with the wine varieties.
Our first plate was a charcuterie, which I see has become so popular.  These meat, bread and cheese boards are delicious and I could make a meal off these. The flavors in this one was so good and intense.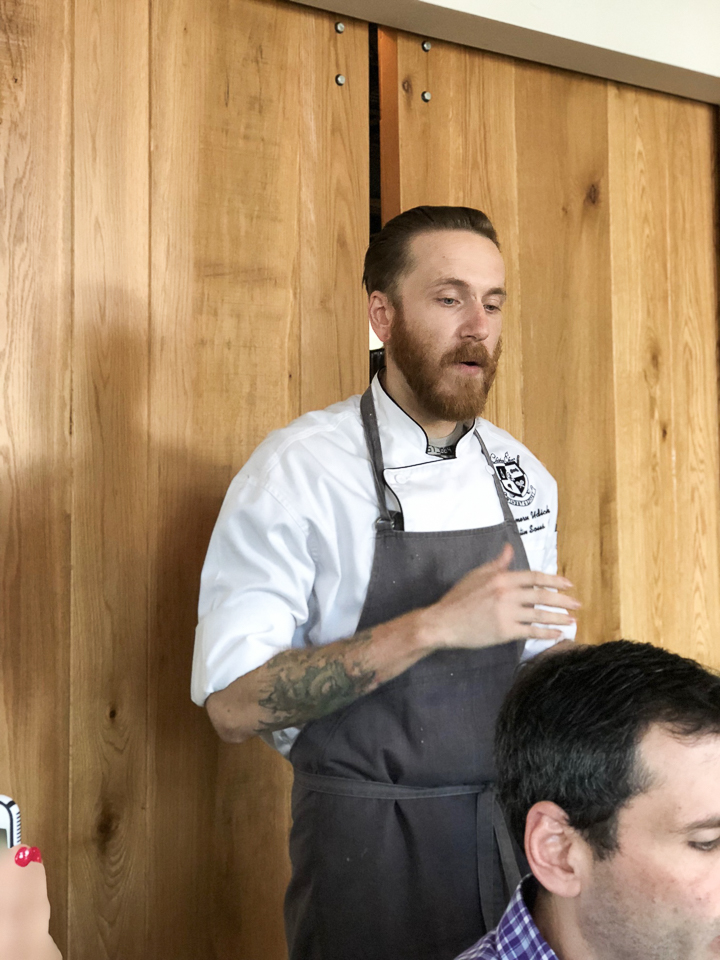 Executive chef Cameron Udick from the restaurant, Marc, came out and gave us a warm welcome.
Dinner was smoked pork loin with muscadine glaze, along with fried green tomatoes and pickled califlower. There's a pickled okra under there too which was really good.
By dessert time, we were loving every bite, with lemon bars and a bonus peach galette as delectable sweet treats. It was an amazing meal!
This large leaning mirror was behind us in the room and I took the opportunity for a selfie with Mark and I.
Winemaker Simone and I, he was such an interesting and informative guy, as well as a passionate wine enthusiast.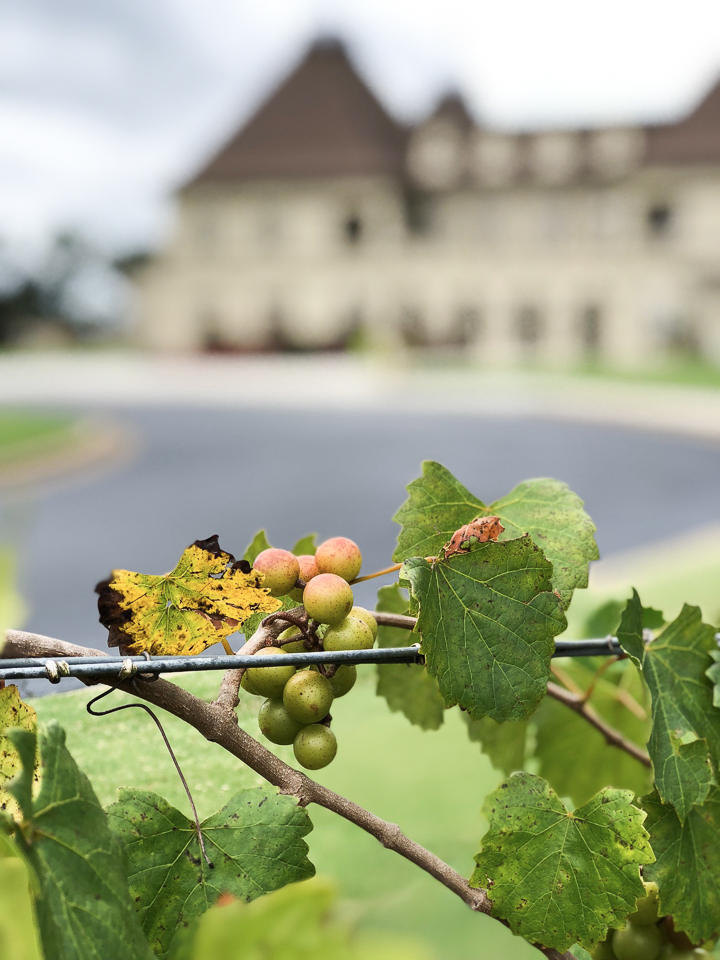 It was such a treat to get invited to stay over at Chateau Elan, experience a wonderful group dinner, and to tour the winery and vineyards.  As I mentioned, I can definitely see why Chateau Elan would be a wonderful getaway for folks in Atlanta.  Just 40 minutes from downtown, it's like being in another world, away from the hustle and bustle of the city.
Check out Chateau Elan and all they have to offer. It's a beautiful place with so many amenities!
Note:  We were treated to an overnight stay, dinner and breakfast for our media visit at Chateau Elan. 
Don't Miss a Post, join my list!