Want to add some fun elements to a painted piece?  There's a brand new product available now from FrogTape® called FrogTape® Shape Tape™ and I tried it out recently.  It's pretty cool stuff!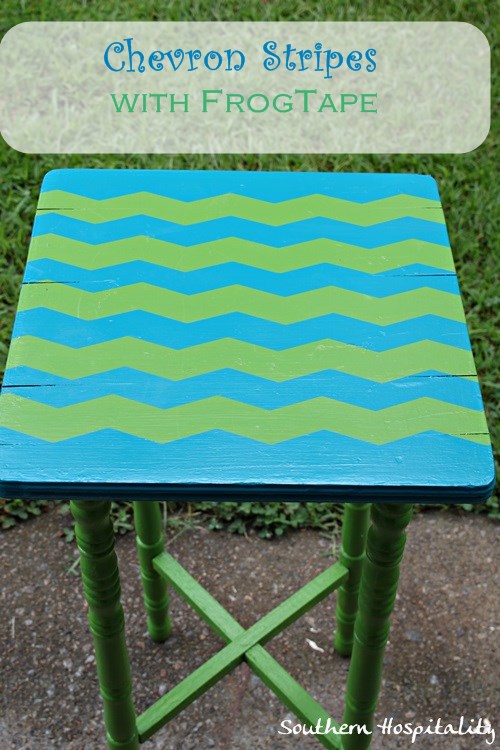 This cute green table on my porch was a good candidate to try it on and I thought adding some fun chevron stripes to the top would break up all the green I have going on out there.  Green table and green walls, too much green.  With the shot of blue I'm adding around the porch, RustOleum's Lagoon spray paint was the perfect accent for the table too.
This is a nothing fancy little table that I picked up at Scott Antiques market for $20 when I was there a few months ago. I knew then I could find a place for it on the porch and I did. It's the perfect little side table for a lamp and it was already painted this pretty green shade.  And you know I love green!
FrogTape® Shape Tape™ is fun stuff. It now comes in 3 shapes:  chevron, scallops and waves and this is perfect for some fun accent painting on so many things.   I just saw it at Lowes, so I bet that Home Depot has it too. 
I found the middle point of my table and taped my first stripe down there first. I decided to space it out and use 5 stripes total for a balanced look.  Odd numbers just look better.
3 stripes in place.  The tape is very easy to use.  Just pull off the backing and start smoothing down the edges.  Use a plastic card or something flat to press the edges down.
Five stripes in place and now I'll tape off the legs, since I don't want to paint those.
I'm just doing a fun accent on the table top and edge.
After a couple of coats of RustOleum Lagoon spray paint and you can't even tell the tape is still there. I wish I had taken pics of me ripping back the tape.  I always peel the tape while it's still wet, that ensures that you don't pull off bits of dried paint with the tape.  It's  fine to rip it off while wet!  That crisp line will be there.
See!  I had no problem with seepage under the tape.  The Shape TapeTM gave me a clean, crisp line.
Love that shot of blue now.
After a couple of days drying time, it was back on the porch and ready to use.  I gave it at least 24 hours drying before I put anything back on the top.
I love that little accent of blue stripes on there, bringing in a little more blue to this corner.  I've just got bits of blue around the porch with all the green, yellow, coral and gray and I love how colorful and happy all of it is together.
And that's a fun and easy way to use FrogTape® Shape Tape™.  Do you have something you might want to use it on too?  It's very fun and easy to use!  You can find it now at the home stores and I just saw it at my local Lowes.
Disclosure: I'm a Brand Ambassador for Frogtape® and am compensated to share my projects using FrogTape®. All opinions and methods of using the product are all my own.
Don't Miss a Post, join my list!